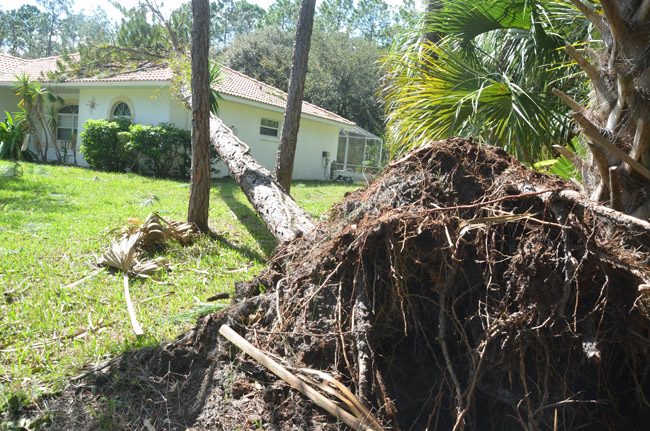 Last Updated: 5:02 p.m.
Quick Links to the Updates Below:
Flagler County
Meals and Cleaning Supplies
The Word from FEMA
Flagler Beach
Palm CoastHospitals
Water Management District
Palm Coast Mayor Jon Netts spoke for many when he started Tuesday morning's workshop with a "a great big thank you to everybody and to our community." He cited the many players and agencies involved in the recovery since Hurricane Matthew swiped the region last week, and noted particularly "neighbor helping neighbor" across the county. The recovery operation is continuing, of course. Here's a breakdown of the latest from around the county, based on information and releases issued by the various agencies throughout the day.
The county opened an Assistance Center today (Oct. 12) at the Palm Coast Branch Library, 2500 Palm Coast Parkway NW, to help residents get information and some resources for their needs in the wake of the hurricane. The center is in anticipation of a Federal Emergency Management Administration center expected in Flagler soon. The assistance center will be open daily from 9 a.m. to 6 p.m.
The following agencies are represented at the center: United Way, Stewart-Marchman-Act Behavioral Healthcare, American Red Cross, Salvation Army, Flagler County Health Department, Flagler County Human Services, Flagler County Homebuilder's Association, Department of Children and Families, FEMA (once they arrive) and Verizon with two charging stations. FPL has a charging station in Flagler Beach.
Small satellite facilities will be set up at the Adult Education Center, 5633 N. State Road A1A, Hammock, and at the Hidden Trails Community Center, 6108 Mahogany Blvd., Daytona North. Residents will be pre-screened for necessary services and provide counseling.
"We are doing everything we can to help our residents get the assistance they need," Flagler County Administrator Craig Coffey said. "People are already stressed out, and it can be a daunting task to figure out what you need to next. We are here to offer whatever support we can."
Representatives with the state of Florida met with local administrators and insurance companies Wednesday to ensure a response for Flagler County residents.
"Florida's Chief Financial Officer Jeff Atwater and Insurance Commissioner David Altmaier hosted the meeting to foster a discussion about Hurricane Matthew and its effect on our local community," Deputy County Administrator Sally Sherman said. "The state is asking individuals to reach out to their insurance companies for assistance."
Concerns about insurance representatives should be directed to one of the following numbers:
Florida Department of Financial Services, 877-693-5336
Fraud Tip Hotline, 800-378-0445
Arson Tip Hotline, 877-662-7766
Public Assistance Fraud, 866-762-2237
Unclaimed Property, 888-258-2253
Beware of fraudsters. Officials caution residents that use caution when hiring for services and contractors. Contractors must be registered with Contractor Licensing to work in Flagler County. Proof of License and Liability Insurance is required. For information, call Flagler County's Contractor Licensing Department at 386-313-4076.
Meals are being distributed in the following locations:
· The Salvation Army is in Beverly Beach providing meals at 2814 N. Oceanshore Blvd., near Surfside Estates at noon to 6 p.m.
· Red Cross is providing meals at the Adult Education Center parking lot, 5633 N. Highway A1A, Hammock, at noon and 5 p.m.
· Red Cross is at Flagler County Main Branch Library parking lot, 2500 Palm Coast Pkwy NW, Palm Coast, providing meals at noon and 5 p.m.
· Red Cross is at Town Center in Palm Coast (where the food trucks stage), 975 Central Avenue, at noon and 5 p.m.
· Red Cross is providing meals at Hidden Trails Community Center parking lot, 6108 Mahogany Blvd., at noon and 5 p.m.
· Three roving vehicles are circulating throughout Flagler County.
Flagler County Continues to operate a call center at 386-586-5111.
The American Red Cross will have two roving vehicles distributing common household cleaning supplies and yard equipment in areas of Bunnell, Beverly Beach and Flagler Beach. Residents who see the trucks will be provided with bleach and other basic cleaning supplies, as well as work gloves, shovels, rakes for both indoor and yard clean-up efforts. The trucks will be on the road until about 6 p.m.
Additionally, snacks and water will be available from these trucks.
FEMA personnel are on the ground in Nassau, Duval, St. Johns and Flagler counties today to pinpoint damage caused by Hurricane Matthew. Teams will be deployed to additional counties as requested by the state.
These individuals will help identify areas of damage where Preliminary Damage Assessment (PDA) teams will be needed. PDA teams, comprised of representatives from local emergency management, the State of Florida, U.S. Small Business Administration (SBA) and Federal Emergency Management Agency (FEMA), will then be assigned to areas identified by the state to further document the extent of damage caused by the hurricane to those areas.
Damage in Flagler and its cities is relatively limited, with preliminary estimates placed at $73 million, not counting damage to government and public infrastructure. That estimate is based on local governments' calculations. It may differ from that of FEMA.
The PDA teams visit and inspect damaged areas and document their findings. However, they do not visit every home or business. The teams look at concentration of damage, number of primary residences affected, damage to public infrastructure and the amount of insurance coverage, and then provide this information to the state. The PDA process does not guarantee federal assistance.
The major disaster declaration of Oct. 8 makes federal Public Assistance aid available for emergency protective measures and debris removal (categories A and B) in Brevard, Duval, Flagler, Indian River, Nassau, St. Johns, St. Lucie and Volusia counties. The governor's request for Individual Assistance and Public Assistance categories C-G is still under consideration while damage assessments are underway.
Damage assessment results from each county will be a factor used to determine the county's eligibility for Individual Assistance. If a county is declared eligible for further assistance, individuals and households in the declared county may apply for that assistance. Florida residents and businesses don't have to wait to find out if federal assistance is available to start their clean up. Keep repair receipts and document your damages whenever possible. Notify your insurance agent of any damages sustained to your property. You can also contact your local emergency management agency to report damage.
If you are in need of shelter or have other emergency needs, call 2-1-1 for information. For more information on Florida's disaster recovery visit the website here,  check Twitter,  or see FEMA on Facebook.
The city has contracted Crowder Gulf: Disaster Recovery & Relief Management to pick up yard waste debris. The coordinated efforts will begin Thursday (Oct. 13), with removal beginning on the west side of the city. Crowder Gulf crews will work their efforts eastward and multiple passes will be made in the coming week to assist with yard waste debris removal.
Residents may put un-bagged yard waste to the side of the road for removal. Yard waste consists of the following only: branches, leaves, trees limbs, underbrush. It is essential to separate yard waste debris associated with the storm from normal household waste and garbage and construction debris (treated wood, metal, aluminum siding, etc.). Crowder Gulf will make multiple passes for yard waste only.
City Sanitation crews will be picking up household garage (Class 1) as normal and crews along with Crowder Gulf may pick up construction debris in the very near future. "We're asking our citizens to separate waste into three categories," City Manager Larry Newsom said. "Yard waste debris, house waste/garbage (Class 1) and construction debris. Our goal is to remove debris created by Hurricane Matthew as quickly as possible and the assistance of our residents is paramount to these efforts."
For questions regarding the removal or yard waste debris (or any other trash removal questions), feel free to contact Flagler Beach City Hall at (386) 517-2000.
As for the Flagler Beach pier, the city in conjunction with Logan Diving & Salvage and Hal Jones Contractors Inc. have begun the preliminary inspection process of the iconic structure, which was damaged in the storm and lost its T portion at its furthest end, and a total of 150 feet. Starting today crews conducted a comprehensive assessment of the structure's visible portions.  The assessment will document any damage sustained, provide recommendations for repairs and outline a plan to make the Pier safe again for the public.
Weather permitting, divers will begin their underwater inspection in the next 24-48 hours.
Finally in Flagler Beach, Beach Front Grille is holding a community event this evening, presented by the Shipwrecks. Patrons are asked to bring donations for families that may not have been so lucky through the storm. Toiletries, Publix Gift Cards, Home Depot Gift Cards, anything you can think of that may help local families would be appreciated as donations.  Entertainer Captain Nick will set the scene, playing live from 5-8 p.m.
Further details at Beach Front Grille's Facebook page.
Many City of Palm Coast parks and recreational facilities opened Wednesday, including the Palm Harbor Golf Club driving range, practice facilities, clubhouse and Canfield's restaurant; the Palm Coast Tennis Center; Frieda Zamba Swimming Pool; and athletic fields and playgrounds at Indian Trails Sports Complex, Belle Terre Park, and Ralph Carter Park.
All programs at the Palm Coast Community Center are up and running. Movies in the Park will be held as planned at 7:15 p.m. Friday, featuring "Hotel Transylvania 2" (PG) on the giant outdoor movie screen at Central Park in Town Center, 975 Central Ave., Palm Coast. More than 20 food trucks plan to participate in Food Truck Tuesdays on Tuesday, along Park Street next to Central Park.
The Pumpkin Shootout Lacrosse Tournament will be played this weekend at Indian Trails Sports Complex. Spectators are invited to come out for this fall family classic hosted by Team Florida Lacrosse.
Cleanup has been under way all week at city parks and trails. Some pathways remain inaccessible due to safety concerns from fallen trees and debris.
As in Flagler Beach, and to expedite debris removal from residences, the city asks residents to help by separating everything at the curb into the following categories:
Vegetative Debris – leaves, logs, plants, tree branches, etc.
Construction & Demolition Debris – building materials, asphalt shingles, drywall, lumber, metal, plastics, etc.
Normal Household Trash – Normal household trash and bagged debris of any kind will not be picked up with debris as part of this program. You should continue to follow your normal garbage and yard trash schedule for normal garbage and bagged storm debris.
Because of the volume, Waste Pro did not anticipate being able to pick up all bagged debris on Wednesday. Simply leave the bags at curbside, and they will be picked up in the next cycle next Wednesday.
Likewise, the contractor picking up loose debris will have to make several passes through Palm Coast to pick up all debris. This process is expected to take several weeks.
Sewer system recovery: Palm Coast's wastewater collection system is finally almost back to normal. By Wednesday morning, all pump stations had power and were pumped down. Tank trunks are still pumping out the remaining PEP (Pretreatment Effluent Pumping System) tanks without power. Any remaining issues will be fully resolved once power is fully restored.
If you have a PEP tank and still don't have power, limit your use of water. If you begin to experience sewage not going down from your toilets or sink or showing up in your shower or tub, immediately stop all use of water. Call Customer Service at 386-986-2360 to report that you have a sewer backup. A city crew will respond to empty your PEP tank. Due to the volume of calls, the city can only pump down each PEP tank once a day, so remember to limit your use of water going down the drain.
If you have a PEP tank, when your power comes back on, the pep tank alarm may go off. To silence the ring, there's a re-set button on the side panel located on the side of your house. Continue to limit the use of water for the next 24 or so hours to give your PEP tank time to pump down and return to normal operation. If the alarm did ring, the city recommends you report that to Customer Service at 386-986-2360.
Questions? – Citizens can call Customer Service at 386-986-2360 for issues related to water and sewer, streets, drainage and trash pickup. Citizens can call the Building Division at 386-986-3780 for questions about permitting or to ensure the contractor they're hiring has the right license.
The city website – www.palmcoastgov.com – has valuable information about resources available to the public, as well as safety tips to help our community remain safe during the cleanup process.
For more information, contact Cindi Lane, Communications and Marketing Manager, at 386-986-3708 and [email protected].
Florida Hospital Flagler is fully functional, as normal. As of today at 1 p.m., Florida Hospital New Smyrna has reopened to the community and all hospital services are open to patients.
All other Florida Hospital locations in Volusia and Flagler counties are open and operating as normal. In addition to Florida Hospital Flagler and New Smyrna, this includes Florida Hospital DeLand in DeLand, Florida Hospital Fish Memorial in Orange City,  Florida Hospital Memorial Medical Center in Daytona Beach, and Florida Hospital Oceanside in Ormond Beach.

St. Johns Water Management District
Fifteen staff members from the St. Johns River Water Management District partnered with local government staff to canvas four north Florida counties this week, including Flagler County, to survey damage from Hurricane Matthew.
"District staff are in our communities, assisting local governments in the hardest hit areas to help them assess the damage from Hurricane Matthew and to share district equipment to help in their recovery," said St. Johns River Water Management District Executive Director Dr. Ann Shortelle. "We were very fortunate, having had only minor damage to district infrastructure. I am very grateful that we are able to offer this assistance to our local government partners who were not as fortunate."
District staff teamed up with local government staff in Flagler, Nassau, Putnam and St. Johns counties to assess how well stormwater systems performed in the storm and record flood damage to commercial businesses. Teams also searched for derelict vessels in navigable waterways, checked with homeowners who have private domestic self-supply wells to ensure water quality was not impacted by storm surge or the heavy rainfall, and conducted structural damage assessments for local governments to seek FEMA assistance.
In addition, four district pumps are currently operating in Flagler County to convey water from flooded areas. As of Tuesday afternoon, the pumps had drawn the water levels down nearly two feet.
Additional water management activities underway include:
· The district has authorized certain flood relief measures for local governments and property owners who need to pump or divert floodwaters. The Governing Board on Tuesday approved an emergency order that also gives permit holders additional time to comply with permit conditions that will come due after Oct. 5. The board's action extends the duration of permits that expire between Oct. 5 and Nov. 2.
· District regulatory staff are available to answer questions or issue emergency waivers to assist with the recovery effort. For assistance, please contact district ombudsman Jimmy Peluso at 904-224-2958 or [email protected].
· Four district conservation lands experienced significant damage in the hurricane and remain closed — Fort Drum Marsh Conservation Area in Indian River County, Moses Creek Conservation Area and Stokes Landing Conservation Area in St. Johns County and Pellicer Creek Conservation Area in Flagler County. For updates, visit the district's website, www.sjrwmd.com.
· No areas of concern were observed during the weekend inspection of levee systems in the Upper St. Johns River Flood Control Project. The systems worked as intended during the storm and helped prevent flooding in Indian River and Brevard counties.
· Navigation through the Burrell Lock, Moss Bluff Lock and the Apopka Lock and Dam reopened Monday.