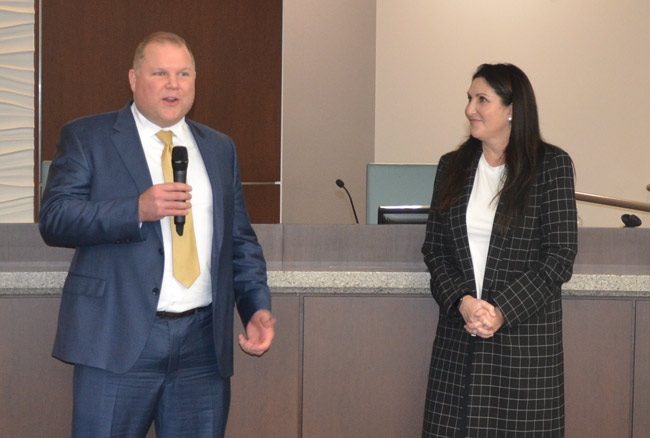 Last Updated: Thursday, 7:47 p.m.
In his reluctance to vote for Matt Morton as Palm Coast's next city manager, Council member Bob Cuff never said that Morton wasn't qualified, that he wouldn't make a good manager, that he wasn't impressed with him, that he wouldn't do as good a job as Beau Falgout, the interim manager who was also in the running. What made Cuff "suspicious" was Morton's seduction of the council as its "new crush," and his jargon-filled vocabulary
"I've had smoke blown up my dress by some of the best over 45 years, and I'm not saying that Matt was doing that intentionally, he certainly conveys enthusiasm and commitment and whatever," Cuff said. "As much as I like Matt, as much as I heard him use all the jargon that I would expect anybody that reads Florida Trend or city manager magazines or quality communities or whatever, basically what I assume anybody that belongs to ICMA would read, we have nothing, I didn't see anything in his background that made me think that he was going to be the new hotness, and that in another year with him versus Beau, we were going to be any farther along than we are now."
"I take that as a valid concern just in general," Morton, 44, said in an interview, referring to Cuff's concern about smoke and skirts. "I've been around the game long enough to know that people do that."
But to hear two current and former council members who have worked with Morton, along with two successive presidents of the chamber of commerce back in Duvall, the city of 8,000 in Washington that Morton managed for three years, he is that hotness: his name, even six months after he stopped working for Duvall, elicits immediate reactions of delight or more. (FlaglerLive was not privy to Morton's list of references, which were not provided council members. Contacts were made independently and without input from Morton.)
"Matt is a fabulous guy, he did a great job working for the city of Duvall," Peggy Kahler, the current president of the Duvall Chamber of Commerce, said. "Everybody adored him, he's a great guy, you're lucky to have him."
"You guys are so lucky. If it were up to me I would fire our mayor and have Matt back here," Kahler's predecessor, NJ Shelsby, said.
Peggy Nixon, who served six years on the Duvall council, three of them while Morton was manager, used almost identical words when first contacted about Morton. "I adored him," she said, noting that Morton's enthusiasm and workaholism are not put-ons: he genuinely loves the work and he works on his approach as much as he does on the work itself.
"He follows all the rules which keeps us safe because everybody wants to sue, yet he adds that spark of hope and that spark of 'we can do this, let's follow the rules, let's be persistent and not give up and get this done,'" Nixon said.
But don't expect him to respect precedent for precedent's sake–or to accommodate under-performing employees out of respect for longevity, two traits that may have reaching relevance in Palm Coast and an administration stocked in the 11-year legacy of former manager Jim Landon. "He went through several departments in our city and really weeded out things that really didn't need to be there and put in new programs and new organizations, and that was really important for us at that time," Nixon said. "He went in and took each department by department, and saw their strength, but he was also a  morale builder, he didn't come in and tear everyone down. He was methodical. I admire the man a lot."
"This man did a lot in the short time he was there," she said. She described his ability to handle emergencies–contractual or natural.
The valley where Duvall is located, just east of Seattle, doesn't get hurricanes or tornadoes, but it gets floods, epic floods, the kind of floods that can cut off the town from its surroundings for days at a time, stranding its population of commuters. Overwhelmingly, those residents work in Seattle, most of them in the tech industry (the average household income in Duvall is $152,000, the average value of a house is $427,000, more than half the population of those 25 or older have a four-year college degree or higher, according to the Census Bureau). Most of those still need to work when they're stranded, so they do so from home, making broadband essential: 93 percent of households have a broadband connection.
The city had to renegotiate its lease with its broadband provider. "Instead of letting staff do it which, they don't know anything about broadband, he came in and said, no no no, this is way beyond their expertise," Nixon recalled. He set up a citizen's committee that included Microsoft professionals, then "he went back and renegotiated the contract and got us a decent contract." Oh, and he handled those flood emergencies, too.
Morton doesn't have a rich paper trail, and Palm Coast doesn't intend to background him further than its consultant Strategic Government Resources has, limning his press clips and running his name through the usual checks. The city provided the few press clips that SGR gathered (all of them prosaic) but not the criminal background check, which even the council had not seen when it made its decision: SGR had, and found nothing warranting an alert. (FlaglerLive requested the document. "We don't have it yet," a city spokesperson said today. "Doug Thomas, our consultant, is traveling and plans to get it to us as soon as he returns.")
The Snoqualmie Valley Record, the local paper, barely covered Morton's tenure (or the council). He was a bit more often in the news in his previous posting as the city administrator of Cle Elum, a smaller town than Duvall. He was there five years.
A little more than halfway through his tenure, he was diagnosed with Hodgkin's lymphoma, a form of cancer, requiring two years of chemotherapy and what he described as "a full analogous stem-cell transplant." He and his wife Wendy were making $122,000 a year at the time but got over $300,000 in debt. They filed for bankruptcy in 2014. They were out of bankruptcy by 2018. He said the medical bills had piled up.
"If it's medically related I don't think of it as a concern," Cuff, who is negotiating Morton's contract with him, said. "I think of it as a sign of our times." In 2013, CNBC reported that bankruptcies "resulting from unpaid medical bills will affect nearly 2 million people this year—making health care the No. 1 cause of such filings, and outpacing bankruptcies due to credit-card bills or unpaid mortgages."
It was Morton's second bankruptcy. He'd filed in 1999, over a much smaller debt of a few thousand dollars and what he termed bad advice. Morton disclosed both bankruptcies in his longer answers to two dozen questions that were part of his application package.
Two other issues that may have raised questions about his background were his separation from Duvall in July 2018, and the fact that he has been unemployed since.
Morton explained his months of unemployment as a choice: he was decompressing and mapping out what he really wanted to do next. "I hit the pause button and I really started digging deep," he said, though by the time he'd applied in Palm Coast he had about five other applications going elsewhere.
Michelle Hogg, a current council member in Duvall who was on the council when the city's relationship with Morton ended, was as jubilant as Nixon when she heard Morton had landed the Palm Coast job. "That's wonderful, that's great," she said. But she could not speak at length about him, or about the separation.
Washington's local governments don't have Florida's liberal open-record and open-meeting laws. They have more restrictive rules about what may or may not be said about personnel. The council there never made public how or why Morton left. One meeting he was in attendance. The next, he was not. Duvall has a strong-mayor form of government. The mayor, Amy Ockerlander, who had recently been elected to that position after eight years on the council, had a closed-door session with Morton, and he was gone. The council had little role in the decision and no vote.
"We do not have a written release from Matthew Morton to make comments, except for the fact we can tell you what dates he was employed," Hogg said. "But that does not reflect at all personally dealing with him. Unless he signed something I can't make comments. But he had an infectious smile, positive attitude, I loved working with him."
Nixon wasn't so bound: she's no longer on the council, and she was openly critical of Ockerlander's move, calling it ill-advised, unjustified and not supported by the council. Nixon repeatedly said the council, with whose members she's kept in contact, misses him.
"She's a very good friend of mine," Nixon said of Ockerlander. "Had I had a chance to vote again I wouldn't have voted for her. I'll just leave it at that. Sometimes people can be very controlling. He wasn't fired, it wasn't a big scandal here, it was more just a parting of the ways, and at that point, I was in his corner. She would ignore his advice, and she still does. She's still pretty much on her own. The current council won't say anything." Ockerlander did not return repeated phone calls to her city-issued cell phone or an email Tuesday and Wednesday.
But going back to the time when he was hired, Nixon recalled Morton was up against fierce competition from candidates from larger cities, a bit like he was when he competed in Palm Coast, where he had the added challenge of going against an insider and a favorite who'd quickly been winning fans on and off the council. But in Duvall as in Palm Coast, Morton impressed with his eye on the big picture, Nixon said, then impressed with following through, in line with the way he'd come across during when he'd applied.
Nixon said Morton showed keen abilities to get along with fellow-city administrators, whatever their political leanings–and kept his own political leanings to himself, never letting on what party he belongs to, if he does (though he'll likely fit in with Flagler's hyper-gun culture: his bankruptcy filing listed a line item for firearms valued at several hundred dollars.) It was Duvall that decided to send him to Harvard's Kennedy School of Government for further training. "It's a philosophy we all share, and that is, if you can afford to make someone the best they can be, it comes back tenfold," Nixon said.
Reached on Thursday, NJ Shelsby, who had been president of the Duvall chamber the four years Morton was there, echoed much of what Nixon had said. She was not aware of Palm Coast's reputation for being unfriendly to business–nor had she been told of it during the interview when she offered this assessment of Morton: "Prior to him being hired there was a lot of conflict between the chamber and the local businesses and the city government, even our non profit organizations. There was just a tension, different agendas, it was just a roughness, and this had been going on for many many years. It was just ingrained with our city. That just went away with Matt. He has a way of really pulling people together, working on the same agenda, it was just such a pleasure working with him."
Shelsby said Morton would lend an ear and manage to be open to possibilities even when his hands were tied. She gave an example. Shelsby ran an annual festival. One year, an individual appeared with an anti-abortion display at the festival. The display included gory pictures Sheslby felt children should not be exposed to. Free speech laws made censoring the individual's message impossible. With the mayor, she said, "I didn't feel heard at all." With Morton, despite being limited to what he could do, he tried. "He took the time to care about where I was coming from and how that was affecting me, and he would go off to see if there was something that could be done," Shelsby said. "He didn't just initially say oop, free speech, you can't do anything. He'd, say, let me see, see what other cities have done."
"The same with the businesses," she continued, as if talking about Palm Coast. "Whatever we were trying to do, he would do whatever we could to accommodate, it wasn't this hard line. In the past there were cumbersome processes in the city with forms and that sort of thing that were just unnecessary. He would just work with his employees to make things simpler, so there were fewer barriers to the things that we wanted to do."
Morton and his wife have a 13-year-old son in 7th grade and a 15-year-old daughter, a freshman in high school. Both recently had leading roles in school plays (he was Aladdin, she was Charlie Bucket in "Charlie and the Chocolate Factory"). His daughter is ready for the move, excited to be in Florida, his son a bit more nervous about leaving friends behind. He speaks affectionately about his family, and speaks of his children's successes with the same enthusiasm and excitement he does of his own work. He's not shy using words like "lovely," "amazing," "dignity" and "joy" in relation to his professional surroundings. But it doesn't appear to be an affectation as much as a genuine part of his character that frames his approach with others.
"He doesn't tell stories about people, he doesn't belittle people, he tries to build people up, he's a consensus builder," Nixon said. "You know what, that's nice to go to work with each day. I wish I would have known him even better."
In his application papers, he'd concluded one segment with these cautious words: "Throughout this interview process (as is customary) I have regaled and attempted to impress you with my education, experience and accomplishments…you have heard my 'hero story'. I want to be clear, I am a normal human being who hasn't saved the world nor can I leap tall buildings in a single bound." In a phone interview Tuesday, after he got the job, he summed it up this way: "I've tried really hard in my life to be straight, to be honorable, to have good character,"