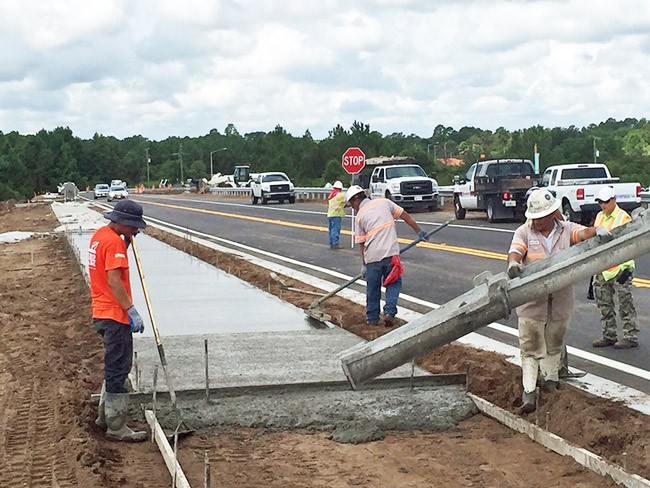 Last Updated: 2:29 p.m.
School resumes on Monday. For Matanzas High School students and parents, that will require some altered habits. Because of construction delays, temporary school bus routes for students who normally walk to school will be part of the equation as construction crews continue work on three road projects, among them the $9 million interchange at Matanzas Woods Parkway and I-95.
While the school district does not anticipate detours or wholesale road closures, work remains ongoing, with lane closures expected for the forseeable future, but no during school hours. There will be no lane closures along Matanzas Woods Parkway between 7 and 8:30 in the morning or 1:30 and 2:30 p.m. on school days. Nor will there be lane closures when Matanzas High School hosts a football game–in the three hours before kickoff and for an hour after the game ends.
Crews are working on the sidewalks along Matanzas Woods Parkway, but weather has not been kind. The sidewalks therefore will not be complete by the time school starts, the district said in a news release issued Thursday. Four temporary bus stops have been established for affected families living on the west side of I-95, who normally walk to school. Those families have been made aware of these plans. Beginning Monday morning those four temporary bus stops will be at the following locations:
Laramie Drive and Lynbrook Drive on the northeast corner of the intersection.
Luther Drive and Ludlow Lane East on the northeast corner of the intersection.
Old Belle Terre Pkwy North and Bud Hollow Drive on the northeast corner of the intersection.
Matanzas Woods Pkwy and Bird of Paradise Drive on the south west corner of the intersection.
Bus 20301 will perform its normal route, drop off students at Matanzas. and then perform the second route to pick up the walk-zone students. This process will be reversed in the afternoon. There will be a slight delay of about 10 minutes for the bus to return to Matanzas to pick up the pedestrian-zone students and transport them to their respective stops.
Late Friday morning, the county administration issued a release of its own, saying the pedestrian path adjacent to Matanzas Woods Parkway will be completed in time for the beginning of school and use by students attending Matanzas High School. But Jason Wjheeler, the district's spokesman, said in an email later: "We are going ahead with the temporary transportation for those families on the west side of I95 for the first week. We will re-evaluate later next week to see if those temporary stops should be eliminated."
The project is slated to be finished in May 2016 and lane closures will be necessary. But the contractor stresses that school schedules are taken into account when planning those closures.
Looking more broadly at Flagler County and Palm Coast roads as school resumes, Flagler County Sheriff's deputies will be monitoring many of the school zones and associated traffic corridors to help keep students safe and remind drivers to slow down.
Drivers beware: Citation amounts can vary from $116 for a non-moving violation to $166 for a moving violation. Speeding fines start at $156 and can exceed $606 for speeding through a school zone. Failing to stop for a school bus will cost $271 and passing a school bus is $371.
This year, the Florida Sheriff's Task Force is launching Operation Safe Schools to protect Florida's youth and focus on safety in school zones. Sheriff's offices statewide will be asked to report the number of warnings, citations and even arrests from traffic infractions in area school zones, said Sgt. David Williams, traffic supervisor for the sheriff's office.
The Flagler County Sheriff's Office urges motorists, parents, guardians and students to follow these safety tips:
1. Leave for school a few minutes early to avoid the rush to school.
2. Watch out for children in school zones and streets close to schools.
3. Pay close attention to school buses. Remember, when a school bus stops and turns on its
flashing lights and extends it signs, you must also stop unless there is an unpaved median of
at least five feet, a raised median, or a physical barrier separating your vehicle from the
stopped school bus.
4. Ensure everyone in your vehicle is properly secured in either an approved car seat or safety
belt.
5. Always slow down through school zones. Pay close attention to the crossing guards at those
intersections. Some crossing times may vary.
6. Children should always be instructed to catch the eye and attention of the bus driver when
walking in front of the school bus. A good rule to follow: Be at least 10 feet in front of the
bus when crossing.
Deputies also offer these suggestions to help parents/guardians keep kids safe this school year:
1. Establish one or more safe routes for your child to take to the bus stop/school. Instruct your
child not to use short cuts unless you know the route is safe.
2. Teach your child to always use the cross walks and obey all traffic signals.
3. If possible, arrange for a group to walk with your child to school.
4. Teach your child to be aware of their surroundings at all times. If they feel threatened or
unsafe in any way, they should proceed to a safe place immediately.
5. Develop a secret password for you to use with your children in the event of an emergency
where you cannot pick them up from school or another location. This password should never
be shared with anyone other than you and your child.
6. Tell your child to never speak to a stranger. If a stranger asks your child a question, your
child should be instructed to say in a loud voice "I cannot talk to you" and immediately find a
trusted adult, school official, crossing guard, or law enforcement officer.
7. Tell your child that anyone can be a stranger. Strangers are not always dressed in dark or
dirty clothing. Strangers are anyone they do not know.
8. Instruct your child to never get into a stranger's car, or to follow them anywhere. If a stranger
tries to take your child somewhere, instruct your child to yell loudly for help and run to a safe
place and immediately contact a trusted adult and law enforcement officer.
9. Remind children to stay in well-lit areas and to walk in the middle of the sidewalk.
10. Make sure your children know to tell a trusted adult or teacher if they see a stranger in or
around their school.
11. Immediately report all suspicious activity to 911.
12. Everyone is urged to learn who is living near them. Visit www.fdle.state.fl.us to view
information on every sexual offender and predator in Flagler County. Your search can be
refined to your ZIP code area, or even a five-mile radius of your home.
For school-related inquiries, contact Jason Wheeler, Information Specialist with Flagler Schools, at (386) 437-7526, ext. 2110. For sheriff's related inquiries, contact Laura Williams, public information officer, at 586-4802.