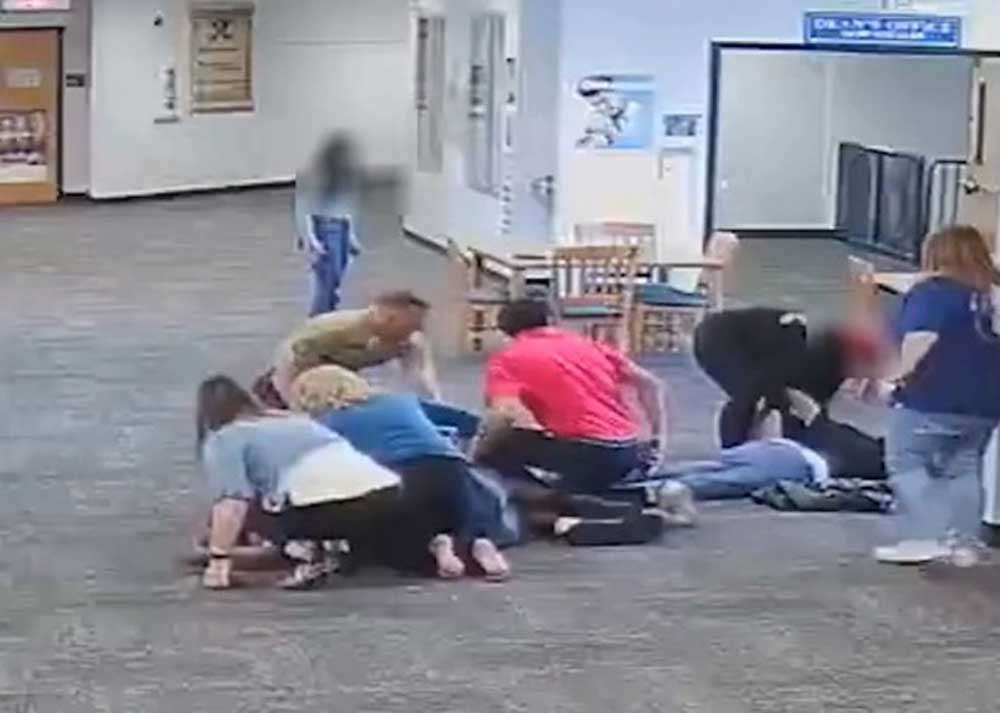 Brendan Depa, the 17-year-old special education Matanzas High School student whose assault of a paraprofessional at Matanzas High School school last week has drawn international attention, was arrested three times on battery charges when he was 13, including for domestic violence, according to court records.
Depa, who will be 18 in August, is behaviorally disabled. He was charged as an adult in last Tuesday's attack against Joan Naydich, the paraprofessional assigned to work with him. He faces a charge of aggravated battery against a school employee, a first degree felony punishable by up to 30 years in prison. He is being held in a juvenile jail in Duval County on $1 million bond set by County Judge Melissa Distler.
Depa's case recalls other violent incidents at both Flagler Palm Coast High School and Matanzas High School that were not addressed with anywhere near the harsh charge Depa now faces.
Depa had originally been arrested on the aggravated battery charge by the Flagler County Sheriff's Office, but as a juvenile, and as a second-degree felony. He was sent to the Department of Juvenile Justice in Daytona Beach, where he spent the night.
He was released the next day to the care of his group home, run by East Coast Habilitation Options at 7 Palmer Lane in Palm Coast. The organization, known as ECHO, advertises itself as "committed to improving the quality of life for individuals with developmental disabilities," including teens with "autism, intellectual disabilities and behavioral challenges." (An ECHO employee was arrested and fired from her job when she was charged with abusing one of the adolescents in her care last December. The case is pending in court.)




Depa was re-arrested Friday evening just before 7 p.m. at the ECHO home after the State Attorney's office charged him as an adult. His second arrest was uneventful. He is scheduled for arraignment before Circuit Judge Terence Perkins on March 6. (See: "Matanzas Student Charged as Adult with 1st-Degree Felony in Assault on Teacher Aide.")
His juvenile justice record indicates that all three of his previous arrests took place in 2019 in Hillsborough County, the 13th Judicial Circuit (Flagler is in the Seventh), when he lived in Riverview, where his mother is an occupational therapist.
He was arrested in March 2019, in April, and again in June that year. The arrests were for simple battery and were categorized as first-degree misdemeanors. His record indicates he was in juvenile custody for a few days the first time. He was soon re-arrested and admitted to what DJJ refers to as "respite care," which can be the result of different circumstances.
In this case, it was domestic violence respite care, which the department defines as "When the youth being admitted was screened at the JAC [Juvenile Assessment Center] for domestic violence charges and did not score for secure detention, but is unable to be released to family and would otherwise be held in
secure detention." The domestic violence charge suggests his victim was a close family member.




Depa then entered a diversionary program categorized as "Intensive Delinquency Diversionary Services." It isn't clear if the third charge occurred when he was in or out of juvenile custody. He successfully completed DJJ programs, and steered clear of the department until last week.
He was in 11th grade at Matanzas, where he had been attending school for a year and a half. The district is not releasing information about the case pending its own investigation, which is ongoing. The investigation will most likely reconstruct the hours leading up to the incident and what, precisely, Depa was doing when he was triggered, if he was triggered. His initial arrest report states he had become angry when Naydich allegedly took away a Nintendo game. She was leaving the classroom.
(Naydich in an update posted today–Monday–on her condition, on a GoFundMe page, disputes the claim about the game: "For all you keyboard warriors, I just want to set the record straight. I never took the Nintendo Switch from him. From anyone that's read or heard differently, I've been told this was unfortunately misinformation." Depa mad the claim about the game. It was reported by the sheriff's deputy who made the arrest and included in the arrest report.)
The surveillance video shows Depa running after her and launching her against the floor, where she appears to have immediately lost consciousness. He then pounded and kicked her repeatedly until several staff members pushed him away and took control of him. According to his arrest report, he allegedly threatened to beat and kill Naydich if she took his game away again, and also sought to go back to his group home when he was being arrested.




Naydich is a nearly 20-year employee with the Flagler County school district, starting there in 2004 food services, and becoming a paraprofessional in 2021. Paraprofessionals are somewhat like teacher aides, though their responsibilities can vary significantly depending on their assignments. They don't have teaching licenses, but their classroom workloads can be considerable–the way sometimes a physician's assistant can seem to work more than the physician.
Depa's behavior tracks with that of a profoundly behaviorally disabled student. It also tracks with the behavior of other students in similar circumstances whose outbursts were not necessarily publicized, including the case of a student on the autism spectrum at Flagler Palm Coast High School a decade ago–when Jacob Oliva was principal–who broke a teacher's arm. In a subsequent incident, the same student attacked and pounded another student–who was also on the autism spectrum–leaving her significantly bruised. The attacking student was neither arrested nor removed from the school, which built a padded room to accommodate him.
Kendall Clark, the mother of the student he pounded, used to volunteer in that classroom, where the teacher whose arm was broken was a close friend.
"It's not fair to the [offending] kids, it's not fair to the other kids in those classes, and it's not fair to the staff," Clark said today in an interview, referring equally to incidents then and now. "They should be someplace else when they're violent like that, not punitive, but just for everybody's safety because what if he had to be tased or shot to stop? What if nobody could stop him? These people aren't trained to deal with that."
A special education student at Flagler Palm Coast High School was tased in September 2007, the first time such an incident took place on any Flagler campus. The student was only refusing to leave a classroom when repeatedly told. The incident left then-Superintendent Bill Delbrugge livid about the overreaction, which led then Sheriff Don Fleming to remove the weapons from school grounds. Resource deputies again wore the weapon starting in 2011, a year after Delbrugge left.
Two years later, another student–at Matanzas High School–was tased after punching a student and a deputy. The man was charged with battery on a law enforcement officer, a third degree felony, and two misdemeanors, was placed in a diversionary program and did not serve time in jail.




Clark described the incident involving the autistic student that took place a decade ago when she was a volunteer. None of the people involved in that classroom are in the district anymore. The boy "would get mad, and he was so violent that they hired a man to be his Parapro, because nobody could control him. And the man was like a weightlifter and a speed runner and in really good shape. If the door was open, he would run out the door."
It was on one of those occasions when he ran out and attacked Clark's daughter, who was having lunch. "He just started pounding on her. Her entire back was covered in bruises," Clark said. A year earlier he got mad at his teacher–Clark's friend–"and slammed her up against a wall and bent her arm backwards and broke it."
The child had profound autism. Even male teachers were terrified of him. He would pull bookshelves down, throw desks, attack students who happened to be in an area where he liked to blast sand around. He would be let into the lunchroom 20 minutes before other children because he was so intimidating to them. The district had an alternative school at the time. His parents, who had influence in the community, insisted that he remain at the school.
"But also this was a white kid and everybody was afraid of his parents, and that was well known," Clark said. "But I didn't want him to go to jail. I still look at him with compassion. Because it's not his fault. He's the way he is. And it's not his fault. He reacts the way he does. It's his parents' fault that he was someplace that puts so many other people in jeopardy. That's how I look at it. I just hate that there's no choice but this in Flagler County, that other kids are exposed to it."
Clark stressed: "Again, not blaming him 100 percent or even 10 percent. But kids can be assholes, You know that as well as me," she said, referring to students who make fun of special-needs classmates. "There's a lot of reasons kids that are that profound, should not be in a school, where you have to lock doors and bar doors and put furniture up against the door so that an angry kid doesn't come charging at you. And that's what these teachers deal with."