"In the criminal justice system, the people are represented by two separate yet equally important groups: the police who investigate crime, and the district attorneys who prosecute the offenders. These are their stories."
Cue the characteristic sound of those jail cell doors slamming shut and the theme to "Law and Order," dubbed over a video montage of the emergence of Matanzas High School's Law and Justice Flagship program, cleverly and humorously shown Wednesday morning to scores of community members, elected officials, business representatives, students and faculty who turned out for the ribbon-cutting of the Law part of the program.
It's Matanzas's fourth flagship, along with culinary arts, the finance and corporate services flagship through VyStar Credit Union (with an actual branch on campus) and construction. But it may be its visually most impressive yet: the students in the construction flagship turned a classroom into an almost complete courtroom with their own hands in a matter of six weeks, cobbling together their own ingenuity and supplies with parts of a "retired" traffic court's furniture in jacksonville that Rep. Paul Renner discovered and arranged to be donated to Matanzas.
---
Law and Justice Flagship's Story
Megan Winter, 18, and Hunter Perez, 17, two years ago had walked into Gloria Barton's classroom (she teaches forensics and criminal justice) with the idea for a law flagship. They'd just been to see County Judge Melissa Distler in session at the courthouse, and spoken to her there. It triggered a plan. Barton suggested incorporating law and justice. They submitted their idea to Jeff Reeves, the Matanzas principal. Next it was a presentation to the school board and getting the backing of School Board Chair Janet McDonald.
The flagship is already having its intended results: Winter wants to be a lawyer in civil rights and civil liberties. Perez wants to be a state attorney–and attorney general, not necessarily limited to Florida. "It's a big decision choosing what you want to do for the rest of your life," Winter says, referring to fellow-students, "so if they can find out what they're interested in, it helps a lot, and they get so many opportunities through the classroom-to-career."
"The best part is it produces jobs, it boosts Flagler's economy, it's going to give us more officers, mayors, commissioners," Perez said.
Matanzas originally launched the law and justice flagship in August 2018, though at the time it was heavily focused on the justice side, which prepares students to be cops or crime analysis or detention officers. The law part's more defined identity came into its own this year, with the mock courtroom playing a big role and, in Reeve's designs for it, potentially becoming an actual courtroom for Teen Court, if not even oral arguments by judges of the Fifth District Court of Appeal, which sits iN Daytona Beach.
"What we look to do is try encourage students, whether it's construction flagship or culinary, or this," Matanzas Principal Jeff Reeves said, "we try and find ways to connect students with part of what's going on now and be involved, so these students do mock trials, these students work with local attorneys, they have a forensics team that go and help out and do different things. So they're seeing real-world application in their class that directly sees those connections, and that's huge for students to see. It's not conceptual, what we're trying to do, but they're actually seeing the real-life stuff."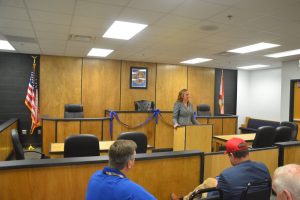 The opening monologue of the Law and Order theme for 20 years repeated a gross inaccuracy, and repeats it still in reruns as it did in the video montage the students prepared for Wednesday's ribbon-cutting: in the criminal justice system the people aren't represented just by police and prosecutors. They're also represented by defense attorneys and public defenders, an equally important part of criminal justice that television often maligns as afterthoughts. But that's part of what students in the flagship program will learn–to peel off television's misconceptions.
"What draws the attention for the students is obviously TV shows like 'Law and Order' and 'CSI,' That sparks their interests," says Jeremy Ossler, who teaches the law part of the flagship. He led Atlantic High School's law academy for 15 years before Reeves recruited him this year. "So when they come in here, the Hollywoodizing of things is a misconception," with all crises resolved in 42 minutes instead of two, three or four years. Or in the world of law, with the overwhelming majority of cases getting resolved before trial. "That's part of our job to teach them the realistic aspects of what a career entails, getting them out there to law firms to see what the day to day aspect looks like. We're preparing them for that, but we're also preparing them for other things. Not only that, we're giving them the idea of civic responsibility and the lessons they need just to be normal citizens."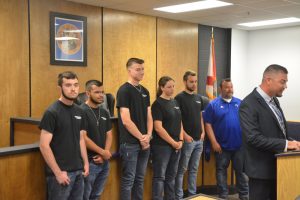 Those field trips to a courtroom can be inspiring to students like Winter and Perez. But not all the world of law is glamor and courtroom awesomeness. Much of it can be shocking, tedious, dispiriting. Distler, the county judge–who returned the students' visit and was part of the ribbon-cutting Wednesday–said the flagship would provide that bigger picture.
"If you want to go into law you have to understand the bigger picture of what is justice," the judge, who's been on the bench since 2012 and was just re-elected, said. "Part of it is punishment, part of it is rehabilitation, retribution, restitution: there's all these different things that we attach to that notion of what justice is. And so television only gives you the sexy, teaser part of justice. But justice is about treating every person fairly and with respect. And you can't get hyper-focused on doing the fun stuff, because that's only fun for the lawyers individually, it's not necessarily fun for the victims and the witnesses and all the other participants. So when you talk about justice it's really about every single person having their day in court." Some of those cases can take a few years, only rarely ending in a trial. "It's about the people and making sure nobody gets lost in that mass of sea of cases that you have, knowing that each person is an individual case."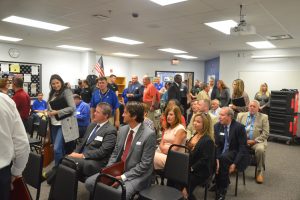 The inspiring part of Matanzas's flagship was not all forward-looking. There was a bit of a circle closing as well in the presence of Vincent Sullivan. He was part of the first-ever graduating class of Matanzas High School in 2008. He went on to college and law school (it was going to be either veterinary school or law school; veterinary school was seven years, law school three. That decided it). He's now a 28-year-old lawyer and the newest arrival at Chiumento Dwyer Hertel Grant and Kistemaker, the Palm Coast firm that's been involved in the flagship. And now Sullivan was back on his old grounds, a member of the bar. He intends to be involved in the flagship as well.
"The way the legal system works, it's a fantastic process. It wholly benefits society," Sullivan said. "Right, wrong or indifferent, at some level there is some equality and certainly justice that goes along in the legal system."
The prompts to students on a whiteboard on one of the walls of the classroom-courtroom seemed to quietly echo the words of the judge and the attorney. A journal prompt asked: "How do we ensure, through the justice system, that the punishment fits the crime?" There was mention of Hammurabi's code, reputed to be the very first recorded set of laws, dating back almost 4,000 years–the first recorded evidence of a presumption of evidence in legal matters, the first code affording both the accused and the accuser an equal right to present evidence, but also the first code laying out a justice system's capacity for cruel and unusual punishment.
As if to temper the reference to Hammurabi, someone has also written a quote by the Canadian novelist and laureate Margaret Atwood (author of "The Handmaid's Tale"): "An eye for an eye only leads to more blindness."