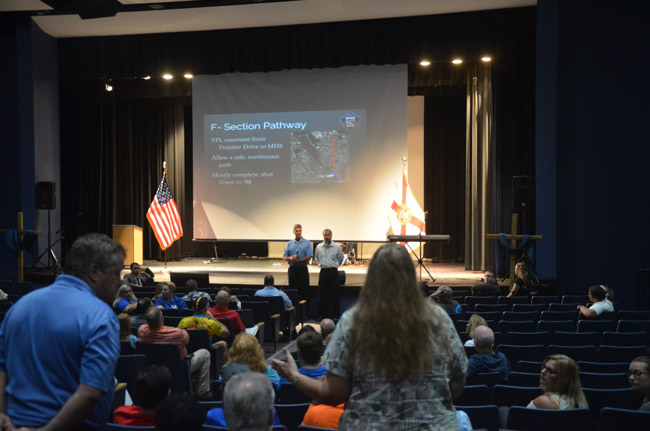 On September 10, 2007, Palm Coast government crews began work on a $360,000, two-mile foot and bike path along a powerline easement in the F Section Off Old Kings Road, going north up to Matanzas High School at Forest Grove. When residents along the path found out, they were livid, because the city had not notified them. City Manager Jim Landon admitted the mistake, saying the city "blew it."
"This is not how you do business in the community," he said at the time, in comments reported by the News-Journal. "This is a situation where instead of we did it with the neighborhood, we did it to the neighborhood."
He subsequently took a lot of heat at a community meeting on the path Work was suspended, then stopped, though much of it had been done, as residents' opposition proved too much for the city council. It was a defeat early in Landon's tenure that he did not forget.
This evening, about 100 F-Section residents gathered at Matanzas's Pirates Theatre to hear a student presentation reviving the path proposal. Landon was not there. He dispatched three senior staffers to take the heat this time. They did. There was plenty of it, including some from people who had been part of the 2007 opposition.
"I was one of the one who fought this in '08," Richard Mayo told the crowd, mistaking the year of the opposition. "I remember having a fight with Landon about the time he tried to sneak that path through that easement. At the time, he had told us, if you don't want our money spent here now, I'm not going to spend any money in your section.' And he kept his word. He didn't put anything in the F Section that whole time. So the reason that poor kid got run over" –he was referring to Kelvin Smith, 16, killed by a hit and run driver as Smith was biking home on Old Kings Road the night of last New Year's Eve—is because the city did not put the sidewalk path in on Old Kings that we asked for in 08. That's why that poor child died."
The death of Smith and, earlier this year on Lakeview Boulevard, of 16-year-old Michelle Taylor, also 16, as she walked by roadside, compelled Matanzas High School students to form a safety committee and formulate immediate, reasonable options. They joined forces with city staffers. One of those options is the completion of the path started in 2007.
Senior Chris Norris and junior Tommy Jones made the case before residents this evening before the floor was opened for questions and comments. "We need to work collectively to improve our collective safety," Jones said. The path, he said, is similar to those that have been enjoyed by residents across the city. "The urgency of this issue, it's very important for us to prevent further injuries and fatalities and to increase the pedestrian safety in our community, that's extremely important to us especially after what happened to our family here at Matanzas."
The crowd was divided over the issue, with many supportive of the students' (and the city's) plan to finish the FPL path, and many opposed, though all agreed on the need to improve safety for students and others. Where they forked ways was simple: those who oppose the FPL path want the city to build a sidewalk along Old Kings Road instead. Those who favor the path say it's time to do something, and not wait until Old Kings Road is widened, which could be years, at which time the sidewalk would be part of the project.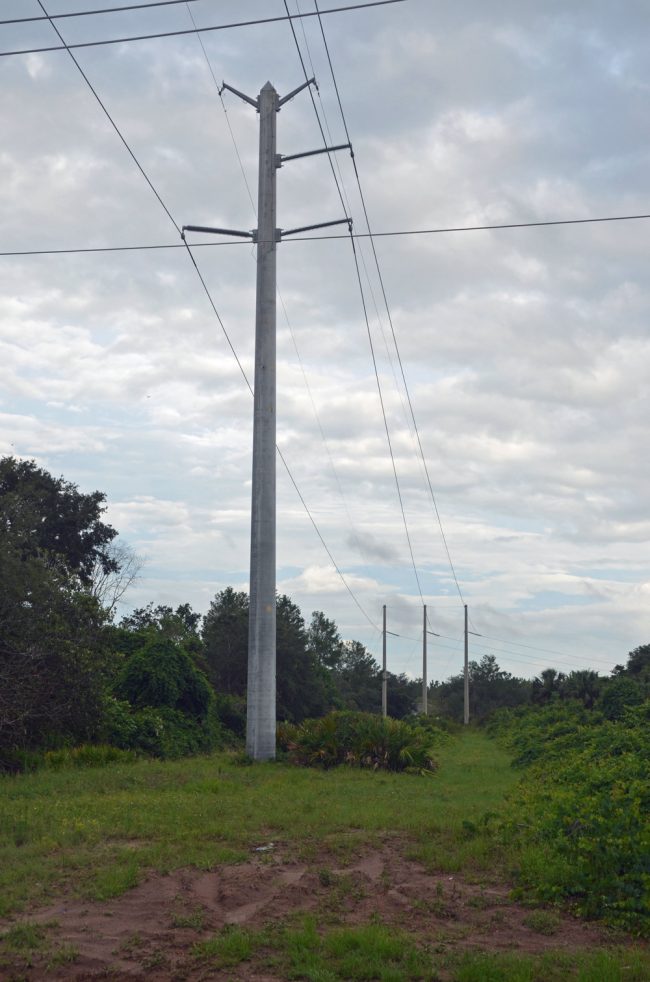 That road-widening, Carl Cote, the city's construction manager told the crowd to loud groans, "could be 10, 20 years from now, we don't know when it's going to be built."
"Put the damn sidewalk in," a woman burst out from the crowd. "How many more lives will be lost because of stupidity?" City staffers took criticism over the path for allegedly enabling crime and building an unsafe trail through heavy brush, away from road traffic that could keep eyes on students using sidewalks. There was also some criticism for placing a lath beneath high-voltage powerlines.
But that was part of the evening's misinformation: In fact, many of the city's paths—all of them well used and, according to the city's annual citizens' survey, cherished—purposefully parallel utility easements as a wise use of city, and relatively green, space. Paths, including, for example, Lehigh Trail, which cuts through forest and heavy brush and is dissimulated from view beyond the path itself, have been very safe, as even Mark Carman, who commands the sheriff's Palm Coast precinct, told the crowd: "I don't want you to use crime as an indicator," he said, having examined data before the meeting. "The statistical data doesn't show the crime you're talking about."
And while the absence of a sidewalk along Old Kings Road has been and continues to be a problem, the FPL easement cuts a geographically more logical straight line through the F Section to Matanzas, which will reduce travel time for those students who are forced to walk or bike to school within the two-mile radius, inside of which state law allows—and limited budgets compel– districts not to provide bus transportation.
The students pointed out some of those realities, framing them in the urgency of the moment, which lent a measure of emotions to both sides of the argument. So did parents. So did school staffers.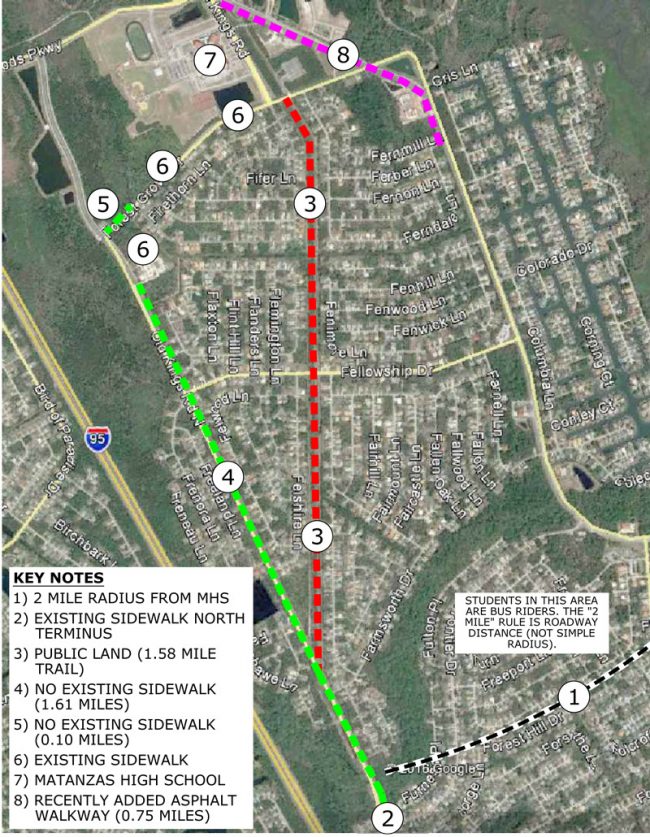 "I got a phone call that I'm never going to forget, and that was to report to Matanzas, because they had lost a student, and I spent two days here, and I did grief counseling with the students at the school, the teachers at the school, the administration at the school, and it's the phone call you don't want to get, and I got it twice, since I've worked here in the last six years," said Shoshannah Mercado, her voice on the verge of breaking. "I can't tell you how important it is to me, not just because of that, but because I'm a parent here as well. I have memories of walking down Frontier with my son, and being so terrified the entire time, all we wanted to do was take a walk, and we couldn't get down Frontier without fearing that we were going to get smacked by a car every two seconds." All along, she had to police her own child to stay off the road. "That fear combined with the grief I had to witness on that day is not OK. It just simply is not OK, and I don't think that Palm Coast has maybe thought of the fact that this is not a retirement community. This is a family community. There are kids here."
She was stopped by applause, before speaking of her dismay at recurring reports of fatalities on the roads. "It's not just about getting a path," she said. "This is a bigger problem. Palm Coast needs sidewalks. Palm Coast needs lighting."
David Hayes, likely the man who's been in Palm Coast the longest of all the people in the auditorium—he worked for ITT for 30 years and is a cyclist—then rose and told the crowd he'd almost gotten killed yesterday "because of you drivers," as he put it. "Folks, you do not know how to drive on these roads. You have no cooperation for any bicyclists out here." He added: "I'm all for these kids. I mean, we're talking about the safety and the future of Palm Coast, these kids. And if we cannot get them to school safe, and get them back to their families safe, then obviously we've got something wrong here. I don't care where they put this damn bike path, but they need to put a bike path."
"Through the middle of your property?" someone yelled out.
"I don't care if it goes right through the middle of my property or not," Hayes said.
Many others spoke, more opposed than in favor of the path, though both sides were strongly represented, and much of the debate reflecting an undertow of mistrust—perhaps unfairly to students whose history ends at the past year's deaths of classmates—from the city's handling of the very same issue a decade ago.
This go-around was not winning greater trust. Most people at Pirates Theater this evening at least thought the path was still a proposal. That's how the students presented it—students who themselves were unaware of this week's developments. Many in the audience were unaware that the Palm Coast City Council Tuesday evening had voted to approve $125,000 in funding for paths, including the necessary money to have Halifax Paving go ahead and pave the path (which will be 10 feet wide), after city crews clear it of overgrowth. The plan is to have it done in time for school's opening day in August.
Two council members were at tonight's meeting: Steven Nobile and Heidi Shipley. Nobile on Tuesday had raised a question about the sequence: "We're going to vote tonight on this FP&L path, but we're meeting tomorrow with the residents?" he asked the city manager.
---
An undertow of mistrust dates back to a decade-old plan's mishandling even as strong arguments are put forth from both sides.
---
Yes, Landon told him. "If you all want to not do the path to the high school through the F Section, we can shift those dollars to other streets in the future." Landon said the city had "invited everybody that wants to come" to the Matanzas meeting, though that was overstating the case: a notice of the meeting appears on the city's website's calendar, but while the city makes compulsive use of its PR office to highlight events and meetings it wants highlighted, such as a flag-raising this Friday or any of a number of back-patting awards the city never fails to announce, its press releases were silent on the Matanzas meeting, even though paths and safety are ostensibly a council priority.
Briefly interviewed about halfway through tonight's meeting, Nobile was still bothered by the sequence and some of the criticism he'd heard, but he said he was there to learn and had not entirely made up his mind. "There's a lot of good arguments on both sides here," he said, noting that even if Old Kings Road were to be widened at some point, the path would then become necessary as a "supplement" during construction, so why not go ahead and complete it now? Still, he said, he is "very upset about what should have been done" 10 years ago—meaning work on Old Kings Road, if not a sidewalk. "I don't want to leave here not having a way for the children to get to school."
He said the issue would be talked about at next Tuesday's workshop of the council. (As he spoke, Allison Martin, who was leaving the theater, called it a "no-win situation," explaining that the city had already made up its mind.)
The School Board's Andy Dance was also in the audience. "I applaud the students for bringing that option back up," he said of the dormant path. He said he was there to get educated about what he saw as two viable options–the path and a sidewalk paralleling Old Kings Road–though he was unaware that the city council had already voted to fund the path. "It's a little backward," he said. "It's not typical planning process. You'd typically go for public input first, but I'm not on the council, I don't know what they were faced with."
Shipley, whose district includes the F Section and Matanzas, addressed the crowd, saying—as she did Tuesday evening—that while the path issue has its complications, "I don't want to wait and have somebody say we waited too long." Her priority is to get the path finished, then pressure the state Transportation Department to finally provide the dollars to widen Old Kings Road and build the parallel sidewalk.
Even then, however, if the path is in place, it's more likely than not that it will, be the favored way to Matanzas for a large portion of F-Section residents, given its arrow-straight trajectory to the school. Only the way to getting the path done continues to be more jagged.