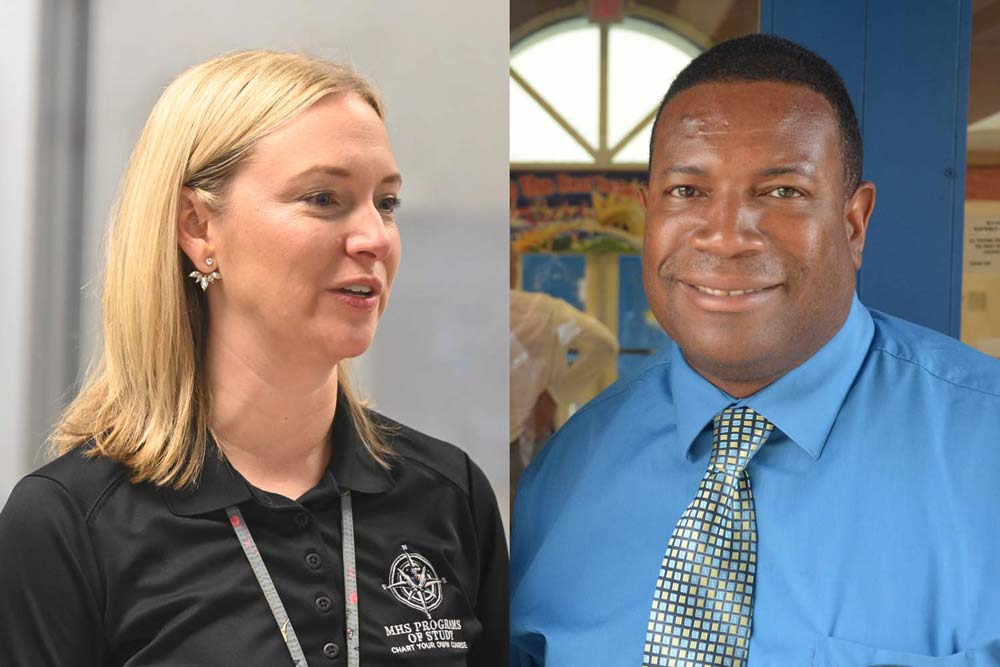 A week ago the Flagler County Sheriff's Office handed felony and misdemeanor charges to 11 Matanzas High School students after they got into a brawl. The school principal and the superintendent issued statements that the behavior would not be tolerated, and that the students would be either placed in an alternative program or expelled.
But the incident had not occurred out of nowhere. According to eight of the parents involved, all of whom were interviewed on the record, several of them had been warning the school administration of problems well before the brawl. Some had asked for bus changes for their daughters, some had asked for class or lunch period changes, some had asked for mediation with the other parents.




While some students were ordered to stay home certain days and others were slapped with no-contact orders in the run-up to the brawl, parents' alerts and suggestions were neglected or turned down outright, either by Fred Terry, one of the assistant principals, or by one of the deans, and to an apparently unaware principal, Kristin Bozeman, who would tell several of the parents that she was unaware of the issues until the day of the brawl.
After the brawl the parents say their children were questioned and handed charges without their parents present, with calls occurring later to some parents but not others: if the brawl had been chaotic, so had been its run-up, and so was its aftermath, in the parents' view.
But it could have been avoided, they say, had the school taken their concerns more seriously.
On Saturday morning, most of the parents met at Ihop–most of them for the first time–including parents of the main antagonists. Sheena Daughtry had organized the breakfast.




"The purpose of this meeting is for all the parents to get on board and for us to all communicate, and get the girls to the point to where they can go to school," Daughtry told the mothers around the table. "They don't have to like each other, but get them to go make sure they go to school. African American women, this hinders them when they run into stuff like that, when they have plans going to college and stuff like this. So obviously the school failed us, so now we have to step in and try to resolve it."
"Exactly, we've to to be the mothers to the community," Tanesha said.
The parents, most of whom had been interviewed previously, all spoke for the record, including Daughtry, Alicia Rowland, Martina Currie, Lakita Williams (her husband Derrick was interviewed previously by phone), Surena Miley-Adair, Keisha Quijano, and Tanesha, a parent who asked that only her first name be used.
The next day–Sunday, Oct. 15–they met again, this time with their daughters, at Miley-Adair's house, where the evening lasted from 5 to 9 p.m.




"All of our kids are beefing with each other and we're all coming together to squash this, the parents are doing something the school didn't do," Miley-Adair said. "We just need to know where we need to go from here, what our kids need to do, how their grades are going to get fixed. I feel like we should go in there united, not separated. Don't separate us. That way they know we're going to do this together."
The parents were especially resentful of the school seeking to keep the parents from meeting each other before the brawl–and of reactions after the brawl that painted the picture as an incident out of the blue, and the students as "animals," in some social media reactions. "All of them are labeled as juvenile delinquents. That's crazy to me," Lakita Williams said.
"At the end of the day, they failed us as a community, they failed our children, and we're going to let them know what it looks like," Miley-Adair said. "When you fail us, we pick up the pieces, and we'll be as one. Because we're not separated. We may not be family, but our daughters have to live together, they've got to go to school together."
"I called Mr Terry: we need to get all these parents together, we need to get all these kids together, we need to have a mediation," Alicia Rowland, whose daughter is one of the main antagonists, said, recalling speaking to Terry days before the brawl.Terry had issued no-contact orders on some of the students, but he would not agree to a mediation involving parents–only the girls–and would not alter bus assignments.




"I wanted all the girls to be there at the same time so they could tell Mr. Terry what happened, and I wanted their parents to be there," Rowland said. "He just kept saying it's going to escalate more if we get everybody together, I felt he was afraid it was going to make it worse, but I was trying to express to him it was getting worse, because these parents were not aware."
Terry did not respond to a request for comment. Bozeman declined an interview, referring instead to the message posted on the school's website on Oct. 11. "I want to be very clear with our students and parents about our behavior expectations at Matanzas High School," the message read in part. "Violence and fighting have no place in our school and are harmful to the positive student culture that we have at Matanzas High School."
Bozeman referred to the Student Code of Conduct, and only in the fourth paragraph of the five-paragraph letter addressed conflicts and bullying, saying the school investigates all such reports. "If your child is experiencing any of these concerns, I urge you to reach out to their school counselor, a dean or myself so that we can help," Bozeman wrote.
The line makes the parents sneer, because they say they did reach out ahead of the brawl, and nothing was done.
Martina Currie described the experience with her daughter and the school administration in detail. (The account could not be verified since the principal declined to be interviewed.) Currie's daughter was not one of the main antagonists. She was more on the periphery.
"She told me over the weekend that there were some girls and they were getting into it with her friends, and that it was getting out of hand, and now the other young lady, they're trying to bring her into it," Currie said.




"Monday morning I got a text from her." It was 10:49. Her daughter sent three short texts: "mom she starting w me." "Im just letting you know." "i tried to be the bigger person."
Currie asked for the girl's name and what she was saying. "She saying im scary and i dont want to fight and she ab to come to my class when it ends and im going to fight her," and in another text: "basically trying to punk me in front of everybody."
"It's ok I called the office," Currie texted her daughter.
Currie explained the sequence. She had been in a meeting at work (she's an interim director of nursing). "I left out of my meeting and called the school," Currie said, "spoke to whomever answered the phone. They transferred me to Maryann. Maryann assured me they would get my daughter out of class, because she told me all the deans were in a meeting [the school has three deans and four assistant principals], so I couldn't speak directly to a dean. They told me they would get her out of class. They were going to call me when they got my daughter out of class. Well, nobody ever called."
Her daughter was called down to the office, and told she could not have a no-contact order placed on the girl who was threatening her. As Currie understood it, a no-contact order would require a more serious pretext, like an actual altercation. "But they never called me, they never called my husband," she said, so everyone involved could get a better handle on the situation.
Two hours later, Currie got the call no parent wants to get. "The next call I got was my daughter saying that she got into an altercation," she said.




The brawl had taken place. A dean, Daniel Hawkinson, called her on a three-way call with her daughter on the line. By then the students had been charged. Currie's daughter had a misdemeanor.
"I said well, how did this even occur if you all were supposed to get her out of class," Currie said she told the dean. "How could any kids get into an altercation when I forewarned the school that this was something that was going to happen, and so I asked: how? And he said well, we had been having mediation with the other parents and all this stuff," meaning one-on-one mediation, not in a collective sense. "I said I don't care about that. I care about why did this occur when I already called the school and warned you all that it was getting out of hand and to protect the kids–all kids."
The dean, she said, "was trying to put it on the parents. He was saying that the parents should teach their kids how to de-escalate. I said excuse you? I said let me allow you to speak, but let me tell you this: I said there is no way that you can say 'the parents,' when the school was notified by me hours before this occurred. So tell me where the fault is of you all and how you all failed all of our children. I'm not talking about just mine. I'm talking about every child there. If they have football scholarships, they will lose them. If they are going to college or wherever they may go on, this will follow them. I say, so what are you all going to do? Because this is totally ridiculous. This is unfair to say 'the parents.'"
Rowland's daughter had come home before the brawl and told her that she didn't want to deal with Terry anymore because the way he addressed her concerns, she said, was to send her back to class with a warning: "You all got a no contact order, so if you all fight, you're all going to jail," Rowland said, citing what Terry had told her daughter. That upset Rowland.
She went to the school the next day–that was before the brawl–and told Terry: "Don't talk to my child without me present, because y'all don't know what to say to a child. Now she's walking around all day like, 'Mom, I'm gonna go to jail. I'm gonna go to jail. I'm gonna go to jail.' And I'm telling her, you're not going to jail. All you need to do is you all need to sit down and have a conversation."




After the brawl, Rowland got a call, "and then he sits there and he apologizes," she said of Terry. "And I told him, you don't owe me an apology, you owe these kids an apology, because you failed the children, not us. You all need to do y'all's jobs."
Terry emailed parents two days later with a cut-and-paste copy of the appeals procedure, if they wanted to appeal the disciplining of their daughters. The principal's message had stated that "involved students will be referred to the district multi-disciplinary team for consideration of placement in an alternative program or for expulsion."
The school, the parents say, is taking an easier way out, leveling charges or disciplinary edicts without taking responsibility for its own failure to more effectively anticipate the brawl.
"I find it very hard to believe that if I call to warn you all and then these children still got into an altercation, and yet it's no fault or liability for the school," Currie said. "That's like me, when somebody does anything I'm over as a director of nursing, I have to go as a regional nurse consultant, I have to say, we messed up. This is what we did, this is the plan moving forward. All you said was that my child maybe did the misdemeanor, and the court will let me know."
This was Wednesday afternoon, when Currie was told at school after school staff hurriedly moved her to a back office to keep away from other parents gathered there. "I still don't understand how this could have occurred," she said. "That's not OK."
Several parents were stunned by the principal's reaction. "The main principal had no idea any of this was going on–on Monday, when this fight was going on," Miley-Adair said. "She found out about it I guess the day it happened because they weren;t doing anything about it."
"The principal asked me, 'what should we do?'," Derrick Williams said. "I told her: I'm a nurse, you're the teachers. You don't have that going on at your school. Your teachers have to be the students' teachers, not the teachers' teachers." He said his daughter has had her share of issues, including a stint at Rise Up, the alternative school, last year. He's not excusing her for those issues. But he said the school was not willing to address the situation realistically. "They should have called the other girls' parents, sat everybody down and find out why is everything going on, and get to the bottom of it." Instead, he said, "the teachers and administrators, they allowed it to fly under the radar."




Miley-Adair had a similar encounter with Bozeman: "When the principal finally–Ms. Bozeman finally found out what happened, I gave her my phone number, and when I went into the room she was like, how about your parents try to get to it, that was the first thing she said to me. And I said we've tried, the school wouldn't let us."
If Bozeman's instincts were right–she was recommending what the parents had wanted to do all along–it was too late.
"We did something that you all failed to do," Rowland said of the way the parents organized themselves by week's end.
It was never clear what the feud had been about. Some of the parents say it goes back to last year, some say it goes back to Indian Trails Middle School, some say it had to do with a girl swiping another girl's electronic device, and some, like Rowland, were certain that the girls themselves couldn't say where this started. "Watch, tomorrow we'll get them together, they'll say, 'I don't know, I don't know.'" When they did get together, the girls blamed "a bunch of outsider people coming to them, telling them they want to fight."
"So they quashed it, all the girls agreed to get along," Daughtry said–assuming the school would let them get that far, now that the school intends to disperse them between expulsions and reassignments to the alternative school, while cases against almost a dozen them carry on in juvenile court.