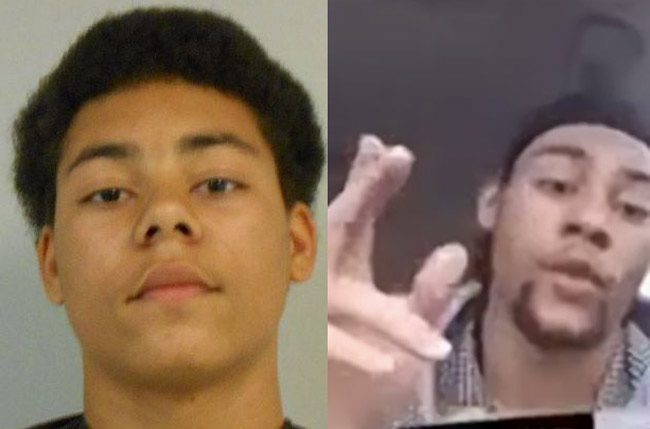 When Marion L. Gavins Jr.'s mother was driving him Sunday afternoon to the sheriff's Palm Coast substation so he could turn himself in on a first-degree murder warrant in the death of 18-year-old Curtis Gray, Gavins was 33 days shy of his 18th birthday. That ride, what may be his very last ride as a free civilian for decades, was the culmination of four years of run-ins with school authorities, sheriff's deputies and Flagler Beach police, suspensions, expulsions, arrests, stints in the criminal justice system's juvenile division, probation and house arrest.
In those four years he'd been expelled from school, he'd been arrested twice on felony charges–before Sunday–and twice on misdemeanors, one of those times over a domestic violence incident where his mother was the victim. Sunday's arrest was the gravest, but not the first involving weapons: in 2014 he'd been arrested for bringing a knife to school, and had given a stolen gun to a friend for safekeeping at a time when he was thought to be in a gang. The friend's mother called him "trouble."
Gavins's first arrest, a felony, dates back to when he was 13 and a student at Indian Trails Middle School. His teacher smelled burnt marijuana emitting from his backpack. Administrators advised him that he'd be the subject of a search and asked him if they should be concerned about anything on him or in his belongings. He said No. But they found two pieces of paper individually wrapped that contained marijuana, according to his arrest report.
Gavins claimed he and a school friend had planted seeds just south of the school in a wooded area, behind a blue shed on the Indian Trails Sports Complex grounds. A search of the area produced no marijuana plants. He was arrested for possession of marijuana with intent to distribute within 1,000 feet of a school. His school discipline at the time is not clear, but is likely to have resulted in suspension. If it did, Gavins was allowed back at school not long after.
That March, when he was still 13, he was called down to the dean's office after a stolen gun was located at the house of another student on Paul Lane in Palm Coast. The child's mother had been alerted about the gun by a friend who alleged that Gavins and the other boy may have joined a gang, that Gavins had gotten possession of a gun and passed it to her son. The child's mother checked in his room and found a .380 Glock wrapped in a yellow bandana in a silver metallic box, under the dresser. The box also contained a wallet and a birth certificate that may have belonged to the gun's owner. The gun had been reported stolen from the W Section. When the sheriff's office investigated the matter, it learned from relatives of the boy that Gavins and the boy had allegedly joined the Crips gang.
Gavins would not speak with school authorities when he was called to the dean's office, asking for a lawyer–as he did Sunday after his arrest. But when his backpack was searched–since school authorities were concerned that a weapon could be on campus–they found an 8-inch kitchen knife concealed in a backpack pocket. Gavins was again arrested and charged with possession of a weapon on school grounds as well as probation violation. He was expelled and sentenced to home detention.
In February 2016, he was charged with a misdemeanor count of domestic violence, with his mother as the victim. Unlike reports of felony arrests of juveniles, which are public under Florida law, reports of juveniles' misdemeanor arrests are not. So details of that arrest are not available.
Eight months later, the Flagler Beach Police Department arrested Gavins. He'd violated his home detention, another misdemeanor.
The Flagler school district confirmed that Gavin's withdrew from Flagler schools in August 2016 and had not returned since.
Little is known so far about Gavins's life outside of those arrests, beside the fact that his parents divorced years ago, his mother had to take his biological father to court to get child support, and his father, Marion Leo Gavins, has a criminal record of his own, and is currently serving a 15-month sentence in state prison for felony battery–a charge reduced from what had initially been charged as a sexual assault. He would have avoided prison had he not violated probation.
Early Saturday morning, sheriff's detectives say Gavin and Curtis Gray, an 18-year-old senior at Flagler Palm Coast High School, had words outside of a Palm Coast smoke shop on Belle Terre Parkway. Gavins was in the backseat of an SUV. He allegedly pulled out a 9mm gun and shot Gray. Gray collapsed and died later. In a video of himself before he turned himself in, Gavins all but admits to shooting Gray, claiming Gray "reached" first, intimating that Gray was going to pull out a weapon. Authorities found no weapon on or near Gray.
Gavins was transported to Daytona Beach for detention by the Department of Juvenile Justice, where he remains.