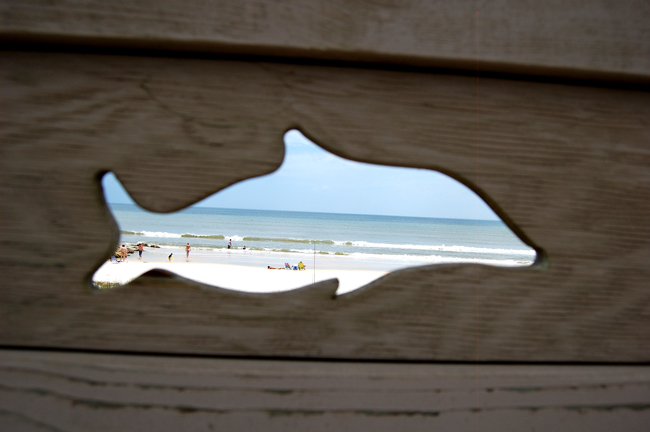 "Qualified observers report that Marineland Marina is one of the best and least expensive for miles around," the Daytona Beach Morning Journal reported in its June 29, 1977 edition. "Dockage costs nothing up to 4 p.m. while visiting other Marineland facilities. The overnight charge is 20 cents per boat foot length with a $5 minimum which includes fresh water and electric hookup. Special modest rates apply to stays of a month or more. Marina facilities are of the best for vessels up to sixty feet or more."
Those were the good days when Marineland was an actual town rather than a beggar on nostalgia's scenic byways.
Marineland, Flagler County and a private developer all have their reasons to want to recreate a marina there. For Marineland, it would restore a signature perk in a town that partly made its name in past visitors' eyes from its old marina, and it might lead to the town's revival as a town. For Flagler County, it would lift the town's—and the region's—profile, providing a lay-over for some of Florida's 400,000 registered boats. And for Pulte Homes, the private developer that took over prospective development plans in Marineland after Centex Homes collapsed, the marina is the overriding inducement—or carrot, or sweetener—to get back in there and start building homes.
On Wednesday, Marineland got halfway to that sweetener when the Flagler County Commission approved contributing $150,000 to Marineland's $500,000 plan to build 21 boat slips along the seawall on the Intracoastal. The 3-2 vote came at the end of a fractured debate—not just on the commission but going back to the Tourist Development Council, which recommended spending $75,000 only after a 4-3 vote.
On both boards there were questions over whether spending tourist-tax money (collected from a 3 percent bed tax in Flagler County) for a Marina will yield more tourists down the road. Commissioners and council members generally agree that the marina won't generate a terribly high number of tourists, especially not in proportion to the public money being invested. But they were fine with the spending anyway, recalling how tourist-tax dollars were spent refurbishing the Flagler Pier, too, not so much to bring tourists in but to keep up the general appearance of the county's more iconic spots, which in turn helps the county's image.
The bigger concern over the marina is the use of public money to benefit a private developer, because that's what this spending is in the end.
The marina did not belong to the town. It belonged to Centex. When Centex's development agreement was on the verge of expiring, there went another chance to develop the town. But Pulte Homes stepped in and asked for the development agreement to be extended. In exchange, Pulte gave up ownership of the marina—in name only. The deal between Pulte and Marineland is this: Marineland builds the Marina, and future residents in Pulte homes get first crack at renting marina slips on all but 15 percent of those slips.
The marina is supposed to be a public marina, built with public money. It may be so for a few years, while Marineland is still lacking residents. It won't be, once Marineland develops as it intends to. It'll be a private marina, with just 15 percent of its slips left over for public, "transient"  use (that is, people traveling up and down the Intracoastal and docking there to hang out temporarily, as they did in the 1970s). The 15 percent is a token portion that would merely keep up the pretense of a public marina. Pulte Homes is ecstatic that tax dollars will do what it can't—build a marina that will be Pulte's best marketing tool to get people to buy into its future homes.
Commissioner Barbara Revels, who voted with Alan Peterson against the $150,000 allocation, put it this way: "I'm concerned that the general public of Flagler County who entrust us with the use of their dollars, including the tourist development dollars, would be concerned in the future, when the development is built, that public funds, tax dollars, went for a developer's marina—a marina that a developer couldn't afford to build, didn't build, that we built in order to sell their units, and that that's what we funded. I think that until such time as that occurs we're going to have a wonderful asset there, but I just want to know that we're going to have public, the public, transient people be able to have some space after the development occurs. That's why I was hopeful that we could go back and renegotiate the 85 percent rule."
Revels wasn't opposed to spending the money. Nor was Peterson. But they wanted to spend $75,000 (the amount the Tourist Development Council recommended, also with caution in its bottom line). The commissioners also want Marineland to go back to Pulte Homes and renegotiate that 85 percent down to 70 percent.
"I actually like commissioner Peterson's suggestion that we go ahead and build phase one," Marineland Mayor Jim Netherton, the architect of the marina deal, "and then I can go back to the developer and say, listen. I can't build phase two, there's just too much resistance because of this 85 percent requirement. Would you drop it to 75 percent, or 60 percent. The biggest difficulty I see is that this is a very small blip on the Pulte radar now. The guy that's responsible for this particular area has multi-state responsibilities so he's not spending a lot of time looking at this. It'll have to go to their corporate guys and they'll have to mull it over for a while, so it's not anything I can do quickly. It may well be something I could do in phase two."
Revels didn't buy Netherton's or Peterson's argument that the deal could be renegotiated down the line, unless it's done so immediately. Even Holland agreed that renegotiating was not an option. "I don't think we have the ability to go back and renegotiate," she said. "I mean, this is an agreement between a developer and another municipality, a, and b, I probably will bet anything right now that they will not modify that. So what do we do then?"
So Revels and Peterson moved to spend just $75,000. That motion failed and was immediately followed by another motion to spend the full $150,000, which passed, 3-2. The difference was Milissa Holland, who's championed the Marineland deal all along and who chairs the Tourist Development Council. "I agree, Barbara, you're making a fair point," Holland said during the 70-minute debate, some of which was tense between Holland and Revels. But, Holland said, the most private residents can rent a slip for is a year, and when all the marina is built out to its full capacity of 50 to 60 slips, the 15 percent portion that will remain for public use will be equivalent in cost to the amount of dollars the county was contributing.
That's true so far as the county is concerned. But all of the initial $500,000 to be spent on the marina's first phase is public money. Marineland is throwing in $111,000 of its own (from its community redevelopment dollars, which are still tax dollars), and it's going after $235,000 from the Florida Inland Navigation District, also a government entity. That $235,000 isn't in the bag yet. Marineland will find out if it got it next week. But Netherton cleverly used that eventuality as a carrot before the commissioners on Wednesday, though the navigation district would not necessarily be more likely to contribute its share whether the county is on board or not.