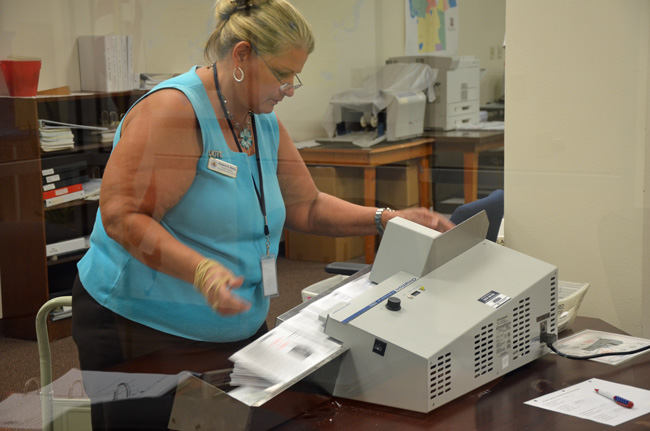 Somewhere deep in the crags and vaults of the Flagler County Elections Supervisor's office papers documenting Canvassing Board meetings might show what the longest such meeting was in the county's history. It is very unlikely that any past meetings have exceeded the lengths of meetings held during this election cycle—meetings that have devolved into theater, grandstanding and politicking, mostly by the supervisor and her partisans, and that have helped stretch sessions from the laborious to the epic.
But even those meetings' lengths pale compared to Wednesday's: the Flagler County Canvassing Board convened at 8 a.m. It did not adjourn until past midnight. The more-than 16-hour marathon was not the result of any extra-curricular antics or media gigs, as had been the case before. Those were limited. Supervisor of Elections Kimberle Weeks, for example, choreographed down to name plates where board members were to sit and where the two attorneys would sit (at a separate table).
No Canvassing Board meeting in memory had ever been held that way, nor are board members required to submit to the manipulations, as Weeks, who has frequently confused her role as supervisor with her role on the board, is not in charge of the board (Judge Melissa Moore-Stens is).  The rest of the Canvassing Board could have objected, but its members have learned to pick their battles in what has turned into a similar kind of struggle Palm Coast and the county have experienced in confrontations with Weeks: a war of attrition.
To the surprise of the board Thursday, Weeks had also hired a court reporter to keep records of the meetings, though the board does not recognize those records as official. It has already voted to have its own minutes and minute-keeper. The court reporter cost, which Weeks told the board is in her budget, is in addition to the attorney she's hired, though the board has its own at no additional expense to taxpayers, and the other attorney she's hired to defend her in a criminal investigation she's under, by the Florida Department of Law Enforcement.
As it turned out, the stenographer was seated too far from the proceedings to accurately hear all of its deliberations. "there's no way the stenopgrapher could hear all the activities that were going on, and the stenographer said that multiple times," County Commissioner Barbara Revels, an alternate member of the Canvassing Board, said.
---
Antics were limited to a few issues, recounts were not.
---
Rather than those side issues, the length of the meeting was the result of a four-ballot discrepancy in counted ballots that bedeviled tabulators and the board most of the day, requiring multiple recounts, until a full recount of all 11,522 absentee ballots that the supervisor's office has received so far had to be counted again. Round midnight, the numbers came out right, and the meeting's last-remaining survivors—Judge Melissa Moore-Stens, who chairs the Canvassing Board, County Commissioner George Hanns, and Weeks, plus two poll workers who'd been there since 8—could finally go home.
Hanns had actually put in the second and third shift, picking up at 2 p.m. where Revels left off, as she had to attend to a prior commitment (and had apparently missed a couple of other engagements). Hanns and Moore-Stens got to go home briefly in the evening, Hanns so he could get his antibiotics (he's been nursing a troublesome skin issue near his eye after the removal of a mole) and Moore-Stens so she could attend to her two young children. Weeks's attorney put in an appearance at midday but left after less than two hours. The stenographer left well before the meeting stretched into the night, as did Christy Mayer, the county's recorder and minute-taker.
"There was no give or take either way, it had to reconcile, it had to match, and finally after running all the ballots on two machines, the number added up," Hanns said. The commissioner gave credit to poll workers and the board for keeping on task most of the day. "Other than that one day when that audience was stacked with Ronald Reagan people and poll workers who were infuriated before we got there—and I don't think that was justified,," Hanns said, referring to the notorious Sept. 12 Canvassing Board meeting, "when we're working envelopes, counting ballots, everyone is concentrating on what they're doing. There's no time for bickering or nothing. That doesn't happen when we're working. It's when there's idle hands that the devil shows up."
There weren't too many idle moments Wednesday. Nevertheless, there were, and remain some questions that Revels says she will raise at the next meeting, at 3 p.m. Monday, as a result of the issues the board experienced in counting ballots Thursday.
"I want a clear understanding about what happened then," Revels said, "and then how that feeds into how the election will be handled on election night, what processes have changed, what processes will be put in place to assure accuracy."
Revels was asked if she had confidence in the process. She paused. The n she said: "I think with everybody that's attending canvassing board, monitoring the counting, that the outcome will be correct, so in that's sense I have confidence in it. But I do believe that it needs our eyes to be there."
During the public comment period, Dennis McDonald, the former county commission candidate who attends most Canvassing Board meetings, largely as a Weeks partisan, said Revels should not serve as an alternate on the board because she's under investigation by the Florida Commission on Ethics—a charge filed by a fellow-member of the Ronald Reagan Republican Assemblies group, the radical-right organization of which McDonald is a director. McDonald never mentioned the criminal investigation clouding Weeks's service. That investigation is directly related to Weeks's behavior on the Canvassing Board. Revels's ethics matter relates to the county's purchase of the old hospital.
Weeks did not return a call to her office or an email requesting comment about Wednesday's meeting.
Neither Revels nor Hanns say they plan to approve the cost of a court reporter, should Weeks submit the item. Court reporters generally charge between $3.50 and $4 per page, potentially making each Canvassing Board session a matter of several hundred dollars.
"That's rather interesting," Hannss said of both the court reporter and the extra attorney Weeks hired, as Weeks refuses to recognize Al Hadeed, the county attorney who also sits in as the Canvassing Board attorney. "They weren't necessities and I don't know why she felt she needed them. It just seems to me she's being defensive for no reason, without merit. If you have a suspicious mind you'll always come up with things like this, or people are against me or whatever she might be thinking. All we want to do is do the canvassing board, have a proper election and take care of business."
Hanns said that when the county commission looks at the matter at budget time, he will "definitely bring up the fact that we didn't authorize all these additional expenditures, keeping in mind that constitutional officers once they get their budget for the year they can manipulate it any way they want." Hanns, like Revels, said he'd have no problems if the cost does not change her budget, though that would necessitate cuts elsewhere in Weeks's budget.
Revels insisted that it be placed in the meeting records and minutes that Weeks was paying for the stenographer. "that's not the kind of budget the county approves," Revels said. "That's not what the citizens expect to pay for."