Even Sheriff Jim Manfre couldn't resist the obvious: "It's a little bit of a déjà vu moment for me," he said. So it was: the big tent in front of the sheriff's office building, the big crowd rimmed by squadrons of deputies, and of course the oath of office about to follow, administered this time by Circuit Judge Dennis Craig. Twelve years ago, it was the exact same scene, with many of the same deputies—some of whom had risen and fallen in rank in the interim, and as recently as a few hours earlier—but different faces in the crowd, and Circuit Judge Kim Hammond administering the oath to Manfre, who until midnight Monday had been a one-term sheriff.
At noon today Manfre began his second term after the eight-year interregnum of the Don Fleming years. Fleming wasn't there Tuesday. But much of Manfre's speech was as distinct a repudiation of the Fleming years as his speech in 2001 had been a repudiation of the McCarthy years (in 2001, Fleming had succeeded Robert McCarthy, who'd been in office 17 years). Back then the theme of Manfre's pledge was to treat employees like family. This time around, the theme was integrity—a direct allusion to Fleming's various lapses of judgment and ethics that embarrassed his last year, and included a fine from the state Ethics Commission.
"Integrity will be the foundation of all we do," Manfre said.  "Our motto for this office will be accountability, integrity, respect, or the acronym AIR, literally it will be the organizational air we breathe."
Manfre weaved his way to that point by way of a long, clever circle that embraced and recognized his family and his evolution, from 12 years ago until now, when his focus has shifted increasingly to the successes of his children rather than his own. His son Barrett, for example, had driven to school for the very first time today (he got applause for that), and his daughter Catherine has just started an MBA at the University of Virginia's Darden School of Business.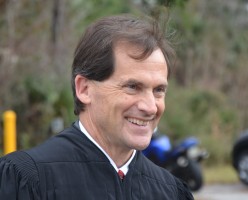 Manfre wasn't showing off. He was taking listeners on the trip he took to the university, where, in one rotunda designed by Thomas Jefferson, he saw two quotes by Jefferson—the one from the Declaration of Independence about all men being created equal, and a second quote of his "I'd not read before," Manfre said, "but it equally has had a profound effect on me, and it stated that 'Without a firm attachment to unimpeachable integrity in our business and professional lives, we build on shifting sands, and there's no future for any of us.'"
"Now, Jefferson was an imperfect man, as we all are," Manfre continued, "but he helped create and hold a country to his ideals. Now I'm no Jefferson, only an admirer of him and his words and his actions, but I will strive as sheriff to uphold the highest ethical standards that Jefferson suggests in that quote."
The quote is actually not Jefferson's, but Colgate Darden Jr.'s, the man for whom the business school is named. Darden was a Democratic legislator and governor of Virginia, and president of the University of Virginia during the Truman and Eisenhower administrations. Manfre had used the quote as an opening salvo against Fleming in a column in the News-Journal in October (when News-Journal editors also did not catch the erroneous attribution to Jefferson). Manfre was on firmer ground when he quoted Truman's buck-stops-here phrase and Emerson's line about earning only the respect one dishes out.
He promised yearly ethical training for all employees, including himself, implementing a neighborhood policing philosophy (it did not get more specific than that), and creating a citizen's advisory board to evaluate how the agency is adhering to its standards. "They will be my distant mirror on how we are doing inside the office," Manfre said, "but ultimately the buck stops here, as Harry Truman said." (The distant mirror image was historian Barbara Tuchman's, who wrote of the horrific plagues, massacres and wars of the 14th century as the distant mirror to the horrors of the 20th. Manfre's expectations for the advisory board and the realities they'll be reflecting are presumably less calamitous.)
As Manfre spoke, a large contingent of officers and deputies framed the large tent filled with civilians, many of them local politicians. It had been a rough 24 hours for many at the sheriff's office, where Manfre's lieutenants spent the second half of Monday revealing to the ranks who had been demoted, shifted or fired, and how the agency was to be reorganized. Conversations with some of the shifted and demoted during the ceremony revealed more fortitude and professionalism than resentment, and s sense, for veterans, of having been through similar transitions before: it's part of the job, they said, and it's in continuing to do their job that they're interested in.
The event, featuring Marybeth Oxnam singing "God Bless America," an invocation by Father Albert Esposito (Catholic and Julliard-trained violinist), and the Flagler Youth Orchestra's string quartet, finally crested with lavish amounts of barbecue, beans and coleslaw from Woody's, the local restaurant. Swearing-ins are typically far less lavish affairs: county commissioners, city commissioners and school board members just take the oath in their meeting rooms before family and friends, a few hors-d'oeuvres and sugary drinks are served, and the whole thing is over swiftly, with speeches going no further than pro-forma thank-yous. Fleming held his swearing-ins at the courthouse.
But Manfre had favored the more ceremonial approach in 2001 (when half as many guests showed up, though the county had a bit more than half as many residents) as he did today. It was difficult at first to figure out who was paying for it all—the tent, the food, the manpower—with members of Manfre's entourage not entirely sure, though "private donations" was the recurring idea.
It was, and it wasn't, and to some extent it's still not entirely clear.
"The taxpayers did not pay for this at all. It's strictly donations," Rick Staly, the undersheriff, said. The tent, he said, cost about $1,000, and the food, he estimated—but wasn't certain—about $800. (Woody's cost for 250 guests was actually $2,000; there were at least 200 guests). Staly said the money was coming from the sheriff's office's "Five Star Fund," one of two non-profit funds established within the sheriff's office to pay for such things as banquets and award ceremonies for the rank and file, fed by private (but not secret) donations. Staly said both he and the sheriff were to contribute to the fund to defray some of today's costs.
Still, if specific people other than the sheriff and the undersheriff contributed money to make today's ceremony possible, those names are not known, though in such cases the donations are little different from political contributions, or gifts, similar to one such that got the former sheriff in trouble—a key detail in light of the new sheriff's focus on accountability and integrity.
Manfre himself alluded to some of his missteps when he was first sheriff, and said it was rare in life to get to do something over. "But with the eye of experience," he said, "that's what I intend to do. This is what I'm committed to as your sheriff—a better sheriff's office, a better relationship with all government entities, and our citizens of our counties, and a better and safer life for our beautiful community."