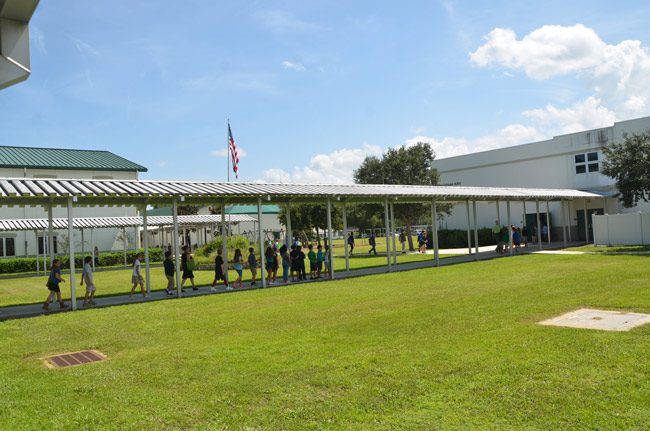 Flagler County students, families and faculty can add state and local decisions on Hurricane Irma make-up days to their list of things to be thankful for come Thanksgiving: they won't have to make up but a single day of school lost, despite losing six days, and that day will be instead of a teacher planning day in October, leaving the week-long holiday at Thanksgiving intact.
The make-up day will be Monday, Oct. 16.
Teachers will make-up the planning day scheduled for that date on May 30.
Several factors are enabling the district to avoid a repeat of 2016, when Hurricane Matthew make-up days upended the Thanksgiving holiday week by taking up three of those days.
There was the state's role. "Florida law gives the Commissioner of Education and the State Board of Education the authority to alter the instructional hours requirement when the loss of instructional hours is caused by a bona fide emergency and when it is not feasible to make up the lost days or hours," Commissioner Pam Stewart wrote superintendents in a Sept. 19 memo. "As the commissioner, I am authorizing the waiver of up to two days of instructional time as a result of required school closures due to Hurricane Irma."
That left four days to make up in Flagler. The district could have applied for a further waiver from the state. But in reality, it only had one day to make-up, because the school board had built in extra time, on each day's schedule, to already exceed the state requirement of a minimum of 720 instructional hours for the year for kindergarten through third grade, and 900 hours for the remaining grades. Doing so essentially gave the Flagler district the equivalent of three days of extra instructional time.
So it was left to make up just one day.
The existing calendar is the resulting work of a committee that brings together faculty, administrators and parents. The committee was not called back in to make the decision on make-up days after the storm. Rather, the administration and the teachers union reached the decision to minimize the impact on the calendar, and especially on Thanksgiving week. "We really tried to keep that intact," Jason Wheeler, the district's chief spokesman, said.
The current calendar does have Nov. 20, 21 and 22 slated as hurricane make-up days. But those will be used only in the unlikely event that yet another emergency strikes the county before then, keeping in mind that Hurricane Matthew hit in early October. There are no more ways to accommodate make-up days otherwise. "Now we're tapped out," Wheeler said. Hurricane season does not officially end until Nov. 1, almost six weeks from now, plenty of time for West Africa and the Atlantic again to conspire and unleash a few more storms.
"I am sensitive to our families desire to keep posted holiday breaks," Superintendent James Tager was quoted as saying in a release the district issued today, "and sincerely hope we do not have to deal with any other unforeseen circumstances that would require us to utilize our November make-up days."
As for the make-up day in mid-October, it had to be slotted into the current semester, because the way the curriculum is set up nowadays, each semester stands on its own as a unit. If the day was made up after the new year, "you're adding time to a class that you didn't miss," Wheeler said.