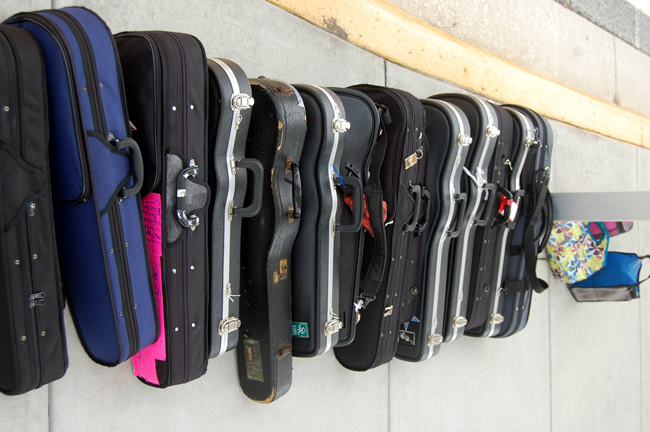 You're welcome to send your Live Wire news tips or suggestions to [email protected].
Today's Live Wire: Quick Links


On may 4, 1970, members of the the National Guard in Ohio opened fire and killed four unarmed student protesters at Kent State University in Kent, Ohio. James Michener wrote: "Of the thirteen who were struck by bullets, two were shot in the front, seven from the side, and four from the rear, Ten of the wounded were struck directly, three by ricochets. We came upon fairly strong evidence that a fourteenth student was hit in the left arm, but not seriously; he fled the area with his wound concealed, apprehensive lest he become involved with police or FBI investigations." Fortunately, he also wrote, "many of the men found it impossible to fire into a crowd and pointed their rifles upward–avoiding what could have been a general slaughter."
Click On: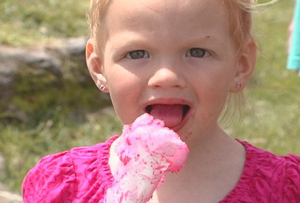 From the Flagler Beach city administration: "Flagler Beach has a fantastic night planned for its monthly First Friday 'Music in the Park' on May 6 at Veterans Park. Flagler County residents and visitors to the ocean city are invited to enjoy a night of rock and roll music, an international food tasting for charity, antique car show, Cardboard Castle Building contest, and exhibits by local businesses and organizations. Starting at 6 p.m. scenic Veterans Park will jump to the music of "Me N' Ted" performing your favorite songs from the 60s and 70s. There'll be plenty of room at the bandstand and in the park to dance to the music. Volunteers are asked to cook recipes from "The Cookbook Project," a community service project created to increase awareness about world hunger and raise funds for a UN organization run entirely on donations to provide food for those encountering natural disasters, poverty, or war. For more information and to volunteer to cook or otherwise lend a hand, call Taylor Tofal at 386/569-1214 or email her at [email protected].
"Owners of antique cars will proudly display their vehicles in a special area designed to allow up close and personal viewing of these icons of the past. Our "Cardboard Castle Contest" will allow the whole family to join the fun of designing and making cardboard castles, which will be judged by several "Kings and Queens" who know about such things, and prizes will be awarded in different categories. All you need to bring is cardboard, a pair of scissors (or razor blade for adults), tape, markers and a lot of imagination. Instructions will be provided at the park. To round out the evening, local businesses and organizations will display their products and services in a large array of tables throughout the park. This is a perfect opportunity to learn more about Flagler Beach enterprises and the people who own or manage them. Many of the tables will contain special incentives to purchase or later visit the businesses and organizations. So, come on out for a night of great fun under the stars."
See Also:

Rick Scott, Featured Speaker at GOP Dinner May 15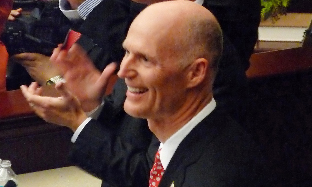 Gov. Rick Scott is the featured speaker at the Volusia County Republican Party's Lincoln Day Dinner on May 15, at 7 p.m., at the Daytona Beach Resort & Conference Center, 2700 North Atlantic Avenue, Daytona Beach. Prices: $125 for the VIP reception and dinner, and $75 for the dinner only. As of May 4, just 50 tickets remained, out of a total of 400 available. The deadline is May 9. From a GOP news release: "For many rank and file Republicans, the event represents the kickoff of the 2012 election campaign. […] The event will honor the memory of President Ronald Reagan, who would have celebrated his 100th birthday this year. The event will feature Reagan photos, movies, quotes, commemorative coins, a ten-year time capsule, auction – and jelly beans. VIP tickets to the event will include a photo op with the governor before the dinner."
See Also:

From Googleblog on May 2: "Today is Yom Hashoah, Israel's Holocaust Martyrs' and Heroes' Remembrance Day, when people around the world pause to remember the victims who perished in the Holocaust. This year, the historical record of the Holocaust is more rich, accurate and interactive thanks to Yad Vashem, the Jerusalem-based center for remembering the Holocaust's victims and survivors, which has brought its collections online and asked the public to input comments and personal stories. We've been able to support Yad Vashem with our technology by building the collection site, making it more accessible through search and continuing to update it with new content and technical features." Viewers have addded their own information, for example "a story about a man who otherwise may have gone unnoticed in this photograph of "An orchestra escorting prisoners destined for execution."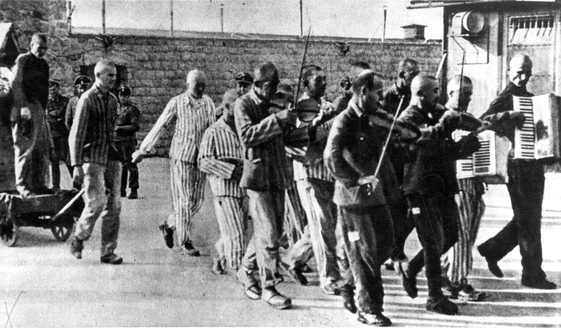 The added information: "The man who stays on the trolley is Hans Bonarewitz, camp number 3138. In June 1942 he succesfull escaped from the camp, hidden in a crate and loaded by a fellow prisoner onto a truck which leaves the camp. Sadly he was captured ~18 days later and brought back to the KL. There he was exposed to others 7 days in his crate on the place for roll call and hanged on July 30th, 1942." […] "We encourage you to explore the Yad Vashem collection site to learn more about the Holocaust and to contribute your personal stories, knowledge and thoughts to this expanding historical record."
See Also:

The Other Holocaust: Hiroshima, 1946
From Open Culture: "After the World War II atomic bombings of Hiroshima and Nagasaki, the U.S. government recorded the raw aftermath of Hiroshima in candid, grim detail (while Hollywood was busy lampooning America's nuclear obsession). Filmed in the spring of 1946 by the Department of Defense, Way of Life documents how the people of Hiroshima adapted to life after the atomic bomb. Though the archival footage lacks sound, its imagery — moving, heartbreaking, deeply human — speaks volumes about the delicate duality of despair and resilience."

Super-Rich, Super-Disingenuous on Taxes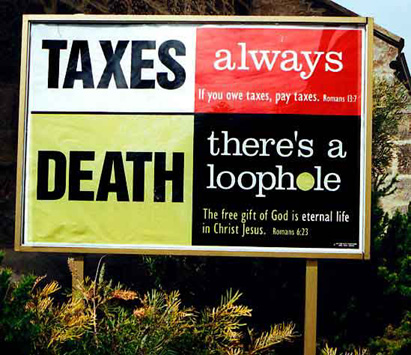 From Newsweek: "It's easy to say 'Raise taxes' when you know you're not going to have to pay those taxes," [Bruce] Bartlett says. "What I don't hear is 'Let's raise the capital-gains tax.'" Instead the focus has been on the federal tax rate paid by those with an annual income of $250,000 or more—the top 3 percent of earners. Bartlett argues that while raising taxes on the country's richest individuals would go a long way in easing the debt crisis, it makes no sense to treat the professional making a few hundred thousand dollars a year the same as the Richie Rich set. Maybe it's hard to muster sympathy for an executive pulling down $1 million a year. But ours is a tax system where a person in the top tax bracket (those earning more than $374,000 in 2010) pays a tax rate of 35 percent on the upper portions of his or her income (37.9 percent if you include Medicare), whereas a hedge-fund manager or mogul earning 10 or 100 times that amount pays less than half that tax rate. "America has two tax systems. Separate and unequal," says David Cay Johnston, a bestselling author and columnist for Tax Notes, who has spent much of the past decade exposing ways the tax system favors the wealthy." The full story.
See Also:

Our friends at the Flagler Beach Fire Department report: "On Sunday, May 1st, Station 11 (A-Shift) was dispatched to Monterray Drive in Hammock Dunes for a baby deer drowning in a retention pond. Initial reports were the deer was having trouble staying above water. Brush Attack 11 and Rescue Boat 11 responded to the area, and upon arriving on scene there were multiple residents waving the crew down.
Upon further investigation, it was determined the young deer had made its way from the middle of the pond to the side, but unable to get out on its own. After discussing a plan, crew from Brush Attack 11 was able to get a rope around the deer's neck and pull it up high enough so another crew member could pick it up. Once the deer was moved out of harm, it was apparent there was an issue with it's rear legs. The young female was unable to straighten her legs and walk. FWC (Florida Fish and Wildlife Conservation Commission) was notified and en route. Once the FWC officer arrived on scene, crews were able to safely load the deer into a large dog crate given by a resident in the community.
After several phone calls, a rehabilitation center was found and agreed to take the deer in for rehabilitation and/or surgery. The deer was safely transported to the facility and an update from FWC was promised. Check back here often for updates on the baby deer. Below was a photo taken after the deer was safely removed from the pond. Many thanks to the concerned residents. It is thanks to their willingness to help and observation that this baby gets a second chance at life." .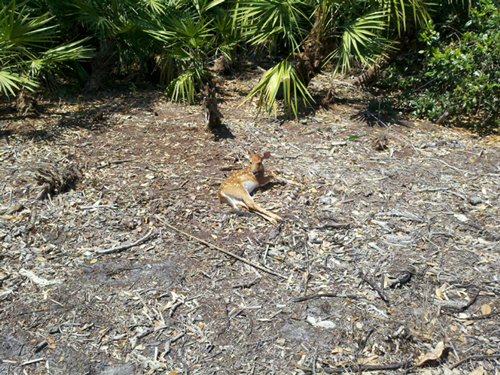 See Also: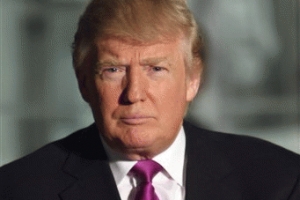 From Salon: Donald Trump "was America's premier businessman-celebrity, a real-life version of Gordon Gekko — cocky, boastful, and obnoxious, but almost completely non-political. […] In the last six weeks, though, Americans have met a very different Donald Trump — an explicitly political man who has loudly and insistently aligned himself with a narrow segment of the ideological spectrum. And he's made it personal, too, embracing not just the far right's politics but also its deep, practically paranoid resentment of Barack Obama. […] By veering so far to the right (and even into the conspiracy theory world) and by belittling Obama at such a personal level, Trump is diminishing his own brand as a mainstream celebrity. Already, David Letterman, on whose show businessman-celebrity Donald Trump has been a regular guest for years, has declared that Trump's antics "smack of racism" and said Trump won't be welcome back on the show unless he apologizes. […] Efforts are underway — with some early success — to pressure advertisers to abandon Trump's "Apprentice" show on NBC. […] Donald Trump already has a Fox deal of his own — weekly appearances on "Fox and Friends." That may be one of the few places he's welcome back at when this is over." The full post.
Letterman on Trump:
See Also: