The Live Wire is an experiment. Think of it as a cross between a book of hours and a web version of the doors of perception. You contributions are welcome, in the comments or by email. The previous Live Wire edition is available here.

Today's Live Wire: Quick Links

The Chamber of Commerce's Whiplash of Hypocrisy
It's always been clear that the Chamber of Commerce is a GOP shill, its political independence about as independent as Fidel Castro's open mind. But the chamber gets an eternal pass in media, with rare exceptions. From a St. Petersburg Times editorial: "The board members of the Florida Chamber of Commerce must have whiplash. Before last month's primary election, the chamber was among those spending millions to paint Republican Rick Scott as unqualified to be governor. But on Thursday, board members endorsed him over Democrat and retired banking executive Alex Sink. In fact, they didn't find a single Democratic candidate they could embrace. It suggests the chamber is happy to cede its role in making independent, merit-based judgments on behalf of its members to become a wholly owned subsidiary of the Republican Party.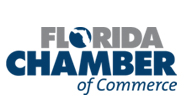 "The chamber was all too happy in the days running up to the Republican primary last month to remind voters of Scott's premier accomplishment in business: serving as a CEO of a hospital chain that committed massive Medicare fraud and paid a record $1.7 billion fine. By comparison, Sink was a bank executive for 26 years at a giant financial institution and has served four years as Florida's chief financial officer. More importantly for the chamber's membership, Sink's agenda is in line with the chamber's — not unexpected from a candidate who once served on its board." The full editorial.

Don't Expect Florida's Next Governor to Solve Foreclosure Crisis
From The Ledger: "Florida's next governor will inherit a housing market still rife with foreclosures nearly three years after the national recession began. Polk County had a record 10,747 foreclosure cases filed here in 2009 and more than 5,200 through August, according to the clerk of courts. Florida's foreclosure rate for August was the second-highest in the nation behind Nevada, according to RealtyTrac. Foreclosed homes and other distressed properties continue to drag down home prices and to sap demand for new houses, thereby contributing to layoffs in the state's decimated construction industry. But what can a governor do about Florida's foreclosure problem? Political and real estate observers say there's no clear answer." The full story.

Florida Supreme Court Will Decide Whether to Boot Class-Size Amendment Off the Ballot
From News Service Florida: "The amendment was challenged by the state's largest teachers union, which argued that voters would be largely unaware that the proposal could result in reduced funding for public schools. In a 10-page ruling, Francis disagreed. "The court finds the ballot and title summary are very clear and unambiguous as to what the amendment purports to do in reference to the changes in class size," Francis wrote. "It revises them as plainly and simply as the title so indicates." The FEA, which filed suit to strike the issue from the ballot, immediately appealed." The full story.

For the Unemployed Over 50, Fears of Never Working Again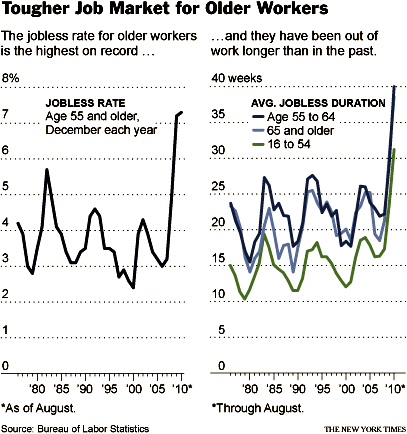 From The Times: "Of the 14.9 million unemployed, more than 2.2 million are 55 or older. Nearly half of them have been unemployed six months or longer, according to the Labor Department. The unemployment rate in the group — 7.3 percent — is at a record, more than double what it was at the beginning of the latest recession. After other recent downturns, older people who lost jobs fretted about how long it would take to return to the work force and worried that they might never recover their former incomes. But today, because it will take years to absorb the giant pool of unemployed at the economy's recent pace, many of these older people may simply age out of the labor force before their luck changes. […] Forced early retirement imposes an intense financial strain, particularly for those at lower incomes. The recession and its aftermath have already pushed down some older workers. In figures released last week by the Census Bureau, the poverty rate among those 55 to 64 increased to 9.4 percent in 2009, from 8.6 percent in 2007. […]
"In August, the average time unemployed for those 55 and older was slightly more than 39 weeks, according to the Labor Department, the longest of any age group. That is much worse than in August 1983, also after a deep recession, when someone unemployed in that age group spent an average of 27.5 weeks finding work. At this year's pace of an average of 82,000 new jobs a month, it will take at least eight more years to create the 8 million positions lost during the recession. And that does not even allow for population growth." The full story.

Rick Scott: Clueless About the Stimulus and Private Sector Jobs

Rick Scott, the GOP's candidate for governor, running against Alex Sink, earns himself a pants-on-fire lie rating from PolitiFact for his claim that the economic stimulus didn't create a single private sector job. Here's what he said:
I think it's very simple. Higher taxes kill jobs. Regulations kill jobs. Obamacare is an unbelievable job killer. It's going to be devastating for our state. That by itself is going to make it very difficult for people to do business in our state. And the taxes, the increase in taxes for that is going to be devastating to our state. On top of that, my background is I put my money up. I took the risk. I stood up for what I believed in starting businesses. And that's a whole different background than other people. But she clearly believes in higher taxes. She clearly believes in Obamacare. She clearly believes in the stimulus, and we know the stimulus has not created one private sector job.
And here's the corrective from PolitiFact: "Since Scott's running to govern Florida, we'll focus on the stimulus' impact in his state, familiar ground. […] According to the latest figures on the federal Recovery.gov website — just roll your mouse over Florida — the number of full-time equivalent jobs created or saved in the state just for the April to June quarter is 40,604. That number represents 79,365 actual workers, a state summary says. […] A table listing 2,951 full-time equivalent jobs created or saved under the U.S. Department of Transportation would largely represent private sector highway construction jobs, he said. On the other hand, the 27,815 listed under education would be largely public school employees. Public and private, the cumulative job impact for the state including tax relief is 167,000, his summary says. Meanwhile, a non-government analysis by data company Onvia at Recovery.org estimates the stimulus' effect on jobs at 206,000. That's certainly more than one! […] Beyond Florida, there are examples Scott ought to be familiar with. Take telecommunications company XFone, which announced in March that it received $63 million in federal stimulus money. Scott owns about 15 percent of the company, campaign spokesman Chad Colby said. On Sept. 13, 2010, a Louisiana subsidiary, Pride Network Inc., got approval for $36 million in additional stimulus funding — money it estimates will create 1,300 jobs." The full facts.

Magic Madness: $295,000 For One Executive Suite, One Season, at Orlando Magic's New Arena
This in one of the country's most depressed real estate markets, in a state where the poverty rate exceeds the nation's, in a nation where the poverty rate is rising back up to shameful levels. From the Sentinel: "For the same price as a lakefront home or, say, a half-dozen condominiums, Orlando high rollers have ponied up as much as $295,000 each to buy, for one season, the 60 executive-style suites in the new Amway Center, which opens Oct. 1. Promoters tout the suites' seating for 16, the flat-screen televisions, the Herman Miller-style designer leather chairs, and the granite counters. But the biggest difference between the suites and the old skyboxes at the Amway Arena is the altitude: The new suites are just 19 rows above the basketball floor — the second-lowest position for executive suites in the National Basketball Association. In comparison, the climb to the old skyboxes was more than double that. […] The old arena's 29 skyboxes were the equivalent of Class B commercial space. Fewer than half sold for the Magic's last season there, at prices of about $90,000 each — a relative bargain compared with the new suites, which start at $135,000 per season." The full story.

How Bush Offered to Take In 100,000 Palestinians if Israel Signed a Deal
From Israel's Haaretz: "Former prime minister Ehud Olmert said Sunday that the Bush administration had assured him that the United States would be willing to absorb some 100,000 Palestinian refugees immediately as American citizens, should Israel reach a permanent settlement with the Palestinian Authority. The former premier told a Geneva Initiative conference in Tel Aviv that during negotiations with Palestinian President Mahmoud Abbas in 2008 he had offered a solution to the refugee problem that would have been in line with the Arab League peace plan and promised that any measures would be the result of a coordinated agreement. […] On a separate note, Olmert hinted during his address to the Geneva Initiative that Defense Minister Ehud Barak tried to stop Israel from embarking on "daring defense efforts" during their time in government together."
Olmert, of course, is out of the government. Barak is in it: He's Israel's defense minister (and the architect of the Gaza offensive in late 2009) alongside Prime Minister Benjamin Netanyahu, who's not too eager for a daring peace deal himself.

Bertrand Russell used to remind us, way back in the 1920s, that prostitution was once a noble profession ranked somewhere between the priesthood and silky sheets. It's doubtful that what he had in mind had very much to do with what the London Independent's Sarah Harris discovered when she traveled to India to investigate the country's so-called "temple prostitutes" — young girls who are dedicated to the Hindu goddess Devadasi at a young age and support their families as sex workers. India banned the custom in 1988. That merely drove it underground.
Harris writes: "When I first went to India I thought some of the women might consider it a kind of honour to be a Devadasi, because of it is an act of religious devotion. Sexuality and divinity are very closely entwined in the Hindi faith. Religion is closely linked to sexuality and beauty. But I think there's very little religious link left now. Most of the women that we spoke to don't even pay any heed to the traditional religious practises of the goddess. They see it as a business. […] There is widespread ignorance about AIDS and HIV in those communities. And a huge stigma attached to using condoms. People die of HIV related illnesses and they call it "dying of a fever." The infected often go undiagnosed. There's also huge disparity. One of the towns we went to had a huge NGO which was campaigning for the rights of sex workers, distributing condoms and educational materials, so the Devadasi were quite switched on about it." The full story.
Watch an excerpt from the British television documentary:

Limning Baltimore's Illiterates
A quick definition of the verb "to limn": To draw or paint on a surface, to outline in sharp detail. A quick definition of some modern-day newspaper reader: proudly provincial, frequently illiterate.
On Sept. 7 the Baltimore Sun ran this headline over a story about a local political contest: "Opposing votes limn difference in race." Nothing controversial about that. Yet the headline itself (not what it was reporting) triggered a minor rhetorical fireball across the country, starting with readers in Baltimore complaining about the use of the word limn. Get a load of this:
"I consider myself an educated person. I graduated magna cum laude and Phi Beta Kappa from the University of Maryland, College Park some years ago with a degree in international relations/economics. I have never heard of the word 'limn,' one reader wrote. "To put a word like 'limn' in the headline for the lead article on the front page of this newspaper seems to me to be unbelievably arrogant and patronizing."
That, not terrorism or the Yankees' Mets-like performance this September, is a clearer sign of the American civilization's slouch.
At least reader Susanne Ogaitis-Jones set Ms. magma (yes, magma: look it up) straight: "I enjoyed yesterday's paper with a "new" word in an article's headline ("Opposing votes limn difference in race," Sept. 7), even though at first I wondered if it was a typo. I'd like to think I have a good vocabulary, but that word prompted me to look it up in the dictionary. I then shared the definition with my husband (who really thinks he has a good vocabulary!) and with my two elementary school-aged kids. I think it's great that The Sun challenged us with vocabulary and provided a good way for me demonstrate a skill to my kids that I talk much about — looking up definitions.
And here's how a Sun editor put it: "Speaking as a headline writer myself, though not the author of this one, I heartily endorse all sorts of short verbs that are neither scatological nor obscene. Speaking as a language maven, I applaud when people consult dictionaries to add another little brick to the wall of their vocabularies. Now that you know what it means, it is yours forever."
Free lifetime subscription to FlaglerLive to anyone who uses the word "limn" in a comment. (Note: your free subscription does not excuse you from making a donation.)