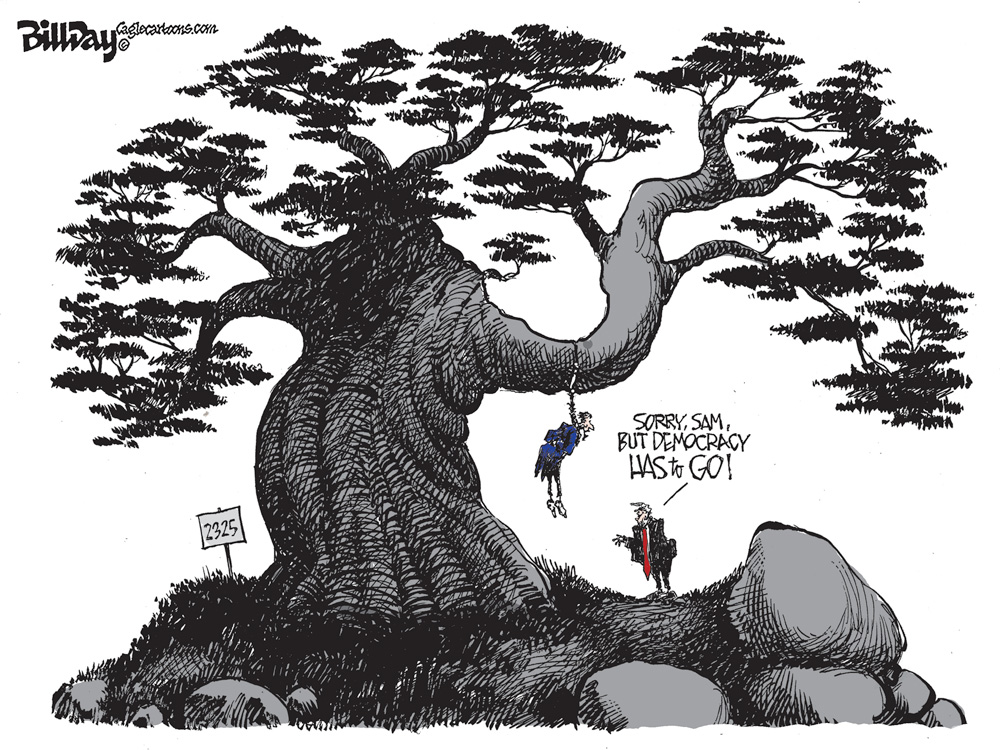 To include your event in the Briefing and Live Calendar, please fill out this form.
Weather: Partly cloudy. A slight chance of showers in the morning. Areas of fog in the morning. Highs in the upper 70s. East winds 5 to 10 mph. Chance of rain 20 percent. Monday Night: Partly cloudy in the evening, then becoming mostly cloudy. Lows in the mid 60s. Southeast winds 5 to 10 mph. See the daily weather briefing from the National Weather Service in Jacksonville here.




Today at a Glance:
Thanksgiving Week: Felony court and public schools are not in session today.
The Flagler County Commission meets at in workshop followed by a special meeting at 1 p.m., and again at 5 p.m.  at the Government Services Building, 1769 E. Moody Boulevard, Building 2, Bunnell. The 1 p.m. workshop is focused on a discussion about Wadsworth Park improvements, plus a discussion on the county's finances. At the 5 p.m. meeting, the commission will take up the proposed settlement with Captain's BBQ potentially to end a lawsuit now in its fifth year. The settlement calls on the county to pay Captain's $800,000 and allow the construction of a 5,000 square foot restaurant closer to the water at Bings Landing, the county park. See: "In Settlement, Flagler County Will Pay Captain's BBQ $800,000 and Allow New, 5,000 Sq. Ft. Restaurant at Bing's Landing." Access meeting agendas and materials here. The five county commissioners and their email addresses are listed here.
Nar-Anon Family Groups offers hope and help for families and friends of addicts through a 12-step program, 6 p.m. at St. Mark by the Sea Lutheran Church, 303 Palm Coast Pkwy NE, Palm Coast, Fellowship Hall Entrance. See the website, www.nar-anon.org, or call (800) 477-6291. Find virtual meetings here.




In Coming Days:
Nov. 25: Tree-lighting ceremony: The City of Palm Coast is inviting residents and visitors to the 11th Annual Tree Lighting Ceremony at Central Park in Town Center, 975 Central Ave., Palm Coast from 6 to 9 p.m. Join Santa, the Palm Coast City Council, and the Rotary Club of Flagler County as they count down to the lighting of a beautiful tree and celebrate the arrival of the most wonderful time of the year! Details here.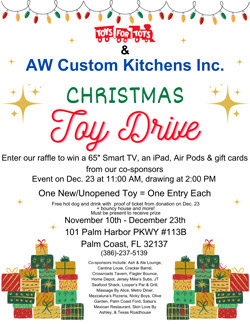 Staring Nov. 25: Rotary's Fantasy Lights Festival in Palm Coast's Town Center: Nightly from 6 to 9 p.m. at Palm Coast's Central Park, with 55 lighted displays you can enjoy with a leisurely stroll around the pond in the park. Admission to Fantasy Lights is free, but donations to support Rotary's service work are gladly accepted. Holiday music will pipe through the speaker system throughout the park, Santa's Village, which has several elf houses for the kids to explore, will be open, with Santa's Merry Train Ride nightly (weather permitting), and Santa will be there every Sunday night until Christmas, plus snow on weekends! On certain nights, live musical performances will be held on the stage.
Dec. 23: Culmination of toy drive for Toys for Tots at AW Custom Kitchens, European Village, starting at 11 a.m. A drawing for all eligible participants will take place at 2 p.m. Anyone who will have donated toys for the drive will have a chance to win various items, including a 65-inch 4K Smart TV, an Apple iPad, a pair of Apple Air Pods, and gift cards from the co-sponsors of the event. Fifty such cards have been donated. With proof of a voucher, donors also will receive a free hot dog, a free drink, a free popcorn, a free cotton candy, and a free snow cone. There will be a variety of fun things to do such as a bouncy house for children in thanks to the community for its generosity. See details here. 
Notably: The July 30, 1976 edition of The New York Times's OpEd page carried a piece by Roy Meador, identified in the shirttail as someone who "works in the marketing department of an Ann Arbor manufacturer." He was writing about Carl L. Stinedurf, who had died the previous June 18. He was 39. Meador writes about his friendship with Stinedurf. "We often lunched together, and our conversations ranged from politics to literature." Stinedurf liked to laugh, liked Sinatra, loved talking about his son and daughter, spoke of his wife with pride (she'd just finished college in her 30s and was teaching). He was a gentle man, he hated cruelty. "My friend worked as an estimator and customer representative for a large printing firm," Meador wrote, a line that puts you in mind of Melville's Bartelby. "There was just one anomaly I never understood," Meador wrote. "Carl's hobby was guns. He kept a loaded .38 in his bedroom. There were handguns and rifles throughout his home. Carl used them for target shooting and hunting…. He would vote for George McGovern and simultaneously support every argument of the National Rifle Association and the gun lobbies. Yet because he was a peaceful, compassionate man, I considered him one of those who could be trusted to own and use guns responsibly." That Friday, June 18, Meador and Stinedurf spent some time together. He was cheerful, acting like someone going on vacation. He went home in the rain, took out a .357 magnum, put two bullets through his wife Norma's head, then shot himself. She had been wanting to leave him. Meador then writes about his shock at the way people around him "were reluctant to credit guns as a factor in the event." You know the kind: guns don't kill people, that sort of bullshit. "No one I listened to blamed the guns, questioned their proximity, their easy availability." Meador in his penultimate paragraph writes of missing Stinedurf very much. "His last day was Edwin Arlington Robinson's poem translated into tragic fact." (The column is headlined "Richard Cory, All Over Again.") The column's last line: "Damn those guns."
—P.T.
Now this:
View this profile on Instagram

The Live Calendar is a compendium of local and regional political, civic and cultural events. You can input your own calendar events directly onto the site as you wish them to appear (pending approval of course). To include your event in the Live Calendar, please fill out this form.
For the full calendar, go here.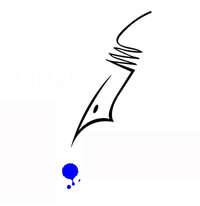 Whenever Richard Cory went down town,
We people on the pavement looked at him:
He was a gentleman from sole to crown,
Clean favored, and imperially slim.
And he was always quietly arrayed,
And he was always human when he talked;
But still he fluttered pulses when he said,
"Good-morning," and he glittered when he walked.
And he was rich—yes, richer than a king—
And admirably schooled in every grace:
In fine, we thought that he was everything
To make us wish that we were in his place.
So on we worked, and waited for the light,
And went without the meat, and cursed the bread;
And Richard Cory, one calm summer night,
Went home and put a bullet through his head.
–Edwin Arlington Robinson (1897).