To include your event in the Briefing and Live Calendar, please fill out this form.
Weather: Mostly cloudy. Showers and thunderstorms likely, mainly in the morning. Highs in the lower 90s. Southwest winds 15 to 20 mph. Chance of rain 60 percent. Friday Night: Mostly cloudy in the evening, then becoming partly cloudy. A chance of showers and thunderstorms. Lows in the lower 70s. West winds 10 to 15 mph. Chance of rain 50 percent.




Today at a Glance:
In Court: A hearing is scheduled for 1:30 p.m. before Circuit Judge Terence Perkins in Courtroom 401 at the Flagler County Courthouse to determine the competency to stand trial of Brendan Depa, the former Matanzas High School special needs student accused of assaulting a paraprofessional, in an incident recorded on video.
Free For All Fridays with Host David Ayres, an hour-long public affairs radio show featuring local newsmakers, personalities, public health updates and the occasional surprise guest, starts a little after 9 a.m. after FlaglerLive Editor Pierre Tristam's Reality Check. See previous podcasts here. Today, managing growth in the county. On WNZF at 94.9 FM and 1550 AM.
The Blue 22 Forum, a discussion group organized by local Democrats, meets at 12:15 p.m. at the conference room behind the Beverly Beach Town Hall, 2735 North Oceanshore Boulevard, Beverly Beach. It normally meets at the Palm Coast Community Center, but will be meeting at Beverly Beach through Aug. 11. Come and add your voice to local, state and national political issues.




In Coming Days:
June 20: Career Shadowing for Flagler County students: Orientation is scheduled for June 20 at 6 p.m. at Flagler Palm Coast High School's Bistro for students who wish to take part in career shadowing over two periods this summer, from June 26 to June 30, or from July 10 to July 14. Students will be paired with career professionals to learn the ropes of the job, and get guidance on their career choices. The first 40 participants will qualify, but attendance at orientation night is necessary. For more information, contact [email protected]. You must have your own transportation.
Notably: The front page of the Saturday, June 1, 1901 New York Times, below the fold, carried a brief item titled "Rebuke to a Dog Poisoner." The item, datelined New Brunswick, is dated May 31 and refers to "Ronnie," a terrier owned by the Rev. Dr. A.A. Murphy, having been fatally poisoned three days earlier by an unknown person. The paper then carried Dr. Murphy's "open letter" to the poisoner, which went like this: "To the Man Who Poisoned My Dog: Whoever you are I do not know, neither do I want to know, for a fear that I should despise you more than Christianity admits. That little dog never harmed you or any other creature, human or brute. Had you come here he would have greeted you warmly. Why did you do it? Besides, if it had to be done, why not use chloroform: why use that terrible poison that gave him two hours of agony before he passed away, but which he bore like the little hero that he was? If there be a dog's heaven–and who shall say that there is not–the brave, honest, affectionate little fellow is there, for he was just as good as it is possible for a brute to be; while you are-still on earth. Repent, Sir, for as sure as the God who created men and dogs is righteous, shall He hold you responsible for such an unwarrantable, cruel, evil deed. I say this without any idea of vengeance, for I have nothing but pity for such as you. No more shall he accompany me in my rambles, nor when left at home, run to meet me with an ecstacy [sic.] of delight on my return! Yet, much as I shall miss my little friend, and he did comfort me in my loneliness, I would rather be the subject of his loss with the last lick of his tongue on my hand and the glance of his dying but loving eye in my memory than be you, with the consciousness of your bad, black deed in your heart.
In memory of "Ronnie." Died, 163 College Avenue, May 28, 1901.
Now this: Art is love and love is art, and both are heartbreaks we can never be grateful enough for:

The Live Calendar is a compendium of local and regional political, civic and cultural events. You can input your own calendar events directly onto the site as you wish them to appear (pending approval of course). To include your event in the Live Calendar, please fill out this form.
For the full calendar, go here.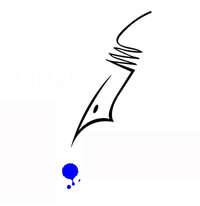 There was something undeniably retro about the flags and uniforms, about generals addressing cameras in war rooms and newspaper headlines featuring such words as duty and honor. I had always thought of America as a nation that looked forward; for the first time I was struck by its determination to look back. Living in New York was suddenly like living in a film about the Second World War; I, a foreigner, found myself staring out at a set that ought to be viewed not in Technicolor but in grainy black and white. What your fellow countrymen longed for was unclear to me-a time of unquestioned dominance? of safety? of moral certainty? I did not know-but that they were scrambling to don the costumes of another era was apparent. I felt treacherous for wondering whether that era was fictitious, and whether-if it could indeed be animated-it contained a part written for someone like me.
–From Mohsin Hamid's The Reluctant Fundamentalist (2007).