Weather: Mostly cloudy. A chance of showers and thunderstorms in the afternoon. Highs in the upper 80s. South winds 5 to 10 mph. Chance of rain 50 percent. Friday Night: Mostly cloudy. Showers and thunderstorms likely, mainly in the evening. Some thunderstorms may produce heavy rainfall in the evening. Lows in the lower 70s. South winds 5 to 10 mph. Chance of rain 70 percent. Tropical Storm watch: while Earn and Danielle are non-issues, a new storm has a 70 percent chance of turning into a tropical storm in the next 48 hours, but it may also be non-threatening: "Environmental conditions appear only marginally conducive for additional development of this system, but only a small increase in organization could result in the formation of a short-lived tropical depression or storm later today while it moves westward to west-northwestward at 15 to 20 mph over the central tropical Atlantic," the National Hurricane Center aid in a Thursday bulletin. "After that time, upper-level winds are forecast to become less conducive for development."
Today at the Editor's Glance:
In Court: Desiree Rodriguez, who was charged with child neglect when her young child fell out of her car when Rodriguez was making a U-turn on State Road 100 a year ago, is sentenced by Circuit Judge Terence Perkins at 2:30 p.m. See: "A 4-Year-Old Child Is Catapulted Out of a U-Turning Car. His Mother Was Oblivious. The Car Kept Going."
Free For All Fridays with Host David Ayres, an hour-long public affairs radio show featuring local newsmakers, personalities, public health updates and the occasional surprise guest, starts a little after 9 a.m. after FlaglerLive Editor Pierre Tristam's Reality Check. Today's discussion will focus on the county's and city's firefighters. See previous podcasts here. On WNZF at 94.9 FM and 1550 AM.
Sales tax suspension on tools and home-improvement items: The so-called "tool time tax holiday" allowing people to avoid paying sales taxes on purchases of tools and home-improvement items is in effect from Saturday, September 3 through midnight Friday, Sept. 9.
"Pippin," at the Daytona Playhouse, directed by Robin Bassett. Performances are at 7:30 p.m. on Thursday, Friday and Saturdays, and at 2 p.m. on Sundays. There's magic to do when a prince learns the true meaning of glory, love, and war in Stephen Schwartz's iconic and unforgettable musical masterpiece. Pippin is the story of one young man's journey to be extraordinary. Daytona Playhouse, 100 Jessamine Blvd., Daytona Beach. Call (386) 255-2431. Tickets: Adults $25, Seniors $24, Youth $15.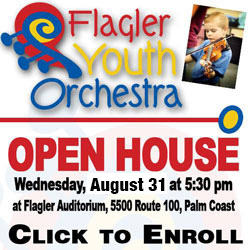 Keep in Mind: The Flagler Youth Orchestra Strings Program has open enrollment for Flagler County's public, private, charter and home-schooled students, 8 years old and older, who may sign up to play violin, viola, cello, or double bass. Beginner, intermediate and advanced musicians are welcome. Tuition is free. Limited instrument scholarships are available. Enroll here. For more information about the program, call (386)503-3808 or email [email protected].




Notably: Russell Baker, who died in 2019 at age 93, was a great columnist for decades for The New York Times, and a great memoirist, though like Anthony Burgess, the first volume of Baker's memoirs, Growing Up, is far superior to the second (The Good Times) because when journalists or writers turn to writing about their craft, it's often less interesting than when they talk about the lives that led them there. The work journalism produces is often exciting. The men and women who produce it can be the the least interesting, most self-absorbed characters on the planet. They turn their keyboard on themselves at your risk. There is an exception in Baker's otherwise dull Good Times: his story of how he covered the coronation of Queen Elizabeth II in 1953, for the Baltimore Sun. (Queen Elizabeth, recall, is the thirteenth cousin of the first President Bush, according to The Right Nation, that book on American conservatism written by two Economist writers during the second Bush years). "Except for the coronation, I probably would never have got to London," Baker writes. "The coronation was what the trade called a color story, and I had made a reputation in Baltimore for being a good color writer. It was a curse in some ways because writing color meant getting stuck with the dreariness of covering parades, the annual arrival of the circus, and the hubbub surrounding events like the Preakness. These stories soaked up a lot of adjectives because they never produced any news that could be told in lean, exciting verbs. It was fun to do them at first because of the garish writing that was permitted. Since they were always the same year after year, however, a long diet of them led to boredom, then softening of the brain." But it's in a letter to his mother that he shined, at least in the book: "I am so sick of the whole business that I can't write about it. Suffice it to say that I was in the Abbey about seven and didn't get out until four P.M. In this time I ate two sandwiches, several chunks of cheese, went to sleep three times, and drank a half pint of brandy to keep my blood flowing. I was seated in the midst of all the African and Oriental potentates and had a fine view of the staircase leading down to the water closers, where I could see Africans in leopard skins and Chinese dresser like French admirals queuing up to wait their turn to make water. I came out of the Abbey, stiff as a board and woozey, and had to run through a cold driving rainstorm to find a taxicab. Then I had to write for six hours, producing that mass of type which ran in the Sun. I didn't feel that I laid an egg completely, because next day mine was the only story from any American newspaper which had parts reproduced in any of the London papers. Considering that papers like the New York Times and Tribune had twenty-five and thirty reporters to do the job, I felt we did fairly well." He continues,, addressing the reader, not his mother: "The humility in this last sentence was entirely bogus. By the time I wrote my mother the reaction from Baltimore was in, and I felt I had done far better than fairly well. I felt I had scored an absolute triumph." His salary was raised to $120 a week. The New York Times had noticed him. He wasn't to be at the Sun much longer. The Good Times' segment about covering the numbing stupidity of Dwight Eisenhower on vacation, "playing golf, signing bills, and reacting" makes you long for those dull times around a president. Or a school board. Even now.
Now this: The queen might have liked this:

The Live Calendar is a compendium of local and regional political, civic and cultural events. You can input your own calendar events directly onto the site as you wish them to appear (pending approval of course). To include your event in the Live Calendar, please fill out this form.
For the full calendar, go here.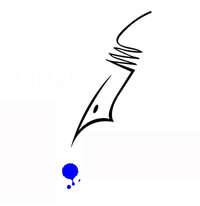 But on this occasion of mourning, let us not speak ill of the dead. Instead, let's remember the nuclear-abolitionist, peace-minded Reagan forgotten by his hawkish hagiographers. At one moment in Reykjavik, as Michael Mazo records in a Yale University master's thesis, Reagan and Gorbachev imagined that they would meet once again in Iceland, in ten years, and each would bring his country's last nuclear-armed missile with him. The vision prompted a flight of fancy by President Reagan, according to the official record: "Then they would have a tremendous party for the whole world. Gorbachev interjected that he thought the two sides were close to reaching a common formula… The President continued to describe his vision of their meeting in Iceland ten years from now. He would be very old by then and Gorbachev would not recognize him. The President would say, 'Hello, Mikhail.' And Gorbachev would say, 'Ron, is it you?' And then they would destroy the last missiles."
–From Jonathan Schell's "Cold War to Star Wars" commentary in The Nation, June 28, 2004.