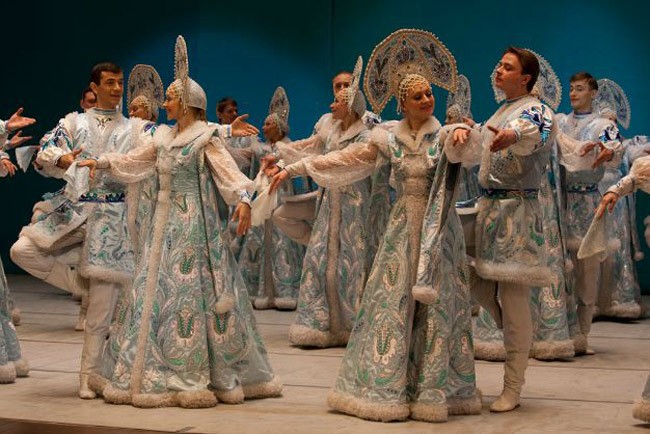 Today: high in mid-80s, low around 70. Details here.
Today's fire danger is moderate. Flagler County's Drought Index is at 370.
Today's tides: at the beaches, at the Intracoastal Waterway.
Today's document from the National Archives.
The OED's Word of the Day: eye-washing, n..
The Live Community Calendar
Today's jail bookings.
Today's Briefing: Quick Links

Note: all government meetings noticed below are free and open to the public unless otherwise indicated. Many can be heard or seen live through each agency's website.

Friday: The Flagler Beach City Commission holds two more interviews with prospective city manager candidates, then a special meeting to decide how to proceed. The commission will have interviewed five candidates. Commissioner Jane Mealy proposed the special meeting in hopes of spurring the commission to settle on a choice and start contract negotiations.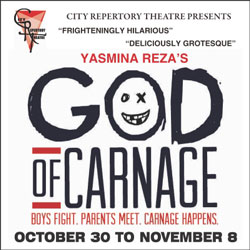 Friday (sold out), Saturday and Sunday: "God of Carnage," the Yasmine Reza dark comedy, directed by John Sbordone at Palm Coast's City Repertory Theatre. In this play, which won three Tony awards in 2009, two married couples meet to do the right thing about a playground fight between their pre-teen boys: The parents will discuss the matter civilly, only to degenerate into fighting savages themselves. Staged at 7:30 p.m. Fridays and Saturdays and 2 p.m. Sunday. CRT is in City Marketplace, 160 Cypress Point Parkway, Suite 207B, Palm Coast. Tickets are $20 adults, $15 students. Not recommended for children younger than 17. Call 386/585-9415 or get your tickets easily online here.
Staring Friday, Flagler Playhouse presents Greetings!, by Tom Dudzick, A beautiful comedy about a young man who brings home his Jewish atheist fiancé to meet his very Catholic parents on Christmas Eve. With the inevitable family explosion comes an out-of-left –field miracle that propels the family into a wild exploration of love, religion, personal truth and the nature of earthly reality. November 6, 7, 8, 12, 13, 14, 15, 20, 21 and 22, Flagler Playhouse, 301 E. Moody Blvd. (located 2 blocks east of US 1 on State Road 100). Reserve tickets online or call the Box Office: 386-586-0773.
Friday: San Diego Artist Kari Powell is November's Featured Artist at Ocean Art Gallery in Flagler Beach for the month of November, starting with a Nov. 6 reception from 6 to 9 p.m.
Friday and Saturday: Drama at Flagler Palm Coast High School: "You Can't Take It With You," the 1937 Pulitzer-prize winning play by George Kaufman and Moss hart, is staged by the FPC Thespians at the Flagler Auditorium Nov. 5, 6 at 7 p.m. and on Nov. 7 at 2 and 7 p.m. Tickets are $12 for adults, $8 for students.
Saturday: The Palm Coast Rotary Club sponsors the first Annual Poker Run to benefit Whispering Meadows Ranch in Flagler Beach, with registration at 8:00am. The starting point is Whispering Meadows at 5011 John Anderson Highway, (off RT 100), in Flagler Beach. Kickstands up at 10:00am. The ride ends at Beachfront Grille, 2446 South Ocean Shore Blvd, Flagler Beach with the last bike in at 2:00pm. Bikers and drivers are welcome. There is a $20 per rider donation, and $10 per extra poker hand. For more information please contact Christopher Hall at 386/264-5865.
Saturday: Flagler Family Connection, presented by Flagler Schools and Focus on Flagler Youth Coalition, at the Buddy Taylor Middle School cafeteria, 10 a.m.
Saturday Bed Race: Flagler Volunteer Services, the Kiwanis Club of Flagler County and Wheels in Motion are teaming up to bring you the 7th Annual Flagler Fun Coast Bed Race at Veteran's Park in Flagler Beach at 3 p.m. Local businesses and organizations have formed their teams, built their beds and are ready to race! Please come out and cheer them on.
Saturday: Flagler Auditorium 2015 Gala, "You Should Be Dancing," at Halifax Plantation: The Auditorium hosts the annual gala that partly supports the performing arts venue, and it's doing so with a look back to disco fever: The theme, A Night on Broadway–Saturday Night Fever, celebrates one of Broadway's most beloved musicals, which will be staged at the Auditorium on March 20. Tickets are $75 per person.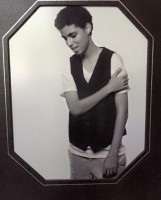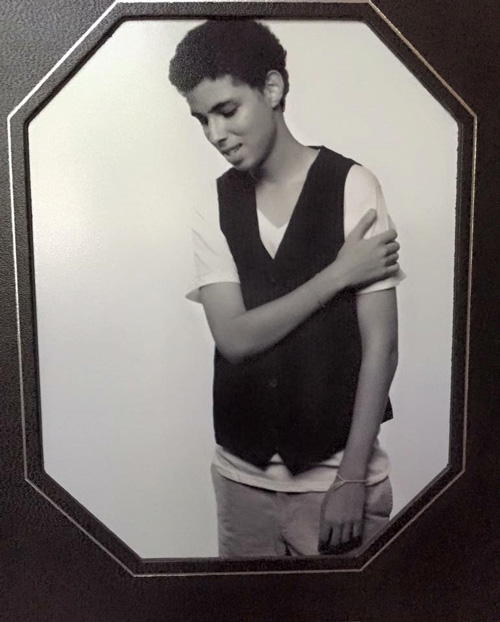 Sunday: AJ Fernandez, Felled by Schizophrenia, Is Celebrated With a Skateboard Competition at Wadsworth Park: The competition is open to skateboarders of all ages. All proceeds, including the $20 entry fee, will benefit the Johns Hopkins Schizophrenia Center in Baltimore. Participants can see competition rules and pre-register for the event online here, or register beginning at 9 a.m. on the day of the event. The judged competition will begin at 11 a.m.
Sunday: The National Dance Company of Siberia performs at the Flagler Auditorium at 3 p.m. From the foothills of the Sayan Mountains to the icy Kara Sea roll the waters of the mighty and majestic Yenisey River: along its banks live the peoples of Siberia, each with their own culture, literature, and art. This vast and beautiful land in an inspiration to the Krasnoyarsk Dance Company of Siberia, using their choreography to reveal the spiritual wealth of those who live there. Founded in 1960, the Company has been a success from the start with their lively performances of Siberian dances. Their love for dancing shines through in such dances as "My Siberia," "Krasnoyarsk Merry Tunes," "Cossack's Dance," "Down the Street," "By the Well," "Men's Dance," and "Siberian Fun."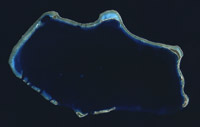 Auditions: Flagler Playhouse has scheduled auditions on Nov. 8 at 6 p.m. at the Playhouse for "The Bikinis," Created and Written by Ray Roderick and James Hindman. Back together after 20 years! A fictional girls group from the sixties get together to relive their heyday and raise some money for the Sandy Shores Mobile Home Beach Resort. Bikinis is a nonstop celebration of song, filled with hits. Roles for 4 women (Don't worry, you won't be wearing bikinis.) All types, ethnicities and sizes are encouraged to audition.

Attorney for Flagler sheriff Jim Manfre says ethics questions should be off limits: During a deposition on Oct. 28, Manfre, under advice of his counsel, declined to answer questions posed by Linda Bolante's attorney, Robert "Mac" McLeod, in a lawsuit Bolante filed against the sheriff last year, the News-Journal reports. (Story paywall-protected.)
17-Year-Old Girl Faces Felony Assault Charge For Pointing Toy Rifle at Belle Terre Drivers: Noelle Tirado is facing a felony charge of aggravated assault with a deadly weapon, another felony count for possession of controlled substances, and a night in juvenile jail. Levi Ovenshire, 18, who drove the black Saturn, was arrested on one felony count for his role in the incident, and two misdemeanor counts of drug possession.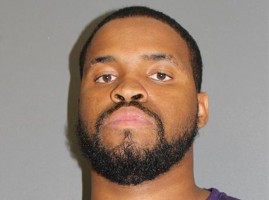 Suspect Blames "Weed" for Reckless High-Speed Pursuit on Wrong Side of U.S. 1: Johnny Jones, a 25-year-old resident of Indian Lake Road in Daytona Beach, was charged with two felonies and three misdemeanors when it was all over, including aggravated assault on a law enforcement officer.
From Woody's to Bull Creek to Island Grille, and Now Pit Stop Pizza for West Side: The take-out-only business opened about 10 weeks ago in a 1,400-square-foot property Trevor Tucker, the school board member, has owned for three years on County Road 305. The building took a while to put up.
To Raise the Roof for Palm Coast Arts Foundation, A Bimbo Is "Born Yesterday": City Repertory Theatre will present a staged reading of the surprisingly still-relevant — and surprisingly gritty — romantic comedy as a benefit for arts foundation's Raise the Roof campaign. The organization is raising money to build an arts and cultural pavilion in Palm Coast's Town Center. That would be just the first segment of a multi-phase, multi-staged arts facility. The benefit performance will be at 6 p.m. Nov. 13 at the Lohman Auditorium in Marineland–a one-night only engagement, with tickets priced at $75 and $85.
For 4th Time in 7 Weeks, a Student is Struck by Vehicle in Palm Coast; Safety Panel Meets: The wreck is the latest in a series of incidents that have heightened concerns about students' safety on city roads, led to the creation of a committee of school and city officials to explore ways to improve students' safety, triggered a Facebook page called Safer Streets in Palm Coast that has drawn attention and comments from local officials, among them school board member Andy Dance and Palm Coast City Council member Steven Nobile, and provoked discussions to that end at the Palm Coast City Council and the Flagler County School Board.

Note: Most proceedings below can be followed live on the Florida Channel.

Legislature: The House could hold a floor session at 8 a.m., the Senate at 9:30 a.m.
–Compiled by the News Service of Florida and FlaglerLive

In Coming Days in Palm Coast and Flagler:
Click on the links for more details:

Click on the link for more details.
Flagler Humane Society will receive six homeless dogs and six cats from South Carolina.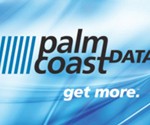 Palm Coast Data Hires Andrea Kenney as VP of Sales, Memberships and Associations: Rory Burke, President and CEO of Palm Coast Data, is pleased to announce that Andrea Kenney has joined the company as Vice President of Sales, Memberships and Associations. In this role, Ms. Kenney is charged with generating new business in the membership and association markets. Ms. Kenney's efforts will target opportunities for PCD to provide full and partial service solutions to qualified organizations. "I am excited to join PCD, a company with a tremendous track record for exceptional customer service and specialized solutions," said Ms. Kenney. "I look forward to helping PCD further its position in the membership and association markets." Ms. Kenney joins PCD after working in member services, account management, business development and marketing roles at a variety of firms. Her work includes conducting member communications for club and client affinity programs such as direct mail for acquisition and retention, custom-published magazines and newsletters. "Andrea and I have worked together in the past and I look forward to similar positive results," says Rory Burke. "With her extensive experience in business development with member-based associations, Andrea brings to PCD a wealth of knowledge to help us build our membership and association market share." For more information, visit www.palmcoastdata.com, or keep up to date with PCD on Facebook at https://www.facebook.com/PalmCoastData.
David I. Alfin, a top producing sales associate with Watson Realty Corp., has recently graduated from Florida Realtors Eighth Annual Leadership Academy, joining the graduating class of 2015. He is the first real estate agent in Flagler County ever to do so. A Florida Realtor selection committee, finally choosing only 16 participants for 2015, interviewed David. With a limited number of seats, the process was extremely competitive. The rigorous program is designed to shape, train and inspire future leaders in their respective communities. It offered a unique opportunity for Realtors® to maximize their leadership and business potential and learn what it takes to be exceptional and the best in the business. Florida Realtors currently counts more than 142,000 active members in Florida. Members of the Leadership Academy participated in classroom activities, group and independent study sessions, team-building and goal-setting exercises, leadership techniques and communication skills enhancement. In addition, 'Class 2015' collectively worked on class projects designed to promote greater association awareness and engagement of Florida Realtor members.

The story behind one of Salvador Dalí's strangest paintings https://t.co/HlQndKE3HE pic.twitter.com/HE2dlQO1zW

— Huffington Post (@HuffingtonPost) November 6, 2015
Gun nuts don't care that you're afraid: How Second Amendment fetishists created a terrorized society https://t.co/vrtNJxB4zC via @GaryLegum

— Salon.com (@Salon) November 6, 2015
The most conservative and most liberal cties in America. https://t.co/z3bxO3f1ix

— Forbes (@Forbes) October 26, 2015
Ben Carson wants separate but equal bathrooms for transgender people https://t.co/CNp6dgd0BD pic.twitter.com/wsqGohpiUY

— Vox (@voxdotcom) November 6, 2015
Junk food is not to blame for the obesity crisis, claim researchers https://t.co/wYx6ppdAKd pic.twitter.com/DadsJtit70

— Spectator Health (@SpectatorHealth) November 6, 2015
Robin Williams' diagnosis should finally crush the "sad clown" myth that haunted him: https://t.co/xf05R6fmev pic.twitter.com/P1cb60LssG

— Slate (@Slate) November 6, 2015


Palm Coast Construction and Development Progress Reports
The following is an update of ongoing construction and development projects in Palm Coast, through Oct. 30:
Palm Coast Parkway Six-Laning is 97 percent done: Final lift of paving has begun. Median work is completed. Landscaping irrigation is ongoing. Performed a substantial inspection on the Utility portion with as-built and created
punch list for Contractor.
Holland Park, 36 percent done: Dewatering of retention pond ceased when excavation and forming of pond completed. Six concrete stormwater mitered end sections poured. 20 cubic yards of concrete sidewalks poured. Installation of water main continued. Removal of unsuitable material from the jobsite. Electrical trenching and conduit installation continues.
Palm Coast City Hall at Town Center, 99 percent done: Building's grand opening is on Tuesday, Nov. 3.
County's I-95 Interchange Matanzas Woods Reclaim Water, 76 percent done: Retention ponds are being excavated and fill continues for
the ramps.
Palm Harbor Parkway Roadway Extension, 28 percent done: Clearing and underground stormwater work continues. Reconstruction of Old Kings Rd and Matanzas Road to have occur this past weekend.
North Old Kings Road Extension to Matanzas Woods Parkway, 17 percent done: Fill dirt has been brought in and road was raised to grade.
Island Walk Shopping Center Phase 1, 93 percent done: Water mains behind the Island Doctor and Bealls have been chlorinated for 2nd day bacteriological samples.
Old Kings Road Force Main 50 percent done:: Contractor is working on Force main at the entrance north of spray field.

Road and Interstate Construction:

Sviatoslav Richter Performs 1st Movement of Mozart's Piano Concerto No.5