Wednesday Briefing: Golden Lion's Gift to Second Harvest, Unity Day, Why Hillary Will Win
FlaglerLive | October 21, 2015
Today: high in low 80s, low in upper-60s. Details here.
Today's fire danger is low. Flagler County's Drought Index is at 329.
Today's tides: at the beaches, at the Intracoastal Waterway.
Today's document from the National Archives.
The OED's Word of the Day: hoverboard, n..
The Live Community Calendar
Today's jail bookings.
Today's Briefing: Quick Links

Note: all government meetings noticed below are free and open to the public unless otherwise indicated. Many can be heard or seen live through each agency's website.
The Tourist Development Council meets at 10 a.m. in board chambers at the Government Services Building in Bunnell. The council will likely recommend awards of $10,000 for the Florida Flag Football Tournament, $1,500 for Bunnell's Christmas celebration, and $36,500, split among five organizations (including ($22,500 for a beach volleyball tournament). On Monday, the county commission voted to absorb the administrative staff of the council into county government, including Matt Dunn, the tourism director, but raised concerns about potential conflicts of interest between Dunn's private sports marketing agency and his job for the county, which entails securing events, most of them sports events, for the county. The agenda is here.
Sea Turtle Hospital Grand Opening at Whitney Laboratory 9505 Ocean Shore Blvd, Marineland, 10:30 a.m.
The Palm Coast Planning and Land Development Board meets at 5:30 p.m. to review comprehensive plan and zoning amendments, including an amendment from Greenbelt to mixed use for a 1.1-acre parcel in the southwest quadrant of State Road 100 and I-95, and a reduction in buffers from 35 feet to 20 feet along portions of Old Kings Road North and Palm Coast Parkway.
The Flagler County Contractor Review Board meets at 5 p.m. in board chambers at the Government Services Building in Bunnell. No agenda was posted.
The Flagler County Technical Review Board meets at 9 a.m. in the first floor conference room of the Government Services Building to review two applications–a variance on A1A and a special use in an agricultural district along Colbert Lane for a monopole communication tower. The agenda is here.
It is "Unity Day" in Flagler County schools, an anti-bullying awareness campaign. Students are encouraged to wear orange.
Ribbon-cutting today at Integral Math Academy, 2 Pine Lakes N Ste 7, Palm Coast, from 4 to 6 p.m.

Belle Terre Swim Club Has Until January to Find 400 Members or Close, Absent Savior: The Belle Terre Swim and Racquet Club, with scaled-back hours—and no hours on Sundays—has until Jan. 19 to secure 400 annual memberships valued at $200 each, for a total of $80,000. It currently has about a third that number. If the 400 membership aren't signed by then, the school board intends to close the facility to the public.
Charter Review Proposal Finally Dies Amid Accusations of "Political Ploy" and Straw Men:
It was an ugly end to a messy process dating back to council member Steven Nobile's first attempt to launch such a review in May.
Flagler Beach Manager's Short-List Gets Shorter as 3 Withdraw, Leaving Only 2: Just 23 people applied for the job when the city advertised for the position in September, a fraction of the 140 who applied in 2010, the last time the city's top job was open.
Openly Displaying Handguns and Guns on Campus Bills Win Senate Panel Approval: People with concealed-weapons licenses would be able to openly display handguns in Florida and would be able to carry firearms on state college and university campuses, under measures approved by separate Senate committees Tuesday. One of the committees also supported a measure that might make it easier for people to claim they have stood their ground in self-defense when shooting others.

Note: Most proceedings below can be followed live on the Florida Channel.

Senate districts: The Senate Reapportionment Committee is scheduled to meet as lawmakers work to redraw Senate districts. (9 a.m.)
State-owned land management: The House Agriculture & Natural Resources Subcommittee will hear presentations about management of state-owned lands. The presentations will be made by the Department of Environmental Protection, water management districts, the Department of Agriculture and Consumer Services, the Florida Fish and Wildlife Conservation Commission and the Department of State. (9 a.m.)
Voucher scholarships: The House Choice & Innovation Subcommittee will receive a presentation about McKay scholarships, a school-choice program for students with disabilities. (Wednesday, 9 a.m., 306 House Office Building, the Capitol.)
Manufacturing tax cuts: The House Finance & Tax Committee will discuss options for cutting manufacturing taxes, a top priority of Gov. Rick Scott. (12:30 p.m.)
Aides to Gov. Rick Scott, Attorney General Pam Bondi, Agriculture Commissioner Adam Putnam and Chief Financial Officer Jeff Atwater will meet to discuss issues in advance of an Oct. 27 state Cabinet meeting. (9 a.m.)
The Space Florida Board of Directors will meet. (3:45 p.m., Hyatt Regency Orlando International Airport, 9300 Jeff Fuqua Blvd., Orlando.)
–Compiled by the News Service of Florida and FlaglerLive

In Coming Days in Palm Coast and Flagler:
Click on the links for more details:

Click on the link for more details.
San Diego Artist Kari Powell is November's Featured Artist at Ocean Art Gallery
Golden Lion's Key Lime Tarter Sauce Proceeds Buy 7,000 lbs of Food for Second Harvest Food Bank
French Boys Choir at St. Elizabeth Ann Seton Catholic Church on Oct. 26
Fall is the perfect time to enjoy District conservation lands
Palm Coast Utility Billing Switches to Paymentus
Florida Forest Service Sends Crews to Battle Texas Wildfire

San Diego Artist Kari Powell is November's Featured Artist at Ocean Art Gallery: Acrylic painter and mixed media artist Kari Powell will be the featured artist at Ocean Art Gallery in Flagler Beach for the month of November. Her high-energy, dramatic use of acrylic paint, sea glass, and sand on wood panels has brought her great success in Southern California and she is ready to introduce her artwork to East Coast art lovers. Her art show "Synergy of Rhythm and Balance" will run through November 30, and her art opening reception will be Friday, November 6, from 6 to 9 pm, at 200 S. Oceanshore Blvd., across from the Flagler Pier. At just 17, Kari bought a one-way airline ticket to San Diego to follow her dream to become a professional artist. Choosing San Diego proved to be the right choice because in just 13 years she has established herself as a first-rate artist achieving artistic recognition and sales success at several galleries along the coast. On a visit to Palm Coast to visit her grandparents earlier this year, Kari learned of Ocean Art Gallery and reached out to owner Frank Gromling, who immediately saw the potential in Kari and her artwork. Gromling said, "I was fascinated with Kari's ability to create flowing images that represent the ocean's dynamic state, all the while allowing the viewer to add one's own meaning and emotion to her work." During a second brief visit to Flagler County in September, Gromling convinced Kari to give a presentation at his gallery that described how she decided to go to California, her passion for art, and what lies ahead. Titled "California Dreaming," her talk revealed very personal emotions behind her search for success. Through both color pictures and a live demonstration of her painting technique, she was able to capture her audience's attention while completing a new painting before their eyes. The artist will welcome guests from 6 to 9 pm on Friday, November 6th and will demonstrate her painting technique. Guests will enjoy refreshments and live music. As always, art events at Ocean Art Gallery are free. Ocean Art Gallery is located at 200 S. Oceanshore Blvd, Flagler Beach, across the street from the Flagler Beach Pier. Normal hours are 12 – 6 pm, Tuesday through Sunday, and Monday by appointment. 386-693-4882.
Golden Lion's Key Lime Tarter Sauce Proceeds Buy 7,000 lbs of Food for Second Harvest Food Bank: Christopher Marlow, co-owner of Golden Lion Café, announced this week the donation of $1,000 to Second Harvest Food Bank, enabling the purchase of 7,000 pounds of food for the needy. The donation was made possible by sales of the Golden Lion's Key Lime Tarter Sauce. A portion of that revenue is set aside for donations. This was the second check that the company has donated to the Second Harvest Food Bank, a nonprofit that collects and distributes donated food to more than 550 nonprofit partner agencies. Marlow presented the check this month at Second Harvest Food Bank in Orlando. In April of 2014, Marlow did what no other local business had done according to Flagler Beach Publix Manager Chuck Jones. "This is breaking ground. This is the first time I have seen a local business on Publix shelves in my 45 years with Publix," said Jones. As a service to local customers, the sauce was made available through Publix initially in the five Flagler County Stores only. Then something happened that no one expected, it began to fly off the shelves. The Golden Lion Cafe's Key Lime Tarter Sauce's availability expanded to some 400 Publix Supermarkets throughout the South. The sauce can be found in Publix Supermarket's from Tampa to Jacksonville, Florida, all the way to Gulf Shores, Alabama, and Southern Georgia. "September was Hunger Auction Month," said Christopher Marlow, "And we wanted to continue our mission to donate fifty percent of the profits from the sale of our Key Lime Tarter Sauce to hungry families in Florida." As well as Second Harvest Food Bank and other organizations that help feed the needy, the company also makes monetary donations to HUM (Halifax Urban Ministries) in Volusia County, who work with children and families that benefit from the sales. They have also partnered with Bette Rountree, the Executive Director of the Flagler County Resource Center, and President of Church Women United in Bunnell, the second busiest food pantry in Flagler County.And For every 10 'likes' on the company's Facebook page (https://www.facebook.com/keylimetartarsauce), they donate one dollar to feed the hungry. Second Harvest Food Bank can turn that one dollar into four meals for those in need. The Golden Lion Café is located at 501 North Oceanshore Blvd, in Flagler Beach, FL and can be reached at 386-439-3004.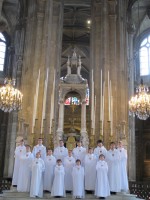 French Boys Choir at St. Elizabeth Ann Seton Catholic Church on Oct. 26: The internationally acclaimed 18-voice choir will perform in a return engagement in the church's 1,500-seat nave. The concert will begin at 7 p.m. Led by music director Francois Olivier, the choir will sing classical church music, patriotic songs and other well known works. "It's a wonderful experience for the children and young men (ages 8 to 20) of the 18-voice choir and a great opportunity to continue a 60-year tradition of entertaining people of many nations," said Olivier. Richard Dittus, music minister at SEAS, said "we are proud to have the French Boys Choir with us again to entertain the multicultural citizens of Palm Coast and other nearby cities." St. Elizabeth Ann Seton Catholic Church is located at 4600 Belle Terre Parkway, Palm Coast. A freewill offering will be appreciated.
Fall is the perfect time to enjoy District conservation lands: With foliage changing color and cooler temperatures on the way, autumn is the perfect time of year to get outside and enjoy the St. Johns River Water Management District's public lands. The Florida Department of Environmental Protection celebrates October as Greenways and Trails Month, during which residents and visitors are invited to explore the state's 8,000-plus miles of land-based trails and 4,000 miles of paddling trails. While many identify the District as an agency tasked with regulating water use, part of the District's mission has included acquiring and managing natural lands to protect water resources. The District owns or manages nearly 700,000 acres of land within its 18-county region, much of it open for public recreation and access to some of the state's most vibrant and pristine wetlands and uplands. With funds from the state's Florida Forever program and through partnerships with state and local governments and nonprofit groups, the District has purchased and continues to manage properties that are important in protecting water resources. In addition, these lands protect plant and wildlife habitat and provide areas for public recreation and environmental education. The majority of District lands provide trails that are suitable for hiking, cycling or horseback riding. Popular spots for horse enthusiasts include Lake George Conservation Area in Putnam and Volusia counties and Fort Drum Marsh Conservation Area in Indian River County. Ocklawaha Prairie Restoration Area in Marion County has a scenic, 11-mile levee trail that many cyclists enjoy. Bird lovers and other nature enthusiasts will enjoy the Lake Apopka Wildlife Drive, a one-way 11-mile drive through the Lake Apopka North Shore property and along the lake to view multitudes of birds and other wildlife. The drive opened in May 2015. Outdoor opportunities on District lands also include visiting a wetland area such as Sunnyhill Restoration Area in Marion County where one may spot great blue herons, white ibis, sandhill cranes, osprey, red-shouldered hawks and maybe even catch a glimpse of a bobcat or black bear. At Jennings State Forest in Clay County, one may spy tree frogs, bobwhite quail, pine warblers, red-cockaded woodpeckers and perhaps a white-tailed deer or gray fox. Hal Scott Regional Preserve and Park in Orange County offers the possibility of encountering river otters and majestic bald eagles. Some District properties also offer excellent fishing, such as the Stick Marsh in the Blue Cypress Conservation Area where people come from all over the country to try their luck. Pellicer Creek in Flagler County has been stocked with bass and bream, and includes a handicapped-accessible fishing platform. Some District properties offer opportunities for canoeing and boating, and a few have boat ramps or launches. Additionally, about two-thirds of District land is open for hunting, in designated areas and at specified times of the year. A comprehensive recreation guide of 40 District properties, including photos and descriptions of each property, a listing of activities, maps and trail guides, may be found at floridaswater.com/recreation.

"The severity of black America's disconnection to Africa should not be lost to Americans…" https://t.co/20JRIus0KO pic.twitter.com/W5IhFfEGES

— The Daily Beast (@thedailybeast) October 21, 2015
Benjamin Netanyahu's Holocaust claims were debunked in court – 20 years ago https://t.co/athi0oCjzG

— The Independent (@Independent) October 21, 2015
The Hungarian camerawoman who kicked a refugee plans to sue him https://t.co/bRI4QcAxJo pic.twitter.com/uplgDdq4hq

— The Independent (@Independent) October 21, 2015
Why Hillary Will Likely Win the White House https://t.co/nHuGHKPJvF pic.twitter.com/1GuFCkbpmr

— National Review (@NRO) October 21, 2015
Tim Parks on Primo Levi's collected works https://t.co/CtV7wsO90C

— NY Review of Books (@nybooks) October 19, 2015
From the Archives: Our original 1985 review of Back to the Future https://t.co/kvfbilTaIn pic.twitter.com/LlXybL3Lgw

— Los Angeles Times (@latimes) October 21, 2015
With Central Park, Olmsted turned an urban wasteland into an idyllic glade that looks as if it had been there forever http://t.co/32SFKsuk78

— NY Review of Books (@nybooks) October 17, 2015


Palm Coast Construction and Development Progress Reports
The following is an update of ongoing construction and development projects in Palm Coast, through Oct. 14:
Palm Coast Parkway Six-Laning is 95 percent done: Work in median continues and landscape along project continues. Traffic Signal loop installation continues.
Holland Park, 35 percent done: Dewatering of wetland area continues. 92% of roadway thru wetland has been excavated and is being backfilled. Installation of storm structures and piping continues under roadway thru former wetland. Electrical trenching and conduit installation continues.
Palm Coast City Hall at Town Center, 99 percent done: Project is substantially completed.
Old Kings Road Force Main, 40 percent done: Connections of the directional and direct bury pipe continues.
County's I-95 Interchange Matanzas Woods Reclaim Water, 76 percent done: 16″ direct bury pipe has been staged for installation on the west side of the northwest ramp.
Palm Harbor Parkway Roadway Extension, 26 percent done: De-mucking continues thru wet areas for new roadway.
North Old Kings Road Extension to Matanzas Woods Parkway: City did not update.
Island Walk Shopping Center Phase 1, 95 percent done: Last 1500 gallon Grease Interceptor was installed. The Utility Final was completed for Publix 10-13-15.

Road and Interstate Construction: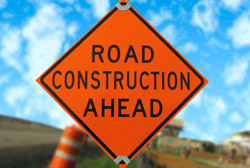 Beethoven String Quartet Op.59 No.1, "Razumovsky," with Matthew Vera (violin), Michael Rau (violin), David Mason (viola) and Marza Wilks (cello)