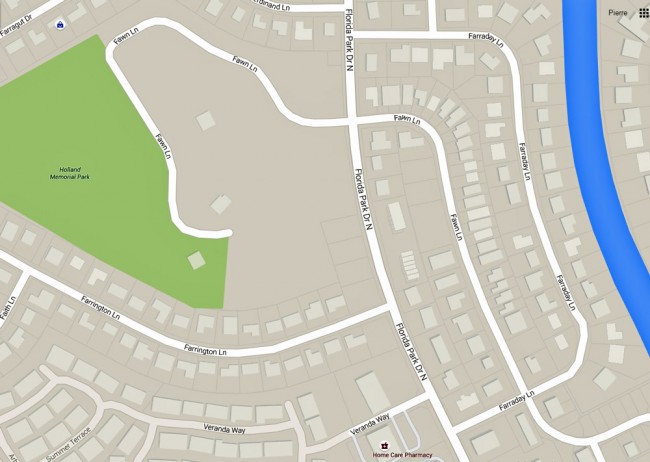 Today: high in mid-80s, low around 70s. Details here.
Today's fire danger is moderate. Flagler County's Drought Index is at 349.
Today's tides: at the beaches, at the Intracoastal Waterway.
Today's document from the National Archives.
The OED's Word of the Day: quarrons, n..
The Live Community Calendar
Today's jail bookings.
Today's Briefing: Quick Links

Note: all government meetings noticed below are free and open to the public unless otherwise indicated. Many can be heard or seen live through each agency's website.
The Palm Coast Code Enforcement Board meets at the Palm Coast Community Center at 9 a.m. The agenda is here.
The Flagler Beach City Commission holds a job interview with Larry Newsome, the third of five candidates interviewing for city manager. The commission will interview two more Friday, and hold a special meeting then to decide how to proceed. (5:15 p.m., City Hall.)
Ribbon-cutting: Peak Fitness & Rehab, 17 Old Kings Road North, at 4 p.m.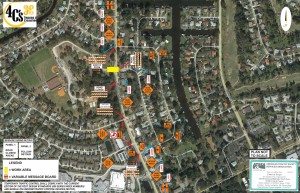 Road Closure on Florida Park Drive: A segment of Florida Park Drive, between the two intersections with Farraday Lane, will close to traffic Thursday at 8 p.m., through Friday at 6 a.m., for the installation of a water line. A single lane will be open on Florida Park Drive south of the construction for local residential and business access. All residential traffic to and from Fawn Lane will be able to utilize the Farraday Lane access that they would normally use. All traffic to and from Farrington Lane and Veranda Lane will not be affected. If traffic wishes to proceed north from these two residential streets, they will utilize the same Farraday Lane detour as the rest of the traffic. (Click on the image of the map to the right for a larger view of the detour.) The project is part of the Holland Park improvements. For more information, please contact Palm Coast Customer Service at 386-986-2360.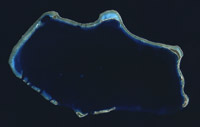 Auditions: Flagler Playhouse has scheduled auditions on Nov. 8 at 6 p.m. at the Playhouse for "The Bikinis," Created and Written by Ray Roderick and James Hindman. Back together after 20 years! A fictional girls group from the sixties get together to relive their heyday and raise some money for the Sandy Shores Mobile Home Beach Resort. Bikinis is a nonstop celebration of song, filled with hits. Roles for 4 women (Don't worry, you won't be wearing bikinis.) All types, ethnicities and sizes are encouraged to audition.

Shocking Commissioners, Bunnell Manager Larry Williams Resigns, Saying His Job is Done Bunnell City Manager Larry Williams tendered his resignation Tuesday, saying he's accomplished all he wanted to accomplish. His resignation is effective January 4. The 72-year-old manager insisted that there were no underlying issues or mysteries pushing him to his decision, other than this: he's an adrenaline junkie, and he's lost the rush.
"Catastrophic Failure" in Sheriff's Computer System Jeopardizing Records and Stalling Data: The Flagler County Sheriff's Office's computer servers, including parts of its 911 system, experienced a "catastrophic failure" on Friday, a government official familiar with the system said, with numerous records such as warrants currently difficult to access—or inaccessible—and key records dating back to February 2014 in jeopardy of being lost, including the mugshots of thousands of individuals booked through the county jail.
In Muted Appearance at Sheriff's Opening, Gov. Scott Speaks of Unappreciated Police: In his brief words, Scott credited the fall in crime to strong sheriffs across the state but even as he acknowledged the importance of the new building, he recognized deputies who stood behind him as being worthier of honoring, since they are the ones who keep communities safe, he said.
St. Johns County voters say "yes" to sales tax increase for schools: "A ½-cent sales tax increase for capital needs of the St. Johns County School District was approved by county voters in a special referendum election on Tuesday," the Record reports. "Voters in favor of the increase outpolled those against 21,314 to 13,737 — accounting for 60.81 percent of the vote." The tax will be in effect for 10 years. (Paywall-protected.)
Market Keeps getting better for #homebuyers #palmcoast #flagler https://t.co/BysuWN9RIU pic.twitter.com/ErYqxTRQMT

— Toby Tobin (@GoToby1) November 4, 2015

Note: Most proceedings below can be followed live on the Florida Channel.

Guns on campus: The House Higher Education & Workforce Subcommittee will consider a proposal (HB 4001), sponsored by Rep. Greg Steube, R-Sarasota, and Rep. Michelle Rehwinkel Vasilinda, D-Tallahassee, that would allow people with concealed-weapons licenses to carry guns on college and university campuses. (8 a.m.)
Confederate Statue: The House Economic Development & Tourism Subcommittee will take up a bill (HB 141), filed by Rep. Jose Felix Diaz, R-Miami, that calls for replacing the bronze statue of Confederate Gen. Edmund Kirby Smith at the U. S. Capitol. A federal law allows each state to provide two statues of deceased prominent citizens to be placed in the National Statuary Hall at the U.S. Capitol. Florida is represented by statues of Smith and former Apalachicola resident John Gorrie, who is considered the father of air conditioning. (9 a.m.)
Body cameras: The House Criminal Justice Subcommittee will consider a proposal (HB 93), filed by Rep. Shevrin Jones, D-West Park, and Rep. Alan Williams, D-Tallahassee, that addresses the use of body cameras by law-enforcement officers. The bill, in part, would require that policies are in place for the proper use and maintenance of body cameras if law-enforcement agencies allow their officers to wear the devices. (10:30 a.m.)
Lottery terminals: The Senate Regulated Industries Committee will consider a proposal (SB 402), filed by Sen. Garrett Richter, R-Naples, that would allow the sale of lottery tickets through terminals that would accept credit and debit cards. (11 a.m.)
Floor sessions: The House is scheduled to hold a floor session and is expected to take up a Senate redistricting plan. at 2 p.m. The Senate has scheduled a floor session to deal with redistricting at 4:30 p.m.
–Compiled by the News Service of Florida and FlaglerLive

In Coming Days in Palm Coast and Flagler:
Click on the links for more details:

Click on the link for more details.
Flagler Humane Society will receive six homeless dogs and six cats from South Carolina.
Florida Hospital Flagler Receives Nearly $11,000 Donation to Help Fight Cancer
Wadsworth Elementary's John Fanelli is Flagler County Principal of the Year
Indian Trails Middle School's Marcus Sanfilippo is Flagler County's Assistant Principal of the Year
San Diego Artist Kari Powell is November's Featured Artist at Ocean Art Gallery

No, I won't wear the 'Poppy Hijab' to prove I'm not a Muslim extremist https://t.co/QgKIawpVNm

— Independent Voices (@IndyVoices) November 4, 2015
Houston voters reject LGBT nondiscrimination law: https://t.co/5MObgdgzgX pic.twitter.com/UoU3UMmRDQ

— The Hill (@thehill) November 4, 2015
Democrats will soon have to admit it: #Obamacare is dead. @KevinNR writes: https://t.co/9u3cN0kroE pic.twitter.com/ubhCkDrSou

— National Review (@NRO) November 4, 2015
Houston voters reject LGBT nondiscrimination law: https://t.co/5MObgdgzgX pic.twitter.com/UoU3UMmRDQ

— The Hill (@thehill) November 4, 2015
DEFIANT TARANTINO: Director 'not taking back what I said' about police https://t.co/zhT4CKZWbj pic.twitter.com/sCBDptYt0r

— Fox News (@FoxNews) November 4, 2015
Jeb Bush's poll numbers in Florida are unprecedentedly bad https://t.co/lhqgkI8KX3

— Washington Post (@washingtonpost) November 4, 2015


Palm Coast Construction and Development Progress Reports
The following is an update of ongoing construction and development projects in Palm Coast, through Oct. 30:
Palm Coast Parkway Six-Laning is 97 percent done: Final lift of paving has begun. Median work is completed. Landscaping irrigation is ongoing. Performed a substantial inspection on the Utility portion with as-built and created
punch list for Contractor.
Holland Park, 36 percent done: Dewatering of retention pond ceased when excavation and forming of pond completed. Six concrete stormwater mitered end sections poured. 20 cubic yards of concrete sidewalks poured. Installation of water main continued. Removal of unsuitable material from the jobsite. Electrical trenching and conduit installation continues.
Palm Coast City Hall at Town Center, 99 percent done: Building's grand opening is on Tuesday, Nov. 3.
County's I-95 Interchange Matanzas Woods Reclaim Water, 76 percent done: Retention ponds are being excavated and fill continues for
the ramps.
Palm Harbor Parkway Roadway Extension, 28 percent done: Clearing and underground stormwater work continues. Reconstruction of Old Kings Rd and Matanzas Road to have occur this past weekend.
North Old Kings Road Extension to Matanzas Woods Parkway, 17 percent done: Fill dirt has been brought in and road was raised to grade.
Island Walk Shopping Center Phase 1, 93 percent done: Water mains behind the Island Doctor and Bealls have been chlorinated for 2nd day bacteriological samples.
Old Kings Road Force Main 50 percent done:: Contractor is working on Force main at the entrance north of spray field.

Road and Interstate Construction: The intersection of Old Kings Road and Matanzas Woods Parkway will be closed for reconstruction beginning at 3:30 p.m. Friday, Oct. 30, and continuing through the weekend until 3 a.m. Monday morning, Nov. 2. The intersection will be closed to traffic during that entire time. Variable message signs will be used to alert the traveling public of the closure. For more information, contact Palm Coast Customer Service at 386-986-2360.

Louis Spohr:Clarinet Concerto No 1, First Movement, Narek Arutyunian, Clarinet