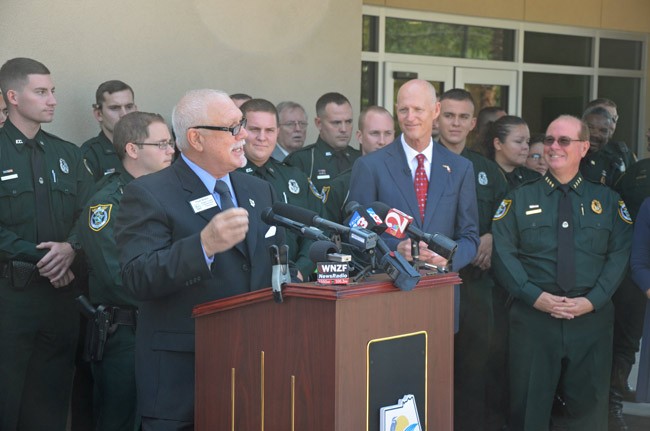 The most moving part of this morning's ribbon-cutting at the Flagler County Sheriff's new Operations Center wasn't the snipping itself—ribbon-cuttings seldom are—or even Gov. Rick Scott's relatively muted appearance, but the more human stories of recent and distant history that framed the occasion: Commissioner Frank Meeker speaking about Scott's touching phone call a few days after Meeker lost his granddaughter, Bunnell Mayor Catherine Robinson speaking about the broken wrist she got mended in what used to be the old Memorial Hospital, and even Palm Coast Mayor Jon Netts, not resisting a plug for his own city's grand opening, advertising City Hall's event later today as he concluded his speech on a note of triumph.
It was also Robinson who spoke the most telling words of her city downtown's almost dramatic transformation in the past year: "This is the third building in the city of Bunnell in the last year that has been renovated and that we've brought new life and breathed new life into buildings," Robinson said, citing the new Christian school that's filled the old courthouse, the city of Bunnell's own buying of an old charter school for its city hall, and now the rebirth of the old hospital. "I call this the death of a dream and the beauty from ashes," she said, the dream being the late Dr. John Canakaris and his 15-bed Bunnell general Hospital, which he opened in 1953.
Scott in comparison, his energy more Carsonesque than usual and showing little sense of connection to the occasion, was as if upstaged by the pride and eagerness of local officials reveling in the new operations center.
Sheriff Jim Manfre thanked the governor for attending before "recognizing the needs of law enforcement" and recognizing his staff and deputies for powering through "this confusing period this past month" before describing the various objectives the building now meets—accessibility, a sense of welcome, efficiency, and a friendliness to its customers. "Governor," he told Scott, turning to him, "we are similar in that we come from business backgrounds before taking office. In fact I was commenting to the governor, he started his career in hospital administration, so did I. Little known fact." He then touted the application of business principles to running the operation.
---
A governor upstaged by the pride and eagerness of local officials reveling in the new operations center.
---
Meeker said the original proposal foresaw a $4.6 million renovation for 26,000 square feet, but the project produced 35,000 square feet of usable space with a $200,000 saving. He singled out for credit Faith Alkhatib, the county engineer, Jerrold Shupe, the county's IT director, under whose umbrella the sheriff's office's IT infrastructure now falls, and Heidi Petito, the county's facilities director.
It was by way of introducing Scott that Meeker turned personal. "I know him as a personal friend," Meeker said of the governor.  "In my case last week was probably one of the most week and a half of my life, having lost a very young granddaughter," Meeker said. "And in the midst of all this, my phone rings, not a number that I recognized, normally I would just ignore it. But I picked up on it. And here was Gov. Scott, calling me up to console me in a great time of grief."
Scott's appearance was brief and relatively muted, overtaken as it was by the nearly half hour of ceremonial speeches (in near-record-breaking heat for November) at either end of his own remarks as he stood at a spot marked for him on the concrete sidewalk, next to Manfre, first waiting his turn to speak then waiting for several others to get through their speeches.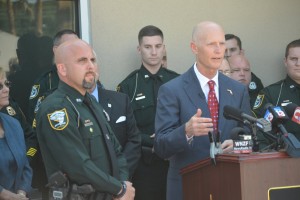 In his brief words, Scott credited the fall in crime to strong sheriffs across the state but even as he acknowledged the importance of the new building, he recognized deputies who stood behind him as being worthier of honoring, since they are the ones who keep communities safe, he said. He then singled out deputy Nate Smith for his bravery when, as he was jogging, he saw a car crash into a pond. "Without thinking about his safety, he jumps into that water," Scott said, "to try to make sure that he saved that individual that was in the car." The victim later died. "But this is the medal of heroism from the great state of Florida, and it's a real honor to give it to you for what you do each and every day."
Without going into details or mentioning any controversies that have swirled around cop shootings of civilians, Scott hinted at the difficult period law enforcement agencies are going through and said police "aren't appreciated enough." He then concluded: "It's a great day to be here. You have a great sheriff."
Two minutes with reporters later did not add more to his appearance than what he'd already said, though he deflected a question about capital punishment by calling it a difficult decision that he gets through by thinking of the victims and their families. (Scott has signed more death warrants than any Florida governor in history.)
On his seventh visit to Flagler County in five years, Scott devoted about 20 minutes to posing with supporters for pictures before going to Jacksonville for a meeting with what his administration calls "price-gouged Floridians at Florida hospitals."