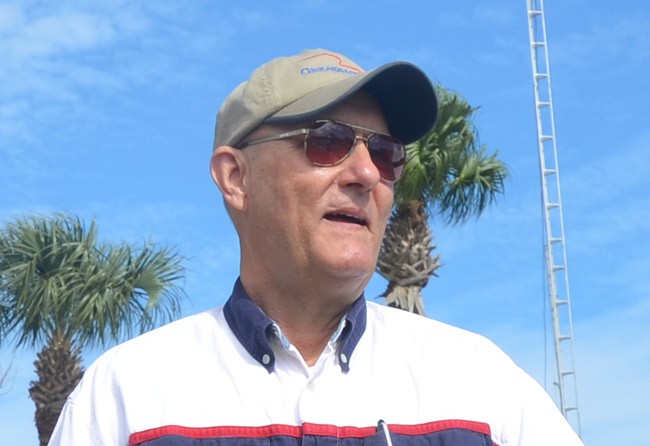 Today: high in the low 80s, low in low-70s. Details here.
Today's fire danger is low. Flagler County's Drought Index is at 76 (-112).
Today's document from the National Archives.
The OED's Word of the Day: earth horn, n..
The Live Community Calendar
Today's jail bookings.
Today's Briefing: Quick Links

Note: all government meetings noticed below are free and open to the public unless otherwise indicated. Many can be heard or seen live through each agency's website.
Arts In Education Week continues in Flagler County. Click here for details.
Free For All Friday on WNZF, 9 a.m.: David Ayres's guests include Wimbledon champ Reilly Opelka and his mother, and sheriff candidate Rick Staly, with a commentary by FlaglerLive Editor Pierre Tristam on Ahmed Mohammed, the 14-year-old Texan arrested for bringing a pencil-box clock to school.
Friday: Wimbledon Champion and Palm Coast resident Reilly Opelka is at the Palm Coast Tennis Center from 11 to noon to meet people, sign autographs and accept a congratulatory sign prepared for him during his Wimbledon run. All welcome. (1290 Belle Terre Parkway) See the story here.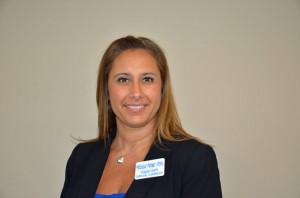 Friday: County Judge Melissa Moore-Stens on the 8th Amendment and Flagler's Pre-Trail Release Program: Mark the 228th anniversary of the birthday of the U.S. Constitution with the Flagler County Friends of the Library at 1:30 p.m. as the Friends sponsor "A Look at the 8th Amendment," presented by Judge Melissa Moore Stens. The program will be in the meeting room of the Library, 2500 Palm Coast Pkwy NW. The topic for discussion will be the pre-trial release program, funded by the County Commissioners in 2014.
Friday: Bunnell City Commissioner Elbert Tucker is the keynote speaker at the 23rd Drug Court Graduation at 3 p.m. at the Flagler County Courthouse, before Circuit Judge J. David Walsh, in Courtroom 101.
Belle Terre Elementary School Back to School Jam, 5 p.m. in the cafeteria and multi-purpose room.
Friday-Sunday: Maya at the Playa, the most important international conference on Maya studies anywhere, started Thursday and concludes Sunday at the Government Services Building. See a previous story here, and the Maya at the Playa website here.
Friday: The Flagler Public Leadership Institute, a program sponsored by the Flagler Chamber of Commerce to educate potential political candidates with a business focus about the process, holds thesecond of its two days of seminars at the chamber. The seminars are closed to public and press. See the background story here.
Friday: Oktoberfest at the German American Friendship Club Of Palm Coast, Halifax Plantation Golf Course, 4-8 p.m. for reservations please call Carol Mayer (386-446-1226) or Dan Homa (386-283-5755) or email [email protected].
Friday: Raychill Muller, live at Center Stage, European Village, 6-9 p.m.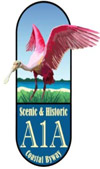 Saturday: 30th Anniversary of the International Coastal Cleanup, all along the Flagler Coast. See here for team captains and locations, and please call Danielle Anderson (386) 503-5197 if you have any questions or cannot get in touch with your team leader.
Saturday: Flagler Beach Historical Museum Presents Gala a Go-Go at Halifax Plantation, the annual fundraising costume party, with trivia contests, groovy hair & fashion, the greatest music to listen or dance to, a super post-online auction, and plenty of 1960's reminiscing. For tickets call Teri at 386-439-6262 or Denise at 386-283-0530. (6-11 p.m., Halifax Plantation 3400 Clubhouse Dr. Ormond Beach. See the website.
Saturday: Volusia and Flagler Parent Magazines Host 6th Annual Ultimate Baby Shower and Toddler's Expo from 10 a.m. to 5 p.m. at Mainland High School in Daytona Beach.
Sunday: A fund-raiser to save the Belle Terre Swim and Racquet Club is scheduled from 2 to 6 p.m. at the club, 73 Patricia Dr, Palm Coast.

FHP's Cpl. Pete Young, Flagler's Longest-Serving Cop By Far, Earns Singular Medal: After 41 years patrolling Flagler, Young on Thursday received the Sons of the American Revolution's Law Enforcement Commendation medal, an occasional honor granted men and women "who have served with distinction and devotion" in law enforcement.

GoToby Disputes News-Journal's interpretation of Flagler's foreclosure rates: "The N-J reports on the Volusia and Flagler foreclosure scene today, quoting California-based RealtyTrac. They might as well look to a Ouija Board for foreclosure data. RealtyTrac and a Ouija Board are equally reliable. The N-J reported in July (citing RealtyTrac) that Flagler County "led the nation with a ratio of 1 in every 192 homes" in some stage of foreclosure. Today's August report has the ratio improving to only 1 in 497 homes. Have they not heard of the "reasonability (or smell) test?" A July to August change from 1 in 192 to 1 in 497 represents a one-month drop of 61.4% in the number of homes in some stage of foreclosure. Hmm!!! Smells like you know what. […] Tom Bexley, Chief Deputy and Chief Operations Officer at the Clerk of Court, tells me that we are approaching normalcy. It's basically "Nothing to see here. Move along. Move along.""
Three Companies Tee Up Proposals to Run Flagler Beach's Fallow 9-Hole Golf Course: The presentations by the three golf concerns will take place, without time limits, before the so-called Alternative Use Committee. That committee has no binding power on the Flagler Beach City Commission. But its recommendation to the commission will carry weight. Most, possibly all, of Flagler Beach's commissioners are expected to attend the meeting this evening, held at city hall's commission chambers.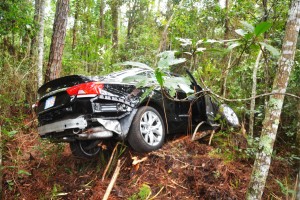 U.S. 1-Palm Coast Parkway Wreck: Man and Passenger Crash Through 200 Feet of Woods, and Walk Away: The car, authorities said, had started accelerating at Pine Lakes Parkway and never stopped, going through the intersection, avoiding traffic in both directions on U.S. 1 (the light may have been green) and crashing through the woods. The dark-colored newer-model Impala somehow either avoided the largest trunks or leveled them, uprooted them and sideswiped them in its way, possibly went airborne, and burrowed further in until it stopped on a mass of dirt, the trees in front of it also uprooted for good measure.
17-Year-Old Charged With Attempted Murder in July's L-Section Shooting of Phillip Haire: Flagler County Sheriff's Office detectives today (Sept. 17) arrested 17-year-old Zaire Roberts of 46 Pine Hill Lane in Palm Coast on an attempted first-degree murder charge in connection with the July 28 shooting of Phillip J. Haire, 18, on Lewisdale Lane. Roberts had apparently been on the run in Ohio since the shooting.
Public not invited to see Spanish king and queen at Castillo de San Marco: "As it turns out, Friday's visit to the Castillo de San Marcos by the Spanish king and queen will not be open to the public," the St. Augustine Record reports. "A release Wednesday from the city of St. Augustine announced the alteration of the availability of King Felipe VI and Queen Letizia of Spain. According to the release: "Originally it was announced that the public would be allowed to view the arrival of Their Majesties at the Castillo de San Marcos, but increased security preempts that opportunity." (Story paywall protected.)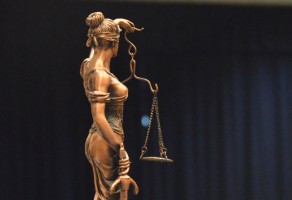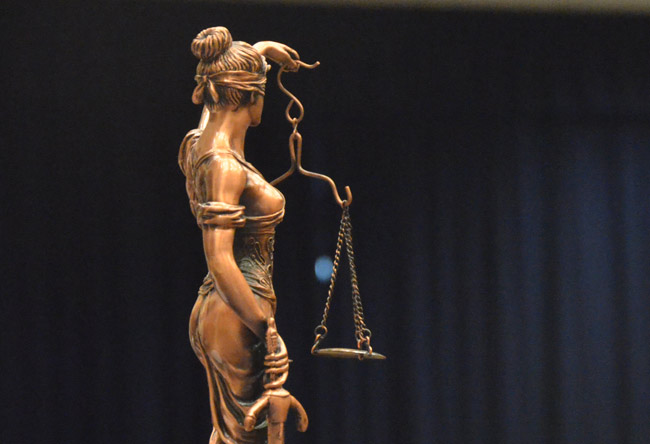 The 23rd Drug Court graduation, featuring five graduates, is scheduled for 3 p.m. at the Flagler County Courthouse, Courtroom 101. The keynote speaker is Bunnell City Commissioner Elbert Tucker. Circuit Judge J. David Walsh is presiding.
At 1:30 p.m., Judge Walsh hears a possible plea from Jamal Bell, who faces a third-degree felony charge of attempted burglary, in Courtroom 401.
A foreclosure sale is scheduled for 11 a.m. in the civil department lobby of the courthouse.

Note: Most proceedings below can be followed live on the Florida Channel.

Education Commissioner Pam Stewart gives the House Education Committee an update. (8 a.m.)
The Florida College System Council of Presidents meets to discuss issues such as the 2016 legislative session. (Committee meeting starts at 8:30 a.m.)
Unemployment numbers released: The Florida Department of Economic Opportunity will release August unemployment figures at 10 a.m.
The Florida Bar will hold a hearing on a controversial proposal that would allow out-of-state lawyers to practice in Florida without taking the state Bar exam — a concept known as "reciprocity." (1 p.m., Tampa Airport Marriott, 4200 George J. Bean Parkway, Tampa.)
Poor people's access to court: The Florida Commission on Access to Civil Justice, which was created by Supreme Court Chief Justice Jorge Labarga, will meet as it continues to look for ways to help low-income people have greater access to the court system. (1:15 p.m., Tampa Airport Marriott, 4200 George J. Bean Parkway, Tampa.)
–Compiled by the News Service of Florida and FlaglerLive

In Coming Days in Palm Coast and Flagler:
Click on the links for more details:
Sept. 21: Flagler Beach Police Captain Matthew Doughney and 7-Eleven host "Doughnuts with Doughney": The Flagler Beach Police Department and the city's 7-Eleven have partnered to host "Doughnuts with Doughney" on Monday, September 21, from 8 a.m. to 10 a.m. at 408 South Oceanshore Boulevard.
Sept. 22: Flagler County NAACP Meeting: Cassandra Stephenson of Chi Delta Omega Chapter of Alpha Kappa Alpha Sorority, Inc. addressing voter registration; Renny Roker, actor/producer/promoter, will unveil his book, "Positivity, Your Key to Success," speaking truth to power for today's youth; and Student and Community Engagement Director Lynette Shott will bring plans from the Flagler school district for the year 2015-16. A question and answer session will follow each presentation. (6 p.m., African American Cultural Society, 4422  U.S. 1 North, Palm Coast.)
Sept. 28: Bunnell's State of the Art Water Treatment Facility Grand Opening and Ribbon Cutting at 100 Utility Drive (directly across the street from the Flagler County Government Services Building), from 4 to 6 p.m.
Oct. 6: The Flagler County School Board holds a town hall meeting at the Government Services Building.
Flagler County is now accepting applications for the Fall 2015 Citizens Academy. Classes will be held on Thursday evenings from 5 to 8 p.m. beginning September 10 for nine weeks. For more information, click this link or go to flaglercounty.org/academy.

Police, Fire and Emergency Notes:
A Flood Watch is in effect for Flagler County through Friday. This means that flooding may occur due to heavy rainfall. Remember do not drive through flooded roadways of water of unknown depth.
From Bob Pickering at Flagler County Emergency: Rainfall Reports: From the morning of September 16 to Thursday except as noted:
Amount / Location / Source / Notes
4.08" / Bunnell / Flagler EOC / Measured at 0925hrs 9/17
2.25" / FC Airport / Airport / Measured at 0925hrs 9/17
0.90" / East Palm Coast / Skywarn / Measured 0745hrs 9/17
3.50" / West Palm Coast / Skywarn / Measured at 0800hrs 9/17
1.13" / Flagler Beach / Skywarn / Measured at 0830hrs 9/17
2.93" / Southwest Palm Coast / Skywarn / Measured on 9/16 in the evening
2.20" / West Central Palm Coast / Skywarn / Measured at 1630hrs on 9/16
1.58" / Northeast Palm Coast / Skywarn / Measured at 0835hrs 9/17
1.64" / Northeast Palm Coast Canals / Measured at 0834hrs 9/17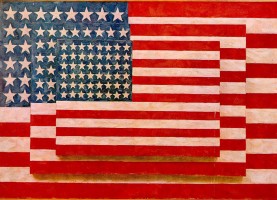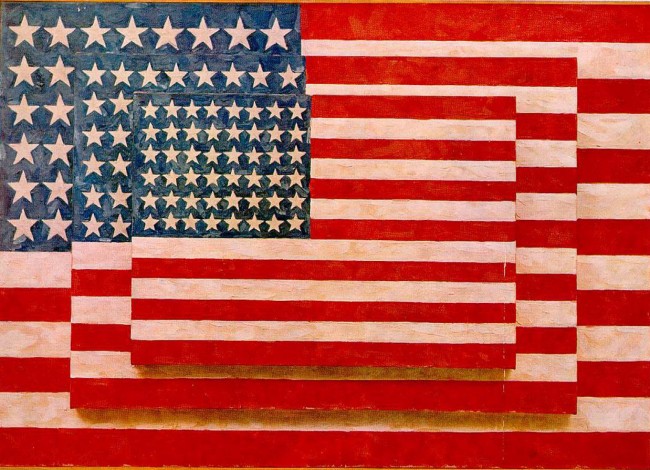 Stetson hosts Naturalization Ceremony for 11th year: For the 11th year, Stetson University will host the Naturalization Ceremony in partnership with the U.S. Citizenship and Immigration Services, when 50 immigrants from 27 countries will take the oath of citizenship to the United States. This year's ceremony will take place at 12 p.m., Monday, Sept. 21, in Lee Chapel inside Elizabeth Hall, 421 N. Woodland Blvd., on Stetson's DeLand campus. A reception will immediately follow in the Palm Court. The special event is free and open to the public. The ceremony will include special music presentations by members of Stetson University's School of Music. Stetson's Army ROTC Color Guard will present the Colors. Professor of Political Science T. Wayne Bailey, Ph.D., will congratulate the new U.S. citizens. A video presentation with a message from President Barack Obama will be shown. "The Naturalization Ceremony represents the founding principles of our country – a government formed by people seeking freedom," said Kevin Winchell '07, assistant director of Stetson's Center for Community Engagement, who is in charge of the voter registration going on simultaneously on Stetson's campus. "These new American citizens are actively seeking better lives for themselves and their families," said Winchell. "They have overcome many challenges in order to become citizens, and their hard work ensures that they will take seriously their newfound rights and responsibilities – a notion that inspires us to continue our work of increasing student political engagement." "It's probably the most moving experience that any celebration of Stetson brings forth," said Bailey, the original organizer of this event at Stetson University in 1997. "You look into their eyes, and you see how much joy and pride they feel in taking this oath to become new citizens. Many times, we Americans take citizenship for granted, and our pride and dedication do not match this group of newly minted American citizens. Most of them have been through a long process of at least five years."

Why Americans Still Think the Economy Is Terrible: "The 2014 real median income number is 6.5 percent below its 2007, pre-crisis level. It is 7.2 percent below the number in 1999. A middle-income American family, in other words, makes substantially less money in inflation-adjusted terms than it did 15 years ago. And there is no evidence that is reversing. Those families lost ground in 2014. And as we've reported previously, the data on wages in 2015 so far does not suggest there is a meaningful acceleration on the way. The depressing data on middle-class wages is true across almost all groups based on race and age. (One exception is a 5.3 percent gain in median wages among Hispanics in 2014, though that is within the statistical margin of error and so may not be meaningful). […] Stagnant incomes were a problem in 2013. They remained so in 2014. The evidence we have so far suggests nothing about that is changing in 2015. That is the reality shaping the backdrop to the 2016 presidential campaign, the Federal Reserve's interest rate debates and the dinnertime table conversations about the state of the economies in families across the United States."
The Myth of "Do What You Love": "What if "success" is a meaningless metric? What if the prize you win for landing that dream job is just more stress, more pressure, and still not enough money or free time to enjoy it? These are questions being asked more and more often in the post-financial-crisis era, where just maybe, if we're lucky, more than just markets collapsed in 2008. Maybe we can slowly start putting an end to the whole idea that work is anything other than what we need to be liberated from. […] In today's world, it is a fact that fewer and fewer people have access to the kind of jobs that are considered "labors of love." Alongside the fields that have always been difficult to enter and harder still to succeed in—the arts, Hollywood—are now formerly stable, middle-class positions like my own field of journalism. Casualization has hit even the august halls of academia, turning stable faculty jobs into part-time gigs for adjuncts who have all of the degrees (and debt) but none of the perks that those credentials were supposed to earn them. […] For those who come from wealth, who are liberated from the need to worry about paying the bills, what to do to fill each day may indeed be a real choice made solely based on what will bring them the most pleasure. For the rest of us, Tokumitsu reminds, "As long as our well-being depends on income, and income, for most, depends on work, love will always be secondary as a motivation for doing it. Encouraging workers to pretend otherwise is disingenuous and exploitative."" From Dissent.
Professor Bellow: The influence of the academy made Saul Bellow's fiction insufferable: By 1981, Bellow had abandoned his earlier ambivalence and swung around to the conclusion that, as he told The New York Times' Michiko Kakutani, "It's in the university and only in the university that Americans can have a higher life." And in real life, Bellow had become a fixture of various academic haunts, most durably as a member of the Committee on Social Thought at the University of Chicago, from 1962 to late 1993. But the novels Bellow wrote under the influence of the academy are some of his worst. It does little service to Bellow's reputation to pretend that everything he wrote deserves preservation and revisiting. So arid are The Dean's December (1982) and More Die of Heartbreak (1987) that inescapable questions emerge: Where did he go wrong? How did so gifted a writer lay waste to his talents? Bellow was an early test case for novelists trying to get by in the academy, and a particularly telling case, since he was a more enthusiastic recruit than most. As last year's n+1 anthology "MFA vs. NYC" demonstrated, the tension between academia and real life has only deepened and still defines the contours of literary life. Cagey and brainy, Bellow wanted to be the novelist of both the streets and the faculty lounge. Alas, in too much of his work, he serves as a cautionary tale of how schools can open minds but can also sometimes trap the soul." From the New Republic.

Palm Coast Construction and Development Progress Reports:
The following is an update of ongoing construction and development projects in Palm Coast, through Sept. 11: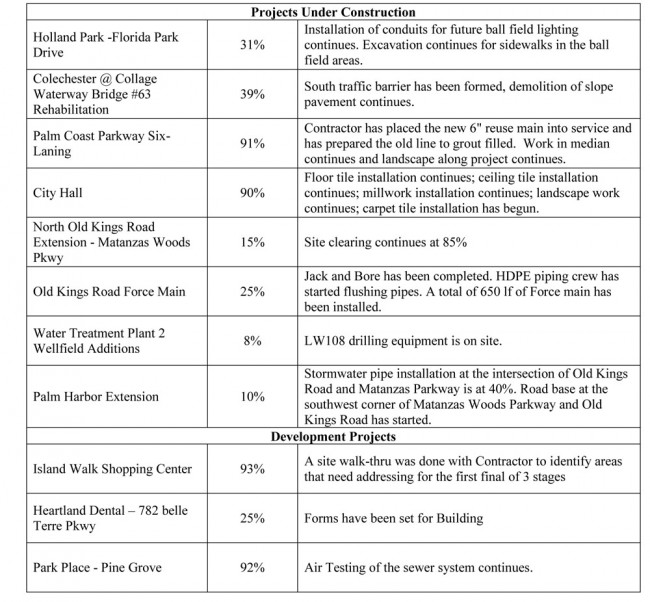 Palm Coast Residential and Commercial Permits Issued Last Week (Click on the chart for larger view):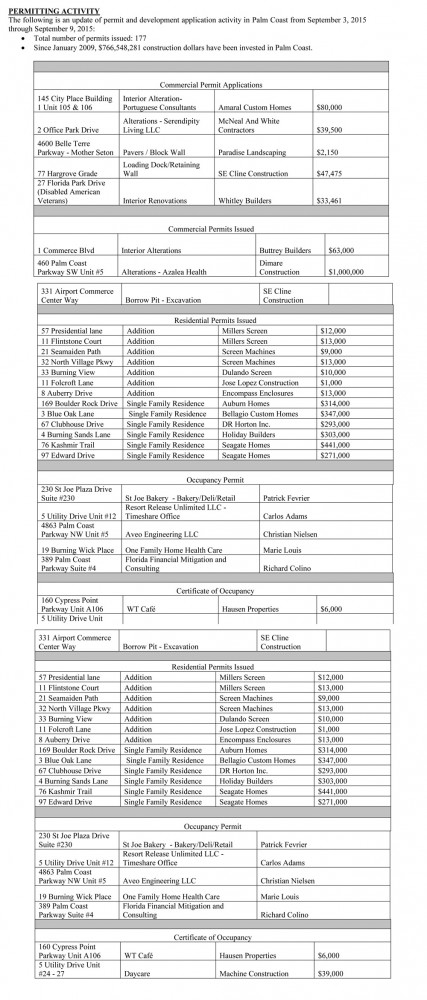 Road and Interstate Construction: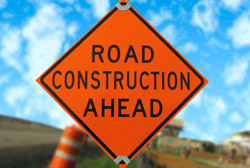 Palm Coast:
Flagler County Road 302 is Closed to all but local traffic as repaving began on June 7 and the roadway will be closed to all but local traffic. Others will be required to detour around County Road 302 using State Road 100. The roadway will be closed for 90 days, or until early September.
Palm Coast's Colechester Lane bridge to be closed July 7 through Sept. 4:  A detour will be established taking travelers over the Colorado Drive bridge instead. Signs will be posted directing motorists to the Colorado Drive bridge. The City of Palm Coast strives for safe construction zones. The City asks for the cooperation and patience of residents as this important bridge improvement project is completed. For more information, contact Palm Coast Customer Service at 386-986-2360.
Volusia: I-4 Widening from SR 44 to east of I-95, Monday and Friday, 7:00 a.m. – 5:00 p.m., Eastbound/Westbound shoulder closing. Sunday through Thursday, Eastbound and Westbound lane closures as needed from 8 p.m. to 6 a.m. Thursday, 9:00 p.m. – 5:30 a.m. EB road closure between Canal St./SR 44 and I-95 with detour at US 92 exit ramp.Motorists should be aware of traffic shifts near Canal St./SR 44.
County Road 304 Project Map and Description

Comment of the Day (From the Comment Section):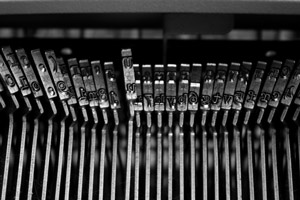 Dean Carpenter, in "Three Companies Tee Up Proposals to Run Flagler Beach's Fallow 9-Hole Golf Course": I don't understand why the city is speculating on a sport that is declining in popularity and focused on cost containment as the primary path to survival. Unless there is a plan to turn casual golfers into avid golfers all parties involved should project 0 growth in business models.
It seems to me the golf depression is related to the following.
Money
1. Low to median wages are not keeping up with inflation. High income earners will not be seeking a
discount public golf coarse.
2. If you track the annual increase in hotel and restaurant prices visitors will have
less money to spend on golf in the future.
3. Median income was $57,006 in 2007. In 2013 it had dropped to $52,250.
Time
1. Work weeks are getting longer. Over a third of full time employees work more than 50 hours each
week.
2. In a two income home most couples will seek recreation they enjoy together. This reduces the
total number of potential golfers.
3. If 9 holes become popular all current golf clubs will offer the option taking away any potential
competitive advantage.
Location
1. Golfers have a huge selection of golf courses in this region. Can Flagler/leasee afford to maintain a
course that will compete with a private course?
I bet a unique, well run miniature golf course would be more profitable. It would give families a reason to drive here from Daytona and St. Augustine." Reply to Dean Carpenter here.

Vaughan Williams: A Sea Symphony