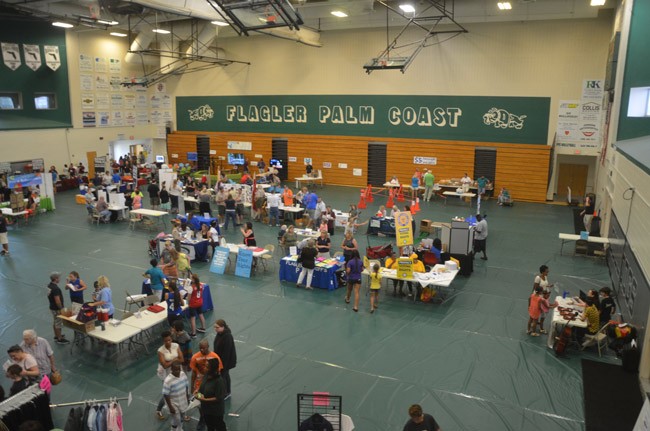 Today: high in upper 80s, low in low 70s. Details here.
Today's fire danger is moderate. Flagler County's Drought Index is at 412.
The weather in Trinidad, Bolivia: high 88, low 69. Details.
Today's document from the National Archives.
The OED's Word of the Day: querulous, adj. (and n.).
The Live Community Calendar
Today's jail bookings.
Today's Briefing: Quick Links

Note: all government meetings noticed below are free and open to the public unless otherwise indicated. Many can be heard or seen live through each agency's website.
The Flagler County Commission's budget workshop, scheduled for 9 a.m. today, has been cancelled.
The Flagler County Library Board of Trustees meeting, scheduled for 4:30 p.m. today, has been cancelled.

The Bunnell City Commission meets twice today, first at 6:30 p.m. for a budget workshop, with a discussion of its $2.7 million general fund–which would grow by about $213,000 from the current year– (the agenda and background materials are here), then for its regular commission meeting, at 7 p.m., when commissioners will consider going paperless with regards to a number of items that go to customers and residents, from water bills to the city newsletter. The agenda and background materials are here. (City Commission Chambers, Bldg 3, 201 W. Moody Boulevard.)
The Flagler County Land Acquisition Committee, which advises the county commission on sensitive lands acquisition, meets at 3:30 p.m. in the 1st floor conference room of the Government Services Building. On the agenda: a discussion of Amendment 1, the constitutional amendment 75 percent of voters approved in 2014, compelling the Legislature to appropriate one-third of fees collected by the state in real estate transactions to protect natural areas and wildlife habitat and preserve our water quality for the next two decades. The Legislature's interpretation of the amendment has been controversial.

Ex-Supervisor Kimberle Weeks Billed Taxpayers $10,500 For 2 Lawyers and Misled Media: Kimberle Weeks, the former Flagler County Supervisor, ran up $10,500 in legal bills in her last five months in office, including $5,000 to defend herself in a state investigation that resulted in 12 felony counts against her. She charged the bills to taxpayers. Last Nov. 4, three local news organizations–FlaglerLive, the Palm Coast Observer and WNZF–submitted a public record request to Weeks, in a hand-delivered letter and an email replica, which she acknowledged, requesting billing records, invoices, retainer agreements ad the like relating to any attorney she had contracted with, or court reporters. Weeks responded on Nov. 4 by email with a copy of the retainer agreement for Walton, but nothing else.
Flagler sheriff's K-9 euthanized, 2 handlers on medical leave: Flagler County Sheriff K-9 Char, a German shepherd, was euthanized last week after attacking Deputy Brandon Fiveash, further throwing the sheriff's K-9 unit into turmoil. The unit, the News-Journal's Tony Holt reports, has been losing members to resignations and, in one case, because of a deputy's failure to complete required training. The euthanized K-9 had been assigned to that deputy, Joe Barnett. "The head of the Sheriff's Office K-9 unit, Sgt. Jon Welker, stated he was advised by the instructor that 'Deputy Barnett and K-9 Char would not be permitted to continue attending the training course,'" according to the News-Journal. "Welker then recommended Barnett be reassigned to road patrol. Barnett's additional bi-weekly pay of $209 for canine kennel care was eliminated effective June 4, according to Sheriff's Office documents. [Sheriff's Spokesman Jim] Troiano reiterated that Char was not the cause for Barnett being removed from the course, but it was Barnett's "inability to handle the dog."(Story paywall protected.)
Matanzas Woods Parkway Re-Opening on Monday, 2 Weeks Before School Resumes: Matanzas Woods Parkway closed June 5 so the portion of the roadway that spans Interstate 95 could be reconstructed and elevated a few feet to accommodate four single-lane ramps for on and off access. The goal was to complete that portion of the project before school starts. But there will still be intermittent lane closures, as the ramp construction isn't slated for completion until May 2016, the county announced.
Java Joint Burglary: Suspect In Custody in Georgia, Wanted on Numerous Break-Ins: A 52-year-old resident of Jacksonville who's been sitting in a county jail in Georgia on a burglary charge for the past 39 days was tied to a burglary at Java Joint, the restaurant in Flagler Beach, in late June. County Judge Melissa Moore Stens on Aug. 5 issued a warrant for the arrest of Joseph C. Hodge, who's wanted in numerous jurisdictions for burglaries.
Rick Scott, 1st-Ever Florida Governor Successfully Sued Over Sunshine Law, Settles for $700,000 in Taxpayer Dollars: The settlement is precedent-setting, the Herald wrote, "in that it is the first time in state history that a sitting governor and attorney general have been sued successfully for violations of Florida's public records laws. It is also the third legal defeat in recent months for the governor, and the second time he has agreed to use state dollars to end a lawsuit against him. Also signing the agreement is Attorney General Pam Bondi." The money will come from four agencies — $445,000 from the Department of Environmental Protection, $120,000 from the governor's office, $75,000 from the attorney general's office and $60,000 from the Department of State.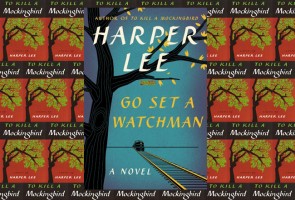 Scout's Dishonors: Harper Lee's "Go Set a Watchman," Chapter 9: In the continuing project to blog Harper Lee's "new" novel chapter by chapter, we come to Jean Louise's backstory, a summary of how and when her mother died, of a heart attack on the porch of the family house, bringing to the family "the heart that killed her son twenty-two years later on the sidewalk in front of his father's office," as well as Mockingbird echoes from Scout's upbringing.

Circuit Judges Judge J. David Walsh holds sentencing hearings and probation violation pleas starting at 8:30 a.m. in Courtroom 401. Circuit Judge Michael Orfinger and County Judge Melissa Moore-Stens hold various hearings throughout the day.

Note: Most proceedings below can be followed live on the Florida Channel.

Special session on redistricting starts today to redraw congressional districts. The session comes after the Florida Supreme Court ruled that lawmakers violated a 2010 constitutional amendment aimed at preventing gerrymandering. (3 p.m., House and Senate chambers, the Capitol.)
Campaign finance reports due: State candidates and political committees face a Monday deadline for filing reports showing campaign-finance activity through July 31.
Florida in midst of 10-day "sales tax holiday," which will allow back-to-school shoppers to buy clothes, shoes, school supplies and other items without paying sales taxes. The holiday will started at 12:01 a.m. Friday, Aug. 7, and lasts through 11:59 p.m. Aug. 16.

Argentina's primary election results will determine whether the country remains under the same leadership that it has for the past 12 years, or choose an alternative path.
President Obama is on vacation on Martha's Vineyard.

Saltwater Homes Expands Sales Team, Adds Flagler County Local: Saltwater Homes announced that they have yet again expanded and added local Flagler County real estate agent Jared Zecca as the newest member to their sales team. Having lived in Flagler County since the 1990's and being a sales professional for 15 years, Jared has a vast knowledge of the local real estate market. "Saltwater has a fantastic reputation and they produce an excellent product," said Zecca. Owner of Saltwater Homes, Rob Booher, has known and built a comradery with Jared since he moved from the Cleveland area to Flagler County many years ago. Adding Jared to the Saltwater Homes Team further enhances the family atmosphere Rob has worked so hard to create. Saltwater Homes is owned and operated by Rob Booher and Dave Crockett. Both men have been long time residents of Flagler County, and hold one of the longest standing contractor's licenses within the county.  The company employs 12 people and currently has three model homes, 143 Florida Park Drive in Palm Coast, 32 South Riverwalk Drive in Palm Coast Plantation, and with the newest model at 141 Aspen Way in the Conservatory at Hammock Beach. The company's recent accolades include winning the Grand Award for 'Best Home Under $250k' for their Bordeaux in the Flagler County Parade of Homes. Saltwater Homes is an active member of the Flagler County Chamber, the Home Builders Association, Bonded Builders Association, and the Florida Home Builders Association. Feel free to reach out to a Saltwater Homes Team Member by phone at 386-447-4400, online at http://www.mysaltwaterhome.com or https://www.facebook.com/SWHomesInc.
Jewish Historical Society to Mark 450th Anniversary of Presence of Descendants of Crypto-Jews: The St. Augustine Jewish Historical Society will mark the 450th anniversary of the arrival of the descendants of Crypto-Jews to territories later to become the United States, 11 a.m. Tuesday, September 8 at the Fountain of Youth Archaeological Park, 11 Magnolia Ave, St. Augustine, Florida 32084.  The program is open to the public and will include a tour of relevant excavations of oldest successful European settlement in the United States led by St. Augustine Archaeological Association Board Member, Carl Lindenfeld.  Advance reservations must be made by sending a check for $12.00 per person payable to the St. Augustine Jewish Historical Society with the notation "Fountain of Youth" in the memo line, to Carl Lindenfeld SAJHS Treasurer, 912 Ridgewood Lane, St. Augustine, Florida 32086. Checks must be received by the end of business, Tuesday, September 1.  Discussion over lunch follows the tour.  Participants are welcome to bring a brown bag lunch.  Soft drinks will be provided.  All are welcome.  This program is open to the public. For further information call 804-914-4460.
DEP Hosts Update Meeting for Lower St. Johns River Tributaries: The Florida Department of Environmental Protection is hosting an annual update meeting on Aug. 11 for two restoration plans covering 25 Lower St. Johns River tributaries. The department will present the second phase of the restoration plans and discuss additional efforts to reduce fecal coliformbacteria loading to the tributaries. To address the excess levels of bacteria, Basin Management Action Plans, or BMAPs, were adopted in 2009 and 2010. All 25 tributaries connect to the Lower St. Johns River Mainstem and many are located in highly urbanized areas that receive stormwater runoff, which can transport bacteria from yards and roadways. Results from the first phase of the restoration plans show improvements in bacteria levels in 21 of the 25 tributaries. Activities identified in the second phase, which will take place during the next five years, include the use of microbial source tracking to identify the origin of bacteria through DNA analysis. Knowing the bacteria's origin enables DEP to target potential sources more accurately. As sources are determined, management programs will be utilized to eliminate the human-activity-based sources. "The department is utilizing new techniques to identify the sources of pollution," said Tom Frick, director of the Division of Environmental Assessment and Restoration. "The department and stakeholders then use this information to develop projects that most efficiently target the pollution sources." The BMAP process emphasizes the importance of collaborative watershed restoration efforts. The city of Jacksonville plans to organize community trash cleanups of 10 tributaries by the end of the second phase. JEA, city of Jacksonville, Neptune Beach, Atlantic Beach, city of Jacksonville Beach, Florida Department of Health, Florida Department of Agriculture and Consumer Services and DEP will continue their ongoing programs to address potential pollutant sources.

Coca-Cola Funds Scientists Who Shift Blame for Obesity Away From Bad Diets: "Coca-Cola, the world's largest producer of sugary beverages, is backing a new "science-based" solution to the obesity crisis: To maintain a healthy weight, get more exercise and worry less about cutting calories. […] Health experts say this message is misleading and part of an effort by Coke to deflect criticism about the role sugary drinks have played in the spread of obesity and Type 2 diabetes. They contend that the company is using the new group to convince the public that physical activity can offset a bad diet despite evidence that exercise has only minimal impact on weight compared with what people consume. This clash over the science of obesity comes in a period of rising efforts to tax sugary drinks, remove them from schools and stop companies from marketing them to children. In the last two decades, consumption of full-calorie sodas by the average American has dropped by 25 percent." From The Times.
Will Florida public lands expand? Right now, it's unlikely: "Thanks to various land conservation programs from local, state and federal governments along with private organizations, Way and others who venture out have plenty of varied ecosystems to see in Alachua County. But local money is more dry than the Santa Fe River in drought and the Florida Legislature, in a controversial move, appropriated just a fraction of the money to be raised through the voter-approved Amendment 1 to land purchases for which it was intended. So any sizeable expansion of public conservation land is in jeopardy despite widespread public support for it. Most of the local public conservation land has been bought by the Florida Park Service, Alachua County, the city of Gainesville and the Suwannee and St. Johns river water management districts. The forest service recently opened its only Alachua County state forest, near Newnans Lake. The land serves a lot of public purposes — it helps prevent pollution by filtering water before it gets to the aquifer, it provides flood control, it's home for varied plants and animals, including several that are imperiled." From the Gainesville Sun.
Don't try that underwear in stores: A Senate Democrat is renewing an attempt to place restrictions on people who try on underwear and swimsuit bottoms in retail stores. Sen. Geraldine Thompson, D-Orlando, filed a bill (SB 104) this week that would prevent retailers from allowing customers to try on "intimate apparel" unless the items are tried on over clothing or disposable shields are used. If customers fail to comply, tried-on items would be considered defective and could not be sold by the stores. The bill, which will be considered during the 2016 legislative session, defines intimate apparel as including "lower undergarments and swimsuit bottoms." Thompson proposed a nearly identical bill during the 2015 legislative session but it died in a Senate committee. News Service of Florida.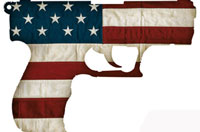 Kansas City, Houston, Gaston County, N.C., Blytheville, Ark., and Berlin, Vt. Total Killed: 15. Total wounded: 20.
Houston, 6 killed: "A Texas man broke into his ex's home, handcuffed her alongside her husband and her six young children — including his own son — and fatally shot each victim in the head, authorities said. David Ray Conley admitted to the grisly murders after Harris County deputies found the eight family members dead inside their Houston home Saturday, authorities said. Victim Valerie Jackson once dubbed the 49-year-old the "best father in the whole world" before their relationship soured, forcing her to kick Conley out of her house and change the locks, fearing her ex. It's not clear if the two were ever married."
Berlin, Vt., 4 killed: "Three women found dead in a rural Vermont home Saturday morning were killed by a relative before she gunned down a state social worker, officials said. […] Investigators have determined that the three victims are relatives of Jody Herring, 40, who has been charged with first-degree murder in connection with the fatal shooting of Lara Sobel, a social worker with the Vermont Department for Children and Families, according to state police. Sobel was shot twice in broad daylight Friday outside of a state office building in Barre, about 7 miles east of Berlin, Vermont Gov. Peter Shumlin said in a statement. Multiple witnesses described Herring as the person who shot Sobel, according to Barre police."
Blytheville, Ark., 1 killed, 13 wounded: Blytheville Police Chief Ross Thompson confirmed the victim is 20-year-old Adeline King of Blytheville. Reports indicate that several people were shot on Anderson Street, but their conditions are unknown at this time. A law enforcement official reported that 13 were injured and one killed.
Gaston County, N.C., 2 killed, 3 wounded: "Gunfire was exchanged between the suspect and officers. During the exchange, two officers were wounded and the suspect was fatally wounded. Officers also found a victim of a fatal shooting at a second location in the neighborhood, according to police. The identity of that victim has not been released. A third shooting victim was found at another home. She was taken to the hospital with non-life threatening injuries. Both the officers were also taken to the hospital with non-life threatening injuries."
Kansas City, 4 wounded: "Investigators said four people were injured during a gun battle early Sunday. Police said they have recovered three guns."
From Mass Shooting Tracker. See the full lists for 2015, 2014, 2013.

Palm Coast Construction and Development Progress Reports:
The following is an update of ongoing construction and development projects in Palm Coast, through July 31:
Palm Coast Parkway Six-Laning is 85 percent done: Widening on the north side of the parkway almost complete. Landscape irrigation work continues. Signage installation is complete. Milling and Resurfacing of Roadway has begun. FPL completed installation of light poles and fixtures along the south side of the roadway.
Holland Park, 25 percent done: Installation of new underground sanitary piping and structures. Continuation of installation of new water main.
Palm Coast City Hall at Town Center, 80 percent done: Installation of drywall on interior walls, mechanical duct work
& VAV damper installation, electrical conduit rough-in and fire sprinkler piping are all 98% complete. Painting of interior and exterior walls continues. Floor tile in bathrooms continues. FP&L set meter. Mechanical system being prepped for startup next week. Exterior trellis and clock installed. 2 of the 4 glass entry door systems have been installed.
Colechester Drive Bridge, 30 percent done: Bridge deck is being removed.
County's I-95 Interchange Matanzas Woods Reclaim Water, 25 percent done: Contractor has installed approximately 1,000 ft. of reclaim water main total installed 5,000 ft. to date.
Palm Harbor Parkway Roadway Extension, 6 percent done: Contractor working on submittals and coordinating utility work with FPL & ATT.
Island Walk Shopping Center Phase 1, 90 percent done: An 8″ insert a valve was installed on the water main behind the north west corner of the old Bealls store to isolated water main and adjust where storm water conflicts with the 8″ water main location.
Shops at Pine Lakes Convenience Store, 90 percent done: The Pump Station panel has been set and is ready for startup testing.
Walmart Addition, project completed.
Old Kings Road Utilities Work, 85 percent done: Pressure testing of new water main has passed.
Old Kings Road Force Main – Master Pump Station, 4 percent done: Contractor clearing crew removing trees from site.

Road and Interstate Construction: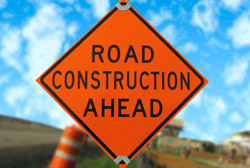 Palm Coast:
Road Closure Note: The northbound lane of S. Old Kings Road from Town Center Boulevard going north approximately 2.5 miles will have a moving lane closure starting Monday, July 27. The lane closure will be from 7 a.m. to 5 p.m. weekdays and will continue for approximately three weeks. A flagman will direct traffic.
Lane closures to begin July 27 on South Old Kings Road in Palm Coast: The northbound lane of S. Old Kings Road from Town Center Boulevard going north approximately 2.5 miles will have a moving lane closure starting Monday, July 27. The lane closure will be from 7 a.m. to 5 p.m. weekdays and will continue for approximately three weeks. A flagman will direct traffic. This lane closure is needed to allow a City contractor to clear the right-of-way along the roadway in preparation for an upcoming wastewater system project.
Lane closure planned for Palm Coast Parkway July 26 through August 7: Beginning Sunday, July 26, motorists and other travelers should expect a lane closure along Palm Coast Parkway between Florida Park Drive to just west of Cypress Point Parkway. The lane closure will occur in two phases. From 7 p.m. Sunday, July 26 through 7 a.m. Friday, July 31 one eastbound lane will be closed, and one eastbound lane will remain open. From 7 p.m. Sunday, August 2 through 7 a.m. Friday, August 7 one westbound lane will be closed and one westbound lane will remain open. Motorists are encouraged to watch for flaggers and work zone signs. The lane closures are required in order for the contractor to perform milling and paving operations. Weather conditions and other unforeseen circumstances could alter work schedules.
Matanzas Woods Parkway closed: Matanzas Woods Parkway is closed until early August for construction of the Interstate 95 interchange. The portion of Matanzas Woods Parkway that spans I-95 will be reconstructed to accommodate four single-lane ramps for on and off access to the interstate. Other improvements include the widening of the interstate to accommodate new acceleration and deceleration lanes, wet detention ponds adjacent to the roadway, sidewalks, lighting, overhead signs and landscaping. Project details are available and regularly updated at http://www.matanzas95interchange.com. The detour map is available here.
Palm Coast Parkway between Cypress Point Parkway and Florida Park Drive. IMPACTS: Lane shifts and closures will occur and this may cause traffic congestion on this already busy roadway. Most construction work will occur between 9 p.m. and 7 a.m. though weather and unforeseen issues may adjust the schedules. This project will be complete by December 2015.
Flagler County Road 302 is Closed to all but local traffic as repaving began on June 7 and the roadway will be closed to all but local traffic. Others will be required to detour around County Road 302 using State Road 100. The roadway will be closed for 90 days, or until early September.
Palm Coast's Colechester Lane bridge to be closed July 7 through Sept. 4:  A detour will be established taking travelers over the Colorado Drive bridge instead. Signs will be posted directing motorists to the Colorado Drive bridge. The City of Palm Coast strives for safe construction zones. The City asks for the cooperation and patience of residents as this important bridge improvement project is completed. For more information, contact Palm Coast Customer Service at 386-986-2360.
Volusia: I-4 Widening from SR 44 to east of I-95, Monday and Friday, 7:00 a.m. – 5:00 p.m., Eastbound/Westbound shoulder closing. Sunday through Thursday, Eastbound and Westbound lane closures as needed from 8 p.m. to 6 a.m. Thursday, 9:00 p.m. – 5:30 a.m. EB road closure between Canal St./SR 44 and I-95 with detour at US 92 exit ramp.Motorists should be aware of traffic shifts near Canal St./SR 44.
County Road 304 Project Map and Description

Click on the links for more details:
Flagler County is now accepting applications for the Fall 2015 Citizens Academy. Classes will be held on Thursday evenings from 5 to 8 p.m. beginning September 10 for nine weeks. For more information, click this link or go to flaglercounty.org/academy.
Nominate Your Veteran of the Year: Flagler County government is taking nominations from Aug. 1 through Sept. 30 for the veteran of the year. Nominations must be mailed in to the county. Click here for details.
Back to School Immunization, required by schools, available at the Flagler County Health Department from August 10 through August 21, Monday through Friday from 8 a.m. to 11 a.m. and 1 p.m. to 3 p.m. on a walk-in basis. For further information, please call: 386-437-7350 ext. 2224.
All Summer: Free Breakfast and Lunch for All Flagler County Children Through Seamless Summer Freeding
August 15-16: Softball tournament fund-raiser for the Casey-Dixon family who suffered a house fire in May in the LL-section. Games will begin at 8 a.m. at the Flagler Fairgrounds Softball Field.
Saturday, Aug. 15: Daytona Beach's 3rd Annual Community Unity Festival, from 9 a.m. – 10 p.m. This free event, which will include activities for all ages, will be held at Daisy Stocking Park, 555 Mary McLeod Bethune Blvd. in Daytona Beach.

Comment of the Day (From the Comment Section):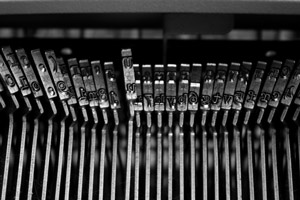 Jack Howell and Nancy Smith in "Jailhouse Porn: Fort Apache, Flagler":
Jack Howell: "Pierre, I understand your points loud and clear. Your assessment is dead on! But, I would ask the first you look at the population of the county compared to what the county was when the current jail was constructed. I don't have a problem with the expansion of the facility as a contingency. I wholeheartedly agree with you about intervention programs and the success they have shown. Yes, this is the positive approach. Personally, I would like to see a continued reduction in inmate population and crime reduction. I hope we will never need the additional space now being added! The reality is the sheriff does not fill the jail. The county commissioners do not fill the jail. The jail is filled by the judicial system….the courts fill the jail. Our society will dictate the size of our jail by the crimes committed and adjudicated as guilty." Respond to Jack Howell here.
Nancy Smith: "I have a lot of respect for your position in the community Jack, but I have to respectfully disagree with this: "The reality is the sheriff does not fill the jail. The county commissioners do not fill the jail. The jail is filled by the judicial system….the courts fill the jail. Our society will dictate the size of our jail by the crimes committed and adjudicated as guilty." As someone whose family has been on the wrong side of that "justice" system, I can tell you…the Sheriff does fill that jail. Because the courts only get cases that the Sheriff's officers bring to them. Officers frequently have discretion about making arrests, or what charges to request. They set the process in motion. And once someone is arrested for a felony, it is basically a foregone conclusion that they will do time. Only about 10% of cases go to trial. The rest end in plea bargains because public defenders are overworked and sentence guidelines are so stiff that people are forced to plea – even to crimes that they didn't commit – because the risk of going to trial is often a difference of taking several years versus risking the rest of their adult lives at trial. Society HAS dictated the size of our jail – by electing politicians who have increased sentencing penalties over and over to the point that virtually everyone must take a plea, and by electing politicians as prosecutors who are so concerned about how their win percentage looks to the public (read: voters) that they over charge defendants to scare them into taking a plea to force one into the win column at all costs. That's not justice. That's playing politics with people's lives." Respond to Nancy Smith here.

Cultural Coda:
Charles-Valentin Alkan (1813 – 1888) Etude op. 39, no. 12 'Le Festin d'Ésope'
From the Grove dictionary: "Alkan soon came under the spell of Chopin, whose close friendship he enjoyed and whose music he much admired. He was friendly too with George Sand and others of their circle. Yet there soon appeared the strain of shyness and misanthropy that was later to become Alkan's dominant characteristic. His life is undocumented for long periods when he withdrew from the concert platform; his publications appeared only at intervals; and he seems more and more to have avoided company. […] Alkan's enigmatic character, reflected in his music, has been well described by Marmontel and de Bertha. He dressed in a severe, old-fashioned, somewhat clerical manner, discouraged visitors and went out rarely. He felt he had lived beyond his time. Niecks described how Alkan became warm-hearted and almost convivial once the outer reserve had been penetrated. He had few friends, though he particularly enjoyed the patronage of Russian aristocratic ladies, 'des dames très parfumées et froufroutantes', as Isidore Philipp described them. He was nervous in public and pathologically worried about his health, even though it was good. He remained a strict member of the Jewish faith in which he had been brought up, and was widely read in classical and biblical lore."