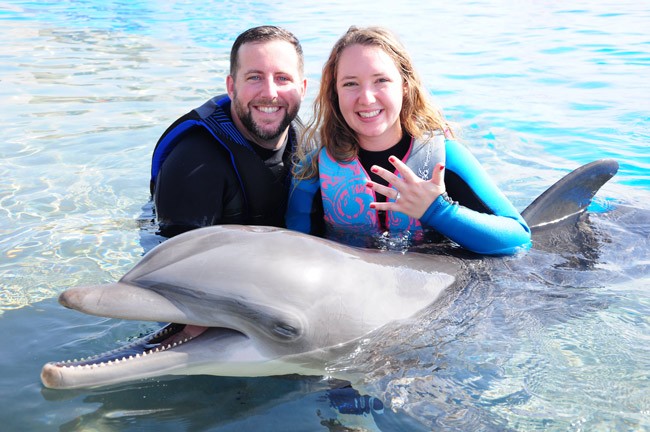 Today: thunderstorms, high of 89, low of 73 Details here.
Today's fire danger is moderate. Flagler County's Drought Index is at 401.
The weather in Port-Gentil, Gabon: high 77, low 69. Details.
Today's document from the National Archives.
The OED's Word of the Day: omniferous, adj..
The Live Community Calendar
Today's jail bookings.
Today's Briefing: Quick Links

Note: all government meetings noticed below are free and open to the public unless otherwise indicated. Many can be heard or seen live through each agency's website.
Friday: The Florida Ethics Commission meets at 8:30 a.m. to take up, among other cases, that of Flagler County Sheriff Jim Manfre, who faces probable cause findings on three ethics violations. The sheriff will not be at the meeting in person, but will remain on duty in Flagler, a sheriff's spokesman said Thursday. The commission also takes up a proposed agreement aimed at resolving allegations that former Lt. Gov. Jennifer Carroll did not properly report income from consulting work that led to her 2013 resignation. Carroll and an attorney for the commission have agreed to what is known as a "stipulation," which includes an admission from Carroll that she filed inaccurate financial-disclosure forms. (8:30 a.m. 1st District Court of Appeal, 2000 Drayton Dr., Tallahassee.)
Free For All Friday: Host David Ayres has Michael King and local artists, poets and writers who participate in the monthly Open Night Mike, on Free For All Friday on WNZF at 9 a.m.
Friday: The Scenic A1A Pride committee meets at 9 a.m. at the Hammock Community Center. The committee will discuss the site plan for Hammock Organics, a new business at 5428 N Oceanshore Blvd. and hear various committee reports.
Friday: Teen Water Night at Palm Coast's Frieda Zamba pool: Young teens can enjoy spending time together in the pool, listening to their favorite songs and participating in their favorite games. 8-10 p.m., $3 admission.
Friday: Bradley Griese, live at Farley's Irish Pub: Griese is a local singer-songwriter originally from New York, now living in the Ormond Beach area. Bradley's vibrant travels and colorful experiences shine though in his original music as well as in his unique covers of your all time favorite music covering songs by Bob Marley, Cat Stevens, Marshall Tucker Band, Alabama, and so on. 8 to midnight. European Village in Palm Coast.
Saturday: Tour de Palm Coast: Pull out your bicycle, grab your family and friends and join City staff on a leisurely bike tour through Linear and Waterfront Parks. View widlife and magnificent landscape along the way – and don't forget your helmet and water! Free event. Starting at 8 a.m. at Palm Coast's Linear Park. Be early. Be safe.
Saturday: Flight of Life Great Blue Heron Sculpture Dedication at Waterfront Park in Palm Coast, with members of the Gargiulo Art Foundation and city officials present. For details, see the story: "Public Art Soars Increasingly Into View, Part of Gargiulo Foundation's Gifts to Palm Coast."
Saturday: Donation drive for The Casey-Dixon family who suffered a house fire in May in the LL-section in May: Smoothie King in Palm Coast is holding a donation drop off from 2 p.m. – 6 p.m. Bring in a donation of 3 new or gently used clothing items and Smoothie King will give you a FREE 12 oz. smoothie (Strawberry Extreme or Angel Food flavor.) See the Community Notes below for details.
Saturday: Bull Creek Restaurant's one year anniversary celebration: The celebration features live bands, DJs, and a morning fishing tournament for children among other festivities.  Restaurant owner and operator Joe Rizzo invites the community to join them in the celebration this weekend. See details here.
Saturday: The Songbeards live at Farley's Irish Pub, playing a collection of acoustic covers and originals. 8 p.m. to midnight, European Village.
Upcoming: Visit historic and interesting Flagler County sites with Bill Ryan as your guide on Tuesday, July 28. The bus leaves at 10 a.m. from the Holden House, 204 East Moody Boulevard, Bunnell, and returns at 2:30 p.m. The cost is $15 per person which does not include lunch at Bull Creek Fish Camp. To make reservations or for information call 386-439-5003.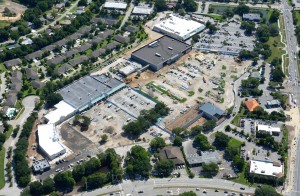 Hobby Lobby, Brass Tap Beer Bar, Moe's Grill and 500 Jobs: Island Walk Is 84% Full: The tenants are a mixture of previous retailers during the Palm Harbor days and new retailers that Atlanta-based properties has negotiated leases with. The new shops will include Petco, Tuesday Morning, Hobby Lobby, Leslie's Pool Supply, Great Clips and Chase Bank. New casual dining venues will include Moe's Southwest Grill, The Brass Tap Craft Beer Bar, which specializes in the booming fad for craft beers, Jacksonville's Metro Diner, which has expanded to six locations so far in Florida, Anthony's Brick Oven Pizza, and of course that old standard without which Palm Coast has not been the same: Thai by Thai, one of the best Thai restaurants this side of Chiang Mai.
Palm Coast Back-Pats Its Grim Luck: Red-Light Camera Suit Dismissed After Plaintiff's Death: In the long-standing and expensive lawsuit against Palm Coast over its illegal, pre-2010 red-light camera scheme, the city lucked out in the grimmest way: William Mayfield, the man who sued Palm Coast and American Traffic Solutions—the company that runs the scheme in the city—in 2009 after getting a red-light camera ticket, died. He could have been replaced on the lawsuit. He wasn't—at least not in time, as Palm Coast sees it. Palm Coast moved to have the suit dismissed as a result. On Monday, Circuit Judge Michael Orfinger dismissed the suit in a four-page order.
The Flagler Beach City Commission wants to find out if it has any avenue of appeal against the county commission's land use change enabling Sea Ray Boats to expand a parking lot. Sea Ray is not in Flagler Beach. The commission asked its attorney to get to work finding out, the News-Journal reports. (Story paywall-protected.)
Robert Snyder Jr., the new administrator at the Flagler County Health Department, who likes to stand at his desk (like his predecessor, Patrick Johnson), is profiled in a News-Journal article. "Snyder said his primary concern will be to educate people about the dangers of being overweight while increasing opportunities for physical activity and encouraging healthier eating habits." (Story paywall-protected.)
Within 5 Hours, Two Shoplifting Incidents at Walmart Escalate Into Felonies With Assaults: Walmart in Palm Coast was the scene of two separate and apparently unrelated incidents that started as shoplifting and turned into aggravated assault in one case, and grand theft auto, reckless driving and fleeing cops in another. Flagler County Sheriff's deputies made an arrest in the first case. They are still searching for the suspect in the second case.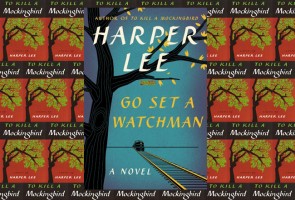 Live-Blogging Harper Lee's "Go Set a Watchman": On Sunday, FlaglerLive started a community project of live-blogging Harper Lee's "new" novel, with 10 of Flagler County and Palm Coast's most interesting voices participating. The latest installment features Chapter 4, which sounds in parts suspiciously like something we've already read before.
Bonnethead shark found along Flagler County beach: Sara Purdy, a Palm Coast-based photographer, came across the 2-foot shark that washed up along the Hammock Beach shoreline, News 13 reports.

No court scheduled today. A foreclosure sale is scheduled for 11 a.m. in the civil department lobby of the courthouse.

Note: Most proceedings below can be followed live on the Florida Channel.

The Florida Health Choices Board of Directors meets to discuss the program, which was created to provide an online health-care marketplace. (11 a.m., Moore Communications Group, 2011 Delta Blvd., Tallahassee.)
–Compiled by the News Service of Florida and FlaglerLive

President Obama is in Kenya, the first U.S. president to travel to that East African country.
It's not just in Palm Coast: 12 teams compete in the inaugural International Quidditch Association European Games in Sarteano, Italy.
Tour de France: The tour is in the Apls again today with the hardest stage of the bunch, a 138 km mountain stage between Saint-Jean-de-Maurienne and La Toussuire-Les Sybelles, before Saturday's last mountain stage and Sunda's 109 km finish into Paris and the Champs Elysees. Absent a surprise, Chris Froome is expected to win.The live feed here.

Police, Fire and Emergency Notes:
Flagler Sheriff Seeks Public's Help to Identify Suspect in Video Surveillance: Flagler Sheriff's detectives are releasing store video surveillance in which a suspect is believed to have used stolen credit cards at Target at Town Center in Palm Coast. The credit cards belong to a resident
whose car was recently broken into at her home. Detectives are attempting to identify the suspect by releasing footage from surveillance cameras (see
attached videos) that shows the suspect exiting Target after a loss prevention manager there said the suspect used the cards to make purchases and to buy gift cards at Target. The cards were also used at a Kangaroo convenience store and Walmart stores in Palm Coast and Ormond Beach, detectives say.
The suspect is described as Caucasian and may be getting into a blue SUV parked far from store entrances (shown in photo above). In Ormond Beach, the suspect was spotted with an African-American woman.
Sex Offender Convicted of Molesting Child: A Volusia County Jury deliberated less than 15 minutes before returning a verdict of guilty against a transient Meshac Molette Abentego, 43, of New Smyrna Beach, convicting him of Lewd and Lascivious Molestation of a Victim Under 12. Prosecutors will seek a Prison Releasee Reoffender designation at a sentencing hearing set for September 18, 2015 at 1:30pm in front of Circuit Judge Leah Case. If the court accepts the PRR designation, Abentego's only lawful sentence is mandatory imprisonment for life. Abentego, who was working as a handy man for a Daytona Beach family, molested a child that lived in the home. Abentego has an extensive criminal history including convictions for aggravated assault, carrying a concealed firearm, grand theft, sale of cocaine, and attempted sexual battery, for which he was previously designated a sexual offender.
Assistant State Attorney John Reid, of the State Attorney's Career Criminal Unit, prosecuted the case. Seventh Circuit Judge Leah R. Case presided over the case and will pronounce sentence on September 18, 2015. The arrest report is here.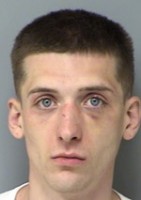 St. Augustine Man Convicted of Burglarizing Home and Grand Theft: A St. Johns County Jury took just 30 minutes Wednesday to convict Chase Todd Cameron, 23, was caught on surveillance camera burglarizing a home and stealing electronics and jewelry. Prosecutors intend to seek a Prison Releasee Reoffender designation on Cameron which would require a mandatory term of imprisonment not less than 15 years, day for day. The maximum possible penalty Cameron faces is 20 years. Cameron was previously released from prison on May 1, 2014 after serving 2 years for several prior Grand Theft convictions.
Assistant State Attorney Travis Mydock prosecuted the case. Seventh Circuit Judge J. Michael Traynor presided over the case and will pronounce sentence at a hearing set for August 14, 2015 at 9:00am. The arrest report is here.
Beat the Heat: Flagler County Emergency offers the following advice during the current heat wave:
NEVER LEAVE CHILDREN OR PETS IN A PARKED CAR: The temperature can raise to 135 degrees in less than ten minutes, which can cause death to children or pets. If you see a child or pet left unattended in a parked car, you should call 9-1-1 and alert authorities.
SLOW DOWN: Strenuous activities should be reduced, eliminated, or rescheduled to the coolest time of the day. Individuals at risk should stay in the coolest available place, not necessarily indoors.
DRESS FOR SUMMER: Lightweight, light-colored clothing reflects heat and sunlight, and helps your body maintain normal temperatures.
DRINK PLENTY OF WATER: Your body needs water to keep cool. Drink plenty of fluids even if you don't feel thirsty.
DON'T DRINK ALCOHOLIC BEVERAGES [actually, there's no evidence that drinking during a heat wave is any more or less dangerous than drinking at Christmas. The more pertinent advice is advice that works year-round: drink moderately, and don;t think beer replaces water as your best source of hydration.]
DON'T TAKE SALT TABLETS UNLESS SPECIFIED BY A PHYSICIAN: Persons on salt restrictive diets should consult a physician before increasing their salt intake.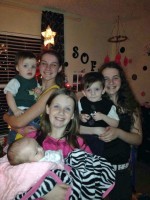 Community Events to Help Family Get Back into Fire Damaged Home: The Casey-Dixon family who suffered a house fire in May in the LL-section in May is in need of help. Family members have coordinated community events to help gather clothing donations and raise funds to repair their home. Saturday, July 25th, Smoothie King in Palm Coast is holding a donation drop off from 2 p.m. – 6 p.m. Bring in a donation of 3 new or gently used clothing items and Smoothie King will give you a FREE 12 oz. smoothie (Strawberry Extreme or Angel Food flavor.) Clothing sizes needed: Boys – 3T shorts, 3-4T pants, 8C shoes and Girls 2T pants and shorts, 14-16 shorts, juniors 0 and 8-9 shorts. All clothing donations will be given to the family. On Thursday, August 6th from 5 p.m. – 9 p.m., Dinner at Sonny's Bar-B-Q in Palm Coast – a portion of the proceeds made that night will be donated to the family. On Saturday, August 15th there will be a softball tournament (Men's Tournament) and Sunday, August 16th (Co-ed Tournament.) Games will begin at 8 a.m. at the Flagler Fairgrounds Softball Field. All proceeds from the tournament will be donated to the family. Proceeds from all events will be used to help fix the families house so they can get back home as soon as possible.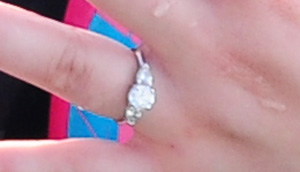 A Big Thank You to Marineland and Ripple Effect Ecotours From Newlyweds: Andy Johnson and Michelle Tipton, who were recently engaged in a pool with dolphins at Marineland, sent in the following letter:
"Thank you." Paradoxically, those two words are at the same time a complete and insufficient expression of gratitude for two Flagler County businesses to which I owe considerable thanks. My fiancée and I became engaged over the 4th of July weekend, and in my estimation there was no better place to ask the woman of my dreams to spend the rest of her life with me than among the peaceful and serene natural beauty of Marineland. Even in the stunning surroundings of eastern Flagler County's sandy beaches, maritime hammock, and endangered coastal strand, our engagement experience was enhanced even further by the considerate efforts of two fantastic local businesses. My fiancée and I would like to extend our sincerest thanks to Ripple Effect Ecotours and Marineland Dolphin Adventure for making our engagement a unique and memorable experience that we will carry with us forever. At a time when Flagler County's local economy is transforming and becoming more diversified, it's appropriate to recognize those who excel in their role as stewards of the community. Ripple Effect and Marineland play a significant role in this transformation by creating unique experiences that visitors can't find anywhere else, and by doing so with the utmost respect for the environmental assets that make those experiences possible. It's easy to see why tourism in Flagler County has grown so rapidly over the past several years, thanks to extensive public beach access, protection of the most pristine natural areas, and a focused business community that helps visitors experience these special places while educating them about their history and significance. These are some of the building blocks for a sustainable tourism economy that will pay dividends to the community well into the future.
With immeasurable appreciation and best wishes for continued success, we offer the following: For being leaders in educating people about the value of preserving Florida's natural ecosystems – thank you. For pioneering and supporting an environmentally-conscious model for showing visitors what "Real Florida" looks like and what it really means – thank you. For recognizing and elevating the importance of the "human factor" in a business world increasingly dominated by the bottom line – thank you. For raising the bar for all service-oriented businesses by demonstrating the once-common standard of thoughtfulness, consideration, and genuine hospitality – thank you. And for going the extra mile to make Michelle and my engagement the most special and remarkable moment of our lives, we thank you more than these words could ever describe. Thank you to Ripple Effect Ecotours and Marineland Dolphin Adventure for making our engagement more memorable and exceptional than either of us could ever have imagined, and cheers to the countless thousands of others who will come in the future to share in the experience of "Real Florida." To Ripple Effect, Marineland, and the entire Flagler County community – great job, and thank you.

DSC partners with NFCAA to help students get on right track: A group of 20 Flagler County high school juniors and seniors has been preparing for the future this summer as part of the Northeast Florida Community Action Agency's (NFCAA) Data Busters Summer Camp Program hosted by Daytona State College's Flagler/Palm Coast Campus. The group will graduate from the six-week program during a 2 p.m. ceremony on Monday, July 27, in the Flagler County Government Services Building, 3rd floor, 1769 E. Moody Blvd. in Bunnell. "Daytona State College, through its Center for Business & Industry, is proud to partner with NFCAA to bring this program to our area for the third consecutive year," said Kent Ryan, provost of DSC's Flagler campus. "These students are at a critical juncture in their lives, and the Data Busters program provides them a great foundation to envision their goals and begin developing the life skills they will need to achieve them." Now in its 29th year, Data Busters is NFCAA's signature summer youth program. It helps teens ages 14-17 develop life skills that will prepare them for the workplace and beyond. For the past six weeks, the students have been learning computer skills, touring various worksites and getting paid on-the-job training at area non-profit groups and government agencies. They also receive classroom instruction at DSC on topics such as conflict resolution, effective communication, team building, resume writing, money management, critical thinking, nutrition and more. Krissy Leonard, a senior professor with DSC's School of Student Life Skills, said the students have been enthusiastic throughout the experience. "They have really taken advantage of each component of the program," she said. "I try to prepare them for the world of academia and the world of work. In addition to the computer skills training, they are planning for college, and exploring careers, job outlooks and salaries so they can set realistic goals." The work experience with area non-profit groups the students receive helps them apply what they learn in the classroom. "When they leave the program," Leonard said, "they will have a resume, a cover letter and a list of references based on this work experience." For more information, visit NFCAA's website at www.nfcaa.org.
Six Embry-Riddle Students Receive ISTAT Scholarships: The International Society of Transport Aircraft Trading (ISTAT) Foundation Scholarship Committee has selected six Embry-Riddle students at the Daytona Beach, Fla., and Prescott, Ariz., campuses to receive substantial scholarship support. College-level students who are planning careers in aviation, are academically qualified and are in need of financial support to complete their studies are eligible for the scholarships. The program is administered by the Scholarship Committee of the ISTAT Foundation Board of Trustees in conjunction with accredited colleges who recommend qualified students. Adeline Hanerus will receive a $10,000 ISTAT Scholarship and a $10,000 Jon Batchelor Scholarship. Hailing from Sweden, she is a senior at the Daytona Beach Campus, earning a B.S. in Aviation Business Administration with a minor in Flight. At Embry-Riddle, Hanerus is a student assistant in the Radio Frequency Identification Lab; president of the Delta Mu Delta International Honors Society in Business, Eta Lambda Chapter; and a student mentor with the International Student Programming Council. Michelle Bennett will receive a $16,000 ISTAT Scholarship. She is a junior at the Prescott Campus, earning a B.S. in Global Business with a dual concentration in Aviation/Aerospace and Arabic. Originally from Virginia, Bennett is a resident advisor on campus and a research assistant for the College of Aviation. She is currently an intern with The Boeing Company. After graduation, she intends to pursue a career in commercial aviation. Nicholas Soh Cai Yao will receive a $4,700 ISTAT Scholarship and a $10,000 Steven F. Udvar-Hazy Scholarship. A resident of Singapore, he is a senior at Embry-Riddle's Asia Campus, earning a B.S. in Aviation Business Administration. As a full-time student he juggles work and academics while also engaging in Embry-Riddle Asia activities. Dmytro Korobko from Ukraine will receive an $8,000 Jon Batchelor Scholarship. He is a senior at the Daytona Beach Campus, earning a B.S. in Aeronautical Science with a minor in Aviation Business Administration. At Embry-Riddle, he is a member of the Air Line Pilots Association's Aviation Collegiate Education Club, the Honors Program and the Rock Climbing Club.
Mark Stiles will receive an $8,000 Jon Batchelor Scholarship. A senior from Lake Mary, Fla., Stiles is pursuing a B.S. in Aeronautical Science (Airline Pilot concentration), with a minor in Unmanned Aircraft Systems Science at the Daytona Beach Campus. He is also a member of the Alpha Omicron Alpha Aeronautical Honor Society and the National Society of Collegiate Scholars. Will Marshall at the Daytona Beach Campus will receive a Jon Batchelor Scholarship.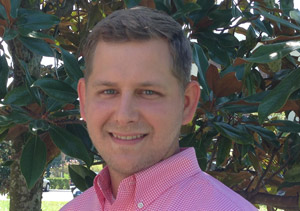 Brian Genk Joins Flagler Chamber as New Director of Membership Development: The Flagler County Chamber is proud to announce and welcome Brian as the newest addition to their staff. Brian will be responsible for recruiting new members to the Chamber and helping existing ones maximize their membership experience. Brian, a United State Marine Corps combat veteran who served in Iraq, joins the chamber after five years of experience in the healthcare industry. Most recently he worked in medical sales for Ocean Home Health where he was responsible for servicing leading hospital accounts in southern New Jersey. Prior to that he worked for Care One and was promoted from CNA to roles of increasing responsibility including supply manager, staffing coordinator and hospital liaison. "Brian is a great addition to our team," said Rebecca DeLorenzo, president & CEO. "His sales experience, leadership skills and team-oriented focus will help us grow membership and deliver the chamber's value proposition more effectively." A native of New Jersey, Brian attended Mount Vernon Nazarene University in Ohio before joining the Marine Corps. While deployed in Fallujah and Al-Qa'im, he was embedded with the Iraq police, assisting with detainee operations, interrogations, prisoner transfers, raids and other special operations. Brian can be reached at 386.206.0954 or [email protected].

Poll Finds Most in U.S. Hold Dim View of Race Relations: A New York Times/CBS News poll conducted last week reveals that nearly six in 10 Americans, including heavy majorities of both whites and blacks, think race relations are generally bad, and that nearly four in 10 think the situation is getting worse. By comparison, two-thirds of Americans surveyed shortly after President Obama took office said they believed that race relations were generally good. The swings in attitude have been particularly striking among African-Americans. During Mr. Obama's 2008 campaign, nearly 60 percent of blacks said race relations were generally bad, but that number was cut in half shortly after he won. It has now soared to 68 percent, the highest level of discontent among blacks during the Obama years and close to the numbers recorded in the aftermath of the riots that followed the 1992 acquittal of Los Angeles police officers charged in the beating of Rodney King. Only a fifth of those surveyed said they thought race relations were improving, while about 40 percent of both blacks and whites said they were staying essentially the same. Respondents tended to have much sunnier views of race relations in their own communities." From The Times
Sandra Bland Becomes The Latest Victim Of The 'Marijuana Smear': "Sandra Bland was high on marijuana — while she was incarcerated in the Texas jail where she eventually died — according to Waller County District Attorney Elton Mathis. Mathis reportedly said in a text message to an attorney representing the Bland family that "[l]ooking at the autopsy results and toxicology, it appears she swallowed a large quantity of marijuana or smoked it in the jail."
If true, this allegation suggests that security in this jail facility is extraordinarily lax. How does marijuana make its way to an incarcerated individual in the first place? And how does that individual manage to smoke or eat a "large quantity" of it without jail officials noticing?
The allegation that Bland used pot shortly before her death, moreover, fits a pattern in high-profile cases involving the questionable death of a black man or woman that has become so common that it is practically a cliché. During the uncertain period where investigators and reporters are trying to figure out just why someone died, news suddenly leaks that this individual was a marijuana user. Generally, the alleged marijuana use is raised to discredit someone is is no longer able to speak for themselves, and to imply that the marijuana use somehow contributed to their death. At George Zimmerman's trial for the killing of Trayvon Martin, for example, Zimmerman's lawyer pointed to traces of marijuana in Martin's blood. One conservative blogger claimed, without evidence, that Martin was a drug dealer. Similarly, the lawyer representing Theodore Wafer — who was convicted of shooting Renisha McBride while she stood outside on his front porch, apparently seeking help after she was in a car accident — told that jury that McBride was out a friend's house before she was killed drinking and smoking marijuana. Jonathan Ferrell, a former college football player who was killed by cops after he also sought help after a car wreck, was accused of drinking and smoking. Toxicology reports later found no drugs in Ferrell's system and his blood alcohol level was below the legal limit." From Think Progress.
In Praise of Boredom: "But the message that our generation has disseminated into the broader culture isn't this. It isn't even conflicted. We've cast off the grousing of our elders and are teaching our children differently. We waste resources galore (in spite of our belated efforts to change), and, glued to our devices, playing video games, or checking the Daily Mail, we waste enormous amounts of time — even while pretending otherwise. I can't tell you how many women I see buying bathing suits on their phones on the subway. But we persuade ourselves that this is a more substantive activity than having coffee with a friend: shopping while traveling, we're multitasking! We worship purposefulness. To embark on an endeavor that has no clear aim — to amble through a city, or to spend an entire afternoon conversing in a restaurant, or to lie in bed and read a book chosen at random from the shelf, or to major in English literature, for that matter — has come to be seen as wasteful. In such a context, the need for art, film, and literature to entertain becomes disturbingly pressing: that is its purpose. It's the reason why we bother with it, and without a reason, who would bother? Art that entertains less readily, that might demand real effort and persistence and in so doing illuminate some aspect of how we live — such a prospect is too vague, the return on investment too unclear. I worry about the future of philosophy, art, literature, and strangeness." From Harper's.

Palm Coast Construction and Development Progress Reports:
The following is an update of ongoing construction and development projects in Palm Coast, through July 17:
The Palm Coast Arts Foundation took out a development order for its 7,420 square-foot pavilion at Town Center, for a performance stage to be constructed on a portion of Lot 19 on the south side of Central Avenue, just west of the intersection with Town Center Boulevard. This initial phase will consist of the stage only and associated landscaping: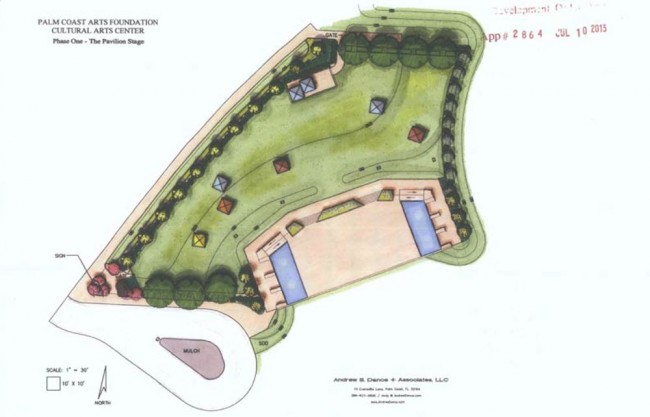 Development orders were issued for the construction plans for Hidden Lakes Phase I Sections 2A and 2B: Section 2A is proposed for 89 single family residential lots and Section 2B is proposed for 59 single family residential lots. Hidden Lakes Subdivision is located on the east side of Old Kings Road, south of Palm Coast Parkway and north of Town Center Boulevard and the Lehigh Canal.
Palm Coast Superwash Special Exception Development Order: Superwash was granted a Special Exception by the Palm Coast Planning Board for an automated carwash facility on 2.2 acres at 110 Cypress Point Parkway. Proposed site improvements include the development of an automated carwash with "flexservices." The project includes a well-designed and integrated accessory detail area, automated payment stations, offices, and a customer waiting room. A canopy will extend from the customer waiting room toward the front of the proposed building.
Daily's Convenience Store (Shell Gas Station) Building Addition Development Order: A 200 square foot restroom building addition to the
existing 4,392 square foot Daily's store located on a 1.03 acre parcel at the northeast corner of Palm Coast Parkway and Boulder Rock Drive.
Palm Coast Parkway Six-Laning is 83 percent done: Widening on the north side of the parkway continues and some paving and concrete curbing was completed. Landscape irrigation work continues. Utility connection tie-ins continues. Signage installation has begun. Final grading being completed
in preparation to install the remaining pavement for the widening areas.
Royal Palms Parkway Improvements: Punch list items continue.
Holland Park, 23 percent done: Installation of storm water pipe continues.
Palm Coast City Hall at Town Center, 72 percent done: Installation of drywall on interior walls, mechanical duct work & VAV damper installation, electrical conduit rough-in and fire sprinkler piping are all 96% complete. Painting of exterior wall continues. Paving of parking area completed. Floor tile in bathrooms has begun. See ongoing images of construction here.
Colechester at College Waterway Bridge Rehabilitation Construction, 65 percent done: Contractor and City staff met and discussed the directional drill plan. The directional HDPE pipe was fused and drilling has started. Demolition on the east side seawall and sidewalk continues. preparations are underway to move a utility water main.
County's I-95 Interchange Matanzas Woods Reclaim Water, 25 percent done: Contractor has installed approximately 1,000 ft. of reclaim water main total installed 5,000 ft. to date.
Palm Harbor Parkway Roadway Extension, 6 percent done: Contractor working on submittals and coordinating utility work with FPL & ATT.
Island Walk Shopping Center Phase 1, 90 percent done: A manhole was installed in front of the Island Doctors building. A 6″ fire line with backflow preventer was installed behind building on west end of project.
Shops at Pine Lakes Convenience Store, 88 percent done: Pressure testing of the water and sewer installations has passed.
Walmart Addition, 30 percent done: A new Grease Interceptor has been installed replacing the old one outside the new building addition.
Old Kings Road Utilities Work, 85 percent done: Pressure testing of new water main has passed.

Road and Interstate Construction: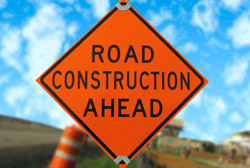 Palm Coast:
Lane closure planned for Palm Coast Parkway beginning July 22: Beginning at 8 p.m. Wednesday, July 22, and running through 7 a.m. Friday, July 24, motorists and other travelers should expect a lane closure along eastbound Palm Coast Parkway beginning at Old Kings Road to the CVS Pharmacy. One eastbound lane will remain open. The lane closure is required in order for the contractor to install a mainline water pipe across Palm Coast Parkway.
Lane closures planned for Palm Coast Parkway work July 20 – July 24: On Monday, July 20, through Friday, July 24, between the hours of 9 a.m. and 5 p.m., motorists and other travelers should expect eastbound lane closures along Palm Coast Parkway between Cypress Point Parkway and the I-95 bridge.Two lanes will remain open eastbound. From 9 p.m. Tuesday, July 21 until 7 a.m. Wednesday, July 22, motorists should expect heavy delays. Eastbound traffic will be reduced to one lane on the I-95 bridge. These lane closures are required for street light pole installations. A uniformed law enforcement officer will be on-site to direct traffic. Motorists are encouraged to watch for flaggers and work zone signs.
Matanzas Woods Parkway closed: Matanzas Woods Parkway is closed until early August for construction of the Interstate 95 interchange. The portion of Matanzas Woods Parkway that spans I-95 will be reconstructed to accommodate four single-lane ramps for on and off access to the interstate. Other improvements include the widening of the interstate to accommodate new acceleration and deceleration lanes, wet detention ponds adjacent to the roadway, sidewalks, lighting, overhead signs and landscaping. Project details are available and regularly updated at http://www.matanzas95interchange.com. The detour map is available here.
Palm Coast Parkway between Cypress Point Parkway and Florida Park Drive. IMPACTS: Lane shifts and closures will occur and this may cause traffic congestion on this already busy roadway. Most construction work will occur between 9 p.m. and 7 a.m. though weather and unforeseen issues may adjust the schedules. This project will be complete by December 2015.
Flagler County Road 302 is Closed to all but local traffic as repaving began on June 7 and the roadway will be closed to all but local traffic. Others will be required to detour around County Road 302 using State Road 100. The roadway will be closed for 90 days, or until early September.
Palm Coast's Colechester Lane bridge to be closed July 7 through Sept. 4:  A detour will be established taking travelers over the Colorado Drive bridge instead. Signs will be posted directing motorists to the Colorado Drive bridge. The City of Palm Coast strives for safe construction zones. The City asks for the cooperation and patience of residents as this important bridge improvement project is completed. For more information, contact Palm Coast Customer Service at 386-986-2360.
Volusia: I-4 Widening from SR 44 to east of I-95, Monday and Friday, 7:00 a.m. – 5:00 p.m., Eastbound/Westbound shoulder closing. Sunday through Thursday, Eastbound and Westbound lane closures as needed from 8 p.m. to 6 a.m. Thursday, 9:00 p.m. – 5:30 a.m. EB road closure between Canal St./SR 44 and I-95 with detour at US 92 exit ramp.Motorists should be aware of traffic shifts near Canal St./SR 44.
Central Florida Commuter Rail Commission's Customer Advisory Committee Meeting: A meeting of the Central Florida Commuter Rail Commission's Customer Advisory Committee is scheduled for 9 a.m. Friday, July 17, 2015 at LYNX Central Station, 455 N. Garland Avenue, Orlando, FL in the second-floor multi-purpose room. Public participation is solicited without regard to race, color, national origin, age, sex, religion, disability or family status. Persons who require special accommodations under the Americans with Disabilities Act or persons who require translation services (free of charge) should contact Ms. Jennifer Smith, FDOT District Five Title VI Coordinator, 719 S. Woodland Boulevard, DeLand, FL 32720, or by phone at 386-943-5367, or by email at [email protected]. Questions? Please contact Steve Olson at [email protected] or 386-943-5479.

Click on the links for more details:

Comment of the Day (From the Comment Section):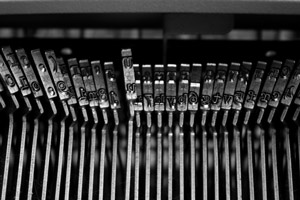 Rebecca, in "School District Likely to Close Belle Terre Swim and Racquet to the Public in September": "The Belle Terre Swim & Racquet Club is a beautiful facility, but the reason they don't have more membership is because the staff is SOOOO anti-kids! My family had a membership there about five-six years ago. On our second trip to the pool my daughter was made to sit out on the side of the pool because she was "rough housing." We were at the pool as a family and it was just myself, my husband and our daughter. My daughter was simply being a kid, jumping in off the side of the pool. When I questioned why she was being made to sit out the woman who ran the pool told me that she was making too much of a splash when she jumped in the water! Are you kidding me???? She said that my daughter was disturbing the older swimmers who were trying to swim laps. Isn't the reason for a swimming pool to have fun, splash around and get some exercise? My daughter was doing NOTHING wrong whatsoever and if we had been approached politely I would have spoken to my daughter myself and asked her to move down to the other end of the pool. She was given no warning of any kind and the woman was plain RUDE when speaking to her (instead of talking to my husband or I and letting us parent our OWN child!) Needless to say we went right to the office and got our membership dues refunded, NEVER going back there again. A swimming pool is a place where kids and families should be able to gather and have some fun fellowship. I understand that there is a need for the older patrons to have time to swim their laps, but maybe you should have considered having a set time for that sort of thing. If you were more kid and family friendly you may have attracted more people to your facility!!! I hate to say it, but I think the Belle Terre Swim & Racquet Club has dug their own grave and now they have to deal with losing this beautiful facility!!!!" Respond to Rebecca here.

Cultural Coda:
Beethoven's Symphony No 1 in C major, Op 21, conducted by Christian Thielemann: