Today: high of 89, low 72 Details here.
Today's fire danger is moderate. Flagler County's Drought Index is at 401.
The weather in Vankarem, Russia: high 42, low 38. Details.
Today's document from the National Archives.
The OED's Word of the Day: plombière, n..
The Live Community Calendar
Today's jail bookings.
Today's Briefing: Quick Links

Note: all government meetings noticed below are free and open to the public unless otherwise indicated. Many can be heard or seen live through each agency's website.
---
Free For All Friday, Complete[media id=402 width=250 height=150]
Free For All Friday on WNZF: Palm Coast Mayor Jon Netts, GEA Auto's Gus Ajram, Flagler Chamber's Gretchen Smith and Lea Stokes, and Flagler Cigar Co's Ky Ekinci, along with Palm Coast Observer Editor Brian McMillan and host David Ayres, starting with FlaglerLive Editor Pierre Tristam's commentary (9 a.m.). If you missed it, listen to the full show, to the right.
Friday: Daytona Beach Bandshell presents Dustin Seymour's Birthday Bash: Free family-friendly concert on showcasing Dustin Seymour's Birthday Bash from 8–9:30 p.m. and Johnny Reed Foley from 7-7:45 p.m.
Friday: Farley's Irish Pub at European Village in Palm Coast celebrates 10 years with a ribbon-cutting, music, drinks, and appetizers, starting at 4 p.m. At 9 p.m., Almost Famous perform live.
Friday: Salt Water Fishing Workshop for beginners ages 8-17 at Washington Oaks Gardens State Park: This Friday and the next two Fridays in July a Florida Park Ranger will illustrate techniques anglers use to catch fish and emphasize the importance of conservation and safety while fishing. Participants will learn to identify saltwater fish species commonly caught in this area, and will learn how to use a fishing rod & reel. Each workshop will be hands-on with participants fishing along the bank of the Intracoastal Waterway while applying their newly learned skills. Cost: $20. Registration required. The program runs from 9-12, and all fishing gear will be provided. Call 386-446-6783 or email [email protected] for more information or to register.
Saturday: Random Acts of Insanity, a local comedy troupe, celebrates 10 Years, doing what it's done since 2005 – making local people laugh. 8 p.m. at Cinematique Theater in Daytona Beach.

Saturday: Gargiulo Art Foundation and Salvo Art presents Art in Public Places: from 7 p.m., with musical guest Jake Cox. Featuring open studios and new works by Andy Sovia, Karlene McDonnell, Vanessa B. Cruz, and Violet Skipp Haffner. Live music, wine and hors d'oeuvres. $10 entry fee. Kiddos free. Salvo Art at Nature Scapes, 313 Old Brick Road, Bunnell. Parking available at Marvin's Garden in the back right corner with bridge access to the gallery.
Friday and Saturday: Regional Surf Lifesaving Championships, hosted by Flagler Beach Ocean Rescue, begins its first of two days of competition in Flagler Beach (three, including juniors on Saturday) just south of the pier, from 8 a.m. to 4 p.m. Participation is $20 per competitor. Competition site is on south side of pier. Drop off trailers at police station, at 204 S. Flagler Ave. No vehicles on the beach. No exceptions. See a full schedule of events here. Contact Tom Gillin, the director of parks and recreation in Flagler Beach, for additional information, at [email protected].
Saturday: Category Five perform live at Farley's Irish Pub at European Village starting at 6 p.m.

Daytona State College's low ranking means a loss of close to $1 million: The community college ranks in the bottom third in performance, compared to other community colleges in the state. "That means some funding, an estimated $909,949, is going to be withheld because of data related to student and graduate success. Most notably, the school's retention rates for full-time students in 2013 was worse than any other state college that year," the News-Journal reports. (Story paywall-protected.)
Palm Coast Data Evacuated as Suspicious White Powder Discovery Calls For Hazmat Team: Just after the 3 p.m., the package in question was removed from the building and was to be on its way to Jacksonville for analysis. "Initial tests they ran on it inside came back negative," Palm Coast Data CEO Rory Burke said outside the building. Burke said some 200 employees were evacuated from the building, though very few were in the vicinity of the mail item in question, which was "immediately contained," and was in a mail bin.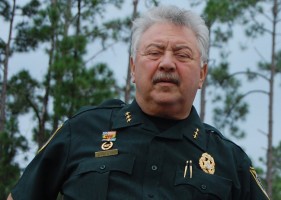 Rick Look, Long-Time Flagler Sheriff's Chief Deputy and Cop's Cop, Dies at 65: St. Johns County Sheriff David Shoar was among those friends. He'll be delivering the eulogy at Look's memorial.
Palm Coast Man Held on $500,000 Bond Over Accusations of Drugging and Raping a Child: Andrew S. Wilson may not have to look over his shoulder anymore. Wednesday evening (July 15), the 55-year-old resident of 82 Brushwood Lane in Palm Coast was arrested on a count of raping a child younger than 12, based on alleged incidents that took place two decades ago, and jailed at the Flagler County Jail, where he remains today on $500,000 bond.
Lifeguard competition in Flagler Beach: the state competition gathers scores of lifeguards on the sands of Flagler Beach south of the pier this weekend. "They're all phenomenal athletes. Skill sets are different. Some guys are phenomenal swimmers," Doug Flutie, Heisman Trophy winner and former NFL quarterback, tells News 13's Jason Wheeler. Flagler Beach is now looking to bring the national championship to town.
New hotel projects sign of 'Renaissance' of St. Augustine Beach: "The 205-room hotel on A1A Beach Boulevard is one of three ongoing projects on that street along the ocean, and those almost certainly won't be the last," the St. Augustine Record reports. "The hotel will employ about 70 people and provide the city of St. Augustine Beach with about $52,000 of annual tax revenue." (Paywall-protected.)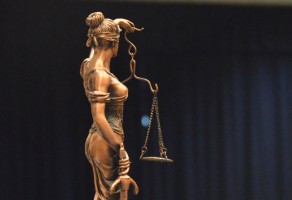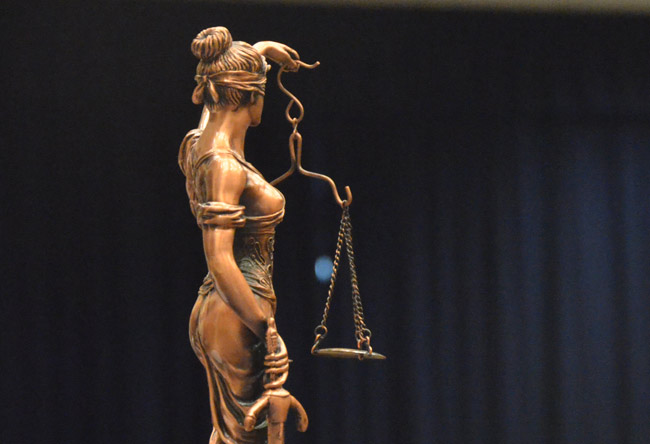 Circuit Judge J. David Walsh is in juvenile hearings and proceedings today, which are closed to the public. Circuit Judge Michael Orfinger is in a hearing at 8:30 a.m. and a non0jury trial at 1:30 p.m., Courtroom 301. County Judge Melissa Moore-Stens does not hold court sessions today.

Note: Most proceedings below can be followed live on the Florida Channel.

Members of the Volusia County legislative delegation are expected to provide a recap of the regular and special legislative sessions during a breakfast meeting of the Daytona Regional Chamber of Commerce. (7:30 a.m., Holiday Inn Daytona Beach LPGA, 137 Automall Circle, Daytona Beach.)
The Economic Estimating Conference will discuss issues such as interest rates used in appropriations. (9 a.m.)
Florida unemployment numbers for June are released at 10 a.m.
–Compiled by the News Service of Florida and FlaglerLive

President Obama meets with Saudi Arabia's foreign minister to calm his apoplexy over the new nuclear deal with Iran. Saudi Arabia is fearful of Iranian designs, especially of Iranian oil again flooding an already glutted market. Iran has the fourth-largest oil reserve in the world after Saudi Arabia, Canada and Venezuela.
Eid Mubarak: It's the end of Ramadan, triggering a three-day celebration for 1.5 billion Muslims worldwide.
Democrats in Iowa: All five Democratic contenders for president speak at the Iowa Democratic Party Hall of Fame dinner tonight. The contenders include Hillary Rodham Clinton, Senator Bernie Sanders of Vermont, former Gov. Martin O'Malley of Maryland, former Senator Jim Webb of Virginia, and former Gov. Lincoln Chafee of Rhode Island.
Economy: The Labor Department reports June inflation. The Commerce Department reports on housing starts.
Tour de France: Stage 13 Friday is 198 km from Muret to Rodez in the southeast of the country, Saturday it's 178 kmn, Rodez to Mende, and Sunday it's 183 km from Mende to Valence. The live feed here.

None.

Bunnell Elementary's Young Chefs at Cress Restaurant: A team of four students from Bunnell Elementary in Flagler County won the second annual Gridiron Breakfast Challenge, a cooking competition that challenged students from across Florida to create dairy-inspired recipes. Now, those students will showcase their cooking talents on the big stage, serving as guest chefs at the acclaimed Cress Restaurant in downtown DeLand Thursday, July 23, from 3 to 5:30 p.m. The students will prepare and serve a Summer "Veg-Cheese" Lasagna dish, a recipe created exclusively for the event. Cress Restaurant Executive Chef Hari Pulapaka, a four-time James Beard Award semifinalist, will work closely with the student chefs to facilitate an exemplary dining experience. Award-winning Cress Restaurant is known for using food sourced from area growers and farmers to prepare globally inspired dishes with a local twist. In true Cress fashion, the student chefs and the Pulapakas will visit Tomazin Farms in Samsula to source local produce that will be used to prepare the cuisine. To learn more about the Dairy Council of Florida or Fuel Up to Play 60, visit www.fueluptoplay60.floridamilk.com. For more information about Cress Restaurant, visit www.cressrestaurant.com.
Internationally Acclaimed Dover Quartet Named Quartet-in-Residence Of Amelia Chamber Music Festival: The Dover Quartet, an American string ensemble that catapulted to international stardom after winning the grand prize plus all three special prizes at the 2013 Banff International String Quartet Competition, has been appointed Quartet-in-Residence for the 2016 season of the Amelia Island Chamber Music Festival. The acclaimed quartet, which played to rave reviews at a May performance of the Festival's recently concluded season, will perform at the Winter and Spring Series of the 2016 season. The ensemble also will participate in education outreach, including coaching promising music students. The Dover's first Winter Series concert will be on February 19, followed by a master class with music students on February 20. The ensemble's Spring Series performance is scheduled for May 8. Christopher Rex, the Festival's general and artistic director, said, "We are extremely honored to have the Dover as our first-ever quartet-in-residence, marking a major development in the growing national stature of the Amelia Island Chamber Music Festival. After thrilling to the Dover's spectacular concert in May, we knew that we wanted to solidify our relationship with this acclaimed ensemble. In addition to performing at our Winter and Spring series in 2016, the Dover also will become a featured part of our education outreach programs." The award-winning ensemble is comprised of violinists Joel Link and Bryan Lee, violist Milena Pajaro-van de Stadt and cellist Camden Shaw. Members of the quartet have appeared as soloists with some of the world's finest orchestras, including the Philadelphia Orchestra and the Tokyo Philharmonic. The Dover Quartet became the first-ever quartet-in-residence at the venerated Curtis Institute of Music in Philadelphia in 2013-14. The ensemble also has won top prizes at the Fischoff Competition and the Wigmore Hall International String Quartet Competition in London. The Dover Quartet's popularity has sky-rocketed since 2013 as evidenced by the group's performance schedule for 2014-2015, which includes more than 100 concerts throughout the United States, Canada, South America and Europe. Highlights include concerts at the Kennedy Center in Washington, D.C., the Schneider Concerts in New York City and Wigmore Hall in London. A Washington Post reviewer wrote, "The Dover Quartet's Kennedy Center debut shows why they should be on must-hear list…a triumph." The quartet also will participate in residencies for Bravo! Vail, Music@Menlo, Santa Fe Chamber Music Festival, Chamber Music Northwest, Artosphere, the Britt Music & Arts Festival, the Phoenix Chamber Music Festival, and the Chamber Music Society of Logan. Watch the Dover Quartet play Barber's Adagio:
The Florida Department of Environmental Protection's Office of Greenways and Trails is soliciting acquisition applications to expand Florida's trail system. The Greenways and Trails Acquisition Program has approximately $2 million available for new projects for fiscal year 2015-16. In 2013, the Office of Greenways and Trails completed an analysis of the Florida Priority Greenways and Trails System, identifying gaps within the trail system. These projects need funding for design, construction and acquisition.The department hopes to close some of these gaps through this acquisition cycle. Individuals, organizations, coalitions, government agencies or combinations thereof may submit parcels for land acquisition by sending in a Certificate of Eligibility. To qualify, a project must be located within or adjacent to areas on the recreational prioritization maps. Once deemed eligible, an application may be submitted during the open acquisition cycle, which will end Aug. 31, 2015. The projects must meet certain guidelines and have a willing seller and an entity willing to manage the trail. Office staff will review the applications and may solicit input from other agencies or non-profit groups. Eligible projects will be presented at the Florida Greenways and Trails Council meeting on Dec. 9, 2015, in Tallahassee. Upon the council's approval, a list of recommended projects will be submitted to the DEP Secretary for approval. If approved, the projects will be submitted to the department's Division of State Lands to begin the acquisition process.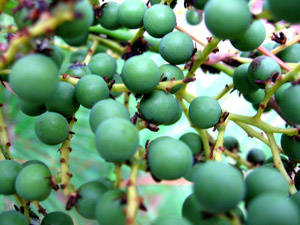 Don't pick palmetto berries on Flagler County property: Palmetto berries on Flagler County might be tempting to pick, but county ordinance forbids it. "It's palmetto berry season, which means it is the time of year when both Flagler County staff and private property owners see people on the side of roadways to pick the berries," Flagler County Land Management Coordinator Mike Lagasse. "While some private property owners allow the harvesting of the berries with permission, please be advised that picking palmetto berries is not allowed on Flagler County owned or managed preserves and parks." It's also prohibited to remove soil, rock, sand, stones, trees, shrubs, plants or wood materials. "Palmetto berry harvesting activities reduce the amount of food available for wildlife and can create unwanted trails and debris on our public lands," County Administrator Craig Coffey said. In the past, palmetto berry harvesting has been problematic at Mala Compra Park, River-to-Sea Preserve and Varn Park in the northeastern Flagler County. Other areas of concern include Haw Creek Preserve, Princess Place Preserve, Shell Bluff and Betty Steflik Preserve. "Sometimes people will say that they received permission to pick the berries, but this is absolutely untrue of Flagler County public lands," Lagasse said. "There are no licenses in effect for individuals to harvest palmetto berries or any other vegetative material." If you see someone you suspect of harvesting palmetto berries on county-owned property, please report it to Lagasse at 386-313-4064.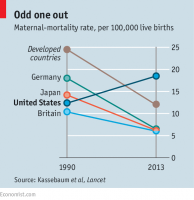 Death from childbirth is unusually common in America: By 1987, fewer than eight women died for every 100,000 live births. Over the past quarter of a century, however, America's maternal-mortality rate has been creeping back up (see chart). By 2013 the rate had ticked up to 18.5 women for every 100,000 births (these numbers include women who die within 42 days of childbirth). This makes America an international outlier. Between 2003 and 2013 it was one of only eight countries, including Afghanistan and South Sudan, to see its maternal-death rate move in the wrong direction. American women are now more than three times as likely to die from pregnancy-related complications as their counterparts in Britain, the Czech Republic, Germany or Japan. […] One theory is that the rise reflects the changing age profile on the maternity ward. More women are getting pregnant later in life, which makes childbirth riskier. Women who were 35 or older made up fewer than 15% of live births between 2006 and 2010, but accounted for more than 27% of pregnancy-related deaths, according to the CDC. Yet similar trends can be seen in other parts of the world, such as Western Europe, where mortality rates have continued to fall. Others point to the fact that nearly a third of all American births now involve a Caesarean section, up from nearly 21% in 1996." From The Economist.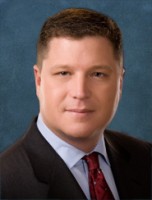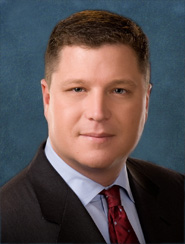 FDLE to look into red-light camera firm: Senate Transportation Chairman Jeff Brandes, R-St. Petersburg, said Thursday that Florida Department of Law Enforcement Commissioner Rick Swearingen has taken up Brandes' request for an investigation into contracts between local governments and red-light camera firm RedFlex Traffic Systems. In a Facebook post, Brandes said Swearingen has assigned the matter "to the Office of Executive Investigations for a preliminary review and investigation." Brandes on Wednesday requested a probe of such contracts because RedFlex has been implicated in bribery schemes in other parts of the country. Brandes has been an outspoken critic of the use of red-light cameras in Florida. The Chicago Tribune reported June 19 that the former CEO of RedFlex had pleaded guilty in a federal bribery investigation in Ohio. Also, a Tribune investigation uncovered wrongdoing in a Chicago contract, with allegations involving bribes paid to a politically connected former city official, according to the newspaper. News Service of Florida.
The Iran Deal Is a Victory for Obama Diplomacy Over Bush Warmongering: "I don't want to just end the war, but I want to end the mindset that got us into war in the first place." That was Senator Barack Obama, speaking about Iraq in a 2008 primary debate. For a candidate who had seen his own campaign surge on the strength of his opposition to the Iraq war, it was a near-perfect distillation of the change he hoped to bring to America's foreign policy discussion, long dominated by hawkish views that were shattering against the bloody reality of Iraq's civil war. […] The invasion and occupation of Iraq resulted in the deaths of more than 4,000 U.S. troops and more than 100,000 Iraqis, including many times that number seriously and permanently injured. It cost American taxpayers trillions of dollars. It empowered both Iran and Al Qaeda in the region, and led to the creation of the Islamic State. Its negative repercussions will bedevil the region, and U.S. policymakers, for decades to come. Conceived by the Bush administration as a demonstration of American military power, it succeeded only in demonstrating its limits. […] In stark contrast, the historic nuclear deal announced Tuesday in Vienna between the U.S. and its P5+1 partners and Iran demonstrates an alternative vision of the use of American power. It shows that our security and the security of our partners can be effectively advanced through multilateral diplomacy, and proves once again the importance of U.S. global leadership in addressing shared problems. Specifically, it achieves the central goal of blocking Iran's path to a nuclear weapon by dramatically reducing its capacity to produce nuclear fuel (something which continued to expand even under tight international sanctions), and by putting Iran's entire nuclear infrastructure under the most intensive inspections regime in history. As a result of the deal, the International Atomic Energy Agency will have eyes on Iran's nuclear program at every level: mining, procurement, production, enrichment, etc. Not only does this deep visibility create a deterrent to cheating, but it also means that, when the intensive inspection period expires years from now, the IAEA will possess far more detailed information and understanding of Iran's program than any other in the world. And by demonstrating to the Iranian regime that a positive change in its behavior can produce benefits, the deal could empower more moderate elements within Iran calling for broader reforms." From The New Republic.

Palm Coast Construction and Development Progress Reports:
The following is an update of ongoing construction and development projects in Palm Coast, through July 10:
Palm Coast Parkway Six-Laning is 82 percent done: Widening on the north side of the parkway continues and some paving and concrete curbing was completed. Landscape irrigation work continues. Utility connection tie-ins continues. Signage installation has begun. All the new water mains have now been installed and flushed. All pressure testing has passed and is ready for chlorination. Florida Department of Environmental Protection (FDEP) has accepted and has placed into service the 193 feet of new 12″ water main connecting to the new 16″ water main just west of Wendy's.
Royal Palms Parkway Improvements: Completed.
Holland Park, 22 percent done: Installation of storm water pipe continues.
Palm Coast City Hall at Town Center, 70 percent done: Installation of drywall on interior walls, mechanical duct work and VAV damper installation, electrical conduit rough-in and fire sprinkler piping are all 95% complete. Painting of exterior
walls continues. Paving of parking area started. Installation of wall tile in bathrooms is complete and floor tile in bathrooms
has begun. The sewer system has been televised and the concrete slab under the 4″ water meter and 6″ fire backflow assemblies has been placed.
Colechester at College Waterway Bridge Rehabilitation Construction, 17 percent done: Outside bents and pilings have been repaired & painted. Sheet piles were delivered. Demolition on east side seawall and sidewalk continues.
County's I-95 Interchange Matanzas Woods Reclaim Water, 20 percent done: A storm structure crossing the road was completed on the east side of I-95. Fill dirt continues being hauled in to raise the overpass and ramp areas. The city's portion of the project is also 20 percent done.
Palm Harbor Parkway Roadway Extension, 6 percent done: Contractor working on submittals and coordinating utility work with FPL & ATT.
Island Walk Shopping Center Phase 1, 90 percent done: A manhole was installed in front of the Island Doctors building. A 6″ fire line with backflow preventer was installed behind building on west end of project.
Shops at Pine Lakes Convenience Store, 88 percent done: Work on parking and drive thru areas continues. Water meters and backflows have been installed.
Walmart Addition, 30 percent done: A new Grease Interceptor has been installed replacing the old one outside the new building addition.
Old Kings Road Utilities Work, 85 percent done: Pressure testing of new water main has passed.

Road and Interstate Construction: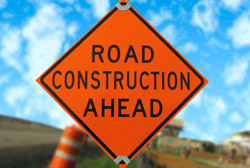 Palm Coast:
Lane closures planned for Palm Coast Parkway work July 20 – July 24: On Monday, July 20, through Friday, July 24, between the hours of 9 a.m. and 5 p.m., motorists and other travelers should expect eastbound lane closures along Palm Coast Parkway between Cypress Point Parkway and the I-95 bridge.Two lanes will remain open eastbound. From 9 p.m. Tuesday, July 21 until 7 a.m. Wednesday, July 22, motorists should expect heavy delays. Eastbound traffic will be reduced to one lane on the I-95 bridge.
These lane closures are required for street light pole installations. A uniformed law enforcement officer will be on-site to direct traffic. Motorists are encouraged to watch for flaggers and work zone signs.
Matanzas Woods Parkway closed: Matanzas Woods Parkway is closed until early August for construction of the Interstate 95 interchange. The portion of Matanzas Woods Parkway that spans I-95 will be reconstructed to accommodate four single-lane ramps for on and off access to the interstate. Other improvements include the widening of the interstate to accommodate new acceleration and deceleration lanes, wet detention ponds adjacent to the roadway, sidewalks, lighting, overhead signs and landscaping. Project details are available and regularly updated at http://www.matanzas95interchange.com. The detour map is available here.
Palm Coast Parkway between Cypress Point Parkway and Florida Park Drive. IMPACTS: Lane shifts and closures will occur and this may cause traffic congestion on this already busy roadway. Most construction work will occur between 9 p.m. and 7 a.m. though weather and unforeseen issues may adjust the schedules. This project will be complete by December 2015.
Flagler County Road 302 is Closed to all but local traffic as repaving began on June 7 and the roadway will be closed to all but local traffic. Others will be required to detour around County Road 302 using State Road 100. The roadway will be closed for 90 days, or until early September.
Palm Coast's Colechester Lane bridge to be closed July 7 through Sept. 4: Palm Coast – Motorists and other travelers are advised that the Colechester Lane bridge will be closed to all traffic from July 7 through Sept. 4 while the bridge is rebuilt. A detour will be established taking travelers over the Colorado Drive bridge instead. Signs will be posted directing motorists to the Colorado Drive bridge. The City of Palm Coast strives for safe construction zones. The City asks for the cooperation and patience of residents as this important bridge improvement project is completed. For more information, contact Palm Coast Customer Service at 386-986-2360.
Volusia: I-4 Widening from SR 44 to east of I-95, Monday and Friday, 7:00 a.m. – 5:00 p.m., Eastbound/Westbound shoulder closing. Sunday through Thursday, Eastbound and Westbound lane closures as needed from 8 p.m. to 6 a.m. Thursday, 9:00 p.m. – 5:30 a.m. EB road closure between Canal St./SR 44 and I-95 with detour at US 92 exit ramp.Motorists should be aware of traffic shifts near Canal St./SR 44.
Central Florida Commuter Rail Commission's Customer Advisory Committee Meeting: A meeting of the Central Florida Commuter Rail Commission's Customer Advisory Committee is scheduled for 9 a.m. Friday, July 17, 2015 at LYNX Central Station, 455 N. Garland Avenue, Orlando, FL in the second-floor multi-purpose room. Public participation is solicited without regard to race, color, national origin, age, sex, religion, disability or family status. Persons who require special accommodations under the Americans with Disabilities Act or persons who require translation services (free of charge) should contact Ms. Jennifer Smith, FDOT District Five Title VI Coordinator, 719 S. Woodland Boulevard, DeLand, FL 32720, or by phone at 386-943-5367, or by email at [email protected]. Questions? Please contact Steve Olson at [email protected] or 386-943-5479.
County Road 304 Project Map and Description

Click on the links for more details:
Back to School Immunization, required by schools, available at the Flagler County Health Department from August 10 through August 21, Monday through Friday from 8 a.m. to 11 a.m. and 1 p.m. to 3 p.m. on a walk-in basis. For further information, please call: 386-437-7350 ext. 2224.
All Summer: Free Breakfast and Lunch for All Flagler County Children Through Seamless Summer Freeding
All Summer: Flagler Sheriff's Police Athletic League (P.A.L.) Offers Free Summer Activities for Youth .
July 22: Emmanuel's Closet Fund-Raising Dinner and Fashion Show, from 6 to 9 p.m. at the Italian American Club at 45 Old Kings Road N. in Palm Coast. Includes dinner, dessert, raffles, a silent auction, dancing, photos and other activities.
July 23: Pastor Charles Silano will be recognized as Outstanding Community Leader at the Northeast Florida Community Action Agency, a local nonprofit, in a luncheon at noon at the Hyatt Regency Jacksonville Riverfront.
July 27: The River to Sea Transportation Planning Organization Meets in Palm Coast from 5-7 p.m. to receive public input on the 2040 Long Range Transportation Plan. The meeting will be held at Palm Coast's Hilton Garden Inn, 55 Town Center Blvd. Specifically, the River to Sea TPO is holding the public meeting to solicit input on the draft Cost Feasible Project List. For more information, contact Pamela Blankenship at

[email protected]

or 386-226-0422 ext. 20416, or visit http://www.r2cmobility2040.com.

Comment of the Day (From the Comment Section):
None worthy of note.

Cultural Coda:
Glenn Gould plays Bach's Art of Fugue