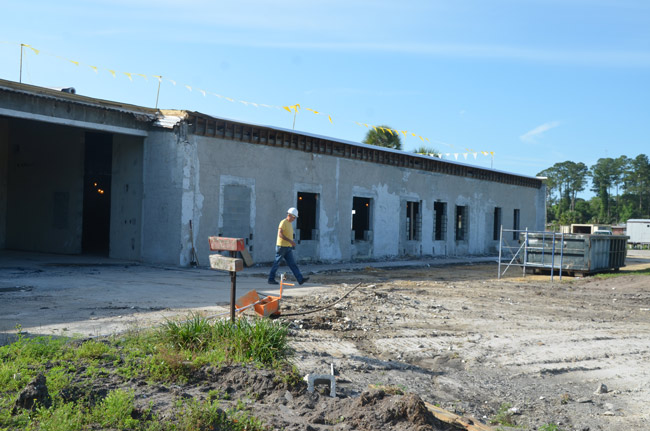 Today's weather: sunny, hotter, high of 80, low of 65. Details here.
Today's fire danger is Moderate. Flagler County's Drought Index is at 256
The weather in Quelimane, Mozambique: Rainy, high of 83, low of 75. Details.
The OED's Word of the Day: savage man, n.
The Live Community Calendar
Today's jail bookings.
Today's Briefing: Quick Links

Today is Election Day in the special elections for House District 24 and Senate District 6. You may vote at your precinct from 7 a.m to 7 p.m. In the Senate race, Republican Travis Hutson faces Democrat David Cox. In the House race, Democrat Adam Morley faces Republican Paul Renner.

Flagler County School Board workshop and meeting: The school board meets at 5 p.m. for a workshop to discuss the Matanzas Woods interchange construction, at I-95, and its impact on Matanzas High School. The board meets at 6 p.m. for its bi-monthly meeting. Little of note is on the agenda. The board will also be holding a retreat, starting at 9 a.m., in the superintendent's conference room, to discuss its strategic plan. That meeting is also open to the public.

Palm Coast City Council meets at 6:30 tonight: The council is expected to ratify a new round of cultural arts grants totaling $12,000, approve a contract with a billing company for utility payments, which are focusing on a paperless approach, and approval of this season's mosquito control flights over the city. The full agenda is available here. (6:30 p.m. at the Palm Coast Community Center, and webcast live here.)
Palm Coast Animal Control monthly hearing is scheduled for 1 p.m. today at the city's council meeting room, 160 Cypress Point Parkway (City Marketplace). The hearing is open to the public. The full agenda is here.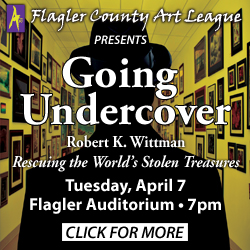 Robert Wittman, FBI's James Bond of Stolen Art, At Flagler Auditorium Tonight: The Flagler County Art League presents Robert Wittman, who started the FBI's art-crime division and wrote the best-selling "Priceless," about his experiences recovering stolen art, in a one-evening engagement at the Flagler Auditorium Tuesday (April 7). It's part of the league's fund-raising drive. General admission tickets are $20, with a book sale and signing following the presentation. Tickets for a VIP private reception beginning at 5:30 p.m. are $60 and include a signed copy of Wittman's book "Priceless." Call the Box Office today at 386-437-7547 or order tickets online here for general admission, and here for the private reception.
The Flagler Chamber Of Commerce's Business Bootcamp 2015: The Flagler County Chamber of Commerce and SCORE, the national nonprofit association dedicated to helping small businesses grow through one-on-one counseling and education, have teamed up to help local businesses by offering "Business Boot Camp Plus." The event will take place at the Chamber for 5 consecutive weeks from 6 to 8PM, starting on April 7 through May 5. Watch:
Online Auction for George Washington Carver Foundation: The annual auction, raising money for the Carver Center in Bunnell, is on through April 27. Make your bids here.

Circuit Judge J. David Walsh holds sentencing hearings in four cases, including the case of Carlos Rivera Hernandez, found guilty of rape in a 2013 case. (9 a.m., Courtroom 401.)

Cop body cameras: The Senate Criminal Justice Committee will take up a bill (SPB 7080) that addresses body cameras worn by police officers. The bill would require law-enforcement agencies to establish policies for the proper use of body cameras if the agencies allow officers to wear the devices. (10 a.m.)
Write-in residency requirements: The Senate Ethics and Elections Committee will consider a proposal (SB 840), filed by Sen. Eleanor Sobel, D-Hollywood, that would eliminate a residency requirement for write-in candidates. The bill would delete part of state law that says write-in candidates must live at the time of qualification in the districts they seek to represent. The residency requirement touched off court battles last year in House District 64 in Hillsborough and Pinellas counties and in a Broward County Commission race. (4 p.m.)
–Compiled by the News Service of Florida
Rand Paul announces he's running for president.
Chicago votes for its next mayor, expected to be its current mayor, Rahm Emmanuel, who faces Jesus Garcia.
Jurors in the trial of Boston Marathon bomber suspect Dzhokhar Tsarnaev begin deliberations today.

Jeb Bush, Hispanic: "According to the voter-registration application, Bush chose Hispanic in the "race/ethnicity" field. A spokeswoman for the Republican presidential hopeful could not explain the characterization to the Times. His wife, Columba Bush, was born in León, Mexico, and the former Florida governor speaks fluent Spanish. He also lived in Caracas, Venezuela, while working as a vice president for Texas Commerce Bank. Bush's youngest son, Jeb Jr., joked about the story on Twitter. "LOL – come on dad, think you checked the wrong box #HonoraryLatino," the 33-year-old Bush tweeted on Monday, with a link to the Times story. Jeb himself quickly retweeted his son's tweet, adding, "My mistake! Don't think I've fooled anyone!"
The Bush camp issued a more formal statement: "It's unclear where the paperwork error was made," spokeswoman Kristy Campbell emailed reporters. "The Governor's family certainly got a good laugh out of it. He is not Hispanic." From Politico.
After Bush order, Florida universities cope with shrinking black enrollment: "As he courts Republicans across the country, Jeb Bush boasts that an executive order he signed that ended race-based college admissions in Florida upheld conservative principles while helping minorities. […] But at Florida's two premier universities, black enrollment is shrinking. At the University of Florida in Gainesville and at Florida State University in Tallahassee, administrators say they worry that the trend risks diminishing their standing as world-class universities and hurts the college experience. The black share of the UF freshman class, for instance, plunged to 6 percent in 2013, the most recent year for which data is available. That is down from 9 percent in 2011. The growth in minority enrollment that Bush now points to is primarily a result of the state's booming Hispanic population, which has led to a large increase in the share of Hispanic students attending Florida colleges. Between 2000 and 2013, the numbers of Hispanics, African Americans and members of other ethnic groups rose as the state university system got much bigger, with freshman enrollment up 35 percent.
But as a proportion of the overall student population, black enrollment has declined — most notably at UF and FSU. At the time Bush enacted the policy, black students made up 18 percent of all freshmen at Florida colleges. That had dropped to 15 percent by 2009." From the Washington Post.
Pump prices may drop to $2 a gallon this summer: "Summer gas prices may return to near $2 per gallon if refinery maintenance ends smoothly and crude oil remains relatively cheap, AAA reports. In addition, AAA forecasts that the national average likely will not rise above $3 per gallon this year, which may lead to more travelers hitting the road for summer vacations — a good sign for Orlando's $50 billion tourism industry. […] Florida's average price per gallon is $2.48, down 5 cents from last week, and the national average is $2.39 per gallon — 3 cents less than last week." From the Orlando Business Journal.
Road and Interstate Construction: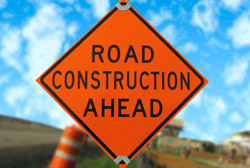 Flagler County: County Road 305 between CR 2006 and Tangerine. IMPACTS: Closure in force 3/17/2015 for the 2nd box culvert replacement. Detours detour via CR 110 to CR 95 to CR 2006. Truck Detour via Bunnell (SR 100 – SR 11)
Palm Coast: Palm Coast Parkway between Cypress Point Parkway and Florida Park Drive. IMPACTS: Lane shifts and closures will occur and this may cause traffic congestion on this already busy roadway. Most construction work will occur between 9 p.m. and 7 a.m. though weather and unforeseen issues may adjust the schedules. This project will be complete by December 2015.
Volusia: I-4 Widening from SR 44 to east of I-95, Monday and Friday, 7:00 a.m. – 5:00 p.m., Eastbound/Westbound shoulder closing. Monday through Friday, Eastbound and Westbound lane closures from 8 p.m. to 6 a.m. Motorists should be aware of traffic shifts near Canal St./SR 44.
County Road 304 Project Map and Description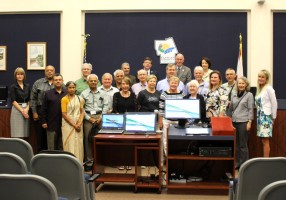 Flagler County Citizens Academy Graduation: The ninth Flagler County Citizens Academy class graduated during a Board of County Commissioners meeting on Monday, April 6. Nearly 30 Flagler residents participated in the spring Academy, where they learned about the intricacies of the county government and the array of services it provides. Topics included the County Administration, the Board of County Commissioners, tourism and economic development, land planning, emergency services and parks and recreation, among many others. "By developing each session with citizens in mind, we've created an experience where people can get a feel of how difficult it is for officials and staff to make decisions in regards to things like the budget," said Community Services Director Joe Mayer, who helped develop the program. "Gradation is the culmination of this experience."
Graduates included: Calvin Baker, Sr., Miguel Borjas, Larry Coletti, Bert Cordwell, Peggy Cordwell, Wayne Dodd, Lauren Falcey, Jeanne Florio, Barbara Harper, John Harper, Thomas Hellman, Bernard Kershner, Diana LeBrun, CarMichael McMillan, Robert Moritz, Stephanie Morse, Jennifer Nardiello, Richard Nardiello, Donald O'Brian, Emilia Ortiz-Jones, Podduturu Reddy, Vijaya Reddy, Anne Reeves, Lauren Shank, Ernie Sund, Jennifer Sund, David Tibbetts, Jane Tibbetts and Michael Timko. The next Academy will start in September and lessons are scheduled for Thursday evenings.
Interested participants should contact Joe Mayer at 386-313-4007.

From the Flagler Beach Police Department: The following information is being proactively disseminated in an effort to educate the
public and ultimately keep our scenic beaches as clean as possible. Residents and visitors should be aware of the following City Ordinances regarding waste on our beaches:
o City Code 11-12 (3): Take garbage, recyclables, yard waste, industrial waste or household hazardous waste from any property and place it in or around any public or private use container located: on another private property, at the beach, in any city park, in any parking lot, or on any city right-of-way.
o City Code 5-16: The owner of every animal shall remove any feces deposited by such animal on any property other than the owner's property. Any person walking any animal on the public beach or public property must carry the appropriate equipment to remove and dispose of any feces deposited by such animal on the public beach. The maximum fine for a violation of either City Code is $500.
Spring Break in Flagler Beach saw an increase in visitors to our City and we anticipate a very busy and enjoyable summer. The City of Flagler Beach has over six plus (6+) miles of beautiful beaches and we're urging our visitors and residents alike to respect our beaches and clean up after yourself. Summer picnics with family & friends on the beach with sandwiches, cold-drinks, ice cream, etc. are what make this City an attraction for thousands of visitors.
Please help preserve our beaches and remember; "leave footprints in the sand, not your trash" Your assistance in helping protect our beautiful beaches is greatly appreciated! If you have any questions about the information listed above, please feel free to contact Captain Doughney or any member of the Flagler Beach Police Department.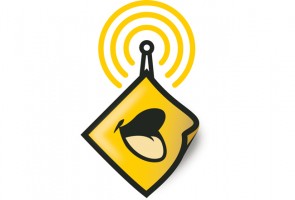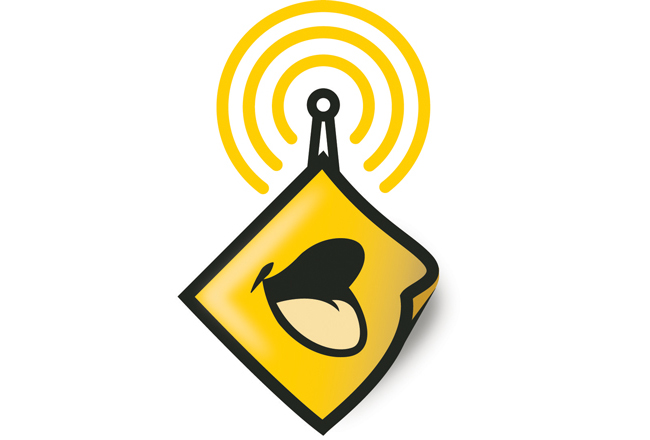 GabRy, Inc./TALKiT participating in One Spark:Palm Coast-based GabRy, Inc./TALKiT is participating in the world's largest Crowdfunding festival, this week in Jacksonville. "The One Spark festival is a massive five-day event plus a one-day Speaker Summit in downtown Jacksonville, FL," said co-founder Curtis Ceballos. "The event is considered a new and efficient way for creators to test, validate, and launch ideas, and we are excited to be a part of it." The event is held April 7 to the 12th. Approximately 600 projects in art, education, health/science, music, social good, and technology will showcase in a 20-square-block, multi-venue gallery in downtown Jacksonville, six days, attracting 260,000-plus attendees. Attendees contribute to Creator crowdfunding campaigns and vote to distribute $150,000 of a guaranteed $350,000 in awards at One Spark. Seven juries award $95,000 in prizes to top creator projects. Juries comprised of three to five jurors each will award six $15,000 prizes in each of One Spark's six categories. The seventh jury will award the $5,000 Jacksonville prize. Jurors will be given instructions to award prizes to projects that will have the biggest potential impact on the category, or industry, that they're in and also the likelihood of success based on the project team's ability to execute. Jurors will select three finalists in each award category that will be announced April 11, 2015, 6 p.m., at Hemming Park. The finalists will have a chance to pitch their projects to the jurors and the public April 12, 2015, 1-4:30 p.m. on the main stage at Hemming Park. The winners will be announced at the One Spark Closing Ceremony, April 12, 2015, 5 p.m. TALKiT's number to vote for it 22447. The event also offers free live entertainment, a food village featuring some of the best chefs and food trucks in the region, Creator music stages and an incredible, jam-packed festival atmosphere.
The TALKiT app is available in the Apple App Store and has been downloaded over 200,000 times. They incorporated in Dublin, Ireland last year- where Facebook, Apple, Google and Yahoo are also incorporated, as well as in South America and the USA. The company is excited about growth in South America, Europe, and coming soon, Australia. For more information on TALKiT, visit www.GetTALKiT.com. TALKiT is also on Facebook . They can also be reached via phone at 386-627-5197.
Cervical Spine seminar: Palm Coast Physical Therapy Center is hosting a free seminar on the cervical spine from noon to 1 p.m. on April 23rd at their Palm Coast location. "As people age, the cervical spine may undergo degenerative changes that can cause pain," stated Em Dinopol, owner of Palm Coast Physical Therapy Center. "It is so important to take care of your neck pain immediately and not put it off." The seminar will cover the anatomy and physiology of the cervical spine, how aging affects the cervical spine, degenerative disc disorders, osteoarthritis, intervertebral disc disorders, spondylosis, cervical disc herniation, managing headaches from degenerative changes in cervical spine disorders, and how to preserve and conserve your cervical spine. Space is limited and anyone that would like to attend is asked to reserve a seat by calling 386-447-7824.

Culture and the Arts:A traveling, interactive sculpture was installed Monday at the Flagler County Library in Palm Coast. "IMAG NE" comes to Palm Coast through the efforts of and co-sponsorship of the Gargiulo Arts Foundation and Friends of the Library, with a $1,500 grant from Palm Coast. The sculpture will remain at the Library for a month and will then be moved to a site to be determined at Town Center. Its creator, Emma Ann, says her goal "is for the viewer to interact with the sculpture." She encourages people to snap pictures of themselves interacting with the work and post it on social media.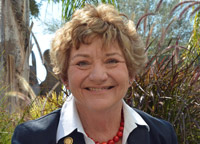 Traffic Ticket Collections Free Amnesty on Friday, April 17: Operation Green Light is a one-day amnesty giving drivers the chance to pay overdue fines, without having to pay the 40 percent collection feel. Hours at the Flagler County Courthouse will be extended for the occasion, stretching between 8 a.m. and 5 p.m. Clerk of Court Gail Wadsworth says her office has tabulated 7,793 cases that have gone to a collection agency. Of those, 4,507 are civil traffic cases. The total amount in collections for Flagler County is—to be precise–$1,872,973.91. Most people with such cases are driving on suspended driver's licenses. You may get your driver's license restored if you pay the overdue fine. (April 17)
Flagler County Job Fair on April 24: A limited number of spaces are still open for businesses interested in reserving a free booth at the second annual Flagler County Job Fair. The event will take place on Friday, April 24, from 12 p.m. to 6 p.m. at the Palm Coast Campus of Daytona State College, 3000 Palm Coast Pkwy SE, Building 3. Last year nearly 400 jobseekers attended the inaugural fair, which was hosted by the Flagler County Department of Economic Opportunity and CareerSource Flagler Volusia. This year Daytona State College and the Flagler County Chamber of Commerce joined the effort to positively impact Flagler County's economic vitality. Among the businesses that have already registered are CoastalCloud, Edwards Jones Financial Service, Beutlich Pharmaceuticals and Target. A complete list of attending companies is available here. Businesses wishing to secure a place at the fair and job seekers interested in registering for preparation workshops should visit the job fair website. For additional information about the fair, please contact Casey Scott at 386-313-4098 or by email here.
Matanzas Inlet Beach Clean-up: In celebration of Earth Day, Fort Matanzas National Monument is hosting a beach clean-up on Saturday, April 25, from 9am to 12pm. Join us in removing not only man-made trash but invasive plant life. The event will begin with a safety briefing and an introduction to the park at the ocean-side parking lot on the east side of A1A, just north of the Inlet bridge. Trash bags, gloves, and water will be provided. Please bring sunscreen, appropriate beach wear (including a hat), and your own reusable water bottle. If you would like to participate, please call 904-829-6506 ext. 233 or email [email protected] by April 23.


Blood donations are urgently needed. Patients in our local hospitals are in need of blood transfusions, and the need for blood does not take a holiday. That's why OneBlood is asking people to donate immediately.
Big Red Bus schedule in Flagler-Palm Coast:
Thursday April 9th 9:00AM -2:00PM Florida Hospital Flagler, 60 Memorial Medial Parkway
Friday April 10th 12:00PM – 5:00PM McDonald's Restaurant, 5190 East Highway 100, Palm Coast
Saturday April 11th 12:00PM -5:00PM Walmart Supercenter, 174 Cypress Point Pkwy Palm Coast
Monday April 13th 2:00PM – 6:00PM CVS Pharmacy, 5151 Belle Terre Parkway, Palm Coast
Thursday April 16th 10:30AM -2:00PM Kangaroo Express, 890 Palm Coast Parkway SW, Palm Coast
Friday April 17th 1:00PM – 6:00PM Epic Theatre, 1185 Central Ave, Palm Coast
Saturday April 18th 8:00AM – 1:00PM St Elizabeth Ann Seton Catholic Church Heath Fair
Monday April 20th & Tuesday April 21st 9:00AM -2:00PM Daytona State College- Flagler/Palm Coast Campus, 3000 Palm Coast Parkway, Palm Coast
Saturday April 25th 1:00PM – 6:00PM Epic Theatre, 1185 Central Ave, Palm Coast
Monday April 27th 11:30AM – 4:00PM Flagler County Public Library, 2500 Palm Coast Parkway
Tuesday April 28th 11:00AM – 3:00PM Knights of Columbus Council 7845, 51 Old Kings Road North, Palm Coast
Wednesday April 29th 1:00PM – 5:30PM CVS Pharmacy, 1 Old Kings Road South, Palm Coast