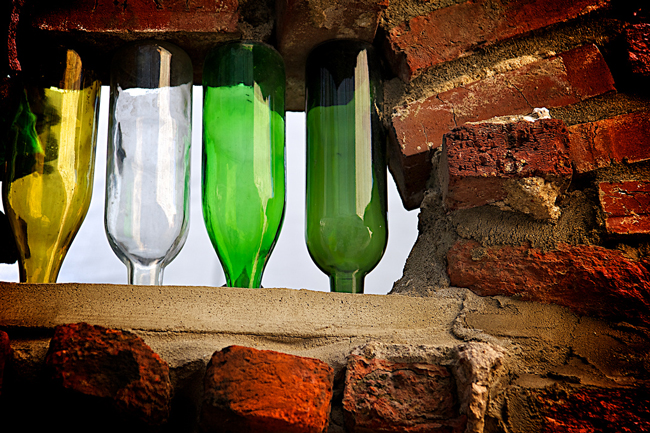 You're welcome to send your Live Wire news tips or suggestions to [email protected].
Today's Live Wire: Quick Links


Holland Park's Dog Park Renovations and Closure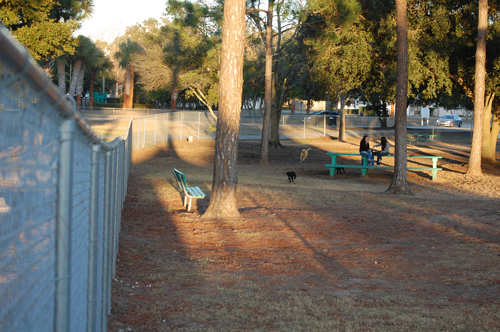 Palm Coast is beginning renovations at Holland Park's dog park on March 7. That week, dog owners and others will see the following upgrades at the park:
Addition of a new double-gated entrance at the lower end of the park
Addition of concrete walkways from the new parking area to the new entrance and from the new entrance to the gazebo in the park
Addition of concrete pads around the water stations and water fountain
Annexation of handicapped parking at the new entrance
Reconfiguration of the current park entrance
The park will be closed during the remodeling process and. Weather permitting, the Holland Park Dog Park, at 18 Florida Park Drive, will re-open one week later. Watch for updated news on the City's website, www.palmcoastgov.com or call 386/986-2323.
See Also:

Florida Is Among the Laziest States
From the Economist: "A recent report by the Centres for Disease Control and Prevention declares that only 64% of Americans surveyed can be described as physically active (defined as over 150 minutes per week of moderate exercise or half as much vigorous activity). Almost a quarter get no exercise at all outside the workplace. The report offers a breakdown of exercisers by state. In general, it seems that people who live in cold states like Alaska are more likely to get their weekly work-out than those in sunny Florida. The biggest outliers from this correlation are Hawaii, where 70% are energetic, and Tennessee, which has the lowest percentage of active people despite a lower average temperature than several other states.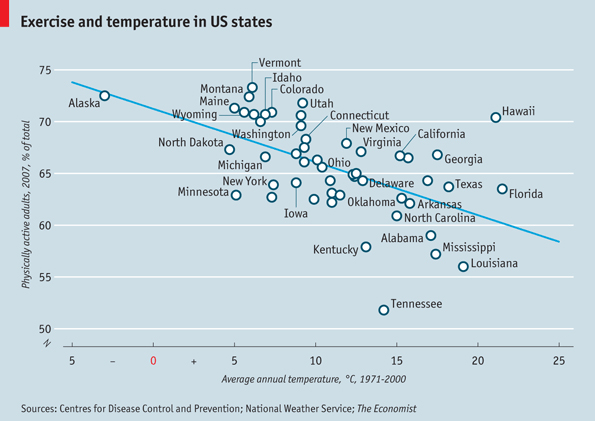 Can Mickey Rescue Orlando's Transit?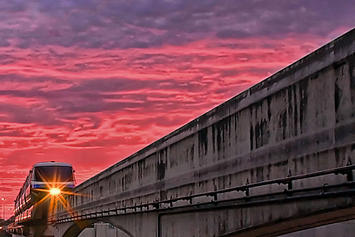 From New Geography: "We must recognize that we are stuck with our cars. They aren't going away. We can't wish them away. We have to make them better fast, because with changes blowin' in the wind and with oil jumping back up over $100 a barrel. The high-speed bullet train – a sort of latter-day interstate highway program – sounded like a great idea at first, a welcome alternative to the ardor of air travel and the gas-sucking monotony of driving. It has shortcomings, however, it will likely prove obscenely expensive, and once one gets to the destination, one is typically relegated to more driving. […] Any frequent driver on Interstate 4 between Orlando and Tampa can tell you there are four basic kinds of traffic: tourists in buses or cars; freight, in the form of tractor-trailers: business travelers (who need the flexibility of a car on the other end): and personal travelers. Instead of targeting an expensive solution at just the smallest form of traffic, personal travel, a 4-part solution is suggested, all of which would add up to far less than $2 billion that minimally the high-speed line would have cost. […] Right smack in the middle of the white-hot I-4 corridor lays a large, private entity, Disney, has been operating a private, train-based mass transit system for the last 40 years. High labor costs? Yes. Fossil fuel driven? Yes. This entity has been strangely silent over the entire debate. If this entity were to wake up and seize the opportunity before it, one might see a true train that works. First of all, the monorail was planned with some sense: it connects dense areas together. If Disney were to offer to build, as a private development, extensions of its monorail reaching out to Tampa on one side and Orlando on the other, the air rights for this system could be along government-owned I-4 (no imminent domain costs). This entity is also highly encouraged to charge market rate and to make a profitable venture out of operating this system. And the taxpayers would not be stuck with the bill." The full post.
See Also:

William Gregory Trials, on Drugs
From the News-Journal: "William Gregory spent the day before he is accused of killing his ex-girlfriend and her boyfriend driving around Flagler County smoking crack and drinking beer with his brother and a friend, according to testimony Monday at Gregory's first-degree murder trial. Early the next day on Aug. 21, 2007, Gregory is accused of sneaking into the home of the grandparents of Skyler Meekins near Flagler Beach, taking a shotgun from a closet and killing the 17-year-old and her boyfriend, Daniel Dyer, 22. The muzzle of the 12-gauge shotgun was touching Meekins' forehead and within an inch of Dyer's when the trigger was pulled twice, according to testimony. […] Wayne Lantrip testified on Monday that he drove Gregory and his brother Edward Kory Gregory around for eight or nine hours on the day before the killings. Lantrip testified they bought crack in Palm Coast and smoked it out of a makeshift pipe and drank beer before he eventually dropped the brothers off at their home in Flagler Beach." The full story.
See Also:

50 Years Ago: JFK Authorizes the Peace Corps
See Also:

A First Anniversary for Florida Hospital Flagler Cancer Institute's Cancer Library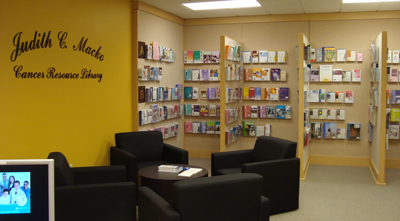 In its first year in operation, the volunteers of the Judith C. Macko Cancer Resource Library, located on the second floor of the hospital, have held the hands of more than 150 newly diagnosed cancer patients and provided them with free education tools. Most of the volunteers are cancer survivors themselves, so they have a deep understanding of the range of emotions, as well as various obstacles, new cancer patients can face. As part of the Florida Hospital Flagler Cancer Institute, the library offers an extensive collection of books, brochures, articles and videotapes about cancer. Cancer patients and their families, and community members, such as health professionals, students, and teachers are all welcome to use all of the library's free services. The American Cancer Society's Cancer Resource Center is also located in the library. Registered cancer patients are able to receive wigs, head coverings, mastectomy bras and prostheses along with information on current American Cancer Society programs, all free of charge. "We knew there was a need for this locally," director Duane Price said. "But we have been surprised by just how much the community has engaged with us." For more information about Florida Hospital Flagler's Judith C. Macko Cancer Library, please call 386/586-2084.
See Also:

Free Youth Clinics at Tennis Center
Young tennis enthusiasts ages 6-8 and 9-12 can join a free instructional clinic on Friday, March 4, to learn and practice basic tennis skills and strategies, at the Palm Coast Tennis Center. The center will host a Free Youth Tennis Night in Palm Coast, with clinics scheduled at 5:30 p.m. to introduce young people to the joys of playing the game. Light refreshments will be served. The Tennis Center is located at 1290 Belle Terre Parkway. For more information, please contact the Center at 386/986-2550.

"The Case for Israel: Democracy's Outpost," Shown in Ormond Beach
From Machon Volusia-Flagler's Adult Jewish Education Initiative: "In a new landmark documentary The Case for Israel: Democracy's Outpost , to be screened for the first time in Central Florida at 7:30 p.m., Wednesday, March 9th at Congregation B'nai Torah, 403 North Nova Road, Ormond Beach, Alan Dershowitz, distinguished Harvard Law School professor and outspoken champion of individual rights, rises in vigorous defense of the Jewish state. The 77-minute film by Doc Emet Productions, which premiered at the annual Haifa International Film Festival in Israel, presents evidence from leading historians, analysts, legal experts and leaders on both sides of the political spectrum to make the definitive case for Israel's legitimacy and right to self-defense. Dershowitz argues forcefully that real peace in the Middle East can only occur when the Palestinians, Arabs and their allies finally value the creation of a Palestinian state more than they oppose the presence of a Jewish state. Through incisive conversations with 28 commentators—ranging from Foreign Minister Tzipi Livni, Ambassador Dennis Ross and former Israel Supreme Court President Aharon Barak to Opposition Leader Benjamin Netanyahu and senior analysts Caroline Glick and Natan Sharanksy—Dershowitz refutes deeply entrenched misperceptions about Israel's history, Jewish claims to a homeland, individual rights under Israel's democratic system of government, the security fence, and military conduct in the face of terrorist attacks. The film also includes conversations with Defense Minister Ehud Barak, human rights scholar Anne Bayefsky, former Canadian Minister of Justice Irwin Cotler, Jerusalem planner Israel Kimhi, historians Benny Morris and Michael Oren, President Shimon Peres, senior analyst Alex Safian, Ambassadors Dore Gold and Dan Gillerman, Israel constitutional law expert Amnon Rubinstein, and others. Nearly two years in the making, The Case for Israel: Democracy's Outpost is produced by Gloria Greenfield and Michael Yohay, the principals of Doc Emet Productions. Together, Greenfield and Yohay bring 50 years of film production and marketing experience to the project.
The Central Florida premier also serves as a kickoff for the annual Machon Volusia-Flagler, the Jewish community's adult education initiative bringing together Jews from the region with the religious leadership of area synagogues. Classes are open to the public at no charge and meet, this year, at Temple Beth El on Nova Road in Ormond Beach at 7:30 p.m. Wednesday evenings, March 16th, 23rd and 30th. The screening of The Case for Israel is also open to the public at no charge. All are welcome and no advance arrangements need be made. For more information, contact Rabbi Merrill Shapiro, coordinator, 386/446-6061 or by email here.
See Also:

From cracked.com: