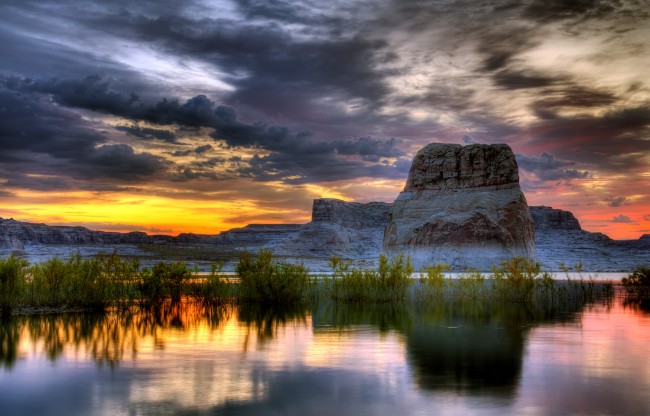 You're welcome to send your Live Wire news tips or suggestions to [email protected].
Today's Live Wire: Quick Links


Help Jamie Bly: A Fund Raiser, Dec. 19
You recall the Nov. 21 crash that killed Josh Crews, the popular and beloved bartender (and one-time owner) at Woody's in Palm Coast. Riding with Crews that early morning was 25-year-old Jamie Bly, who is still battling her injuries, in critical condition, at Halifax Hospital. Family and friends are organizing a fund-raiser for her on Sunday, Dec. 19, at the Palm Coast Car Wash at 13 Old Kings Road North. To spread the word, you're encouraged to print the flier's pdf provided here (and imaged below) and post it where you can.
The car wash will donate any amount over $3 per car. If any high school students are looking for community service hours and would like to work for the car wash benefit, they can contact Carlee Critcher at this email: [email protected]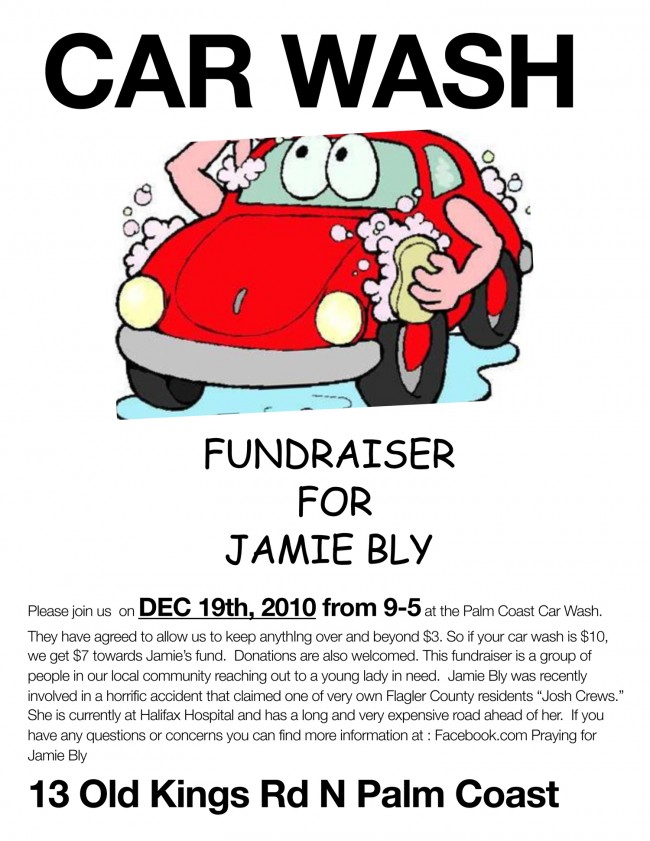 See Also:

Florida's Cabinet Apologizes for the State's Bigotry Toward Civil Rights-Era Protesters
From the St. Pete Times: "In a moving tribute tinged with sorrow, the state of Florida officially expressed regret Thursday to civil rights marchers who were beaten and jailed for protesting segregated beaches and lunch counters in St. Augustine in the 1960s. Gov. Charlie Crist and the Cabinet, meeting as the Board of Executive Clemency, formally asked law enforcement agencies to expunge the protesters' arrest records. Some young marchers, now in their 60s, 70s and 80s, began to weep as Crist read a resolution noting the injustices they suffered decades ago. […] Other aging marchers, who called themselves the "Freedom Fighters," recalled being spat on and assaulted with water hoses, cattle prods and police dogs for trying to integrate America's oldest city in 1963 and 1964. The Rev. Martin Luther King Jr. had been invited to lead the protest, which was timed to coincide with the rigidly segregated city's 400th anniversary celebration." The full story, and watch the video:
See Also:

Florida Might Cash In on High-Speed Rail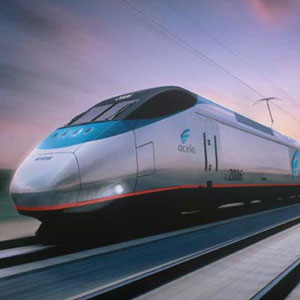 From the St. Pete Times: "Florida can get the rest of the money needed to build a Tampa-to-Orlando bullet train from federal stimulus funds turned down by other states. The question is: Will Florida Gov.-elect Rick Scott take it? As a candidate, he was openly skeptical of the cost of high-speed rail. On Thursday, he said more study is needed. […] Scott's remarks came after the U.S. Department of Transportation announced Thursday it would make another $342 million available for high-speed rail between Tampa and Orlando. That's enough to cover the project's $2.65 billion cost, officials said. The federal government previously kicked in $2.05 billion, some of which came with a $280 million state match. […] Florida is getting the money because newly elected Republican governors in Ohio and Wisconsin turned down the stimulus funds for high-speed rail. […] [T]he return to taxpayers is not the only issue for Scott. "I'm also interested in understanding the private sector's interest in funding this infrastructure project," he said. That's a question recently raised by members of the Florida Statewide Passenger Rail Commission. And on Thursday, U.S. Rep. John Mica, R-Winter Park, the incoming chairman of the House Transportation and Infrastructure Committee, raised the same issue." The full story.
See Also:

Google makes it easy again. If you want to see every foreclosure in your neighborhood, go to Google, click on maps, then click on more (within the map to the right) and check off the real estate box, then click the foreclosure box (under listing type, to the left) and enter the name of your city or zip code in the search box. And there you have it. Here's the result for Palm Coast. Click on the image for a larger view: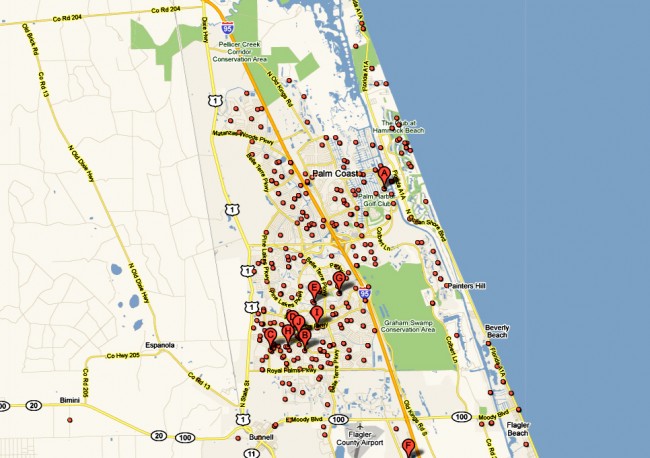 See Also:

The Washington Post has a clear rendition of how the Obama-GOP tax deal stacks up: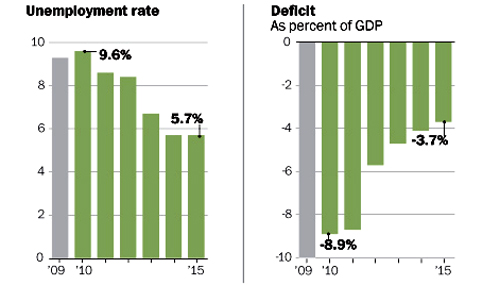 See Also:

GOP Blocks 9/11 Health Care Bill
Follies, continued.
The Daily Show With Jon Stewart

Mon – Thurs 11p / 10c
Republicans Block 9/11 Health Care Bill

Westboro Baptist Church's Idiots Will Picket Elizabeth Edwards's Funeral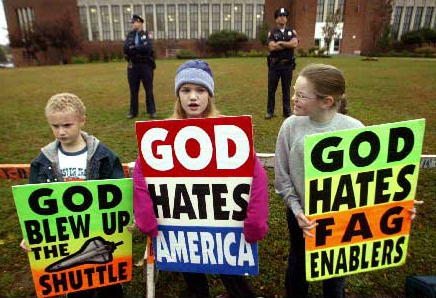 From CNN: "Members of the Westboro Baptist Church, known for its radical stance against a myriad of issues including homosexuality and the war in Iraq, said Thursday it will picket Elizabeth Edwards' funeral in Raleigh, North Carolina. Edwards, the estranged wife of Democratic presidential candidate John Edwards, died Tuesday after battling breast cancer. According to the Church's press release, members of the Kansas-based congregation are planning to gather at 12:15 p.m. to rally against Edwards for issues relating to her personal life deemed offensive by the church. The Church — monitored by anti-hate groups such as the Anti-Defamation league and the Southern Poverty Law Center — is known for its extremist opposition against homosexuals, Jews and other groups. Westboro members often hold protests against the war in Iraq, many at funerals held for U.S. service members. Led by Pastor Fred Phelps and his family, the church has drawn controversy for targeting soldiers' funerals and asserting that the soldiers' deaths are God's punishment for America's "sin of homosexuality."" The full story.
See Also:

Cities That Prosper, Cool or Uncool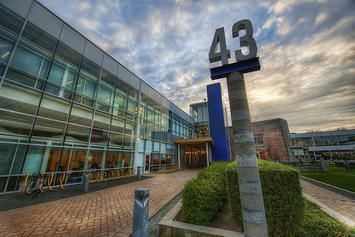 Another good piece from New Geography, relevant to our own: "Over the past few years, the raging debate in economic development has been over whether cities should be cool or uncool. Should cities pursue "the creative economy" by going after arts, culture, creative research & development, and innovation? Or should they focus on the bread-and-butter economy: hard infrastructure, traditional industries like manufacturing, and blue-collar jobs? Usually a raging debate is an indication that the wrong question is being asked, and that's the case here. The question is not whether cities must be cool or uncool in order to prosper. Clearly, there are some cities in each camp that prosper, and some cities in each camp that do not. The question is deeper: In both cool and uncool cities, what is the underlying nature of the economy? Does the city simply import money from other places, or does it export goods and services to other places? Because it is this distinction – not cool or uncool – that serves as the dividing line between prosperity that is real and prosperity that is illusory.
[…] A retirement community creates a cluster of suppliers, too. But this cluster tends to be composed of local service-sector businesses that create low-wage jobs and aren't interested in repackaging their services for export outside the region — retailers, contractors, landscapers and pool-maintenance companies. There's also a psychological difference. Factory workers are connected to the local economy in a way that retirees are not. If orders fall off, they might get laid off for a while, switch jobs and go to work over at a supplier, sometimes for more money, sometimes for less. But the point is that they have a stake in the regional economy. Factory workers don't like traffic jams anymore than the rest of us, but they see the value of an expanding economy. They see how growth can be good as well as bad. Retirees see no such thing. They are tied to the global economic system in which their investments are based, or else to the economic fortunes of, say, a government pension system in another part of the country. They might want tax revenue to flow into public coffers in New York or Ohio to protect their public pensions, or they might want interest rates to go up so that their incomes rise. […] The argument that cool cities are involved in fluff, and therefore aren't creating real economic growth, is based on the perception that cool cities are in the import business. If you build arts centers and sports stadiums and convention centers and subsidize lofts for artists, you're not really creating any wealth… or so the argument goes. All you're really doing is drawing people to your city so you can empty their pockets while they are having a good time; the classic import economy.
That's true sometimes, but not always. At its best, a creative economy is generating innovations that turn into products that get exported elsewhere, whether those innovations are fashion trends or software applications or biotech breakthroughs. And in many cases, a more plodding blue-collar economy requires fluffy arts stuff to create the quality of life that will attract top people." See the full piece.
See Also:

From Pew: "Eight percent of the American adults who use the internet are Twitter users. It is an online activity that is particularly popular with young adults, minorities, and those who live in cities. This is the first-ever survey reading from the Pew Research Center's Internet & American Life Project that exclusively examines Twitter users. In previous surveys, the Pew Internet Project had asked internet users whether they "used Twitter or another service to share updates about yourself or to see updates about others?"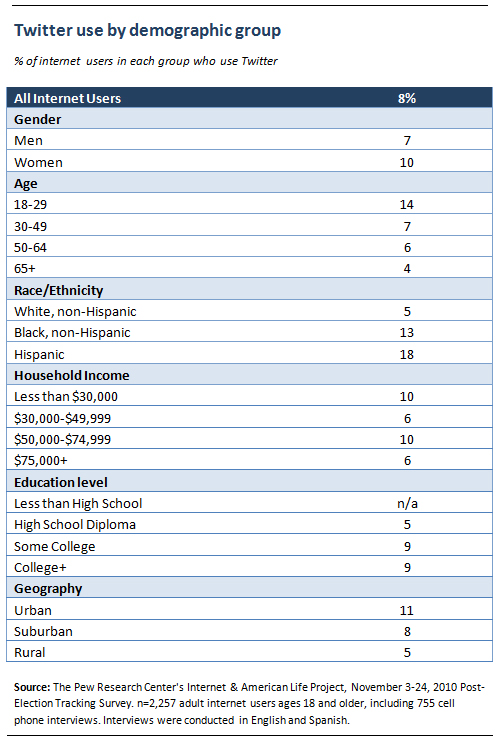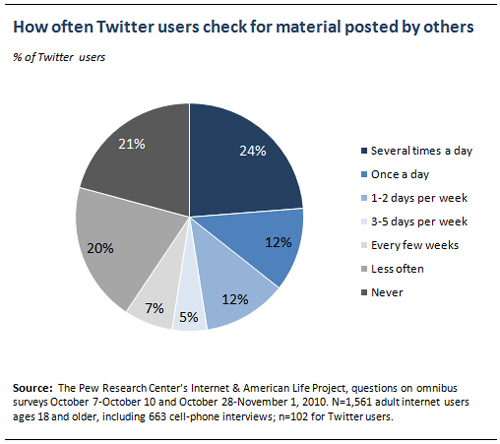 In addition to asking how often they check the site for updates about others, we also asked Twitter users how often (if ever) they use the site to post their own content. We asked about nine different types of content that Twitter users might post to the site, and found that Twitter users tend to comment on a relatively wide range of topics — the typical user posts four of the nine different types of tweets we asked about in our survey.
Overall, observations related to users' personal or professional lives are the most popular types of updates, while location-based tweets and links to videos are the least commonly mentioned:
* 72% of Twitter users in our sample say that they post updates related to their personal life, activities or interests. A total of one-in-five Twitter users (19%) say they post personal updates once a day or more.
* 62% of those we queried said they post updates related to their work life, activities or interests, with 12% doing so on a daily basis.
* 55% of these Twitter users share links to news stories. About one in ten (12%) do this at least once a day.
* 54% of these Twitter users say they post humorous or philosophical observations about life in general, with 16% doing so on a daily basis.
* 53% of these Twitter users use Twitter to retweet material posted by others, with 18% doing so on a daily basis.
* 52% of these Twitter users send direct messages to other users, with 11% doing so on a daily basis.
* 40% use Twitter to share photos with others, with 12% going so at least once a day.
* 28% use Twitter to share videos with others. Fewer than one-in-ten Twitter users (8%) do this once a day or more.
* 24% use the service to tweet their location, with 7% of users doing so on a daily basis.
The summary report here, the full report here.
See Also:

Why We Suck in Science Education
From the Christian Science Monitor, reporting on new findings by the Organisation for Economic Cooperation and Development (OECD).: "Finland emerged at the top of 57 countries in science, according to the 2006 survey results from the Programme for International Student Assessment (PISA). The US ranked 29th, behind countries like Croatia, the Czech Republic, and Liechtenstein, and ahead of just nine other OECD countries. "What once was the gold standard [for international education] is now not even at the OECD average, which shows you how much the world has changed," says Andreas Schleicher, who helped write the report. The US is average in the number of students at the highest levels of scientific literacy, but has a much larger pool – nearly 1 in 4 – at the bottom, Mr. Schleicher notes. "We have stand-alone studies that suggest these kids have grim prospects in the labor market," he says." The full story.
Maybe this is why. Watch this from Lance Lund, a professor at Anoka-Ramsey Community College. As one comment had it, "It's like watching Chris Farley teach a science class."

Saul Bellow Reads from Humboldt's Gift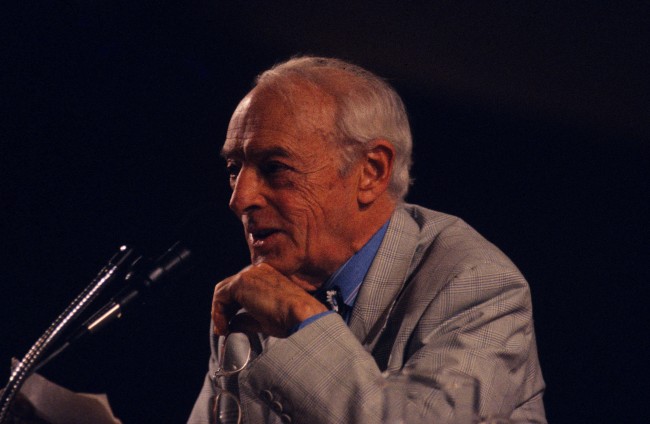 Saul Bellow, who died in 2005, won the Nobel Prize for literature in 1976, the year after he published Humboldt's Gift, one of his great novels. Here he is, reading from the book at the 92nd Street Y in Manhattan.
See Also:

Jay-Z, in conversation with Cornel West at the New York Public Library, explains how he was inspired to write his song on profiling:

Markowitz Special: Dave Brubeck
You mean Dave Brubeck is still alive? And playing, too: the 90-year-old jazz great was at the Blue Note in Manhattan the other night. As The Times wrote it up: "Dave Brubeck made his way to the Blue Note stage with apparent effort on Friday, the first night of a sold-out weekend run. "My doctors told me I'm rushing things," he said, a little breathlessly, once he had reached the piano bench. He didn't go on to explain that he had undergone heart surgery in October, when he received a pacemaker, or that a handful of other concert dates had been postponed. He was back and eager to proceed, and that was what mattered, judging by the ensuing clatter of grateful applause. […] Long before his recent medical leave, he had softened his pianism, replacing the old hammer-and-anvil attack with something almost airy. Here he often held his fingers splayed flat against the keys, barely touching his sustain pedal. His playing was the picture of judicious clarity, its well-placed chordal accents suggesting a riffing horn section. And in one of the set's finer stretches he stirred up a gentle rustle, as if to renounce percussivism altogether. It was the second movement of "Dialogues for Jazz Combo and Orchestra", composed by his brother Howard Brubeck and originally recorded with Leonard Bernstein." The full review.
Here he is in a performance of Take the A Train from 1966:
We could never get away with highlighting Brubeck without including his classic:
More Markowitz Specials

From the UK Independent: "Hereafter is likely to prove a very disconcerting experience for some of Eastwood's fans. The 80-year-old auteur's new feature is a very long way removed from the world of Magnum Force and The Outlaw Josey Wales. Instead of a vigilante or a cop lifting a gun, we have Matt Damon as a blue-collar American lifting the hands of bereaved men and women and seeing into their souls. […] The film addresses psychic phenomena in a sincere way. There are wry montage sequences showing fake mediums, and mountebanks preying on the credulity of the bereaved. However, the film also shows characters seemingly communicating with their loved ones beyond the grave. At his age, and with his reputation, Eastwood doesn't seem in the slightest concerned that some viewers may think he is turning into a latter-day Doris Stokes. Hereafter demands a major suspension of disbelief, but deals with death and bereavement in a far more intelligent way than most mainstream movies. […] The film has received a mixed response in the US, where it was released in the autumn. Certain critics were clearly wrong-footed by the director's turn toward the uncanny. You can see why the project attracted Eastwood. He is coming toward the end of his career. Two years ago, after he made (and starred in) Gran Torino, he declared that he would stop acting, although he would continue to direct. He has nothing left to prove to anybody. It seems apt that, at this stage, he should choose to take on a film that allows him to contemplate mortality. […] There are few movies in any genre that don't at least touch on death, but they tend to do so only in passing – either to crank up the emotions or to drive the plot. In Hereafter and a handful of other films (some of which are screening in the BFI season), it is, for once, right in the foreground."
Watch the trailer:
See Also: