You're welcome to send your Live Wire news tips or suggestions to [email protected].
Today's Live Wire: Quick Links


How Florida Courts Help Banks Screw Over Homeowners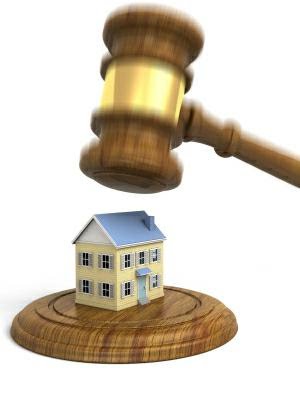 Matt Taibbi lays it out in Rolling Stone: "The foreclosure lawyers down in Jacksonville had warned me, but I was skeptical. They told me the state of Florida had created a special super-high-speed housing court with a specific mandate to rubber-stamp the legally dicey foreclosures by corporate mortgage pushers like Deutsche Bank and JP Morgan Chase. This "rocket docket," as it is called in town, is presided over by retired judges who seem to have no clue about the insanely complex financial instruments they are ruling on — securitized mortgages and laby­rinthine derivative deals of a type that didn't even exist when most of them were active members of the bench. Their stated mission isn't to decide right and wrong, but to clear cases and blast human beings out of their homes with ultimate velocity. They certainly have no incentive to penetrate the profound criminal mysteries of the great American mortgage bubble of the 2000s, perhaps the most complex Ponzi scheme in human history — an epic mountain range of corporate fraud in which Wall Street megabanks conspired first to collect huge numbers of subprime mortgages, then to unload them on unsuspecting third parties like pensions, trade unions and insurance companies (and, ultimately, you and me, as taxpayers) in the guise of AAA-rated investments. Selling lead as gold, shit as Chanel No. 5, was the essence of the booming international fraud scheme that created most all of these now-failing home mortgages.
"The rocket docket wasn't created to investigate any of that. It exists to launder the crime and bury the evidence by speeding thousands of fraudulent and predatory loans to the ends of their life cycles, so that the houses attached to them can be sold again with clean paperwork. The judges, in fact, openly admit that their primary mission is not justice but speed. One Jacksonville judge, the Honorable A.C. Soud, even told a local newspaper that his goal is to resolve 25 cases per hour. Given the way the system is rigged, that means His Honor could well be throwing one ass on the street every 2.4 minutes. […] Fucked-up as everyone knows the state of Florida is, it couldn't be that bad. It isn't Indonesia. Right?" Wrong. Read the full, mind-boggling story. Flagler County, by the way, has two of these judges.
See Also:

Glenn Beck's Holocaust Soros Smear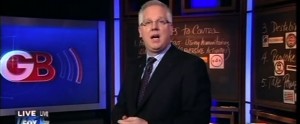 There's no end to Glenn Beck's repulsiveness, or Fox's endorsement of it, even when it comes to Holocaust slanders. From Media Matters: "The New York Times is reporting that Fox News is standing by Glenn Beck following his smears of Jewish philanthropist George Soros as a Holocaust collaborator. Beck's attacks have been condemned by Jewish advocacy organizations, including the Anti-Defamation League. Over the past few days, Beck has used his Fox News show to falsely claim that when Soros was 14, after the Nazis invaded his native Hungary, "he had to help the government confiscate the lands of his fellow Jewish friends and neighbors," adding that Soros had said he felt no guilt for his supposed actions. In fact, as we've repeatedly documented, Soros has said that he felt no guilt about his actions because he "had no role in taking away that property." After Beck used his radio show on Wednesday to accuse Soros of having helped "send the Jews" to "death camps," prominent Jewish leaders and Holocaust survivors condemned Beck's smears, with Anti-Defamation League national director Abraham H. Foxman calling them "completely inappropriate, offensive and over the top," as well as "unacceptable" and "horrific." Nonetheless, Fox News reportedly continues to support Beck: "Fox stood by Mr. Beck. Joel Cheatwood, a senior vice president at Fox News, said in a statement Thursday afternoon that the "information regarding Mr. Soros's experiences growing up were taken directly from his writings and from interviews given by him to the media, and no negative opinion was offered as to his actions as a child." The full post.
See Also:

Racist Woman Goes Postal on a Postal Worker
They're still out there. People like that. Get ready to be offended and angered. From Gawker: "The argument in the video is sparked by a certified letter that the mail carrier delivers. The woman has signed for it, but decides she doesn't want it because it's addressed to her husband, not her. But the mail guy won't take it back. Things go sour when she calls him a "Fucking [nigger] thief." She quickly qualifies: "I'm not prejudiced but right now I'm getting real pissed off." Then everything she says afterward is so racist it would make George Wallace blush. Finally she slaps him. Just your normal day on the mail route. Except really, really racist. The video was uploaded in two parts on October 11th by youtube user hugsonamic, who purports to be the mail guy and claims he was fired over the incident." Here are the two videos:
See Also:

Come on now: let's make this weekend count. We've raised $425. Let's at least get past the midway point of our goal.
The drive is on to raise thousands of dollars for Flagler County's food pantries and to pay for the Nov. 24 Thanksgiving meal for some 2,000 people in the second annual Feed Flagler celebration. The effort is also designed to stock families' and food pantries' shelves well beyond Thanksgiving, which is what makes this necessary and particularly worthy. There's also a challenge on: several companies and government agencies are competing to out-raise each other, in money and food donations.
Please do your part. We're doing ours. We started our own fund-raising through FlaglerLive, seeding it with an initial contribution and further contributions from Hollingsworth Gallery's JJ Graham, David Millonig in Pensacola, Nancy Nally in Palm Coast and Darrell Smith in Flagler Beach, and Palm Coast Bible Church's $100 on Monday. Tuesday's contributors: Inna Hardison and Anthony Mike Kales. Wednesday's contributors: Thank you Kendall Clark. Thursday's contributor: Jim Guines, one of the more generous men in the county. Today (Friday's) contributor: Lynn Snyder. Thank you Lynn. Keep 'em coming!
If you'd like to donate but would prefer to remain anonymous, just send us a note here and we'll leave your name out of it. Thank you all. Keep it coming.
In Flagler Beach: Please drop off your non-perishable food items at the BeachHouse Beanery–the official coffee house of FlaglerLive–by Nov. 17. The items most needed include rice, pasta, tomato sauce, canned tuna, canned corn,canned beans, peanut butter, jelly, soups and canned fruit.
Here, so far, is the list of monetary donors through the county's efforts:
Bug Guard Services, Inc.
First Coast Community Credit Union
Grace Tabernacle Ministries
Prosperity Bank
Temple Beth Shalom
University Women of Flagler, Inc.
Jean MacAllister
New Beginnings Church, Inc.
Cornelius & Ruth Van De Weert
P. Hassid
Flagler County's three Rotary groups
Tax Collector Suzanne Johnston
John's Auto Parts of Bunnell
Adella Latus
Michael and Patricia Danforth
FlaglerLive
Here are the members of Team Flagler's Food Drive Challenge, coordinated by the county's Joe Mayer and Christie Mayer (313-4094):
Flagler County Board of County Commissioners
Flagler County Tax Collector
Flagler County Property Appraiser
Flagler County Schools
Flagler County Health Department
Flagler County Clerk of Court
Flagler County Sheriff's Department
Flagler County Supervisor of Elections
City of Flagler Beach
City of Palm Coast
Chicks With Cans
Waste Pro
Hammock Dunes Club
Pop-a-Lock
See Also:

Nate Truelove, the 7-year-old boy involved in the Sept. 19 accident on Old Kings Road that sheared in half the car he was in, is back in the hospital for tests and possible procedure after returning home last month.
Charlene Yazurlo, Nate's great-grandmother, has organized a fund-raising on Nate's behalf. One of those is a raffle at Flagler Beach's JMJ Tobacco, in the Publix shopping center on State Road 100. The store will raffle off a Tiki Man. Tickets are $1 each or 10 for $5). The drawing will be held this Monday, Nov. 15.
All donations are being used for Nate's care and family expenses. Checks can be made out to Heather Jenkins and deposited at any Bank of America, Account #898043396491, or sent to Heather at 425½ W. Howry Ave., Deland, FL, 32720. For more information on Nate, please contact Charlene Yazurlo, Nate's great-grandma (that's me), at 386/439-4583, or email me at [email protected]; or Nate's grandma, Leslie Yazurlo, 693-4304, or 868-7339, or email her at [email protected].
See Also:

Where's the Democrats' fighting spirit?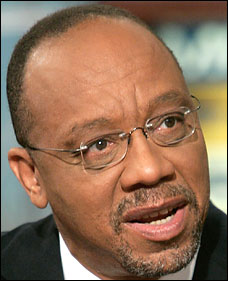 "I confess that I don't have a good answer," Eugene Robinson writes in the Post. "What I can say with confidence, however, is that the White House and Democrats in Congress ignore these grumblings at their peril. Call it polarization, call it conviction, call it whatever you like: These are not wishy-washy times. If you don't stand for something, you get run over. […] I've been meeting an awful lot of progressives around the country who share that delusion, if that's what it is. They despair that their neighbors don't know that it was George W. Bush who proposed the TARP bailout, not Obama – or that it worked, or that taxpayers are getting their money back. They wonder how health-care reform came to be defined not as a moral issue or a way to slow rising costs, which it is, but as a "big government takeover," complete with "death panels." Which it isn't. What I'm hearing is frustration, and it's getting louder. I'm hearing the view that the Obama administration, which has done much good, can do better – by speaking clearly, standing its ground – and, when pushed by bullies, shoving back." The full column.
See Also:

Bush on O'Reilly: Don't Bother Me With Current Affairs
George W. Bush doesn't want to be bothered with anything other than "selling books." Watch:
See Also:

Rachel Maddow Interviews Jon Stewart: The Uncut Tape
From Madow's blog: "Does the fact that Jon Stewart opts out of literal political engagement make him less of a political player? Does anyone other than Jon Stewart get to decide Stewart's role in the national discourse? Can the Daily Show viewers who cite Stewart's show as their primary source of news or who identify Stewart as the most influential political figure in their lives veto his insistence that he's not in the game? Or does the confusion between criticism, news and politics stem from the fact that news coverage has shifted so far toward entertainment that it brushes up against satire?" Watch the full interview:
See Also:

Disney's Quarterly Profits Down, Annual Profits Up
From The Times: For the quarter ended Oct. 2, Disney reported a profit of $835 million, or 43 cents a share, a 7 percent decrease from $895 million, or 47 cents a share, a year earlier. Those results reflected a series of one-time events, including the shift in ESPN revenue and a $58 million write-off of programming costs at Lifetime, a cable channel Disney partly owns. The latest quarter also was a week shorter than the equivalent one last year. […] Results for the fiscal year, on the other hand, were unequivocally strong. Net income rose 20 percent, to $3.96 billion, from $3.31 billion. Revenue increased 5 percent, to $38.1 billion." Although Disney said holiday reservations at its hotels were strengthening, fourth-quarter operating income at its Parks and Resorts unit declined 8 percent, to $316 million. The division was hurt by higher labor costs and a decline in sales at the Disney Vacation Club.
Click on the chart for larger view: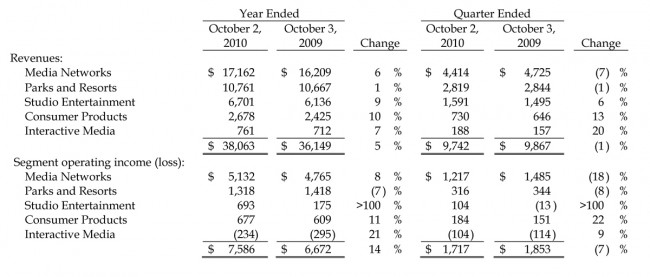 See Also: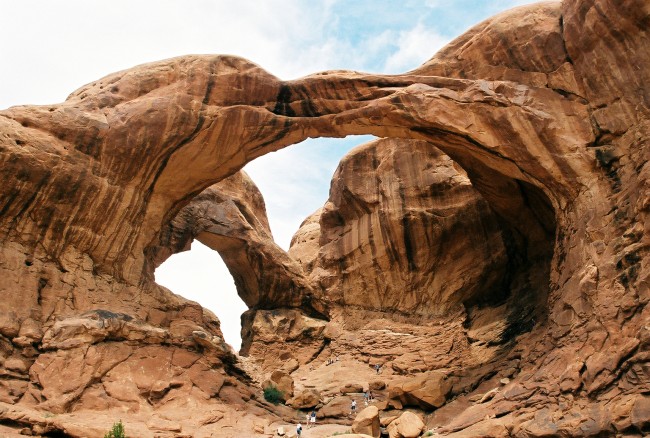 "…the center of the world, God's navel, Abbey's country, the red wasteland." That's how Edward Abbey described the red desert of southern Utah, and more particularly Arches park, where he discovered "a sense of time enough to let thought and feeling range from here to the end of the world and back; the discovery of something intimate — though impossible to name — in the remote." And more: " "The strangeness and wonder of existence are emphasized here, in the desert, by the comparative sparsity of the flora and fauna: life not crowded upon life as in other places but scattered abroad in spareness and simplicity, with a generous gift of space for each herb and bush and tree, each stem of grass, so that the living organism stands out bold and brave and vivid against the lifeless sand and barren rock. The extreme clarity of the desert light is equaled by the extreme individuation of desert life-forms. Love flowers best in openness and freedom."
Why the words? Arches National Park was established on Nov. 12, 1971
Watch the video:
See Also:

Louis Brandeis, Great American Justice
Louis Brandeis was born on Nov. 13, 1856 in Louisville, Ky. He was a justice of the U.S. Supreme Court from 1916 to 1939. He was one of the court's giants. He was also one of the American giants of Zionism, and one of the giant opponents of bigness in all things, Wall Street bigness especially. "Many of the abuses in the life insurance business," he wrote, "result directly from the size of the company."
"Large dividends," Brandeis wrote, "are the bribes which the managers tender the small investor for the power to use other people's money."
And he had this to say to one of his law clerks at the Supreme Court: "You'll find this world is full of sons of bitches, and they're always hard at work at it."
Last year Melvin Urofsky published a 953-page biography of Brandeis. Here's Urofsky discussing the book and the man at the university named for Brandeis:
See Also:

Poem: Pablo Neruda's Love Sonnet LXXXI
One of Pablo Neruda's great poems. Read it, then listen to it, recited by Andy Garcia and Julia Roberts, from the soundtrack to "Il Postino" ("The Postman," 1994):
And now you're mine. Rest with your dream in my dream.
Love and pain and work should all sleep, now.
The night turns on its invisible wheels,
and you are pure beside me as a sleeping amber.
No one else, Love, will sleep in my dreams. You will go,
we will go together, over the waters of time.
No one else will travel through the shadows with me,
only you, evergreen, ever sun, ever moon.
Your hands have already opened their delicate fists
and let their soft drifting signs drop away; your eyes closed like two gray
wings, and I move
after, following the folding water you carry, that carries
me away. The night, the world, the wind spin out their destiny.
Without you, I am your dream, only that, and that is all.
[media id=114 width=300 height=200]
See Also:

That's Emma Soto there, trying to get her first tooth out yesterday. The tooth reportedly came out a little later. Emma is Diane and Eden Soto's 6- (almost 7-) year-old daughter; they live in Palm Coast. No report yet on what the tooth fairy brought overnight. We're waiting.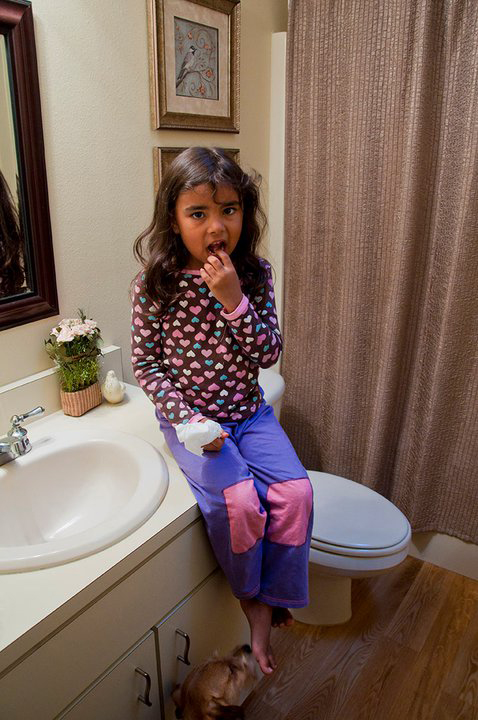 Cheryl Special: Oprah Invites Hundreds Of Lucky Fans To Be Buried With Her In Massive Tomb
Better than Cadillacs for "fans deemed worthy." Dr. Oz and Oprah's Royal Thyroid are involved, too. Watch the video:


Newsweek and Daily Beast to Merge