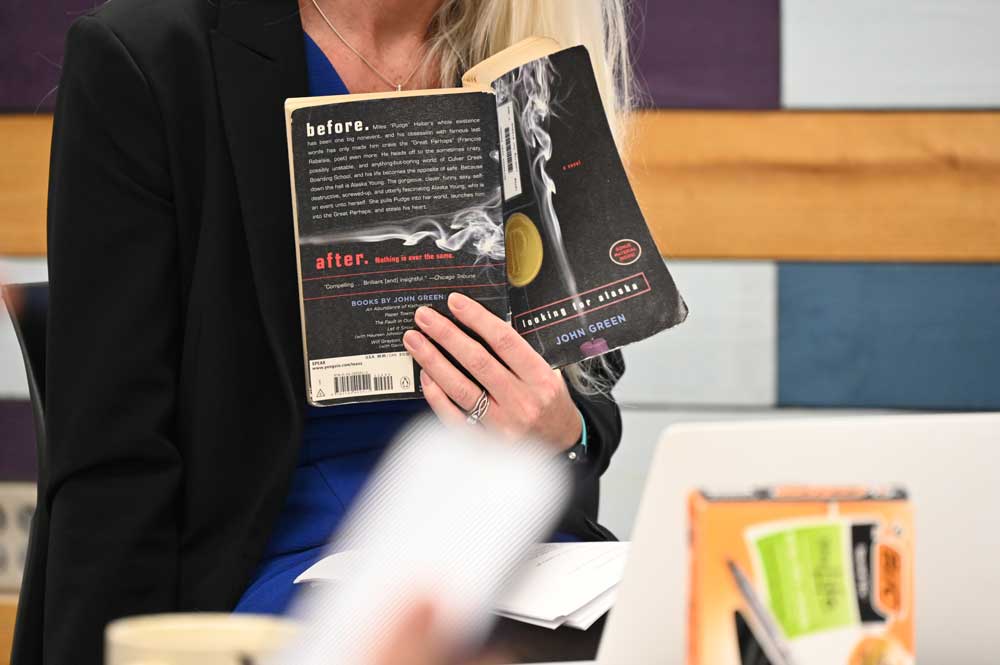 Last Updated: 9:05 p.m.
John Green's Looking for Alaska skated this afternoon to a Matanzas High School review committee's 6-0 vote for retention, rebuffing a challenge to the book. But it was the only bright note in a grim day for books in Flagler County.




It was the third book decision in a day in the Flagler district, the fourth in a week, counting Tuesday's vote by the school board to retain Patricia McCormick's Sold.
Late today, in an email to district committee members, Superintendent Cathy Mittelstadt said she would override that committee's unanimous (14-0) decision to retain the book and ban it from Flagler schools.
"After reading the book The Nowhere Girls and reviewing the circulation data as well as other resources that we have available," she wrote the committee not one hour after the Matanzas High School review had ended, "I have made the decision not to retain this as a resource in Flagler Schools. Though this decision does not align with the recommendation of the committee, I am confident that there are other materials that will address the literary intent of this book."
Mittelstadt was as if copying the reasoning of this morning's committee at FPC when it elected to remove Tilt from its shelves. The decision does not explain if the superintendent thinks the book is pornographic, or whether she is merely "weeding" the book despite trained specialists electing to do otherwise.
It was a sharp blow to the credibility of the district's appeal process, on which the district has invested so much time, energy and public involvement, and was not drawing applause from some of the individuals who have served on those committees.
"I am so profoundly disappointed in this process," said Carmen Stanford, who serves on a district committee–but not the one that voted on Nowhere Girls–and who publishes Flagler Parent, the Facebook page focused on district and education issues. "The District Committee should have the last word. Otherwise what's the point?"
Brad West served on the district committee that reviewed The Nowhere Girls. "The Superintendent's decision is disappointing," he said. "The feedback and input from the community in two committees was clear that the community feels the book is appropriate and a valuable literary work," he said, referring to the school-level committee that had also recommended keeping the book with a unanimous vote. "I appreciated the opportunity to participate, experience this award-winning work. I hope many young people and parents pick up a copy, read it, and discuss the many valuable themes throughout."
"So pissed," another member, who asked not to be identified, said. "Why doesn't she trust the media specialists and teachers and administrators who put their time in? Can you imagine knowing your superintendent values your expertise so little?"




Mittelstadt is five days from a meeting of the board when her fate in the district may be decided. That timing may have affected her decision not to provoke yet another appeal of a book challenge to the board, after last Tuesday's bruising encounter.
A slew of book challenges by just three people in the district have mobilized faculty, administrators, district officials, parents and community volunteers  to respond through an elaborate, deliberative process costing untold hours and dollars, including hundreds of uncompensated hours. 
The three people are not filing original challenges, nor are there indications that they have read the books they are challenging: each challenge is cut and pasted from an anonymous website whose own method appears to be to scour books for key words that then get flagged as objectionable page numbers, whatever the context. There are exceptions: The challenge to Looking for Alaska included brief but still decontextualized excerpts from the book. 
This morning, a Flagler Palm Coast High School committee was unanimous in its decision to remove Ellen Hopkins's Tilt from  that school's library shelves. The committee said the book does not fit the criteria for the ban. Rather, the vote reflected members' conclusion that the book should have been "weeded" before the challenge, for being outdated.




The Tilt challenge is nevertheless over. That decision may not be appealed. The decision to retain Looking for Alaska may yet be appealed to a district-level committee, as have been several other titles that school-based committees have elected to preserve. The decision would then rest with the superintendent. If she opts to preserve a title, that decision may then be appealed to the school board.
Looking for Alaska centers on a group of high school students at an Alabama boarding school who grow close as friends and contend with familiar teen issues, including traumatic family histories, unrequited love, friendship, and the catastrophic consequences of poor judgment. 
The book would resonate with "kids who have trauma," a committee member said, "because you don't know what every student has been through, until they let you in." Little by little, the characters in John Green's novel let each other in, always with limits, often while drinking, pranking, smoking, hooking up.  
The committee went through the challenge's claims page by page, dismissing claims that the book is prurient, pornographic, inappropriate in its depictions of drinking and smoking, or in its use of language. "This conversation is kind of crass but I don't agree that it is harmful to minors," a member said about a scene early in the book where a character refers to boob-honking.




The book is generous with its reflection of juvenile references to body parts, but not in ways that would transgress much of anything heard in health class. "Having my master's in health education and being a concentration in sexual education for the public schools," one of the committee members said, in reference to the comment about crass content, "I would agree. Because what we discuss in sexual education, and I've been here at Matanzas since 2005, we talk about breasts, boobs, the female, male reproductive system." 
The book is a self-selection, meaning that it's not taught in class. It's available voluntarily to students who choose to borrow it from the library. Parents have the right to ban their own children from borrowing titles, though they rarely (and at FPC never) do. 
"There's nothing in this book that I haven't addressed with my teenagers and discussed with them," a committee member said. "You know, we talk about sex. We talk about drug use, drinking and driving, not getting into a car with someone who's been drinking."
"And it should be a parent's right to be able to do that," one of the committee members, a teacher, said. "It should not be a parent's right to take a book out of a bookshelf that kids have the opportunity to self-select. This isn't being taught in classrooms. If a parent doesn't want their kid to have those conversations or doesn't want to have those conversations with their kid or not have their kid think about those things at all, that's their prerogative and they can send you a message saying hey, don't let my kid check this out. But to have an entire 2,000-students school be without this book that does deal with a lot of these real-life tragedies that do occur–and we are no stranger to tragedy at this school with kids who have died from car accidents and being hit by cars and other terrible tragedies–that to have a book that authentically wrestles with the tragedy of losing somebody in such a terrible way is a way to tell our students: here, when they do experience loss, you're not alone. You're not alone in that loss."
The teacher was not exaggerating: both the Matanzas and FPC student bodies have experienced grievous losses of students to suicide, car crashes, murder and other traumas in recent years.




Alaska, around whom all the other characters gravitate, is killed in a car crash when she takes the wheel, drunk, after a night with Pudge, the narrator. A large section of the book after the crash deals with the psychological fallout among Alaska's four closest friends, and the entire book is themed around love, guilt and grief.
As a work of literature, the committee members liked the book's wealth of literary devices and allusions that enable students to build "muscle" when handling textual analysis. "And it can be used as a companion novel to A Catcher in the Rye, which is a protected novel according to the curriculum," the English teacher among committee members said.  (One of the committee members made an allusion to a different era: she had been assigned A Catcher in the Rye in seventh grade.)
The 90-minute discussion included, as always, a detailed–and written-explanation of the committee's rationales in answer to specific questions designed to show why the book should not be banned (or should, if that were the case). The vote seemed beyond doubt when it was cast, as some of the committee members discussed their broader familiarity with John Green. Looking for Alaska had been his first novel when published in 2005. Now 45, he has since become an established author–like his brother Hank–most recently issuing a collection of essays, The Anthropocene Reviewed: Essays on a Human-Centered Planet. 
One of the book's lines: "We are shockingly, stupidly persistent."
The next book challenge committee will be a joint one between Matanzas and FPC on April 17, for Crank, the Ellen Hopkins novel, at Matanzas.