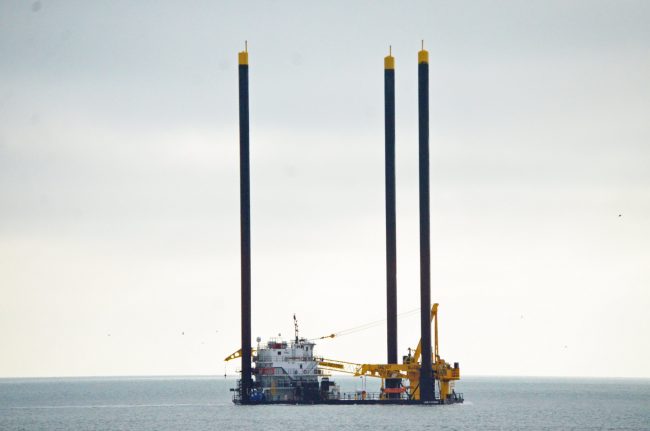 Last Updated: Thursday, 7:48 a.m.
At first it looked like an oil rig to Flagler Beach residents Linda and Thomas Hagman, as it did to many others who saw the platform travel from the north end of Flagler Beach to the south end, around South 10th Street, and essentially drop anchor there at sundown.
"It was moving at a clip," Linda Hagman said, "then it stopped, turned on all its lights, then it lifted itself off the water."
Flagler Beach City Commissioner Rick Belhumeur had spotted its three pylons north of the pier at 6 p.m. and thought it odd.
The platform is a liftboat, a self-propelled, self-elevating deck barge used to service oil and gas rigs, for seismographic work and construction, but usually in the Gulf of Mexico. EBI Liftboats pioneering the platforms in the 1950s, but an EBI official tonight said the platform does not belong to the company, and said there were about 20 such companies. Another EBI official said liftboats may travel 12 hours in a day, but must then stop and pick up the following day, suggesting that the platform was in transit. The Coast Guard could not be reached tonight.
By Thursday morning, the identity of the liftboat was solved: it is, according to Marine Traffic, the GPS-enabled mapping utility, the Lacie G. Eymard, a 128-foot-long, 132-ton liftboat built in 2014 and belonging to Offshore Marine Contractors of Cutoff, La. Marine Traffic pegs its destination as "Fernandino," but likely means Fernandina Beach. Since March 1, the boat has been hugging the shore from just north of Jacksonville Beach to its present location.
What is certain, Flagler Beach City Manager Larry Newsom said, is that there's no oil drilling, exploration or any such related work going on offshore. Eric Cooley, owner of the 7-11 in Flagler Beach, had sent Newsom images of the platform, which at first looked to Newsom like a "mobile oil rig." Newsom was not aware of any dredging operation locally, and emergency repair work on the Flagler Beach pier has not yet begun.
"Bottom line is," Newsom said, "you couldn't do anything subsurface without permits."
The sun had already set by the time the platform settled in for the night, its identity to distant to make out. (As with planes' N-numbers, vessels can be identified through identification marks on their hull.)
Bob Pickering of Flagler County Emergency Management said he recalls a similar platform appearing in the 1990s offshore.It looked like a mini oil rig, like a barge up on stilts," he said, but while he was able to identify it as a liftboat, he was not able to determine its purpose.
Atlantic waters are currently under a five-year moratorium on drilling, but that moratorium expires this year.
"It just gets people out here up in a stir," Newsom said Thursday morning, the purpose of the boat still unclear. "One thing I can say is it's not for the pier project." Emergency repair work on the pier began Wednesday.