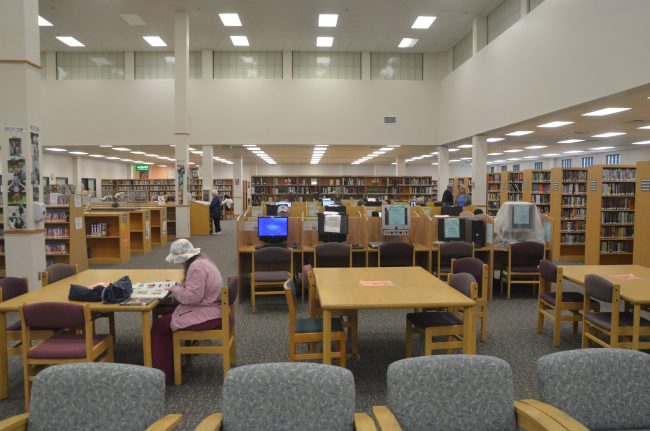 Jim Ulsamer, chairman of the Flagler County Public Library Board of Trustees, likes to get to the point, at times provocatively so, whatever he's advocating for. He's been advocating for the public library for years, and for various reasons—some out of the country's control, some not—he hasn't seen much movement on certain priorities.
"Taxpayers are certainly getting their money's worth for the modest amount that is spent on library services in this county. But on the other hand it also says that our library service can be much improved by making some of the changes that we're taking about doing," Ulsamer told the County Commission this morning in the context of an annual report.
Three of the five commissioners are new, so he briefed them on long-standing discussions—but stalled plans–about expanding the current main branch library, building a new one in Bunnell, and even possibly adding a branch of sorts in the Hammock (Ulsamer's neighborhood).
"We're developing a plan, we need to finish it off and recognize it as an official plan and stop living hand to mouth, the way we've been doing," Ulsamer told commissioners. "Somebody could come to this county and say what's the future library service going to be in Flagler County through the year 2030, let's say. We should be able to spell that out very succinctly to them."
Right now that vision is hazy, as Charlie Ericksen, who's been on the commission just over four years, acknowledged.
"How many people we get to come up here from Volusia and St. Johns?" he asked. "We've got customers that come in from other counties just like they do for our clerk operations here because we do such a good job. I would agree, we've got to come up with a better than a foggy plan as to what's going to go on with a new library and getting those services out there."
But Ericksen was also unwittingly arguing against some of the points that Ulsamer had just made: that Flagler's library system is woefully underfunded compared to St. Johns and Volusia counties. The figures show to what extent.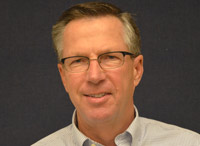 Per-capita funding in Flagler, in state aid, is only $11.52. It's almost double that in St. Johns ($19.18) and Volusia ($18.30), close to Putnam's poverty-level rate of $6.48. Local dollars' per-capital spending isn't much better. The housing collapse added its share of budgetary problems. Budget cuts affected employees and materials. Putnam County has five library facilities, St. Johns has six, with a seventh on its way, Volusia has 14. Flagler has one main branch and another branch that's about 10 percent its size, in Bunnell. The library system has the equivalent of just over 18 full time employees. State standards recommend 60 employees, according to Ulsamer (who concedes the figure leans more toward advocacy than realistic local need.)
The population of Flagler-Palm Coast has more than doubled (to around 105,000) since the main library opened on Palm Coast Parkway in 2000. But the growth hurt the county as its state-aid funding formula's recalculation shaved off 20 percent of its dollars.
One bright spot: Library Director Holly Albanese making the library a place where any citizen may apply for a U.S. passport. "Since its inception, we've generated $504,000 in revenue," Ulsamer said. "Your other option was to go to the Bunnell Post Office, have a post office experience, or you could come to the library, set an appointment even, if need be, apply for your passport, get your passport photo taken, very pleasant experience."
The recovery began in earnest in 2013, the roof was repaired, carpeting and floor coverings were replaced. But the larger plans have been talked about more than even designed. The library hasn't even been able to get the county to address a lingering parking issue at the main branch, or improve the bathrooms.
"We believe now is the time to look to the future. We've been sort of in a maintenance mode, sort of spinning our wheels for the last 10 years," Ulsamer said. "So we have a couple of initiatives that are in the works. One is a branch in the southern part of the county, not far from here. A site has been identified. The design spec has been budgeted. We understand that there's a potential land swap in the offing that could provide some benefits for the county, and hopefully for the library." That new branch library would re[place Bunnell's, and would rise on land nearly adjacent to the current Emergency Operations Center, not far from the Government Services Building.
A mystery donor is willing to give $1 million for the expansion of the main branch library. That offer is still active, but "there's a lot of caveats to those funds," County Administrator Craig Coffey said, recommending another workshop with the commission to explain it all. The library director, Holly Albanese, also applied for a $500,000 construction state grant, with Flagler in good position to get the money, assuming the Legislature appropriates the money.
But if Ulsamer was hoping to hear some clear perspectives, or even questions, from the commission, as he suggested at the outset of his presentation, he was disappointed: commissioners asked only a couple of general questions, and Ulsamer's idea, for the very long term, of a small library branch in the Hammock took on a different sort of life when Commission Chairman Nate McLaughlin seized on it: McLaughlin sees it as a replacement, for now anyway, for any expansion of the main library.
"Rather than expand the current, maybe find something in the Hammock, to do up there?" McLaughlin said. He asked the library trustees to look into it—a location, an idea, maybe even build something on a property the county already owns. "Maybe at this point money spent there rather than expanding the one we have," he said. "That needs to be vetted, I think."
Terry Jones, who heads the Friends of the Library organization, was quick to realign priorities, at least as far as the Friends see them: The main branch's expansion first, the new Bunnell facility second, and only then, an expansion in the Hammock.
The presentations were made ahead of National Library Week, April 9-15 (first celebrated in 1958).

Jim Ulsamer's Annual Report on the Flagler County Library System (2017)