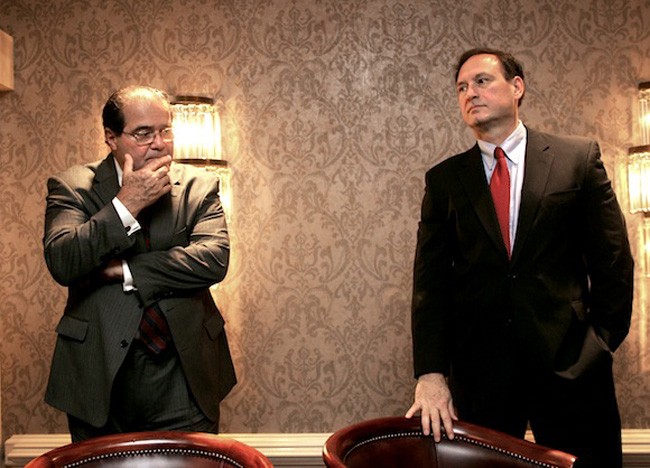 A sharply-divided U.S. Supreme Court on Monday rejected a challenge to the lethal-injection protocol used in Oklahoma and other states, opening the door for executions to resume in Florida.
In the 5-4 majority opinion issued Monday, Justice Samuel Alito wrote that Oklahoma prisoners failed to prove that the use of the drug midazolam, the first of the three-drug lethal cocktail used also used in Florida, "entails a substantial risk of severe pain."
The petitioners also failed to offer an alternative execution method that would be less painful, Alito wrote.
The Florida Supreme Court in February halted the execution of convicted killer Jerry William Correll, saying it "must err on the side of extreme caution," until the high court ruled on the issue. The lethal-injection protocol used in Oklahoma is nearly identical to Florida's.
Attorney General Pam Bondi quickly filed a request with the Florida court on Monday, asking that the justices lift the stay on Correll's execution.
"Today's decision by the U.S. Supreme Court, which cites Florida's brief multiple times, states that the use of midazolam in our lethal injection protocol is constitutional, reaffirming that the state has been correctly administering executions," Bondi said in a statement.
An aide to Gov. Rick Scott, who signed more death warrants in his first four years as governor than any of his predecessors, said his office "respects the court's decision and will continue to follow the law."
Scott's "foremost concern is for the victims of these heinous crimes and their families," his spokesman John Tupps said.
Lawyers for Oklahoma prisoners in the Glossip v. Gross case had argued that midazolam hydrochloride does not effectively sedate inmates during the execution process and subjects them to pain that violates the U.S. Constitution's Eighth Amendment ban on cruel and unusual punishment.
Florida and other states began using the sedative as the first step in a three-drug execution cocktail in 2013, after previously using a drug called pentobarbital sodium. The states switched because Danish-based manufacturer Lundbeck refused to sell pentobarbital sodium directly to corrections agencies for use in executions and ordered its distributors to also stop supplying the drug for lethal-injection purposes.
---
Justice Alito argues that a painful death is anyone's wish, but one rarely granted.
---
"…Because some risk of pain is inherent in any method of execution, we have held that the Constitution does not require the avoidance of all risk of pain. After all, while most humans wish to die a painless death, many do not have that good fortune. Holding that the Eighth Amendment demands the elimination of essentially all risk of pain would effectively outlaw the death penalty altogether," wrote Alito, in an opinion joined by Chief Justice John Roberts and Justices Clarence Thomas, Anthony Kennedy and Antonin Scalia.
But, in a harshly-worded dissent, Justice Sonia Sotomayor argued that it is essential that the first drug effectively render inmates unconscious because the following two drugs "in a tortuous manner" cause "burning, searing pain."
Allowing the use of midazolam, Sotomayor wrote, leaves inmates "exposed to what may well be the chemical equivalent of being burned at the stake." Justices Ruth Bader Ginsburg, Stephen Breyer and Elena Kagan joined Sotomayor's dissent.
In a separate dissent Breyer went even farther, questioning the constitutionality of the death penalty altogether.
"Today's administration of the death penalty involves three fundamental constitutional defects: (1) serious unreliability, (2) arbitrariness in application, and (3) unconscionably long delays that undermine the death penalty's penological purpose," Breyer wrote.
And he blasted the majority for upholding the current lethal-injection protocol in part because prisoners failed to provide a less painful option.
"…Under the Court's new rule, it would not matter whether the State intended to use midazolam, or instead to have petitioners drawn and quartered, slowly tortured to death, or actually burned at the stake: because petitioners failed to prove the availability of sodium thiopental or pentobarbital, the State could execute them using whatever means it designated," Breyer wrote in an opinion joined by Ginsburg.
Despite Bondi's almost immediate attempt to get executions back on track in Florida, one lawyer with a long history of representing Death Row inmates was heartened by Monday's ruling.
"It's merely a failure of proof, not a statement that midazolam is OK. They're saying that the petitioners didn't present enough proof, which I think is an important distinction," said Martin McClain, a lawyer representing at least 10 prisoners condemned to death. "It means that the issue isn't dead. Other people can raise the issue and present additional evidence."
McClain also said that Breyer's dissent, coupled with a recent opinion in a separate death-penalty case, lays the groundwork for a broader challenge regarding the constitutionality of the death penalty.
"I'm going to get busy and figure out what to do," he said.
–Dara Kam, News Service of Florida