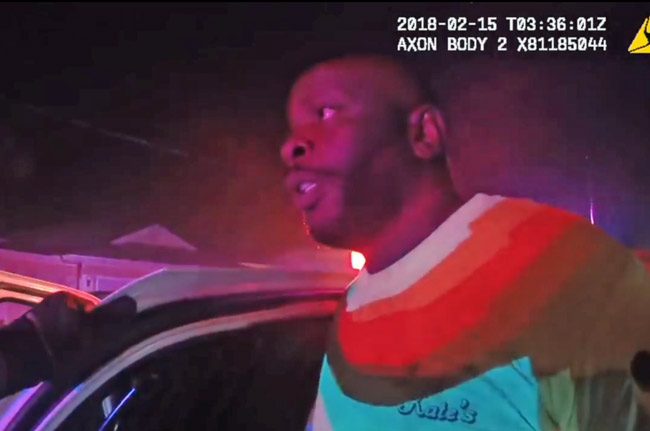 Leslie Pitter, The 42-year-old man who dislocated a Flagler County Sheriff's deputy's shoulder during a scuffle over Pitter's arrest in front of his home on Feb. 14, was sentenced today to 14 months in state prison, followed by three years' probation.
After the sentence, Pitter asked the judge if he was now free to go. It was a reflection of Pitter's limited cognitive skills. His attorney said he tested at an IQ of 58 and had the cognitive abilities of a 7 year old. A physicians had found him competent to stand trial, or court proceedings resulting from his arrest.
Perhaps for that reason, the prosecution did not ask for a harsh sentence, and Circuit Judge Terence Perkins's sentence was much lighter than the 30 years or more it could have been based on the initial charges against Pitter: in February he'd faced a charge of aggravated assault on a law enforcement officer, a first-degree felony that by itself carried a maximum of 30 years in prison. He faced additional charges of resisting arrest with violence, a third-degree felony, and violation of an injunction–twice.
His attorney, Josh Davis, in a plea agreement with the state, reduced the most severe charge to simple battery on a law enforcement officer, downgrading it to a third-degree felony with a maximum penalty of five years in prison. The other two charges remained. But additional charges Pitter accumulated since that incident were dropped.
Pitter had just returned home at the house he shares with his mother on Florida Park Drive Valentine's Day evening when a deputy who'd followed ordered him to get on the ground as Pitter was getting out of his car. The deputy had his Taser at the ready, according to videos of the encounter. He was there to arrest him on the violation of an injunction, filed by a 20-year-old woman Pitter had allegedly been stalking. The day before, he'd left a voice mail for the woman, upset that she hadn't called him on his birthday. He also sent her an aggressive text.
Pitter spoke as if he didn't understand why he was being ordered to the ground and complied only fitfully, if then: when he got on the ground he protested about being made to lie face down on the driveway concrete, then acted as if he was toying with the deputy's orders to put his hands behind his back, placing one arm there, then the other, but not both, even as he was being repeatedly warned that he would be Tased if he did not comply.
Deputy Philip Conway approached him to place handcuffs on him, but a scuffle ensued and Pitter, who weighs 230 pounds, tossed the far smaller Conway over his shoulder, according to his arrest report, injuring the deputy. The scuffle escalated, with Pitter in a rage, cussing and screaming as if he wasn't understanding what was going on until he was tased in the stomach, enabling deputy George Bender, who arrived later, to secure Pitter. An ambulance was requested for both Pitter and Conway.
The next day, Conway wrote on his Facebook page: "So as most people know, I got wrapped up in a situation last night that ended with one scumbag in jail, and with me in the hospital with a dislocated shoulder." Conway thanked his wife, his partner (Bender) and the sheriff for their attention and concern, along with the rest of his squad. "To shed a small amount of light on the situation and video," Conway, who at the time was a rookie just nine months on the force, went on, "This lowlife showed signs of resistance, and due to a secondary deputy not being on scene, I restrained myself from tasering him because that would only give me five seconds before the fight was on, which wouldn't [have] been the best decision being alone. He was not advancing on me or attempting to flee anymore, so verbal commands ensued. Once a secondary deputy was there, he was still not compliant, but was in a position where I felt I would have the advantage, without having to have him ride the lightning. Ultimately ending injured."
Comparing the love and care he received in the aftermath of the incident to Pitter eating "a bologna sandwich for dinner" at the county jail, he then taunted Pitter: "I will not waste my [breath] on you, until the time comes. I pray you take this case to trial, because I will beat you behind the stands, just as I did on the street. You are a coward. I'm not fearful of you. Even with a dislocated shoulder I continue to fight and subdue you."
Pitter posted bail on $40,000 bond a week after his arrest. But six months later, he was again arrested, again on an injunction violation. His bond was revoked, and he's been at the county jail since. He'd been arrested numerous times before, mostly on minor charges (prowling, misdemeanor probation violations), but he also had faced charges of domestic violence and, on three previous occasions, either assaulting or resisting a law enforcement officer, which may explain why Conway approached him at the ready for more resistance.
Davis had contended that his client was not in any capacity to properly understand the commands that night, and underscored Pitter's lacking mental abilities to the court.
The judge had ordered Pitter mentally evaluated in late September. He was found competent on Oct. 10. Pitter signed a plea agreement on Oct. 24, on the understanding that he could have faced up to 11 years in prison: it was an open plea, meaning the judge was free to sentence him to any time in prison (or not) within a certain range.
Since Pitter accumulated about 90 days at the county jail in two separate stints on the charges, that time will be credited to him, so he will end up spending less than a year in prison. Normally when inmates face a sentence of less than 365 days, they serve their time at the county jail. But if the sentence exceeds 365 days, no matter how much time an inmate has banked, he or she must be transferred to the custody of the state prison system.
The case was prosecuted by Assistant State Attorney Mike Stover, who will soon be leaving the office to go into private practice in Daytona Beach.