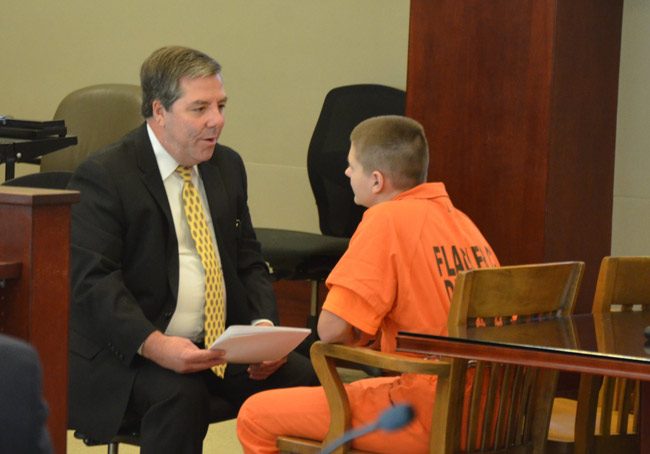 There will be no trial after all in Maria Howell's molestation case: In the latest of several unusual reversals, Circuit Judge Dennis Craig this morning accepted the plea the prosecution and the defense had worked out in December but that Craig had previously rejected.
Howell, a 20-year-old resident of Biddell Place in Palm Coast, was going to be tried on a charge of lewd and lascivious molestation, a second degree felony, and contributing to the delinquency of a child, a first degree misdemeanor. She faced up to 15 years in prison if convicted by a jury. The plea agreement reduces the charges to one count of felony child abuse that eliminates what could have potentially been a lifetime designation as a sex offender for Howell. She is to serve 18 months in state prison, followed by eight and a half years of probation.
She gets credit for the 243 days she's already served, in two stints, at the Flagler County jail, so in effect her sentence will be 304 days long, or 11 months. Prisoners get 15 percent of their sentence taken off for good behavior, so if Howell behaves in prison, she can reduce her sentence by another 82 days, netting a sentence of 222 days, or a little over seven months. But she must serve those months in state prison, not at the county jail.
Howell was arrested a year ago. She'd met a 14-year-old runaway at Epic Theater on June 10, 2016, gone to St. Augustine for the night, and driven down to Port St. Lucie the next day, where police stopped them both and recognized the girl as a missing child. Howell allegedly fondled the girl either in St. Augustine, where the two spent the night in the garage of a house where Howell had met friends, or in Port St. Lucie.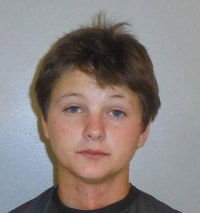 In October Joe LeDonne, the assistant state prosecutor at the time, and Howell's public defender, Bill Bookhammer, agreed to a plea that would have had Howell serve 10 years' probation. Craig rejected the plea outright, saying he wanted prison time. In December defense and prosecution brought another agreement to Craig, this one for 18 months' prison and eight and a half years' probation. Craig again rejected the agreement in another unusual, brief hearing, after asking the alleged victim's mother for her opinion about the deal. The mother said she felt the sentence should be harsher. Craig then directed the two sides to schedule the case for trial. That trial was to begin this morning with jury selection.
Instead, the alleged victim's mother showed up again, and the prosecution, led by Melissa Clark (LeDonne transferred to Volusia County), told Craig that the alleged victim's mother had heard a fuller explanation of what the December plea agreement entailed, and that she was now in agreement with it. The plea agreement is not just the prison time: the probation is quite severe, aligning somewhat closely with the requirements of a sex offender's probation, but without the designation. Howell will have to comply with no-contact orders regarding children, for example, and where she may and may not live.
After hearing the alleged victim's mother say she was satisfied with the agreement, Craig said he'd accept the plea, and sentence was imposed. Howell's father, who had planned to attend the trial, was not in court, having assumed that jury selection would proceed and a trial day would be set for later this week.
The defense at trial would have attempted to argue in Howell's defense that the girl had misrepresented her age to Howell, and that way activity between them had been consensual. The prosecution had filed a motion to have both those details excluded from trial, arguing that they were not relevant since the law makes no distinction whether the acts were consensual or not, and whether there was misrepresentation of one's age. The more curious issue with that motion was its unwitting revelation that while alleged contact between Howell and the alleged victim may have taken place in St. Augustine and Port St. Lucie, none was mentioned as having taken place in Flagler County, which may have made the case more vulnerable for the prosecution. Either way, the motion was not heard since it was rendered moot. The prosecution on the other hand sought to introduce alleged evidence that Howell and the girl had smoked pot, a detail—if the judge were to allow it–clearly intended to prejudice the jury against the defendant, who in this case was not facing a pot possession charge. A third motion was also rendered moot.
Howell on a separate, unrelated case had also faced a charge of battery on a law enforcement officer. She had entered into a pre-trial intervention agreement on that charge, which, if completed, could have led to the charge being dropped. Howell violated the program, thus reopening the case. Today's hearing included her sentencing on that charge—five years' probation, to be served concurrently with the other charges.