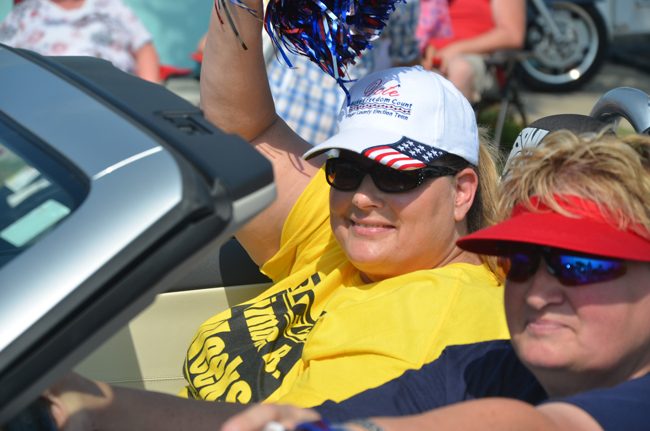 For Kaiti Lenhart, Flagler County's supervisor of elections, the honeymoon—a rather lengthy one that included her elevation by appointment to the top elections post, her crushing election win in August following plaudits for restoring sanity and courtesy at the supervisor's office, and a state-mandated $18,000 raise that kicked in this week—may be over: Lenhart faces her first lawsuit.
The lawsuit is actually an aftershock of her predecessor's compulsively litigious era: it was filed by Darlene Walker, who'd been deputy supervisor under Kimberle Weeks—the former supervisor—and who'd worked alongside Lenhart for several years before Walker took a long medical leave under the federal family leave Act, right about the time when Weeks resigned and Lenhart took over. When Walker returned to work in February 2015, Lenhart fired her.
A supervisor of elections, like any constitutional officer, may hire and fire administrative staff at his or her pleasure, and new constitutional officers generally hire and fire at least part of their staff. Walker's demeanor, somewhat standoffish and curt, meshed with Weeks but clashed with Lenhart, who pushes amiability to extremes, as now does her office. The clash may have led Lenhart to decide to fire her: Lenhart won't say.
"Because this is a pending legal matter, unfortunately I must decline to comment on details you have requested," Lenhart said in an email. "I was appointed during a very challenging time with two county-wide special elections to conduct while rebuilding the Elections Office. Part of that process was building a team of dedicated staff members to best serve the voters of Flagler County."
Walker claims in her lawsuit that she should have been the pick to be the interim supervisor of elections and that she was subsequently fired because of her age–she is 58–and a disability she sustained at work. Lenhart, in a answer to the lawsuit filed in federal District Court's Middle District in Jacksonville, refutes the allegations of discrimination and notes that in any case, Walker could not have been supervisor: she doesn't live in the county.
Much of Walker's complaint harks back to the Weeks tenure and appears to further reveal difficulties staffers had with Weeks, even when they were loyalists. Walker says she suffered two on-the-job injuries. Each time, she claimed, "Weeks refused to report the injuries" as required by law and office policy. Rather, Walker claims, Weeks would "coerce and/or threaten [Walker] and badger [Walker] into working beyond the physical restrictions set forth by her authorized treating physician," such as requiring her to lift objects heavier than 10 pounds. Weeks, Walker claims, would belittle her injuries, tell her that a massage would mend her and verbally attack her.
Along the way Walker in September and October 2014 would repeatedly request Family medical leave Act paperwork from Weeks only to be ignored. (The Family Medical Leave Act provides for up to 12 unpaid weeks from work, ostensibly protecting the employee who takes the time off from losing his or her job upon return, and preserving health benefits for the duration.) Walker claims Weeks spoke of employees' private health issues to a county security guard, in violation of federal privacy rules. But Walker eventually took her leave starting on Nov. 19, 2014, and stretching the full 12 weeks, not including Thanksgiving, Christmas and New Year's.
Weeks resigned in early January 2015. Lenhart, then 33, was the assistant supervisor of elections at the time, a position Walker says was created around that time, even though Walker was the deputy supervisor. But the title is misleading: "Each supervisor may select and appoint, subject to removal by the supervisor, as many deputy supervisors as are necessary," state law reads. "All full-time staff members are appointed with 'deputy' status by the Supervisor of Elections," Lenhart notes.
Lenhart was named interim supervisor, with Weeks recommending to Gov. Rick Scott to appoint her supervisor. He did, and she then easily won election last August. "Not only was [Walker] far more qualified," the lawsuit states, "with superior experience, as well as tenure, than Ms. Lenhart, but Ms. Lenhart is also substantially younger than [Walker]."
Walker met with Lenhart in mid-January to talk about her returning to work. Lenhart, she claims, asked her whether she was returning "to work or retire." Walker said she planned to work. When she did, "she was immediately notified that her employment was terminated without cause."
Weeks had hired Walker in February 2009. As of January 2015, she was earning $54,000 a year.
Walker filed the lawsuit on June 8, according to a middle district time stamp, charging that she was discriminated against as a handicapped person, that she was discriminated against because of her age, that Lenhart interfered with Walker's efforts to take leave under the family leave act (though Lenhart had no rule in that, as it was under Weeks's tenure) and that Lenhart violated the act by firing Walker when she returned. Walker also charges retaliation over a workers' compensation claim.
In her July 18 answer, Lenhart denied all accusations without disputing that she had, in fact, asked Walker whether she intended to return to work or to retire—but not that she'd assured her that she would resume all the duties she had before, as Walker claims. She rejected the charges under the medical leave act,. Calling them meritless. But she claimed that as an employer of fewer than 15 people most of the year (the office's payroll swells with poll workers at election time) charges of age and disability discrimination under Florida's civil rights laws don't apply (an odd defense argument for a government agency that predicates the heart of its service on non-discrimination).
Lenhart's response further alleges that the case should not even be heard by the middle district since the issues Walker raised took place more than a year before she filed her lawsuit and she had "failed to exhaust administrative remedies" before filing the lawsuit. (The filing's timing, so close to the August primary, may have been intended at least in part to coincide with the campaign, though neither of Lenhart's opponents mentioned it.)
Mediation in the case, a requirement of federal court, is scheduled for April 28, 2017. Failing that, the case would continue, with trial in about a year.