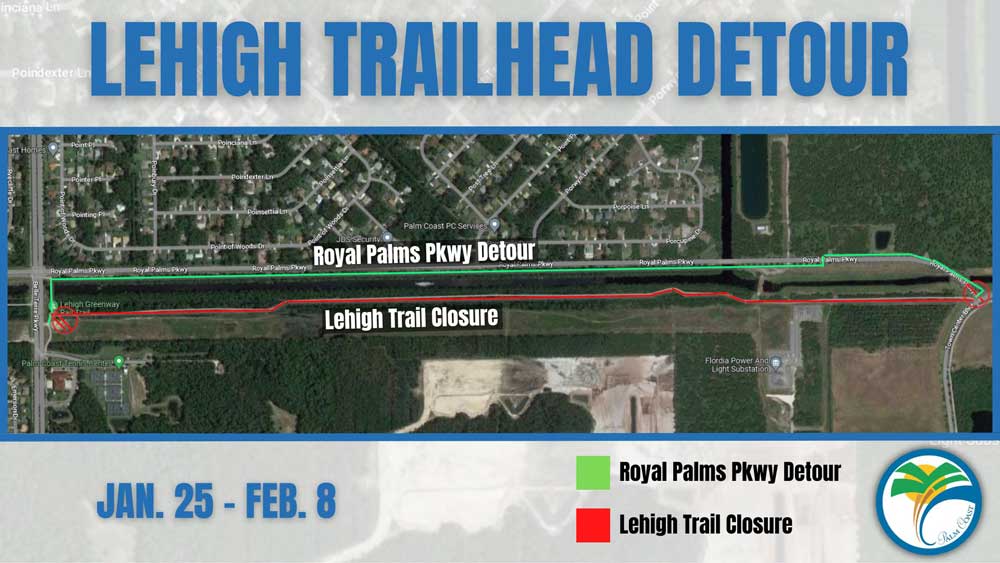 Construction on the Lehigh Trailhead Project off Belle Terre Parkway will require a partial trail closure beginning January 25, 2023. The contractor will begin work on the restroom facility, which will cause closures to the trail from Royal Palms Parkway and Belle Terre Parkway to Royal Palms Parkway and Town Center Boulevard.
With the trail entrance closed, trail users will be routed down the sidewalk on Royal Palms Parkway where they can reconnect with the trail at Town Center Boulevard. The trailhead is expected to be closed from January 25, 2023, through February 8, 2023, at which time the trail entrance will reopen.




Currently, the dirt parking lot at the Lehigh trailhead and the sidewalk that runs along the parking area is closed. Visitors to the area must park across Belle Terre Parkway in the grass lot and use the designated crosswalk at Belle Terre Pkwy and Royal Palms Pkwy. It is important for visitors to use the crosswalk for their own safety, as well as for the safety of others. The closure and parking arrangements are in place to allow for necessary construction and improvements to the trailhead area. Construction is expected to be completed by November 2023.
To discover more about this project, visit the Capital Projects dashboard at palmcoast.gov/engineering.  To view progress on current park enhancement projects, visit palmcoast.gov/parks-and-recreation/projects.