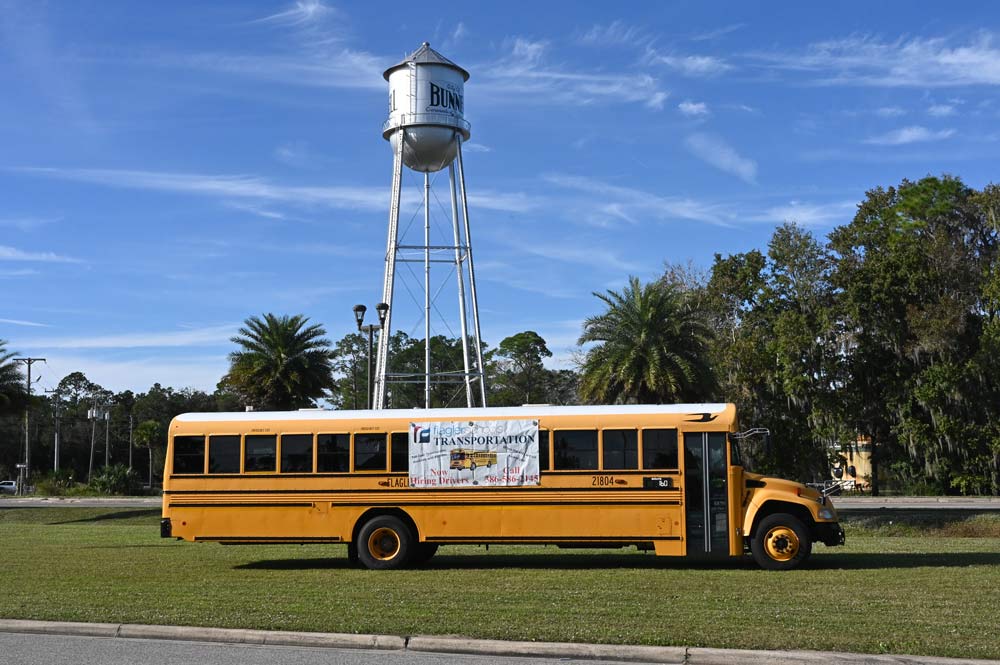 For the first time in its history, the Flagler County School Board is looking at financing the purchase of 16 new school buses in addition to buying a half dozen more outright every year, as it looks to modernize an aging fleet.
The district has cleared the way for its financial adviser to prepare a request for proposal that would seek bankers' offers to finance what would amount to a $2.6 or $2.8 million purchase of 16 buses that would be delivered during the 2024-25 school year. That would replace 16 buses that are today 15 years old.




But it is not yet precisely clear how much the financing will cost.
Lease-purchase options with school buses are new to the Flagler school district, but they've been around for a while. Many school districts have adopted the method in the last few years because of rising costs. A school bus cost $120,000 before the pandemic. It now costs $165,000, according to Transportation Director Dontarrious Rowls, who is proposing the lease-purchase option.
To replace those 15-year-old buses in one swoop, by buying them outright as had been the practice, would cost $2.8 million at current prices. Instead, the district cam replace them all buy spending $2.8 million over five years, or $560,000 a year, not including financing costs, leaving the balance of the annual money for other capital expenses, including buses. Interest on leases of the sort average 4 percent right now, Wormeck said.
So financing is not cheap: In a rough calculation, $2.8 million financed over five years at 4 percent adds up to a total cost of $3.4 million, or $680,000 a year–$120,000 a year in debt financing alone. That's close to the cost of a school bus per year. But those financing figures have not been presented to the board yet. "I know it'd be helpful to see kind of the difference and what the total cost ends up being and whether or not it makes sense to spend it in interest or not,"
School Board member Colleen Conklin said. Howe will be providing them as part of the RFP package, which the board has yet to approve once it's drafted. Board Chair Cheryl Massaro noted that leasing vehicles commands higher insurance costs. That figure, too, is ahead.




Still, it's not as simple as looking at the cost of financing a new bus versus buying it outright. The calculation must include what the annual cost of maintaining an old bus is, how much a less fuel-efficient bus costs, as opposed toa more fuel-efficient bus, how many out-of-service days an older bus generates as opposed to a newer bus, and other similar factors.
The 2008 buses are getting 5 to 5.2 miles per gallon. Newer buses are getting 9.5 to 10 miles per gallon. Maintenance costs would be considerably lower. "Currently over the last three years on our 2008 model buses, we've spent about $207,000 Just in parts and repair maintenance," Rowls says. "On our newest fleet three years back, we've spent about $107,000."
Newer buses are under warranty for up to five years. So with a newer fleet, fuel efficiency would double, repair costs would be cut in half: that financing figure suddenly becomes smaller than it appears. "Some of the debt service that we're going to take on because of this would be offset by the enormous nightmare" of maintenance, in Board member Will Furry's words.
There's another potential advantage to leasing this way: By law, the district is required to use operational, general fund dollars as opposed to capital dollars when it repairs buses. By slashing the maintenance bill, the district is freeing up those operational dollars for other uses. "Over the lifetime of our 2008 model buses we've spent about $1.3 million of operational dollars just to keep them on the road," Rowls said. "That's parts, oil changes, repairs, and when we go to a lease purchase option, we will be up under a five-year warranty." Normal wear and tear, including oil and tire changes, will still use operational dollars.
So instead of using a big sum of money up front to buy buses, as has been the norm, the district will make annual lease payments, for five to eight to 10 years, with predictable annual payments. The board will decide the length of the lease. It's similar to financing a car. "I don't think it's any different. I think it's the terminology," Finance Director Patti Wormeck said. The difference is that there's no "buyout" at the end, or a return of the bus: At the end of the financing period, the district owns the buses.




So don't be thrown by the "lease-purchase" terms: the arrangement is in fact no different than straight financing. "From day one, this is the district's property, you do not have to return this to a vendor at the end of this," Laura Howe, a director with Orlando-based Public Financial Management, the district's financial adviser, said. "So this is just the language that trips up everyone I wish we would change the language because I don't think there would be as much confusion about this."
The district is not locked into following through with the RFP, once it sees the terms. But Rows is hoping that between leases and outright purchases, the district will be on a sure cycle of replacing its entire fleet of 100 buses over the next years. It is standard practice to replace 10 percent of a school bus fleet annually.
The district has 68 "route buses." A route bus–a bus that's on the road every day, morning and afternoon–should have an eight-year life span, he said. After eight years, it is parked in the "spare" category, like the remaining of the district's 100 total buses. The average age of the entire fleet should be no more than 12 years, he said. "We want to look at a replacement cycle so that we don't end up back into position in which we are now," Rowls said.
"If we can get in a good replacement cycle, we will lower the amount of operational dollars that we're spending annually to keep our older model buses on the road," Rowls said. "We will replace those vehicles with a lease purchase option and create a cycle so that 80 percent of our fleet will stay under warranty."
The district currently budgets about $1.2 million for bus purchases each year to keep its fleet current. "If our lease payment purchase was $500,000 a year, we will take that out of the $1.2 that we allocate, and then still spend the $700,000 on more buses that year," Wormeck said. "So instead of buying 10 we will probably only buy five or six. That way we're still keeping it with our current fleet rotation of buying buses." That would avoid having a whole fleet of 20 buses at a time aging out, as happened a few years ago.




Three companies build buses in the state: Thomas, Bluebird and International. It took about 240 days to build a bus before the pandemic. That went up to 18 months during the pandemic, but the numbers are coming down again, as is inflation. Rowls expects it could take a year between the time the financing is approved and the time the buses are delivered.
As for the next financing batch, it may not be in another five years, but in another seven or eight, depending on the "sweet spot to reinitiate a lease purchase."