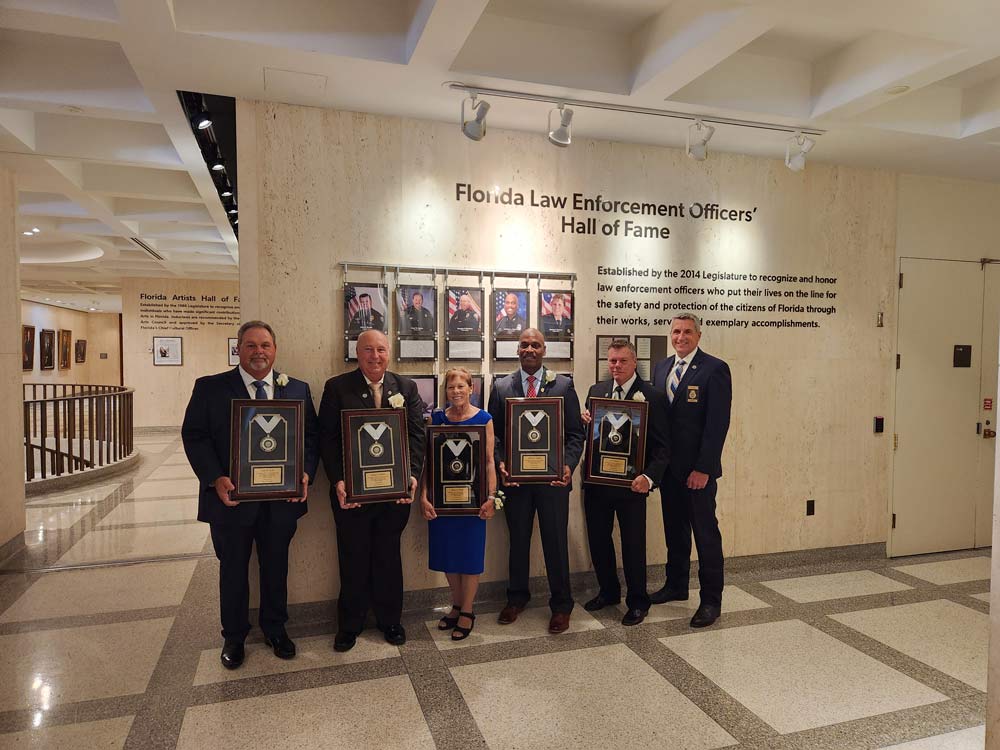 Five former law enforcement officers from throughout Florida were honored this morning at the Florida Law Enforcement Officers' Hall of Fame Induction Ceremony. Florida Department of Law Enforcement (FDLE) Commissioner Mark Glass presided over the ceremony.
The inductees were nominated by the Florida Sheriffs Association, Florida Police Chiefs Association, Police Benevolent Association, Fraternal Order of Police and the State Law Enforcement Chiefs' Association, and then were selected by a committee. The inductees were approved by Governor Ron DeSantis and Florida's Cabinet.
"This is perhaps the highest honor a law enforcement officer in Florida can receive, and each of this year's nominees more than deserve it," FDLE Commissioner Mark Glass said. "Their character, leadership and service to their communities and to law enforcement as a whole represent the best of our profession, and their legacies will prove inspirational for generations to come. It is my privilege to introduce and share the stage with these visionaries and champions of Florida law enforcement."
2023 Inductees
John E. Brooks began his 43-year career in law enforcement in 1975 as a patrol officer for the Miami Police Department.  Over the next 25 years he would progress through the ranks of the department before retiring in 2000 as an assistant chief of police.  Chief Brooks attended the FBI National Academy and served in the Air Force Reserves. Shortly after retiring from the Miami Police Department, Chief Brooks joined the Broward County Sheriff's Office (BSO) as a captain where, in 2001, he became intricately involved in all aspects of combating terrorism and became BSO's liaison to the Federal Bureau of Investigations (FBI) directly after the 9/11 attacks.  In 2005, Chief Brooks was promoted to major and assigned to the new Division of County and Domestic Security, where he commanded three districts and a compliment of over 500 sworn and civilian personnel with a budget totaling $38 million. While in this position, he was the agency's representative to the FBI Joint Terrorism Task Force and was awarded one of the highest clearances with the United States government.  In 2007, after being promoted to the rank of lieutenant colonel for BSO, Chief Brooks was appointed chief of police for Sunrise Police Department, becoming the seventh police chief in Sunrise history.  He remained the chief of Sunrise Police Department until his retirement in January 2018.
Gary W. Hester began his 35-year career in law enforcement in 1979 with the Polk County Sheriff's Office, where he served in detention, patrol, criminal investigations and special investigations. He was one of the first K-9 handlers in the agency and lead pivotal investigations in both narcotics and vice. Chief Hester was a pioneer in the use of analytical proactive policing and problem-solving models.  He was integral in developing and spearheading the agency's Proactive Community Attack on Problems (PROCAP), which led to dramatic decreases in crime from the late 1990s to the present.  Chief Hester was instrumental in the development of the agency's strategic planning processes that are committed to continuous improvement and staff development.  He is a published author in the Journal of Criminal Justice.  His leadership extended well beyond the Polk County Sheriff's Office, as he served as police chief for the cities of Winter Haven and Haines City, and as the deputy county manager for public safety for Polk County.  He also served as president of the Polk County Police Chiefs Association and chaired the Florida Police Chiefs Association Legislative Committee, leading lobbying efforts on behalf of law enforcement statewide.  He was active in his church and civic associations, including Rotary, Polk Vision, Leadership Polk, and in coaching youth sports.
Douglas F. Muldoon started his police career in 1976 with the Palm Bay Police Department. On April 23, 1987, a lone gunman went on a rampage killing 6 people, including 2 police officers, wounded 14 others. Chief Muldoon, a captain at the time, was tasked with setting up a command post and coordinating a response of several hundred police officers responding from the entire state, in what was to be a seven-hour standoff. After this horrific event, he helped to prepare other police departments on how to better handle similar events. Chief Muldoon remained with Palm Bay, and continued his ascension within the department, holding the ranks of major and deputy chief before being named chief of police in April 2011. Chief Muldoon distinguished himself in Florida law enforcement when he was elected president of the FBI National Academy Associates (FBINAA).  He also serves as the chair of the FBINAA Charitable Foundation, co-chair of Survive First and committee chair for the Florida Police Chiefs Association Public Private Security Partnership. He has consistently embraced and excelled in the various leadership roles that he has fulfilled throughout his career. Chief Muldoon is well-respected and actively involved in improving the quality of life for the community at large and the law enforcement professionals he has served.
Anthony L. Peterson was with St. Petersburg Police Department for almost 30 years, where he served in patrol, vice and narcotics, gang intelligence, Special Investigations Unit (SIU) and training. Detective Peterson has demonstrated exceptional bravery throughout his career and has handled extremely dangerous situations while under great duress. He utilizes sound judgement and appropriate techniques to take control of any situation, while upholding the law and mentoring the agency's newest officers. During his service with the SIU, Detective Peterson was shot two times, once in 2008 and again in 2020. Despite these obstacles, he remained with the unit, acting as lead detective on some of SIU's largest and most in-depth investigations. For his actions in the line of duty, has twice been awarded both the Purple Heart and the Medal of Valor. In 2017, he was the recipient of the Ned March/Bud Purdy Award of Excellence and, in 2020 Detective Anthony was named the St. Petersburg Police Department Officer of the Year. On March 2, 2021, he was recognized as the first ever Law Enforcement Officer of the Day on the Florida State House floor by Speaker of the House Chris Sprowls and Attorney General Ashley Moody. Although he retired from law enforcement in 2022, he continues to serve as a background investigator with the St. Petersburg Police Department.
Dorene E. Thomas began her law enforcement career in 1974 at St. Pete Beach Police Department as a police intern and was later hired as a parking enforcement officer.  After moving to the Pinellas Park Police Department as its first female officer in 1980, she was appointed chief in 2000. She retired in 2015, but continues to serve as a reserve officer. Chief Thomas embraced building relationships between the agency's employees and command staff while keeping her community and its citizens first. During her tenure, she was credited with shepherding Pinellas Park Police Department through the years of agency turmoil and turbulent budget woes; leveraging emerging technology that improved officer safety and agency responsiveness to its citizens; and building a new intelligence-led policing initiative. Chief Thomas led the Pinellas Park Police Department with style and a commitment to the law enforcement profession that permeated all levels of the agency and its leadership. She was selected as the 1991 Sailor of the Year while serving in the United States Naval Reserve and retired from the Navy Reserves in 2003 as chief yeoman. She has also served as president of the Tampa Bay Area Police Chiefs Association and the Florida Police Chiefs Association (FPCA), recognized for the FPCA Wall of Honor, and named National Alliance on Mental Illness Officer of the Year, International Crisis Intervention Team Chief of the Year and Police Officer of the Year. She completed her MPA at Golden Gate University and Ph.D. at Northcentral University.