There's something painfully discordant, like a tocsin sound at Christmas or a defiantly black dress at a wedding, in the sight of many teenagers at the side of a grave. Not one or two or three teens gathered there, perhaps reluctantly, because a grandmother or an aged uncle, or even a parent, has died. But dozens upon dozens, among hundreds of others, gathered there more disbelieving than accepting, to mourn one of their own: like them, a teenager. It isn't in the nature of teens to think of themselves, to be, anything but invincible. Even less so for a teen who had planned to emulate his father and become a fireman, though he had not yet had a chance to learn the fireman's prudence. That was Lane Burnsed.
Lane was 19 when he was killed, along with 17-year-old Meredith Smith, one of the passengers riding in his truck on I-95, last Thursday night. Services were held for Meredith Tuesday. Earlier today, in the kind of punishing heat so common in August, Lane was laid to rest at Espanola Cemetery–"wrapped in a restful slumber," as Job would describe it–surrounded by the bulk of some 400 people who had turned up at his funeral service at Bunnell's First Baptist Church in mid-morning.
And Lane's parents: Jamey Burnsed and his wife Iola. Jamey is a captain with Flagler County Fire Rescue, his roots in the community running deep and broad. It is for him that the majority of people who weren't of Lane's generation had come, though it's for the young that they wept most.
"I saw the faces of so many young men, like Lane," Laura Lynn, a friend of the Burnsed family whose son Gabe was close with Lane, said this afternoon. "The camaraderie this young man formed in his few years was astounding to me. I know there were people of all ages, but all my eyes could see were the young. My heart broke for them and at the same time, I was reminded that it is in the living through circumstances such as this that we grow and learn how to live at all.
"His sweet family, sitting in the heat of the summer day, face to face with the reality of his passing, surrounded by countless lives that his death has affected in one way or another. Committing his body to the ground was a short but precious, well-spoken few minutes." The pastor read at graveside what had been sung at the church–William Cowper's "God Moves in a Mysterious Way."
One of the young men at graveside was Corey Miller, a father of two toddlers, and the man with whom Lane had spent a majority of his later months.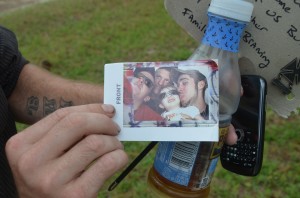 "Pretty much eight months he lived with us," Miller said. "He was at our house day in and day out. I'd pick him up on the way home from work. He was close tom my kids. He bought my daughter"–Rylie, who's not yet 4–"all kinds of stuff for her birthday this year. The bikini he bought her, we had to peel it off of her, she wore it for, like, two days." Miller and his wife Brittany were supposed to be riding with Lane Thursday evening, because it was Brittany's birthday. They had to cancel. They couldn't find a babysitter for their two children. Corey got a text message at 4:49 in the morning, telling him of the wreck. "He was a real good kid, man. A real good kid," Miller said.
"And when my little brother passed in April, they were friends, and he was right where, helping me out through all that. He actually is the one who got him the job in Flagler Beach that he was proud to have."
Like Lane, Anthony Rogers was 19 when, riding a motorcycle with with 17-year-old Lauren Kashtan on Matanzas Woods Parkway, he lost control, and was killed. He had been trying to right his life. Lane had been helping him through. (There's a memorial birthday party for Anthony, who would have been 20, on Saturday, Aug. 4, at 1 p.m., near the Flagler Beach Pier.)
Lane himself had his struggles, as 19 year olds often will, as the words from a letter from Lane to his parents, that the pastor read the congregation at the church, poignantly suggested. "Things like these are hard for me to say in person. Words cannot explain the sorrow I feel sometimes about the things I've done in the past months," he wrote him mom and dad. "But I want you to know that I'm trying. And it's really hard. I know that I need your help with so many things. I pray to God to give me the strength to be open minded and follow your counsel. I love you and my brother and sisters to death. I just want you to know that I want to mend everything between us."
He told his parents that he knew he didn't always show the love he felt for them, but that he would keep trying. "I'm starting to see that I'm truly blessed," he concluded. "With all my love, Lane."
David Wooten, one of the pastors who spoke at the service, cited Isaiah ("do not fear, for I am with you), Daniel, the Lamentations ("This is what I shall tell my heart, and so recover hope…"), but also Job–not the angry, resentful Job who confronts God about all the misfortunes he's being made to suffer and finally curses the day he was born–but the Job of the end of the story: the Job who makes his peace with providence, and who says, "I have been holding forth on matters I cannot understand, on marvels beyond me and my knowledge." The sermon, by Pastor Keith Harwood, was based on John 11 ("I am the resurrection and the life. The one who believes in me will live, even though they die; and whoever lives by believing in me will never die").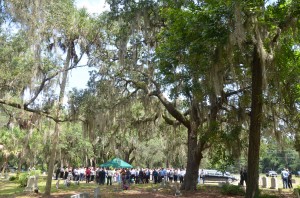 There was no room inside the church. People lined the walls, in places more than a few thick. They lined the stairs going up to the upper level. They spilled out into the lobby, where several ranking officials stood–Sheriff Don Fleming, Under-sheriff David O'Brien, Bunnell Fire Chief Derek Fraser, County Administrator Craig Coffey, Bunnell City Manager Armando Martinez. Others, including large contingents of firemen and paramedics from several jurisdictions, whose trucks lined the road to the church, were inside.
The drive to Espanola is brief. But it took more than 20 minutes for the procession of cars to make it into the cemetery before the graveside service began. The mourners then were invited to Cattleman's Hall at the county fairgrounds, where food from Woody's and other donors had been catered in, and where a slide show of Lane's few years projected on a large screen. The funeral and the reception had all been coordinated by Richard Bennett, one of Jamey Burnsed's lieutenants, who's been with Burnsed since Thursday, rallying help and support–just as Don Petito, the fire chief, had rallied support for one of his men, Mike Pius, in June, when Pius almost lost his life in a wreck in St. Augustine. Pius was there today, in a wheelchair, but his trademark smile and good humor unscathed and brightening up his surroundings.
One of the mementos Miller had brought to graveside was an arrow holding up a few final words to his friend Lane, and shooting through a Brantley Gilbert CD. One song in particular had resonated between the friends: "Bending the Rules and Breaking the Law," and the refrain:
Yeah I was proud to be in the bad news crowd,
The one my mama warned me about,
The closest thing to hell she's ever raised.
But when I look back on those days,
I know I'd never change a thing.
I made mistakes that paved the way for the man I am today,
We're proud of 'em ALL y'all,
And I had a ball,
Bending the rules and breaking the law.

Variations on the story of Lazarus come in all ways.