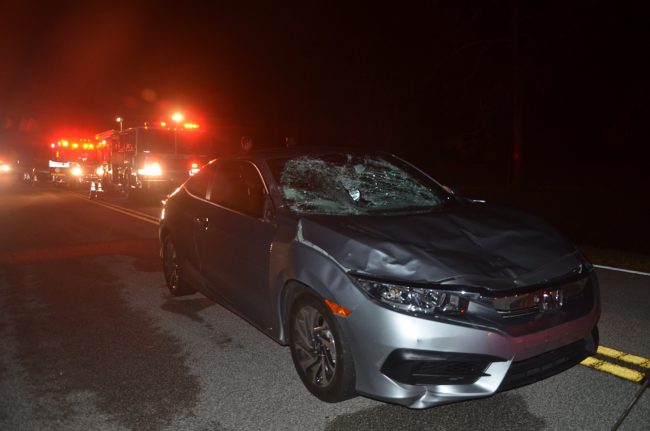 Services Note: Visitations are scheduled for Friday, March 10, from 5 to 9:30 p.m., at Palm Coast United Methodist Church, 5200 Belle Terre Parkway. The memorial service is scheduled at the church that Saturday, March 11, at 10 a.m. Both events are open to all.

A woman driving a Honda Civic on Lakeview Boulevard this evening (March 2), just past Laramie Drive in northern Palm Coast, struck and killed a pedestrian and critically injured another at 9 p.m. Belle Terre Parkway becomes Lakeview north of Matanzas Woods Parkway.
Michelle Taylor, 16, a student at Matanzas High School, was killed. Elizabeth Ann Sherman, 21, who lives with Taylor's family, was in critical condition when she was flown from the scene by Trauma One, the emergency helicopter, to Shands hospital in Jacksonville. Her condition was later listed as serious.
Yajaira Rojas Torres, 37, of Daytona Beach, was driving the Civic, traveling north on Lakeview, when she struck the pedestrians. Taylor and Sherman were walking on the east side of the road on a nearly-pitch black stretch of Lakeview, under overcast skies and along a stretch of uninhabited road, with trees on both sides. A Florida Highway Patrol report states they were wearing dark clothing. There is no sidewalk on that road, and the shoulder almost immediately slopes into the ditch.
Torres, who remained at the scene, told a Florida Highway Patrol investigator that she heard a bump and stopped; the air bag deployed in the car. The collision was severe enough that it broke but did not shatter the front windshield, which was gashed near the center of the glass.
Taylor was thrown into a seven or eight-foot deep ditch.
Northbound traffic was diverted at Lakeview and Laramie and the investigation was expected to stretch into the night. The Medical Examiner was to removing the victim's body to St. Augustine. That was taking place after 11 p.m.
The Flagler County Sheriff's Office, Flagler County Fire Rescue, the Palm Coast Fire Department and the Palm Coast Fire Police were at the scene.
Late Thursday night, Flagler County school district officials were already preparing the response come Friday morning at Matanzas High School. A district spokesman said there would be counselors on hand as part of the response.