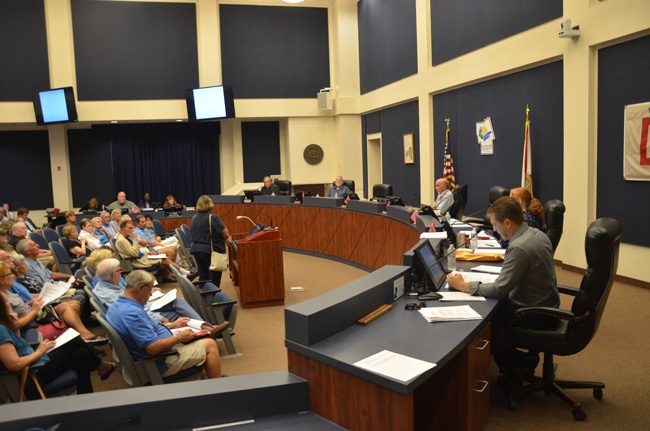 A public hearing on a proposed housing development on either side of the Lakeside By the Sea development on State Road A1A, originally scheduled for Monday evening before the Flagler County Commission, has been postponed to Dec. 18.
A Jacksonville developer is proposing to build developments called Los Lagos (The Lakes) and Las Casitas (The Little Houses), one consisting of 88 single-family homes the other of 97 homes on a combined 48 acres. The Flagler County Planning Board unanimously approved a series of land-use applications related to the two developments at a contentious meeting in October–contentious, because the near-totality of residents in Lakeside oppose the development for fear that it would lead to flooding in their neighborhoods, among other concerns.
The planning board's decision is only advisory. The County Commission was to take up the matter Monday. But three attorneys representing various sides of the issue have asked the county administration to postpone the hearing. County Attorney Al Hadeed recommended to commissioners that they agree.
"I believe that for fairness, not just to the three parties, but for any potential participant, we need to give the widest notice of this postponement action," Hadeed wrote in a memo to commissioners Friday. "We cannot wait until Monday evening because that delay may cause hardships and new issues that would be avoidable now with an announcement rather than waiting until the start of Monday's meeting."
Hadeed recognized that his determination is "extraordinary," but it would be "the height of unfairness to compel" the three sides to present their cases "when they are unanimous in their view that they do not wish to do so at this time, and there are no reasonable grounds for the County to take any other action," he wrote. The county administration issued a notice of the postponement, including a press release, Friday.
The full memo is below.

County Attorney Al Hadeed Memo on Postponement (2017)
Click to access Final-Determination-re-Postponement-for-Los-Lagos-Las-Casitas-11-17-17.pdf