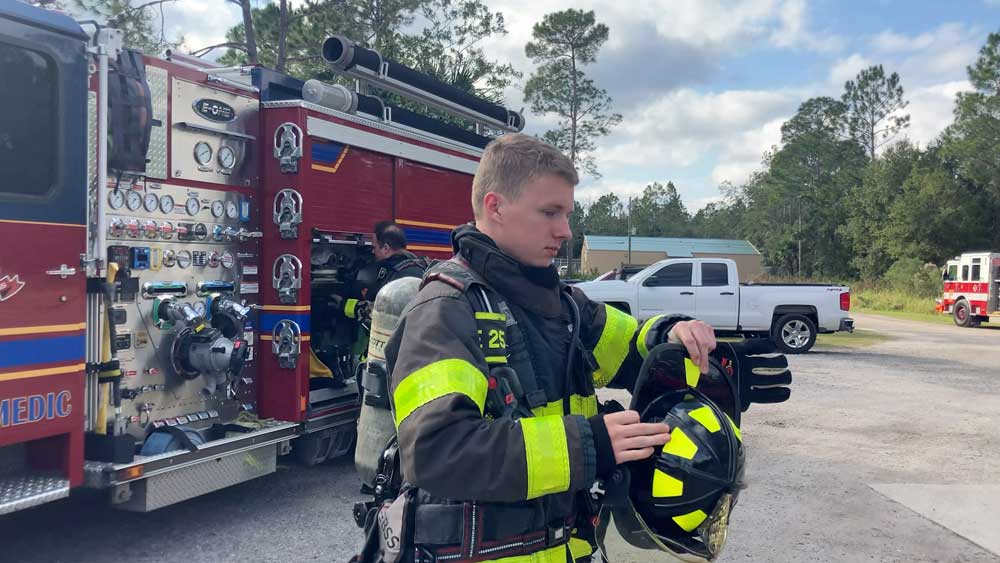 At first glance, the journey to joining the Palm Coast Fire Department may have seemed like a breeze for Kyle Gardner, one of the department's newest career Firefighters.
By joining the Flagler Palm Coast High School (FPCHS) Fire Academy Leadership program as a freshman in 2017, he was able to get a jumpstart on his fire school studies during the week while spending his weekends at Palm Coast Fire Stations 21 and 24, riding along on calls and learning the ropes. Gardner found his passion and future career at a time in his life when many would likely still be figuring out where their career goals lie.
"From my first day in the Fire Leadership program, I was hooked," Gardner said. "I knew that a career in the fire service was my calling and I wanted to learn as much as I could to make that a reality."
Gardner's course, while paved with great intentions, saw a major challenge during his junior year of high school, when an unfortunate set of home life circumstances made him unexpectedly transfer to Volusia County schools. His fire future was jeopardized by being unable to continue in the Fire Leadership Academy due to the school change. Gardner returned to Flagler Palm Coast High School just months later, only to find his spot in the program was filled. Rather than being deterred, Gardner was inspired to do what he could at the time to work his way back into the career he had begun. He again reached out to the Palm Coast Fire Department.




"It crushed me not being able to go back to the Fire Academy, so I took initiative to reach out to the Palm Coast Fire Department, filled out an application and I called every weekend asking if I would be able to ride along on calls," says Gardner. "The Palm Coast Fire Department was really the backbone for me not just professionally but personally as well, especially during the difficult times I went through by supporting me, giving advice, and really being there when I needed someone to talk to."
Hard work and perseverance paid off for Gardner, who saw good fortune in the form of a meeting with retired Ormond Beach Fire Captain Gil Aspinwall, who had stepped in to become the new leader of the FPCHS Fire Academy just before the start of his senior year. Gardner told Aspinall his story and expressed his hopes of rejoining the program. After a brief detour that only further instilled his ambition for a career in fire service, Gardner was welcomed back to the Fire Academy on the first day of class. Following his high school graduation, Gardner became a volunteer intern with the Palm Coast Fire Department while he completed his necessary fire school coursework in 2020 and was welcomed to the department as a career firefighter in February of 2021.
Dave Faust, a Battalion Chief with the Palm Coast Fire Department who oversaw Gardner's Fire Service journey, expressed that his determination to achieve his goal of becoming a career firefighter was evident from the beginning. "In the Fire Service, you are always learning, and Kyle is one of those people who is always motivated, always trying to learn more, and always trying to get to that next level," Faust said. "In doing so, he succeeds in making himself better, which ultimately makes our department better."




As he closes in on the end of his probationary year, Gardner has continued to maintain his focus on learning all that he can and getting better each day. His journey has come full circle in some ways as he now finds himself in the role of mentor, assisting with training the next line of firefighters in the PCFD Junior Firefighter program. For him, it is that semblance of family that comes with being part of the fire service that has inspired him to do for others, what those before him have done, and continue to do, for him.
"I don't know of any other career like this, where you are spending such a significant amount of time with others, in critical situations and it really instills that sense of always looking out for each other," Gardner says. "A lot of the people in this department were there for me when I didn't know who else to look to and I really look forward to being able to be that role model, that mentor for others."
For more information about internship, volunteer, and career opportunities with the Palm Coast Fire Department, visit palmcoastgov.com/employment/openings
Learn more about Kyle's story in the following video
Reader Interactions