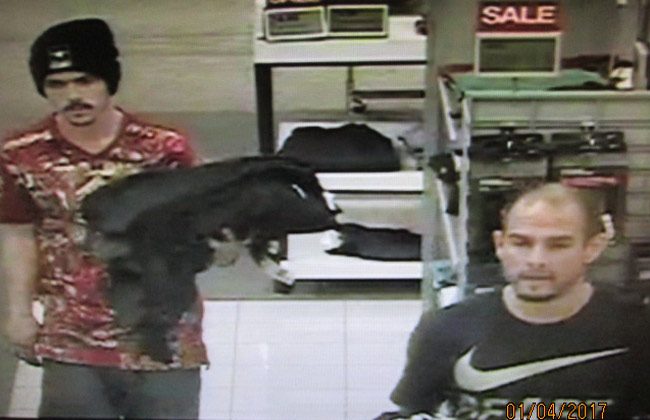 Kohl's department store off Belle Terre Parkway in Palm Coast was twice the target of coordinated shoplifting sprees Tuesday and Wednesday, each time by suspects swiping either electronics or clothes. Three of the four suspects involved in Tuesday's spree were arrested. Two suspects involved in Wednesday's incident got away, and are sought by the sheriff's office.
Wednesday's incident took place after 8 p.m. David Hucks, who's in charge of preventing shoplifting, told deputies that at 8:15 p.m., two white men entered Kohl's and began taking merchandise off the display shelves in the clothing and shoe departments. The men then left the store without paying, got into an older model gray Ford Explorer, and sped off.
Hucks reported a tag number, 00179G, which was assigned to a red Toyota pick-up that did not match the vehicle the suspects used. The suspect vehicle appears to be in poor shape with multiple dents on the passenger side, according to the sheriff's incident report.
The alleged shoplifters took 25 pairs of Levi jeans valued at $69.50 each, two pairs of Nike Men's sneakers ($89.99 each), and 10 pairs of generic men's sneakers ($19.99 each), for a total lost value of $1,943.61.
"Upon viewing the surveillance video a third unidentifiable person can be seen in the back seat of the suspect vehicle, possibly as a lookout," the incident report states.
The previous evening at Kohl's, would-be shoplifters were not able to evade police.
Hucks had called 911 to alert cops that two men "were staging high dollar merchandise at an emergency exit," as one of them "concealed several items into a
duffel bag and another male was placing several high dollar items into a shopping cart near the emergency exit." Hucks kept an eye on the men as deputies were dispatched to the scene.
A corporal who arrived at the scene saw a black F-150 blacked out behind Kohl's near the emergency exit. As soon as he pulled up behind the pick-up, the Ford took off. The corporal carried out a traffic stop in the parking lot. Chadwick Bohan, 40, of Port Orange, said he was "waiting behind Kohl's because several juveniles stole a bicycle out of his truck and he was waiting for them to come back through the parking lot," according to the incident report. He said he had been in the store with two other individuals but could not provide their names.
After being read his Miranda rights, he told cops that Post Miranda warning Bohan stated that he drove three other individuals to the store with him, that "they planned to take merchandise from the store," and that one of them, Stephen Davis, told him to park behind the store, where the rest of them would meet him. While Davis was inside, Bohan said, he was using his cell phone to communicate with Bohan, who admitted that no bicycle had been stolen from the truck, the report states.
Bohan was driving on a suspended license and had a warrant out on him from Volusia County. He was arrested and charged with grand theft, two drug charges, felony probation violation, driving on a suspended license, and on the out-of-county warrant. He was still at the jail Thursday evening, on no bond because of the probation-violation charge.
Soon Davis, 45, Angela Valery, 35, and Charles Sherwood, 40, all of Port Orange, were detained as they attempted to leave Kohl's on foot. Davis provided a false name, Philip Todd Davis, according to the report.
Hucks told deputies he'd seen Davis and Sherwood taking many pairs of shoes with no regard for the price, with Davis placing the shoes in a shopping cart as Sherwood selected a black Nike duffel bag to carry merchandise in. They then headed for the electronics department, taking an iRobot and meeting Valery by an emergency door. By then they'd gathered merchandise valued at $1,821.52, according to Hucks.
When one of them got a phone call, they dispersed.
Sherwood, Davis, and Valery were arrested for Conspiracy Grand Theft. Valery was also charged with probation violation.
The images below are the men and the vehicle sought in the Wednesday incident: