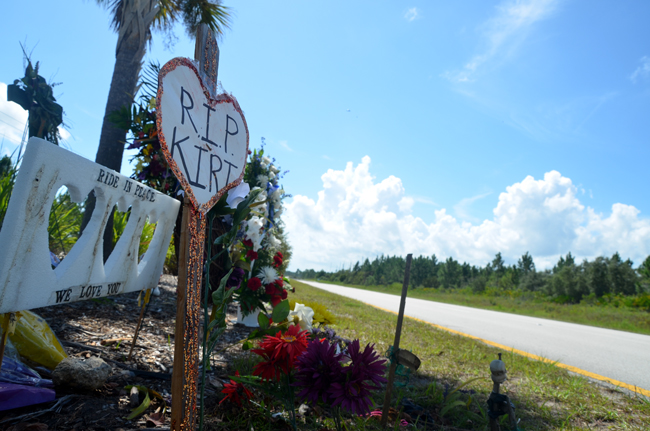 The memorial service for Kirt Smith took place Saturday (Sept. 17) in Ormond Beach. Flower arrangements and other gestures of grief and kindness–bears, Elmo, crosses, tiny messages–have been moved from the memorial site to the site where Kirt was struck by a pick-up truck the night of Aug. 26, on Seminole Woods Blvd., a mile south of State Road 100, and where a roadside memorial has been growing in the shade of palms since.
"All the neighbors, everybody comes up here, all the moms," Tracy Marino said around noon today as she was dropping off a wicker angel. Her daughter was a friend of Kirt's. The families along Seminole Woods have been keeping up the roadside memorial, and intend to keep doing so, perhaps awaiting what might become a more enduring memorial in Kirt's memory: lights and sidewalks along Seminole Woods.
"It's important for people who really care to sign that petition," Marino said of the Light Up Palm Coast petition started by petition started by Dede Siebenaler in the wake of the crash.
Kirt was riding his bike with a friend, going south on the dark road well past sunset, when he was hit. The driver of the pick-up driver hadn't seen him. Kirt spent three days in intensive care. He died on Aug. 29.
Kirt would have been 16 tomorrow. He was born on Sept. 22, 1995.
"It would have been his sweet 16th," Marino said. The bike had been an early 16th-birthday present. He couldn't wait to ride it, of course. One of the signs at the site says it all: "Ride in peace." Kirt's other favorites: gummy bears, Elmo and waffles. He was a student at Flagler Palm Coast High School, the son of Sherrie Taylor Ehrman and Brent Smith.