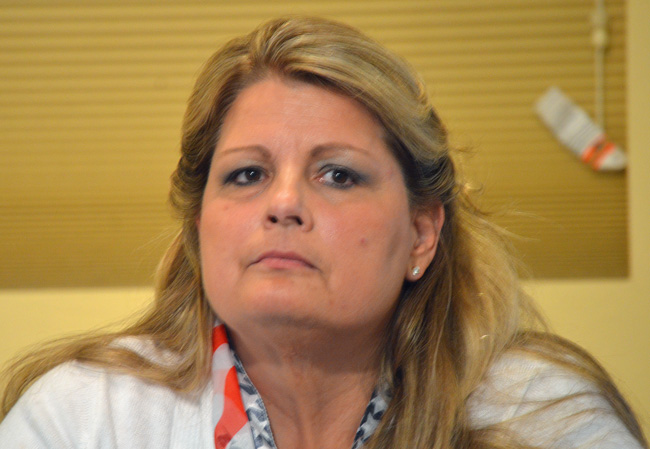 George Hanns, the usually laid back chairman of the Flagler County Commission and a member of the county's canvassing board, unleashed an unusually blunt and broad critique of Supervisor of Elections Kimberle Weeks Monday at the end of a county commission meeting.
Hanns raised questions about the integrity of the last election. He suggested that the supervisor orchestrated the unusually large and partisan audience at the last canvassing board meeting. He questioned her authority to appoint an attorney that she portrayed as representing the board, rather than herself. And he went as far as questioning whether it was time to involve the state Division of Elections "about some of the things that are transpiring."
His fellow-commissioners, who have been fearful of taking on Weeks in the past, remained silent.
It was Hanns's first publically critical statements about the supervisor since he's sat in on most of a series of canvassing board meetings before and after the primary, the last and in his view most unusual meeting on Sept. 12, where Weeks rejected a negotiated plan by County Attorney Al Hadeed to smooth out issues between the supervisor and Palm Coast government over the use of the Palm Coast Community Center. Weeks also rejected further intercessions by Hadeed on the matter. Instead, Weeks said she and her own attorney, Roberta Walton, of Orlando, would negotiate directly with Palm Coast.
Weeks during that meeting repeatedly addressed an audience of about 25 supporters—poll workers, poll volunteers a former and a current candidate for office—who in turn repeatedly heckled and at times insulted Hanns and Hadeed while calling them rude or inattentive to the public interest. Hanns raised his voice only once, to tell a member of the audience not to point his finger at him, but clearly stewed during and after the meeting. His statement at the end of the commission meeting was deliberate and appeared to be the thought-out response he was not able to give at the canvassing board. He termed it a "report to the board."
"Our last canvassing board meeting was quite interesting," he began. "I've served on the canvassing board before, several times. Over the years it's always went smoothly. For some reason, this here election season has been quite frankly full of surprises and heartache, and one thing after another, and to be honest, as your chairman and member of the canvassing board, I'm very concerned about it because I believe some of the integrity of the election is in question."
Hanns did not specify which part of the election he was having doubts about, though several county and city officials have privately spoken about their worries about tampering with election ballots within Weeks's office, or with election machines. Hanns serves on the canvassing board by law, as the representative of the commission and a member not involved in an election this year. His alternate is Commissioner Charlie Ericksen.
County Judge Melissa Moore-Stens chairs the canvassing board, and would normally be at the head of the table, by protocol. Weeks, instead, who is also a member of the board, has sat at the head of the table and herself conducted the meetings as if the board chairman. Friday she had an additional surprise: she sat her own attorney, Walton, at the other end of the table, identifying her with a yellow cardboard name plate as the "Canvassing Board Attorney."
"Our county attorney has been the canvassing board attorney for as long as I can remember, 23 years, and even longer, up to 25 years or more," Hanns said, "and when we went to the meeting the other night there was a lady sitting at the end of the table and her name tag said 'Canvassing Board Attorney.' Well, I automatically assumed it was someone from the State of Florida canvassing board, board of elections, that would be sitting in to see how we handled our meeting, I guess. But the room was filled with an unusual amount of people, it was made up of a number of people who were prior candidates, a number of people from the–some political group, and there was a selected number of people who were poll workers and poll watchers, if you will." Hanns almost, but did not, name the political group by name: they were members of the Ronald Reagan Republican Assemblies, a local pressure group, as well as members of the local tea party. The two organizations have a significantly shared membership.
"And quite frankly, after the meeting was in progress for some time, we realized that this attorney was someone that was hired by Ms. Weeks, our supervisor of elections, and this person was not approved by the canvassing board, myself and Judge Melissa Moore-Stens," Hanns said. "None of us realized, including Mr. Hadeed, who was there, that that's what this person was doing there. Ms. Weeks said she did not want Mr. Hadeed representing her in discussions with the City of Palm Coast because she felt like, for whatever reason, he wouldn't be fair with her. So we just let it go at that. But what's troubling me is, I don't believe that Ms. Weeks has the authority to replace Mr. Hadeed on the canvassing board."
She does not. But, as Hadeed told the commission, she has the right to hire her own attorney, just as other constitutional officers may and do when necessary hire their own, though they also use the county attorney's services. Historically, however, the canvassing board has always used the county attorney as its legal counsel, as election-law attorneys are rare. "So we have used, or the county has used the county attorney's office for that reason, the experience," Hadeed said. "But also I assume, I don't know that this is what you're actively speaking of, but there's no additional bill, there's no legal cost that's generated because everybody that works in the county attorney's office is on a salary."
"So this attorney she hired is for her personal use but it's also an additional burden on the taxpayers," Hanns said.
"I assume, I obviously I do not know the nature of the relationship. I do not have the details. I only learned about it when I walked into the room, and even then, I really wasn't quite sure what the situation was."
FlaglerLive submitted a set of questions by email to Weeks at 10 this morning, asking her how much Walton was charging to be her attorney, what she's cost so far and why her name plate referred to her as the canvassing board attorney. Weeks, who usually answers, did not do so, though she has been cagey in the past about financial matters. Three years ago the commission, which approves her budget, repeatedly asked her for payroll documentation to verify bonuses Weeks had awarded employees. Weeks did not produce the documentation.
Walton on Friday told Hadeed that she was not representing the board, but was there as Weeks's counsel.
"So she is permitted to do that," Hadeed said. "But it would be at the expense of the supervisor's budget if she were to continue to employ that person. But I don't know—I mean I doubt that the individual is pro bono, because she's coming from Orlando, so I'm sure there's some financial arrangement there. But I don't know the specifics of it."
"I'm confused," Hanns said. "Does the canvassing board itself have to approve an attorney?"
"Yes," Commissioner Frank Meeker said, the only word that would be spoken by any commissioner other than Hanns during the discussion. Meeker is running for re-election. Nate McLaughlin is, too, but by then he'd left the commission meeting to attend the arts in schools celebration at the Flagler Auditorium, along side two school board members.
Hanns told Meeker that he wanted to hear the answer from the attorney. "I know the answer," Hanns said.
"The canvassing board is a statutory body," Hadeed said. "It's a three-member board, and if the canvassing board did not want a particular person as a lawyer, somebody in the county attorney's office, they certainly are free to make that decision. It would be essentially the canvassing board's judgment about who should be the canvassing board attorney."
"The judge and I were not aware she was there for that purpose," Hanns said.
"That appeared to be true," Hadeed said. "Obviously I don't know what may have been spoken or communicated, but I did not know about it."
---
Listen to the Full Discussion[media id=370 width=250 height=100]
Nothing could have been spoken or communicated about it, at least not legally, between the members regarding the attorney—or any other matter involving the canvassing board–outside of the canvassing board meetings, which are controlled by Florida's sunshine law.
The next meeting of the canvassing board is scheduled for October 17. Hadeed will be there. "I imagine this might get discussed in some way," Hadeed said. "The thing that would concern me really is the duplicative nature."
Hanns said it was his intention to make a formal motion to re-affirm Hadeed as the canvassing board's attorney.
"But the supervisor of elections could still have her own attorney," Ericksen said.
"She could have five if the taxpayers could bear the burden," Craig Coffey, the county administrator, said dryly.
"There's quite a bit more that happened at that meeting but I don't believe we need to get into that, do we Mr. Hadeed?"
"No, we don't have to."
"I'm sure it'll come out eventually," Hanns said. "There's no need to concern the Department of Elections with the State of Florida about some of the things that are transpiring?"
There was a silence, broken by a knowing laugh from Hadeed, before Hanns ended the discussion and, moments later, the meeting.