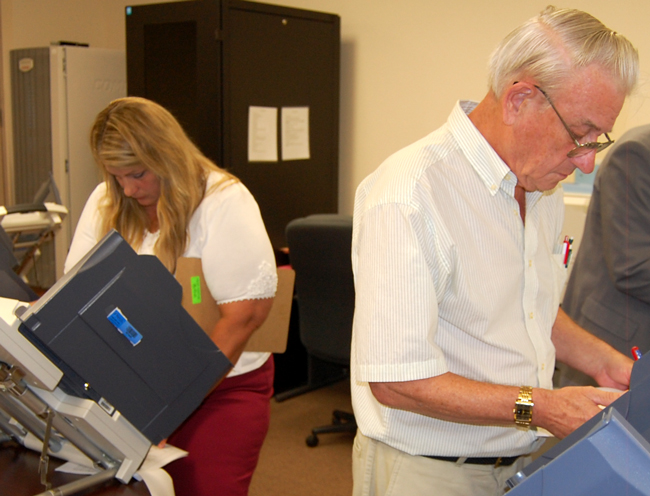 The Flagler County Commission got busy Monday morning looking into the details of its own and constitutional officers' budgets for the coming year—the property appraiser, the sheriff, the supervisor of elections. Proposed budgets are flat or declining, with one exception: the supervisor of elections is asking for a 6.5 percent increase.
That triggered the morning's only most contentious exchanges, though that's become somewhat of a norm whenever the supervisor and the commission face each other: the relationship is as contorted as the numbers the two sides usually dispute.
The sheriff's budget is declining $279,000, to $22.3 million. The property appraiser's budget is declining almost 9 percent, to $1.8 million. The supervisor of elections' budget is rising 6.6 percent, driven by a 31 percent increase in the cost of running two elections this year—from $184,000 to $241,000. The numbers left commissioners (who cut Weeks' budget almost 5 percent last year) puzzled.
Supervisor of Elections Kimberle Weeks told commissioners that the cost of running two elections can't be avoided. There will be a "presidential preference primary" on Jan. 29 (the date could change). There will also be a primary in August. The cost increase does not reflect the 2012 general election, which falls just beyond the next budget year.
The supervisor and commissioners argued over two points: first, commissioners wondered why the supervisor wasn't reducing the number of polling places in light of the significant increase in early voters. Second, Weeks had returned almost $68,000 to county coffers at the end of the last fiscal year, which suggests there are parts of her operation that were not as costly as budgeted. Commissioners wanted to know which were those parts. Weeks couldn't explain it.
Palm Coast has reduced its own polling places from 21 to six for its coming elections, to save money. "What are the possibilities of reducing the number of polling places?" Peterson asked Weeks regarding county-wide elections. "I know you just eliminated precinct 9, which happens to be mine, and combined it with precinct 22."
Peggy Border, the previous supervisor, had expanded the number of polling places to 35, to reduce waiting lines and make it more convenient for voters. The precincts were based on roughly 2,000 voters each. But that was before the advent of early voting's popularity. Now, upward of 40 percent of voters cast a ballot during the two-week early voting period. The county has run three early voting locations.
"Just because they voted early last time doesn't necessarily mean they'll vote early again," Weeks countered—an argument Peterson did not buy. He said the trend is toward more early voting, not less. Weeks said that with redistricting next year, some precincts could be combined. But commissioners didn't see the connection: why not combine them now, they asked.
Combing precincts is "a very easy way to save some money," Peterson said. "Yes it's an inconvenience if they have to wait longer in line, but it's not an inconvenience that's going to occur week in, week out, day in and day out, and I think efforts should be made to make adjustments, whatever adjustments need to be done, so this budget does not increase."
Weeks said that by statute, voters in federal elections have to vote according to their precincts. They can't be combined, the way Palm Coast combined its precincts. Then why not redraw the precincts officially, Peterson asked? Weeks reminded commissioners that she could be faced with a $35,000 tab just to send all voters new voter registration cards after redistricting. "We could be faced with that. I don't know," Weeks said.
"I don't think it's appropriate for us to be dealing with what-ifs," Holland said. "I think if there's a justifiable expenditure that comes up due to unforeseen circumstances, you would then present that to the board." But the $35,000 cost, Weeks said, was not included in the budget, but referred to, without an actual dollar figure, as "possible redistricting and bilingual ballot expenses" in a footnote in budget documents.
Barbara Revels wondered why the supervisor's budget looked incomplete, since it did not include numbers for the upcoming Palm Coast election. But that's not a matter of incompleteness, Weeks said: the Palm Coast election doesn't concern the county. Palm Coast pays the supervisor to run the election, separate from county accounts.
"And no bonuses were given?" Revels asked later.
"No," Weeks said.
"I'm glad to hear that because I've had a number of phone call from former employees and people they're associated with that there was a bonus given sometime around the primary election last year in the amount of—the vicinity of $2,500 and you just flatly say that that's not so. I was told that it would show as payroll, but not necessarily under a bonus situation, but it was shown as an increase in payroll. If we go back in payroll we're not going to see any bump anywhere during the year last year?"
"No. My salaries remain the same."
This was the first public, consequential encounter between McLaughlin and Weeks following the ethics commission complaint against McLaughlin stemming from incomplete election-year financial disclosures. (McLaughlin blamed the supervisor for misplacing paperwork in contention. Weeks said no such thing happened. McLaughlin was planning to settle the complaint by paying a fine.) Other commissioners' disputes with Weeks have been within the purview of their elected positions, and focused on budget matters.
"The millions of dollars we have to find this year to toe the line on expenses, it's really hard to start off the bat with an increase in a particular budget," Revels said.
"You can rest assured that we do it as economical as we can. We're more than happy to return money. We strive to do that."
"Yeah," Revels said, "but I think the point that Alan made earlier, and Commissioner Holland and commissioner Peterson, that we don't need to add to the tax burden of the individual homeowners for it to cover all of the contingencies you think you might have. I think that we need to keep a tight budget and I think it's just very obvious, the amount of money that we overfunded last year's budget would easily cover the increase you're asking for today."
The issue was not resolved: Holland made a formal request for details of the $68,000 savings in order to better analyze what savings may be achieved.
The sheriff and the property appraisers' savings are derived partly from the 3 percent reduction in retirement pay either has to provide on behalf of his employees. The state passed a law that now requires public employees to contribute 3 percent of their pay to their retirement, which equates to a 3 percent pay cut (since their retirement benefits won't be affected: they won't get more retirement pay by contributing more now).
When he spoke to commissioners, Property Appraiser Jay Garder mentioned the challenges piling up into a fourth year of valuation losses—now totaling 57 percent in those four years, or a $6.5 billion in taxable values, from $12.3 billion. Gardner said the drop next year will likely be in single digits, following this year's 14 percent decline.