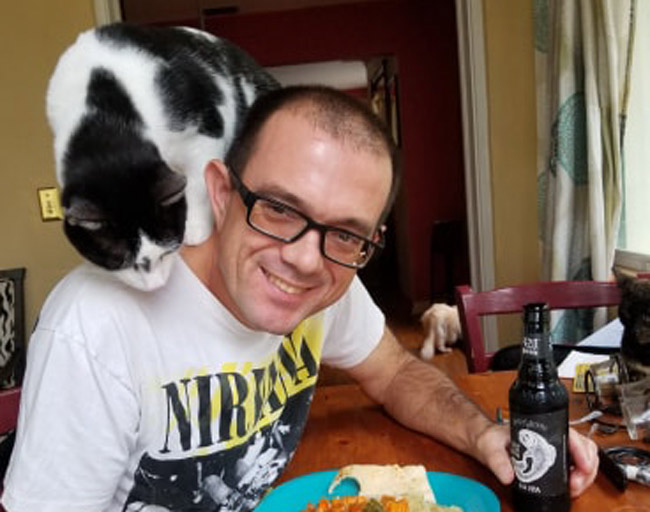 Not many days before his death Kevin McCarthy, always a drummer–always a dreamer–got a new drum set.
He then did something that, in retrospect, shakes up his wife Lori. He'd always loved Nirvana, always admired Kurt Cobain, the guitarist and lead singer who killed himself the first week of April 1994, after other attempts. McCarthy unearthed videos of Nirvana's last complete concert. He then played along. And played, and played. He played every song.
Lori McCarthy last weekend had a previously scheduled a brief trip to Tallahassee to see her daughter, who attends Florida State. She was there Saturday morning when she contacted Palatka police. She told them she and Kevin had been communicating by phone and text, there'd been "an argument earlier in the day," as the police report described it, then Kevin stopped responding. Lori was worried and asked the police to check on him.
They found him in the garage and pronounced him dead just 75 minutes after Lori had called them, asking to have them check on him. He was 49.
The news began rippling, then ripping through Flagler, where McCarthy's father Robert was sheriff for 17 years until 2001 (he died in 2006), and Kevin had worked as a popular teacher and administrator with Flagler schools for 17 years until his departure–Lori says his forced exit–two years ago.
Family dynamics aside–intractable and beyond judgment as all family dynamics are–those who knew and worked with him closely tell the same story: that of an advocate for students first, a mentor, a champion for the underdog, a wit whose creativity could not be contained, a dreamer and artist at heart whose jobs, immersed in them as he was, critical as they sometimes were, were only a part of his outsized personality. His obsessive running punctuated his wanderlust, if not a certain anxiety: in a family where his father and two uncles had been felled by heart attacks in relatively young age, "he thought he would never live to see 50," his wife says. "And he didn't."
"We had plans for the future," Lori says. "Sometimes he'd be like yeah, we're going to do this, and in great details we'd spend hours sketching things out, we wanted to have a band, sing music, we'd have this name of our band we were going to be called, he was playing with the font, we had dreams about where we were going to go and be and do. We were never planning on staying in Florida. He was a dreamer. Kevin was a dreamer. But when he went in a dark place…" Her words trail off.
Kevin was the man so many knew as the hyper-intelligent and energetic over-achiever, which is what he was most of the time. But his wife says he had also "suffered in silence" since his youth with what she describes again and again as "his demons," which few saw. "He struggled a lifetime with depression but found happiness with his children and me," his wife says. "He loved music, running, animals and nature. Peace was hard for him to find."
"Pure Smart"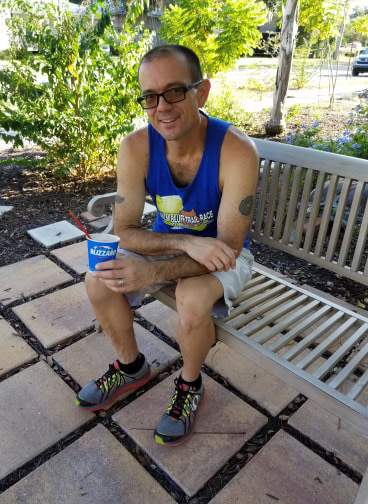 His earliest years were in New Jersey before the family resettled in Flagler around the time when Palm Coast was more of a village than a town: his grandparents had moved there, so his parents joined them. He was the product of Bunnell Elementary's gifted program and Flagler Palm Coast High School, back when you went straight from the elementary to the high school.
"He was so smart that everything he tried he was successful at," his sister Kathy Fisch, a teacher at Old Kings Elementary, says. He didn't have to work at it. "He was just pure smart." He was president of Future Farmers of America, in the leadership of the Student Government Association, was into photography and music. He attended Stetson from 1986 to 1987, then got a bachelor's in American studies from the University of South Florida in 1990 and a bachelor's of fine arts, majoring in visual design, from the University of Oregon in 1995. Two years later, it was a Master's of Fine Arts from the San Francisco Art Institute, focusing on photography. He wasn't done: he eventually got a master's of education from the University of North Florida.
Early on that academic whirlwind he married his first wife Colleen, with whom he had three children (they're now 11, 18 and 22, and back in Michigan where the family has roots and where the two oldest are in college). He taught in Flagler's adult education program, was an assistant principal at FPC, where he focused on exceptional student education (and was the faculty advisor for the Gay Straight Alliance) then returned to head FTI.
In his last few years in Flagler he played leading roles in saving the county's Adults with Disabilities program, a more than $500,000 program that served 85 students with profound disabilities, and that the Legislature eliminated in a late-night session. By the following year, full funding was restored to cheers and back-bruising back-patting, much of it self-administered, by the county's political class. He led the revival of the Belle Terre Swim and Racquet Club, which was near being closed. And he led the turn-around of the school district's adult education division within Flagler Technical Institute, or FTI. Once in a while he could channel his father's cop instincts, as when his suspicions led to the arrest in 2016 of a 14-year-old who'd brought a weapon to school.
But don't let that fool you: Kevin McCarthy was first and last student-centered.
"Kevin was right there the whole time. He was an awesome advocate for the step-up program," says Jeanne Elliott, the coordinator of Step-Up who's known him since 2005. "He was there every step of the way. In fact him and Jacob Oliva who was the superintendent at the time, they traveled to Tallahassee just to advocate for the adults with disabilities. Every single student, and I have 60 students here, every single student knew Kevin by name. That's how much he was involved."
And all the while, between his own epic runs, he mentored runners on FPC's track team.
Inspiring a Student to Become a Teacher
One story is emblematic of many, that of Alex Giorgianni. He graduated FPC in 2011. "My first interaction with Mr. McCarthy was as a high school student and member of the FPC Track and XC team," Giorgianni, 26, said, still referring to a member of the faculty as students do. "Mr. McCarthy was an avid runner, and always was one of our biggest supporters on campus. After graduating, I stayed in contact with him over Facebook and at FPC track meets. Anytime I saw him, he would flash a big grin and give me a big handshake.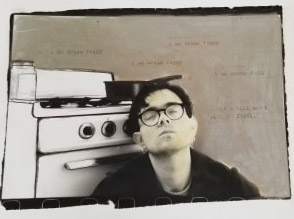 "In June of 2015, I decided to complete my college internship coaching cross country and track at FPC under coach Dave Halliday. When Mr. McCarthy saw me that summer, he was so excited for me. Just a few months before graduating college, I still really didn't know what I wanted to do with my life, and Mr. McCarthy was one of the first people to mention teaching to me. At first, I kind of laughed at him. Over the four months that I was completing my internship, I saw him three-four more times, and each time he kept telling me to give teaching a try. When I finally relented and decided to give substitute teaching a try, he was so excited for me."
Giorgianni is now a world history teacher at FPC and an assistant track and field coach there. "I am deeply saddened to lose not just a great friend and mentor, but also one of the biggest supporters of students FPC has ever had," Giorgianni said.
Far from the exception, the experience of Giorgianni seems to have been the rule. "I tell you–he was the kindest person I ever met," says Marta Barber, currently the district's community education coordinator. "He always had our backs. He instilled in me a confidence that has helped me progress in the system." Of her current post, she says, "I don't think I'd have gotten that far but for him boosting my confidence."
So Kathy Fisch, his sister, knew his influence well when she said "he impacted those lives. Those are the stories they're telling." She described Kevin as "a father, an educator, a brother, he had a heart of gold. He worked hard for this district." And now, Fisch says, she sees "the beautiful things in him in his children: amazing intelligence, the tenacity, the amazing sense of humor, the sheer talent his children have." (Colleen McCarthy, his first wife, declined to be interviewed.)
From Stellar to Stumbles
The circumstances of Kevin McCarthy's departure from the Flagler school district two years ago are not as clear as the documented record of his last year. The district says he resigned to pursue other opportunities. Strictly speaking, he did–in a handwritten, two-line note in capital letters. His wife Lori says he was not given a choice: it was either that or be fired. She refers to his dismissal as a firing "to cover up some scandal that they were doing with misappropriation of funds that Kevin had intended to go to the ESE students," citing money raised by FTI's annual home show that ended up diverted to other district funds to plug up holes. She says he was asked to fire an employee and refused. "Kevin was let go, Kevin was fired without explanation," she says, not hiding her bitterness. (Lori McCarthy had worked in Flagler schools many years herself and is a runner: that's how she met Kevin.)
The district said it was not aware of the allegations. "First, Flagler Schools is saddened by Kevin's passing and we value the 17 years of service he provided the students and staff of Flagler Schools and the Flagler County community as a whole," district spokesperson Jason Wheeler said. "Mr. McCarthy resigned his position with Flagler Schools in a letter dated June 20, 2017, with the effective date of June 30, 2017. The District has no knowledge of the remaining allegations raised by his wife, and as a result, cannot comment."
This is not in dispute: he had a stellar career with the district–until his very last year, when something had clearly gone wrong with his job performance, at least according to his evaluation. The change was drastic: 16 years of excellence, one year, his last, of falters.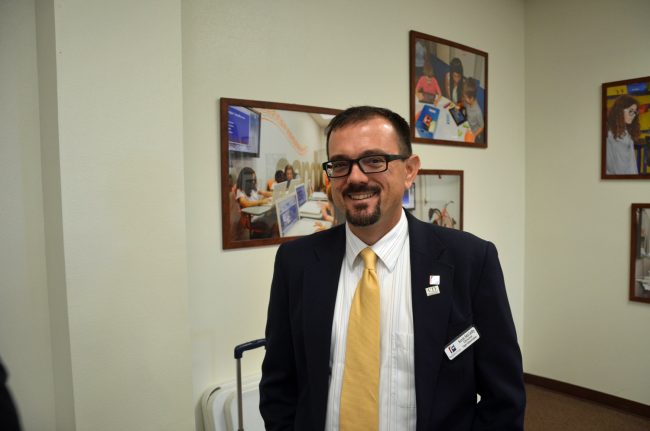 His personnel file's collection of evaluations from the time he was a teacher recurs with words like "excels at this," "always willing and encouraging others," "assertiveness and confidence," "sets challenging objectives for self," "very positive at all times," "great appetite for leadership," "always open and honest," "a great deal of initiative," "continues to put in 110% to all he does," and this unsurprising observation: "Has a tendency to talk over or interrupt–so eager to get ideas across." He was not just a runner on his feet. The word "excellent" is the most common on his evaluations.
Year after year as assistant principal at FPC he got perfect or near-perfect scores on his evaluations: 32 or close to 32 out of 32 possible points. The one exception was a slight dip in 2013. At FTI, his next-to-last year's evaluation netted him a 33 out of 36 points, again rating him "very effective," the highest evaluation possible.
The following year, an evaluation dated April 26, 2017, six weeks before his resignation letter, it was the reverse: If in category after category he'd previously been rated "very effective," this time the box next to "needs improvement" was checked again and again. Suddenly he had poor marks in delegating authority, stimulating others to work together, figuring out budgets effectively–the very same things he'd done so well before. He was having trouble setting challenging objectives for himself or others, "making high-quality decisions" or analyzing issues. His managerial skills fell, so did his commitment to "the mission and value" of the district–at least according to the poor marks on each of those categories in his evaluation. Out of dozens of categories, where he used to get 3's and 4's (the top marks), he was getting 1's and 2's, and only a single 4: maintaining confidentiality. McCarthy knew how to keep secrets. His overall score fell to 20.
A pair of life-changing events coincide with the radical break: he filed for divorce in mid-November 2016, five months before the last evaluation, and later married Lori.
Some colleagues who knew him did not see that change (at least they didn't speak of it when interviewed), including the friend who married Kevin and Lori. To them he was always focused on what mattered most to him–not the bureaucracy, but the students. Melanie Hayes, whom Kevin hired at FTI as a bookkeeper, recalls the side of him that could stand up for students–and stand down others. "I remember Kevin as an advocate for students, always an advocate for the underdog," Hayes says. "He was definitely all about students, all about their success even when somebody would tell him to do it differently."
Hayes continues, "It was hard for me, I'm the one who officiated Kevin and Lori's wedding, as a notary I was able to do that, so I had a close bond with Lori for 15 years. I worked with her at Buddy Taylor as well. It's a tragic loss, missing him a lot, and I'm very worried about Lori."
"The Demons"
Lori witnessed the change closer than anyone, and spoke of it. In a long interview in St. Augustine, where she was with her family, Lori seesaws between grief, moments of joy when she remembers Kevin's own propensity for joy, and back to grief, sometimes anger, admiration, and hopes of telling the story of the man she knew best in his last years by describing him at his best, as he was most of the time, without ignoring his bouts of depression, his occasional tailspins into an anxious world that troubled her–and him, though at times he couldn't remember them.
"When he was happy he was so happy, but every once in a while the demons would come back, and when they did it was like I didn't even know him, he was so far away," Lori says. "His dream was actually not to be a teacher but to be a musician. He was a drummer, he could play guitar and the piano." He liked twee pop–introspective artists like Belle and Sebastian and Andrew Bird. A lot of the artists he loved mirrored his predilections.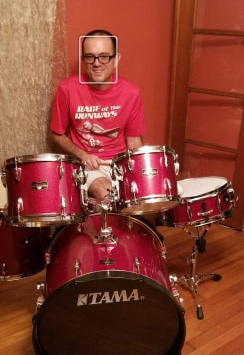 "Kevin was a remarkable man," she says. "Running was his way to deal with some of his demons, and he did suffer from depression for a lifetime. That wasn't something done or created by Flagler schools. They can't take credit for that. He suffered for a lifetime through depression, all through his college years. He went to art school. A lot of his photography that I've seen was very dark and referenced Sylvia Plath and 'The Bell Jar.'" Plath was a poet and novelist who killed herself before her 30th birthday, and has bookmarked the stages of many an artist's life. "The Bell Jar" was her last novel, whose cover Kevin may have mirrored in some of his black and white photography.
He had a cousin he was very close to, they had matching tattoos of a Celtic picture. She hung herself many years ago when she lived in Houston, a death that marked him deeply, not least with guilt: he thought he should have prevented it. He contended with the relatively early death of both his parents in their 50s, parents he loved dearly and was very close to. And more recently he was marked by the separation from his children, though it had been his choice to divorce his wife.
"He had respect for the people of FTI, he was so good to them, he was so good to the students and he was so excited–he had this butterfly garden that the kids did, and he showed me all the photos," Lori says. "That's the stuff he needs to be remembered by." That, and his "wicked sense of humor," his immense love and pride for his children, his art. "I was attracted to him because he was so creative and deep and thoughtful," Lori says.
"He was the Kevin we knew the majority of the time, the good, the kind, the loving," Lori's mother Pat Patterson, who was by her daughter's side throughout the interview, said. He'd sought help with Lori–was voluntarily Baker Acted once, but she describes the aftercare as "a joke"–a recurring testimony by people contending with mental health issues in the region: services are often slapdash if at all available. Not much later, last July, he was arrested on a misdemeanor domestic battery charge (adjudication was withheld). He was no longer working, had applied for mental health disability and been turned down, but kept trying. Weeks ago he was in Michigan visiting his children, his smile the size of Great Lakes: "I have a billion pictures of us together and how happy he was, and you could never see that happiness in his face like he did with me," Lori says.
Then came the Kurt Cobain anniversary. "He was playing along on the drums with the band," his wife says, remembering that night when she eventually curled up in bed nearby as he kept playing. "He'd ordered the same drum sticks that the guy had. In hindsight, I think he was really struggling and wanting to escape and find happiness and peace. He said he wanted us to leave, to just leave, to just go away."
And it was April. His life's cruelest month.