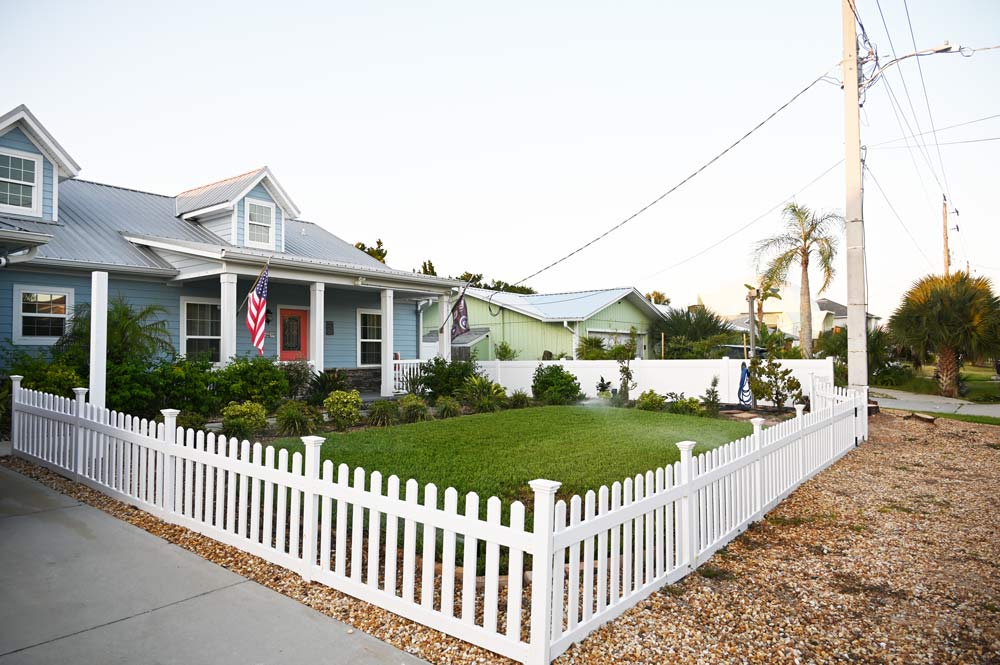 When James Nardone and his wife moved into their new house on South 23rd Street in Flagler Beach five years ago, their immediate neighbor to the east, Kerri Ann Huckabee, was not welcoming. "I can't say I'm happy to meet you," she told Nardone's wife, according to an account he wrote Flagler Beach City commissioners.
"Ever since that day they've made our life a living hell," he said in an interview at his home on 23rd Street South in Flagler Beach, a short distance from the Intracoastal.




The Nardones couldn't figure out why there was hostility from Huckabee, the owner of the Montessori school she operated for many years near Flagler Beach's Wickline Center and that she now runs as The Element Montessori School in Bunnell. Perhaps the fact that their lot had been vacant for many years and was now built within a few feet of Huckabee's property upset her, they figured.
The Huckabees had used the Nardone lot's back portion, which fronts on a canal, to hang out when it was vacant. The Nardones cutting down a tree that shaded both lots also greatly upset Huckabees, as have motion lights. ("Our neighborhood is safe–what is the need for all of the lights and cameras??" she had once written them. The lights had upset Huckabee's ill mother's sleep.)
Huckabee, Nardone said, would scream at them across the fence, call them the vilest names, throw things at their surveillance cameras or spray them with water to damage them.




Numerous calls to police went nowhere as incidents continued and became more concerning to the Nardones, he said, to the point that he and his wife started fearing for their safety. Flagler Beach police incident reports document the escalation since 2022, and Nardone himself recorded a Huckabee threatening to shoot him. The police told him that wasn't evidence enough for charges.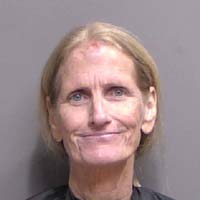 On Sept. 11, Huckabee, 54, was arrested on three felony charges, including firing or throwing a deadly missile into a building, a second degree felony, and resisting arrest with violence–she kicked two officers–and was booked at the Flagler County jail. The combined felonies carry a maximum of 25 years in prison, though Huckabee, a first-time offender, is not likely to face anywhere near that severe a penalty if she is convicted.
Contacted by phone, Huckabee said she would be willing to talk the next day. But subsequent calls and texts to her were not answered. She was not at the Montessori school when a reporter attempted to contact her there last week. On Monday, her attorney, G. Kipling Miller, also said he would call back when first contacted, but then did not respond to the call or to an email.
For the Nardones, the hostility has been jarring and inexplicable to the point of preventing them from enjoying their yard. They're considering selling the property. But for a few kind notes from Huckabee amid many less kind ones the Nardones would find written on color paper in crayon or black pen in their mailbox or on their door, the welcome sign never went up. Huckabee, according to Nardone, would unleash "verbal assaults" against him and his wife.




"People on the street tend to think they own the street because they've lived there all their life," Nardone says in his Massachusetts accent. "So when I came, a New England guy that doesn't talk the same way as everybody else, [it] took them a while but then we've become all friends." Nardone is an electrical engineer. He enumerated the electrical jobs he conducted on almost every house east and west of him, though not the Huckabees'.
On May 20, Nardone recorded Huckabee's husband allegedly threatening to shoot him with his 30-06 rifle (the threat is clearly audible on a video, as are numerous obscenities, which Nardone played for a reporter. No one is visible in the video). Nardone did not take the threat lightly. He had learned of the case of Paul Miller, a Flagler Beach resident of nearby South Flagler Avenue who shot and killed his neighbor in a dispute in 2012. Miller is serving life in prison.
Nardone described the alleged threat as part of a two-page letter to Mayor Suzie Johnston, copied to the rest of the commission: "Normally someone would say I am going to killing you [sic.], not tell you the type of gun he is going to use. 30 -06 rifles. This attack happened in front of all the neighbor children and their parents," Nardone wrote. "These people are teacher[s] of the Flagler children and can't believe they talk that way out in the open in front of kids on the street." (Both Huckabees are educators.)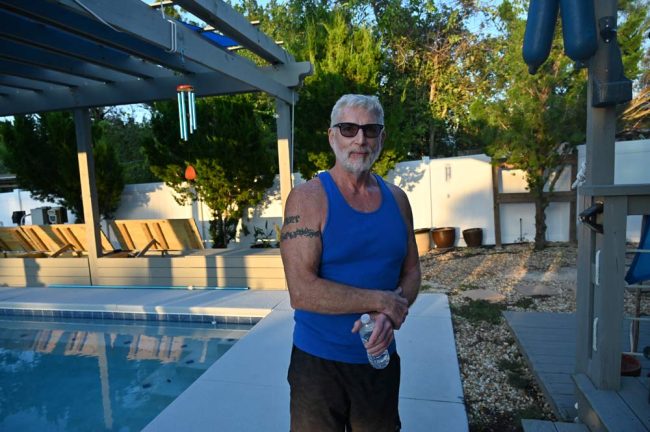 A July incident report by the police department documents six instances going back to last year of Huckabee spraying the Nardones' surveillance cameras, all captured on video. Some of the cameras shorted out and needed to be replaced. Huckabee did not deny the acts when the police captain spoke with her.
In late August there was yet another instance of spraying. Huckabee said she was watering her plants–but also spraying the electrical box on the side of the Nardone's house, facing hers, though that was not recorded on video. "I explained to both parties there was not enough evidence to pursue charges on either property," the officer reported. "I advised them to ensure no further issues and to not communicate with each other."




By then Nardone had turned over a flash drive with 7 gigs of data and a spreadsheet with a list of dates documenting the alleged incidents. "Kerri has told me that the police will not arrest her because she knows someone above them. These attacks escalate[] to where we do not feel safe in our own home," he wrote commissioners.
September 11 was the culmination. Huckabee had allegedly gone into the Nardones' front yard, stormed around, pounded on their front door, yelled and thrown rocks at the cameras, breaking two of them and scaring Nardone's wife enough that she implored him not to go outside. She did so for half an hour that evening, according to Nardone and the camera footage. Video footage partially document the act: "Kerri herself cannot be seen in the video footage, although the sounds of rocks hitting the wall can be plainly heard," the arrest report states.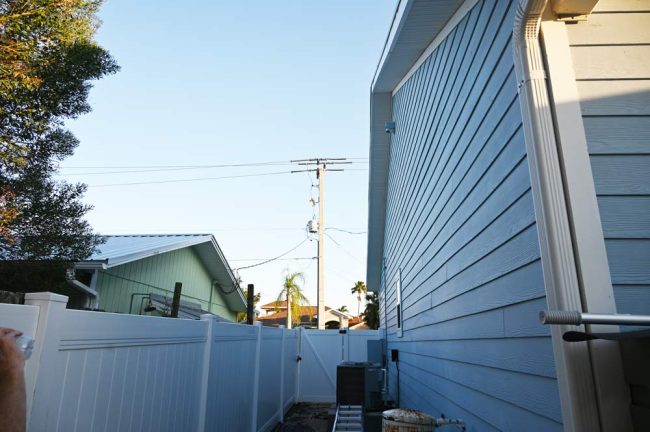 She didn't just throw rocks. "Debris was scattered around the area, included a shattered ceramic Mother Mary figurine that Kerri later admitted to throwing, as well as numerous golfball-sized rocks, shampoo bottles, and a bra," the report states. "Kerri can then be seen walking into view of one of James' cameras on the front (south-facing) side of the house, where she begins yelling and throwing rocks toward the lens of the camera. She does this several times, repeatedly making contact with the camera. Throughout this display, Kerri can be heard screaming profanity. Finally, she yells, 'I'm sure the cops will be here soon, but one more time,' then she hurls another rock at the camera, making a loud cracking sound."
Even as a police officer was interviewing the Nardones in their home that evening, Huckabee pounded on the door. "She was still stomping around and yelling. Her attitude was belligerent, hostile, and erratic," the officer reported. She shouted at the officer: "Did I throw stuff? Yes. I threw my Mother Mary, which was my mom's. I threw my shampoo, I did everything!" The officer said he tried to have a rational conversation with her. That proved fruitless. He told her that, based on examining footage from each of them, the surveillance cameras were not angled in any way that would violate the Huckabees' privacy. She would not hear of it.




"You cannot respond to something that you perceive as a wrong, by committing crimes in response," the officer told her.
"Dude, you're not making any sense," she replied.
As the officer attempted to arrest her, she yanked her arms away and screamed, "Let go of my fucking hands," then turned violent toward two officers: As one of them described it in the arrest report, she "lifted her leg in a deliberate motion and kicked me in the thigh. Kerri continued to aggressively fight my and Ofc. Nobre's lawful attempts to detain her. Kerri kicked Ofc. Nobre in the shin, and later kicked me a second time in the upper leg as I attempted to place her in my patrol vehicle. Kerri's actions were intentional and willful, not the inadvertent flailings of an actively resisting subject."
She was booked at the jail and released on $7,000 bond, but not before being taken to the hospital, from the jail, with severe–and so far, unexplained–bruising, which followed her booking at the jail. Aside from the felonies, she faces a misdemeanor charge of criminal mischief with less than $200 in damage.