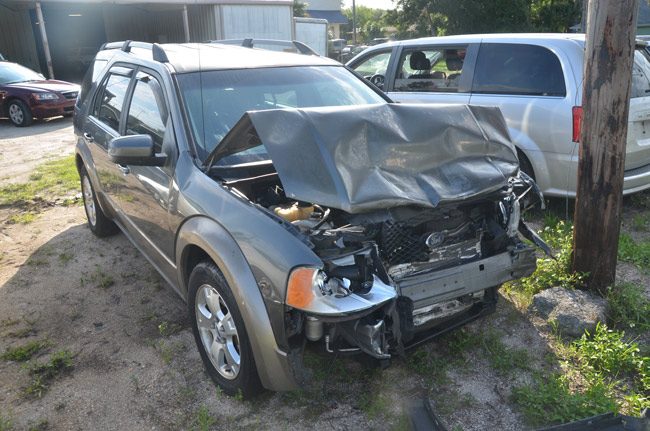 At first it looked like a head-on collision–an accident–between two vehicles just after 11 a.m. on June 9 on State Road A1A in Flagler Beacxh, near South 16th Street.
But it was no accident. It was a suicide attempt.
Keefe Crawford, a 37-year-old resident of Daytona Beach, was traveling north on A1A in a dark-gray 2005 Ford Freestyle, an SUV, on a license seven years out of date, when according to a Flagler Beach police investigation, he crossed the center line of the narrow two-lane road and at first passed several vehicles in a no-passing zone. According to several witnesses, Crawford had several opportunities to return to his lane.
Instead, according to the investigator's report, Crawford "intentionally and maliciously sped up and collided head-on" with the 2016 Mitsubishi Outlander Lisa Osborne, 59, was driving, with Michael W. Osborne her passenger. Both are from Orange City in Florida. The collision catapulted the Mitsubishi against a concrete barrier on the road. They'd been traveling south. Their vehicle ended up facing northbound traffic against the barrier, with the dash on top of their legs. They could not move.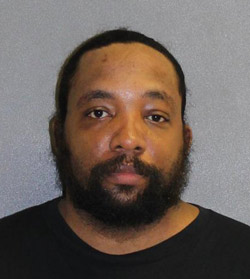 Crawford, meanwhile kept driving, finally crashing into the house at 1608 South Ocean Road, causing about $1,500-worth of property damage there. Crawford then started stabbing himself with a steak knife several times. One witness who intervened had to take the knife out of Crawford's neck, throwing the knife on the ground.
Crawford during the ordeal, according to the report, told witnesses that he had taken a handful of pills before driving the SUV and that he wanted to die, and that he had not meant to hurt the individuals in the vehicle he crashed.
Lisa Osborne suffered a heel fracture. Both were transported to Florida Hospital Flagler with non-life-threatening injuries. Crawford was flown by Flagler County Fire Flight as a trauma alert to Halifax hospital in Daytona Beach.
Crawford is a registered sex offender with a number of arrests in Volusia County. His last arrest took place eight days before the crash in Volusia, after he failed to register as a sex offender. He was found guilty of engaging in sexual acts with a minor in 2011.